Home Office
Ministerial department of the UK Government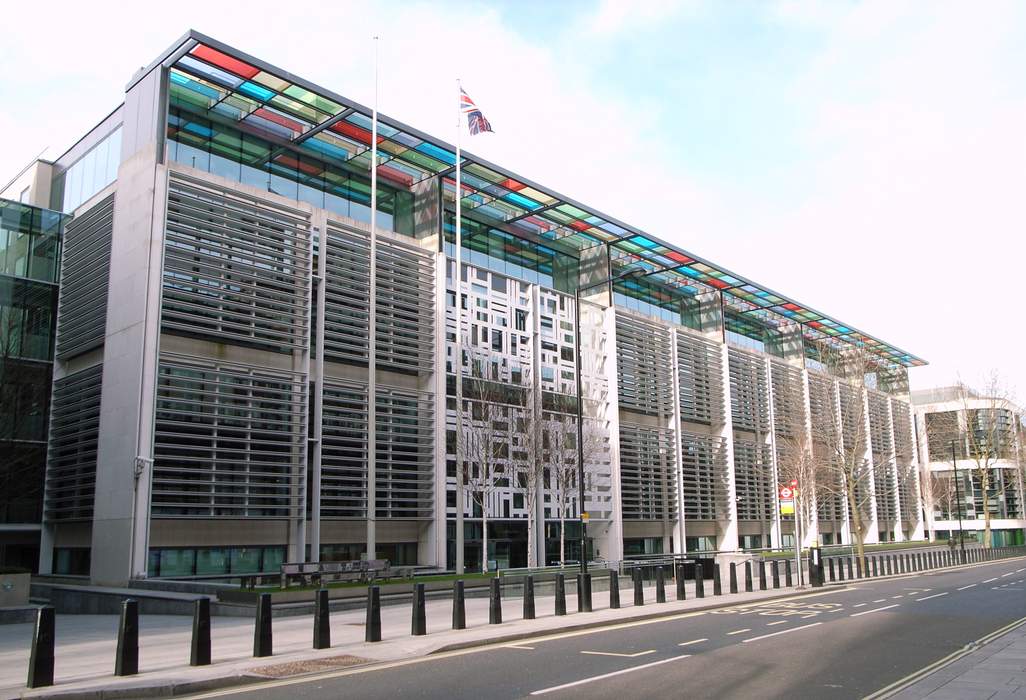 The Home Office (HO), also known as the Home Department, is a ministerial department of His Majesty's Government, responsible for immigration, security, and law and order. As such, it is responsible for policing in England and Wales, fire and rescue services in England, visas and immigration, and the Security Service (MI5). It is also in charge of government policy on security-related issues such as drugs, counter-terrorism, and ID cards. It was formerly responsible for His Majesty's Prison Service and the National Probation Service, but these have been transferred to the Ministry of Justice.


Gale: Manston centre is 'problem made in the Home Office'

A Conservative MP speaks about overcrowding and sanitation problems at the Manston asylum centre in Kent. Sir Roger Gale visited the migrant facility in his North Thanet constituency on Sunday..
Credit: ODN Duration: 01:03
Published
You Might Like



Steps being taken to 'immediately' improve situation at Manston migrant centre, Home Office says

Suella Braverman has confirmed that steps are being taken to "immediately" improve the situation at Manston migration centre, according to the Home Office.




Sky News - Published





Sir Mo Farah 'relieved' Home Office not taking action after he was 'trafficked' into UK

Sir Mo Farah is "relieved" the Home Office will not be taking any action against him after he revealed he was "trafficked" into the UK as a child.




Sky News - Published





Home Office risks another Windrush scandal if its culture does not change, review author warns

The Home Office risks another Windrush scandal happening if it does not change its culture, the author of a government-commissioned review has warned.




Sky News - Published





High Court rules against Priti Patel over data being extracted from migrants' mobile phones

The High Court has found that the Home Office acted unlawfully in a programme known as Project Sunshine in which data was extracted from mobile phones seized off migrants who arrived on small boats.




Sky News - Published





UK-France relations 'strong' despite Channel crossings row, minister says

A Home Office minister has said relations between France and the UK are "strong" despite disagreements on how to deal with migrants crossing the English Channel.




Sky News - Published





Afghans who helped British forces to be allowed to remain in the UK permanently

Afghans who worked with the UK will be given indefinite leave to remain, the Home Office has announced.




Sky News - Published





'We will feel guilt forever': Home Office staff 'in tears' after hotel fall death of Afghan refugee boy

A top civil servant in charge of housing Afghan refugees said her team have "been in tears" over the death of a five-year-old boy who fell from a hotel window.




Sky News - Published





Home Office 'appears to be failing' Windrush generation again with compensation scheme

The Home Office "appears to be failing" the Windrush generation again with its flawed compensation scheme, a committee of MPs has warned.




Sky News - Published





Gay rugby player wins five-year battle for UK asylum

Kenneth Macharia, the Bristol Bisons rugby player who faced deportation to Kenya by the Home Office, has won his five-year battle for the right to asylum in the UK.




Sky News - Published





Home Office used 'secret and illegal' policy to deport asylum seeker

An asylum seeker deported due to an "illegal and secret" Home Office policy should return to Britain, the High Court has ruled.




Sky News - Published





Investigation after Border Force enters French waters to pick up migrants

An urgent investigation has been launched by the Home Office after a UK Border Force vessel entered French waters to pick up migrants crossing the Channel and take them to Dover.




Sky News - Published





Priti Patel faces calls to resign as court rules barracks housing for asylum seekers unlawful

Priti Patel is facing calls to resign after a High Court ruled that the Home Office's decision to house asylum seekers in army barracks was unlawful.




Sky News - Published





Man held by police despite winning legal fight over his British citizenship released

A man who was being held by the Metropolitan Police - despite winning a court battle to prevent the Home Office stripping him of citizenship - has been released.




Sky News - Published





'Stansted 15' protestors who stopped Home Office deportation flight have convictions overturned

Protesters taken to court after stopping a deportation flight taking off from Stansted Airport have had their convictions overturned by the Court of Appeal.




Sky News - Published





Top British home office mandarin quits over minister's behavior

Britain's top official in the ministry responsible for policing resigned on Saturday after clashes with Home Office minister Priti Patel, in the latest test of Prime Minister Boris Johnson's plans for..




Reuters - Published