Mucormycosis
Fungal infection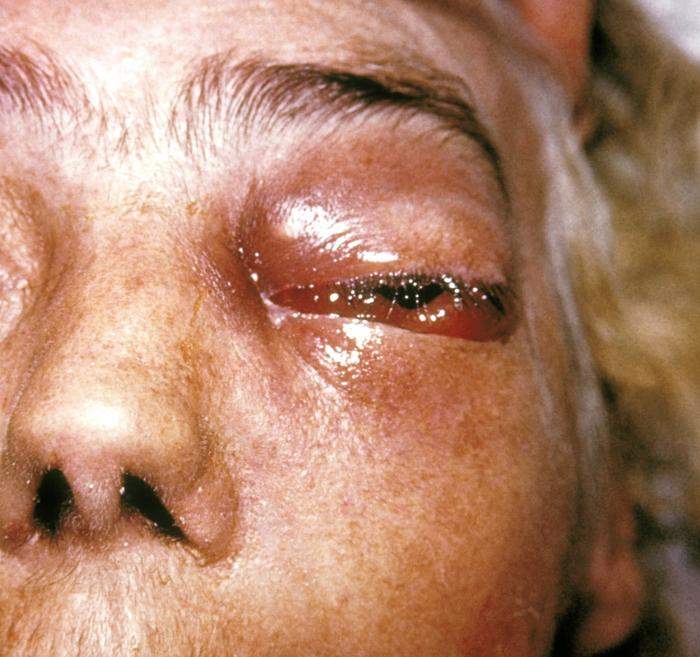 Mucormycosis, also known as black fungus, is a serious fungal infection, usually in people with reduced ability to fight infections. Symptoms depend on where in the body the infection occurs. It most commonly infects the nose, sinuses, eye and brain resulting in a runny nose, one sided facial swelling and pain, headache, fever, blurred vision, swollen and bulging eye, and tissue death. Other forms of disease may infect the lungs, stomach and intestines, and skin.


You Might Like
Black Fungus among children below 18 years: Here's the details on symptoms and treatment
The Directorate General of Health Services (DGHS) has released the guidelines for the management of Mucormycosis/ black fungus disease in children.
DNA - Published
Fungal infection NOT communicable: AIIMS director amid spike in Mucormycosis cases
Amid the rising fungal infections, AIIMS Director Dr Randeep Guleria clarified that fungal infection is not a communicable disease.
DNA - Published
Mucormycosis claims four lives in Kerala
IndiaTimes - Published
Centre makes fresh allocation of Amphotericin B to states, UTs as Mucormycosis cases rise
IndiaTimes - Published
Black fungus declared an epidemic in Rajasthan
Mucormycosis (black fungus), which is primarily affecting people recovering from Covid, has been declared an epidemic in Rajasthan, officials said on Wednesday. Currently, the state has around 100..
IndiaTimes - Published
Early symptoms, causes of black fungus or mucormycosis: Things to watch out for
Mucormycosis, also known as black fungus or zygomycosis, is caused by a group of mold called mucormycetes.
DNA - Published
AIIMS chief reveals major cause behind Mucormycosis and how to prevent it
The black fungus infection, also known as mucormycosis, is caused by a fungus called mucor.
DNA - Published
COVID-19: PM Modi chairs high-level meeting, reviews availability, supply of oxygen, medicines
He was briefed that the government is actively monitoring the supply of drugs being used in the management of COVID-19 as well as Mucormycosis.
DNA - Published
How to prevent Mucormycosis? Dos and don'ts for black fungus in COVID patients
An advisory by ICMR stated that Mucormycosis mainly affects people who are on medication that reduces their ability to fight environmental pathogens.
DNA - Published
Black fungus: Centre issues advisory on management of Mucormycosis in Covid patients
Mucormycosis, a fungal infection being found in Covid-19 patients with uncontrolled diabetes and prolonged intensive care unit (ICU) stay, may turn fatal if uncared for, the Centre said on Sunday. In..
IndiaTimes - Published
Mucormycosis detected in Covid patients, not big outbreak: NITI Aayog
IndiaTimes - Published