Hungary
Country in Central Europe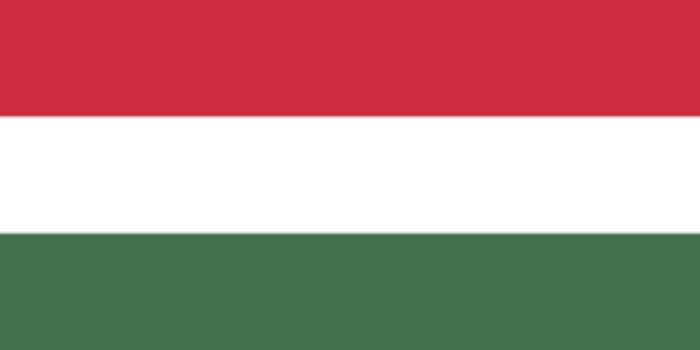 Hungary is a landlocked country in Central Europe. Spanning 93,030 square kilometres (35,920 sq mi) of the Carpathian Basin, it is bordered by Slovakia to the north, Ukraine to the northeast, Romania to the east and southeast, Serbia to the south, Croatia and Slovenia to the southwest, and Austria to the west. Hungary has a population of nearly 10 million, mostly ethnic Hungarians and a significant Romani minority. Hungarian, the official language, is the world's most widely spoken Uralic language and among the few non-Indo-European languages widely spoken in Europe. Budapest is the country's capital and largest city; other major urban areas include Debrecen, Szeged, Miskolc, Pécs, and Győr.


Teachers in Hungary file petition demanding urgent reforms

Teachers, parents and students have been demonstrating for months, urging the government to reform the education system and raise teachers' salaries.
Credit: euronews (in English) Duration: 01:06
Published
Brussels recommends billions in EU funds be withheld from Hungary

The European Commission's assessment is that Budapest has not delivered on its reforms to ensure EU funds are not misappropriated and it has decided to refer the matter to the Council.
Credit: euronews (in English) Duration: 02:26
Published
Budapest says goodbye to the iconic Ikarus bus

Almost everybody from the Hungarian capital Budapest knows the loud noise of the iconic Ikarus buses. But after over 50 years in services, the old, rattling blue vehicles were retired from public..
Credit: euronews (in English) Duration: 01:12
Published
Austria, Serbia and Hungary strike migration deal, saying EU measures have failed

Austria, Hungary and Serbia have struck out on their own, signing a new pact that will see a more hard line approach to dealing with migrants.
Credit: euronews (in English) Duration: 01:32
Published
This Day in History: East Germany Opens the Berlin Wall

This Day in History: , East Germany Opens the Berlin Wall. November 9, 1989. The East German action followed a decision by Hungarian officials a few weeks earlier to open the border between..
Credit: Wibbitz Top Stories Duration: 00:55
Published
EU democracy is under attack by mercenary spyware, claims new report

Illegal cases of spyware use have been detected in Poland, Hungary, Greece and Spain, raising concerns about privacy rights and press freedom.
Credit: euronews (in English) Duration: 02:05
Published
Hungary closing public facilities due to soaring cost of energy

The soaring cost of energy in Hungary is forcing local authorities to close public services with city authorities a facing five to ten-fold increase in prices.
Credit: euronews (in English) Duration: 02:00
Published
Ukraine war: Hungary comparing EU sanctions on Russia to bombs is 'inappropriate'

The Hungarian government has launched a so-called "national consultation" on EU sanctions which they describe as "failed" and from "Brussels leaders".
Credit: euronews (in English) Duration: 01:39
Published
Thousands march on Hungary's parliament as teachers' crisis continues

Tens of thousands of teachers, students and parents took to the streets on Wednesday night calling for better working conditions for teachers.
Credit: euronews (in English) Duration: 02:05
Published
Hungary, Austria and Serbia leaders outline plan to curb migration

Hungary, Austria and Serbia leaders outline plan to curb migration
Credit: euronews (in English) Duration: 02:02
Published
You Might Like



Bellator 286: Adam Borics on his journey from a tiny village in Hungary to world-title bid

BBC Sport speaks to Adam Borics about his journey to becoming a Bellator title contender, including a quickfire wedding and making ends meet by cleaning the gym he trained in.




BBC Sport - Published





Hungary 0-2 Italy: European champions reach Nations League finals at hosts' expense

Italy pip Hungary to a place in the Nations League finals with an assured win over the hosts in Budapest.




BBC Sport - Published





Hungarian women will be made to listen to 'foetal heartbeat' before they can have an abortion

Women seeking an abortion in Hungary must listen to a "foetal heartbeat" before they can undergo the procedure as the country tightens its abortion laws.




Sky News - Published




Hungary's top weather officials sacked after 'wrong' forecast leads to postponement of fireworks

The two top officials at Hungary's meteorological service have been sacked after a "gravely wrong" rain forecast lead to the postponement of a fireworks display.




Sky News - Published




Hungarian Grand Prix: In the space of 24 hours, F1 turned upside down

In the space of 24 hours in Hungary this weekend, Formula 1 turned upside down.




BBC Sport - Published





Hungary leader Viktor Orban's adviser quits over 'pure Nazi' speech about migration

A speech by Hungary's prime minister on migration has been described as unacceptable even by the standards of "the most bloodthirsty racist" by one of his advisers.




Sky News - Published





Hungary PM criticises 'mixing' of Europeans and non-Europeans

Hungary's far-right prime minister has caused outrage by criticising the "mixing" of European and non-European people.




Sky News - Published




World Aquatics Championships: Canadian Summer McIntosh wins 200m butterfly gold

Canadian 15-year-old Summer McIntosh wins the women's 200m butterfly at the World Aquatics Championships in Budapest, Hungary.




BBC Sport - Published





World Aquatics Championships: Kristof Milak breaks own world record in 200m Butterfly

Watch as Hungary's Kristof Milak breaks his own world record in the men's 200m Butterfly with a time of one minute 50.34 seconds in Budapest.




BBC Sport - Published





Gareth Southgate: After a 'Damaging & humiliating' defeat, can England boss be a winner?

After England's humiliating loss to Hungary, BBC Sport's Phil McNulty analyses what it means for Gareth Southgate's future.




BBC Sport - Published





England 0-4 Hungary: Visitors earn historic win at Molineux

Hungary stun England at Molineux to record their second win over Gareth Southgate's side in 10 days in the Nations League.




BBC Sport - Published





England boos Southgate on Hungary jeers while players take knee

England manager Gareth Southgate says his side will continue "to take a stand" despite jeers when they took a knee before their Nations League match in Hungary.




BBC Sport - Published





England players jeered for taking a knee in Hungary by crowd made up largely of children

England players are jeered when they take a knee before their Nations League match in Hungary, despite most of the crowd in Budapest being children.




BBC Sport - Published





Hungary v England: Phil Foden one of several absentees for Three Lions in Budapest

Preview followed by live coverage of Saturday's Uefa Nations League game between Hungary and England.




BBC Sport - Published





Hungary v England: Nations League match to have 30,000 fans despite supporters ban

England will face Hungary in Budapest on Saturday with at least 30,000 fans in attendance - even though the fixture is being played behind closed doors.




BBC Sport - Published





India, Hungary discuss pressing global issues including Ukraine conflict




IndiaTimes - Published





England squad: Jarrod Bowen & James Justin called up for Nations League games

West Ham's Jarrod Bowen and Leicester City's James Justin are named in the England squad for June's Nations League matches with Hungary, Germany and Italy.




BBC Sport - Published





EU's Russia oil ban in jeopardy as Hungary rejects sanction as 'atomic bomb' for economy

Hungary has warned it cannot accept the EU's planned ban on Russian oil in its current form as it would amount to an "atomic bomb" for its economy, threatening to scupper the bloc's sixth sanctions..




Sky News - Published




Five dead after train ploughs into flatbed truck and flips over

Five people were killed and others injured when a train derailed and overturned in Hungary after crashing into a truck.




Sky News - Published




Hungary's pro-Putin prime minister declares victory in country's elections

Hungary's pro-Putin prime minister has declared victory in the country's national elections, claiming a mandate for a fourth consecutive term in power.




Sky News - Published




Lia Thomas: Rival critical of rules allowing transgender athlete to compete

Hungary's Reka Gyorgy accuses the NCAA of denying her of a "spot in the final" of its swimming championships after allowing transgender Lia Thomas to compete.




BBC Sport - Published





EAM Jaishankar hails Operation Ganga, calls evacuation from Ukraine's Sumy challenging

"Ukraine's neighbours- Romania, Hungary, Poland, Slovakia, and Moldova gave us exceptional support," S Jaishankar said.




DNA - Published





Modi stresses on ceasefire in talks with Hungarian PM




IndiaTimes - Published





Super 30 oversees execution of 'Operation Ganga' in Hungary




IndiaTimes - Published





'Operation Ganga' begins last leg of evacuation in Hungary

Indian Embassy in Kyiv also urged its nationals to register themselves for the evacuation process under 'Operation Ganga'.




DNA - Published





Ukraine conflict: Three IAF aircraft carrying 629 Indians land in Delhi

hree IAF aircraft carrying 629 Indians from Ukraine's neighbouring countries landed at the Hindon air base here on Saturday morning, the air force said. India has been evacuating its citizens from..




IndiaTimes - Published





Operation Ganga: Special flight with 219 Indian evacuees from Ukraine reaches Delhi

The special IndiGo flight under Operation Ganga departed from Hungary's capital Budapest on Thursday.




DNA - Published





Katie Boulter retires injured from Lyon Open last-16 match

British number four Katie Boulter retires injured from the Lyon Open after losing the first set of her last-16 match against Hungary's Anna Bondar.




BBC Sport - Published





Ukraine crisis: 31 evacuation flights to bring back over 6,300 Indians in coming days

The flights will be operated by Air India, Air India Express, IndiGo, SpiceJet and IAF. From March 2, 21 evacuation flights will be operated to bring back Indians from Bucharest in Romania, while 4..




IndiaTimes - Published





Russia-Ukraine crisis: Union Minister Hardeep Puri leaves for Budapest on evacuation duty

Government has decided to send four Union ministers as prime minister's envoys to Poland, Romania, Hungary, Slovakia and Moldova to monitor evacuation




DNA - Published





Ukraine crisis: Rijiju will go to Slovakia, Puri to Hungary, Scindia to look at Romania & Moldova, VK Singh to be at Poland to manage evacuation




IndiaTimes - Published





Ukraine crisis: Moldova, Hungary new exit points for Indians

Indian students in Ukraine have been asked to proceed towards a railway station from where they can reach Hungarian capital Budapest. Foreign secretary Harsh Vardhan Shringla said Moldova has agreed to..




IndiaTimes - Published





Scotland 0-0 Hungary (3-1 pens): Eartha Cumings secures shootout win in Pinatar Cup

Debutant Eartha Cumings secures Scotland's victory on penalties against Hungary as they claim fifth in the Pinatar Cup.




BBC Sport - Published





England to play Nations League matches against Italy and Hungary at Wolves' Molineux ground

England's next two home Nations League matches - against Italy and Hungary - will be played at Wolverhampton Wanderers' Molineux ground in June.




BBC Sport - Published





Scotland 2-1 Hungary: Rachel Corsie winner salvages win for Scotland

Captain Rachel Corsie's last-minute header spared Scotland's blushes against Hungary and maintained their 100% start to World Cup qualifying.




BBC Sport - Published





Celtic 2-0 Ferencvárosi TC: Scottish side earn first Europa League group win

Celtic salvaged their Europa League knockout hopes with a hard-fought win over Hungarian champions Ferencvaros.




BBC Sport - Published





England 1-1 Hungary: Gareth Southgate says his side were "really poor"

England boss Gareth Southgate says his side were "really poor" after their path to the 2022 World Cup hit an unexpected stumbling block with a draw against Hungary.




BBC Sport - Published





FIFA condemns crowd trouble at Wembley after Hungary fans clash with police

Football's governing body FIFA has condemned the fan disturbances at Wembley Stadium during England's World Cup qualifier against Hungary.




Sky News - Published




Hungary football fans clash with police at England game

Clashes have broken out between Hungary fans and police during England's World Cup qualifier at Wembley Stadium.




Sky News - Published





England v Hungary: Crowd trouble early on in Wembley qualifier

Fans appeared to fight in the Hungary section during their World Cup qualifier with England at Wembley.




BBC Sport - Published





England v Hungary: Gareth Southgate says he 'commits a crime' every time he picks team

England boss Gareth Southgate says he "commits a crime" every time he picks a team because of the players he has to leave out - and will make changes for Tuesday's match with Hungary.




BBC Sport - Published





England: Fikayo Tomori, Ollie Watkins and Aaron Ramsdale named in Gareth Southgate's squad for World Cup qualifiers

Gareth Southgate recalls defender Fikayo Tomori, striker Ollie Watkins and goalkeeper Aaron Ramsdale to his England squad for World Cup qualifiers against Andorra and Hungary.




BBC Sport - Published





Hungary fans banned from next match after England players racially abused

FIFA has ordered Hungary to play its next home match without fans after England players were racially abused in a World Cup qualifier.




Sky News - Published




Hungary to play matches behind closed doors after racist behaviour of fans at England game

Hungary are ordered to play two matches behind closed doors by Fifa following the racism English players experienced at the World Cup qualifier in Budapest on 2 September.




BBC Sport - Published





Hungary 0-2 Scotland: Visitors begin World Cup bid with convincing win

Scotland usher in the Pedro Martinez Losa era with a deserved victory over Hungary to open their Women's World Cup qualifying campaign in Budapest.




BBC Sport - Published





Southgate praises players' maturity during Hungary game but says repeated racist abuse is 'unfortunate'

Gareth Southgate has praised the maturity of his players after they were racially abused before England's win over Hungary in Budapest on Thursday. 




Sky News - Published