Sonbhadra district
District of Uttar Pradesh in India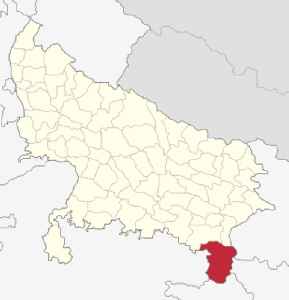 Sonbhadra or Sonebhadra is the second largest district of Uttar Pradesh, India. Sonbhadra is the only district in India which borders four states namely Madhya Pradesh in west, Chhattishgarh in south, Jharkhand in south east and Bihar in the east. The district has an area of 6788 km² and a population of 1,862,559, with a population density of 270 persons per km².It lies in the extreme southeast of the state, and is bounded by Mirzapur District to the northwest, Chandauli District to the north, Kaimur and Rohtas districts of Bihar state to the northeast, Garhwa district of Jharkhand state to the east, Balrampur District of Chhattisgarh state to the south, and Singrauli district of Madhya Pradesh state to the west. The district headquarters is in the town of Robertsganj. Sonbhadra district is an industrial zone and it has lots of minerals like bauxite, limestone, coal, gold etc. Sonbhadra is called as "Energy Capital of India" because there are so many power plants. Sonbhadra lies between vindhya and Kaimur hills, and its topology and natural environment prompted First Prime minister of India Pt. Jawarharlal Nehru to refer to Sonbhadra as The Switzerland of India.


You Might Like
Around 3,000 tonne gold deposits discovered in UP's Sonbhardra, five times India's current reserves
Other than gold, a few minerals have also been discovered in the area, Rai added.
DNA - Published
3k-tonne gold reserve in UP's Sonbhadra: GSI
Sonbhadra, east UP's mineral-rich district, could be sitting on a gold reserve of approximately 3,000 tonnes — five times India's current reserve of 618.2 tonnes — worth over Rs 12 lakh crore...
IndiaTimes - Published
Priyanka Gandhi Vadra's aide booked for assaulting, threatening journalist
A journalist has filed a police complaint here against an aide of Priyanka Gandhi Vadra, alleging he assaulted and threatened him during the Congress general secretary's visit to Sonbhadra district in..
IndiaTimes - Published
Sonbhadra violence: Uttar Pradesh CM Yogi Adityanath removes District Magistrate, Superintendent of Police
S Rajalingam will be the new District Magistrate and Prabhakar Chaudhary will be the new Superintendent of Police of Sonbhadra district
DNA - Published
TMC submits notice to talk 'atrocities' in Rajya Sabha
This comes after a three-member TMC delegation led by MP Derek O'Brien which was on its way to Uttar Pradesh's Sonbhadra district to meet the families of those affected in the firing earlier this week,..
DNA - Published
Adityanath to visit village in Sonbhadra district to meet families of clash victims
Uttar Pradesh Chief Minister Yogi Adityanath will Sunday visit Ubbah village in Sonbhadra district to meet the families of 10 people who were killed in a clash over a land dispute, an official said..
DNA - Published
Also reported by •IndiaTimes
TMC delegation going to Sonebhadra stopped at Varanasi airport
The TMC said that a delegation comprising party senior leaders, including Derek O'Brien, Sunil Mondal, Abhir Ranjan Biswas and former MP Uma Saren, were stopped at the Varanasi airport after they..
IndiaTimes - Published
9 dead, many injured in clash over land dispute in UP's Sonbhadra
A village head and his supporters allegedly opened fire on a rival group over a land dispute in Ghorawal area in UP's Sonbhadra, killing nine people, including three women, and leaving 19 injured on..
IndiaTimes - Published