Indian Ocean
The ocean between Africa, Asia, Australia and Antarctica (or the Southern Ocean)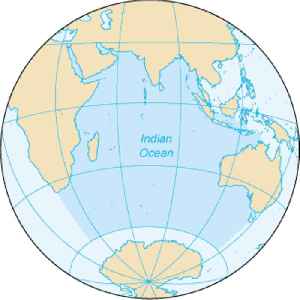 The Indian Ocean is the third-largest of the world's oceanic divisions, covering 70,560,000 km2 (27,240,000 sq mi) or 19.8% of the water on Earth's surface. It is bounded by Asia to the north, Africa to the west, and Australia to the east. To the south it is bounded by the Southern Ocean or Antarctica, depending on the definition in use. Along its core, the Indian Ocean has some large marginal or regional seas such as the Arabian Sea, the Laccadive Sea, the Somali Sea, Bay of Bengal, and the Andaman Sea.


Watch: Dubai observes solar eclipse

A rare celestial event, annular solar eclipse observed in United Arab Emirates's Dubai on June 21. This annular solar eclipse is popularly known as the 'ring of fire' eclipse. The eclipse begins as the..
Credit: ANI Duration: 01:17
Published
Madagascar thanks India for supply of essential commodities amid Covid-19 outbreak

Foreign minister Tehindrazanarivelo Liva thanked the Govt. of India for supplying essential medicines to Madagascar amid Covid-19 outbreak. At a formal ceremony in capital Anatananarivo Indian..
Credit: ANI Duration: 02:00
Published
You Might Like



India faces joint Pak-China threat in Indian Ocean

The collusive China-Pakistan threat along the land borders is slowly but surely extending to the maritime domain as well. Even as China steps up its naval forays into the Indian Ocean Region (IOR), it..




IndiaTimes - Published





Ladakh face-off fallout: India to strengthen maritime alliance against China

Strengthening of a maritime alliance in the Indian Ocean region, led by India, is likely to be one of the fallouts of Chinese combativeness in the region.




DNA - Published




India increases surveillance in Indian Ocean region to track Chinese activities

The Navy has increased its surveillance missions and beefed up operational deployment in the Indian Ocean region in the wake of India's border standoff with China in eastern Ladakh, sources said. The..




IndiaTimes - Published





Naval ship 'Kesari' returns after deployment in southern Indian Ocean region




IndiaTimes - Published





Iran says it successfully tests new naval cruise missile

Iran said on Thursday its navy had successfully fired a new locally made cruise missile during war games in the northern Indian Ocean and near the entrance to the Gulf.




Reuters - Published





Galwan clash: Army, Navy, Air Force raise alert level

Front-line bases of the Indian Army and the Air Force along the nearly 3,500 km de-facto border with China were on Wednesday put on high alert in view of a major clash between Indian and Chinese troops..




IndiaTimes - Published





PM Modi rejuvenates 'samosa diplomacy' with Australia's Scott Morrison ahead of video summit

"Connected by the Indian Ocean, united by the Indian Samosa! Looks delicious, PM @ScottMorrisonMP! Once we achieve a decisive victory against COVID-19, we will enjoy the Samosas together. Looking..




IndiaTimes - Published





US and India must develop plan to counter China's efforts to strengthen its position in Indian Ocean: American think-tank




IndiaTimes - Published





Mission Sagar: India's helping hand across Indian Ocean during COVID-19 crisis

This deployment is in line with India's role as the first responder in the region.




DNA - Published





Mission Sagar: India sends INS Kesari with medical teams, food to Indian Ocean countries

India on Sunday dispatched INS Kesari, carrying on board two medical assistance teams, medicines and essential food items, to countries in the southern Indian Ocean as part of the govt's 'Mission..




IndiaTimes - Published





South Asia coronavirus cases hit 22,000 as Maldives locks down capital

The number of people infected with the coronavirus crossed 22,000 in densely populated South Asia on Friday driven by a rise in cases in India as the tiny Indian Ocean island nation of Maldives locked..




Reuters - Published





Conference on Indian Ocean postponed




IndiaTimes - Published





India postpones biggest maritime exercise amid COVID-19 scare

With the outbreak of coronavirus outside China and increase in the numbers of cases in India, the Indian Navy has postponed its biggest multilateral naval exercise -- Milan 2020 -- in the Indian Ocean..




IndiaTimes - Published





Greater vigilance needed in Indo-Pacific region: President Ram Nath Kovind

"Today, the geopolitical situation in the world and in the Indo-Pacific in particular demands greater vigilance. I am aware that the Navy has adopted mission-based deployments in the Indian Ocean..




IndiaTimes - Published





Hope Sri Lanka will fulfil aspirations of Tamil people: PM Modi after talks with Sri Lankan PM

Rajapaksa's visit here assumed significance as his tenure as Sri Lanka's president from 2005 to 2016 saw expansion of China's footprints in the Indian Ocean island nation, triggering concerns in India...




IndiaTimes - Published





India looks to ramp up defence presence in western Indian Ocean




IndiaTimes - Published





Looking to create air defence, logistics and peninsula theatre commands: CDS Bipin Rawat

The armed forces are likely to collaborate and create an 'air defence command' to cover all aerial operations taking place in the Indian airspace, a 'peninsula command' to look after all naval..




IndiaTimes - Published





Australia eyes second flight from Wuhan as evacuees arrive on Christmas Island

Australia may arrange a second flight out of China's Wuhan city after a first plane load of evacuees arrived in the Indian Ocean territory of Christmas Island, Prime Minister Scott Morrison said on..




Reuters - Published




India comes to cyclone-hit Madagascar's rescue

India has delivered massive relief supplies to the cyclone-hit Madagascar in the Indian Ocean region using the amphibious warfare vessel, INS Airavat. Foreign minister S Jaishankar said that India was..




IndiaTimes - Published





Alarm over Chinese research ships in Indian Ocean Region

The presence of research vessels have raised security concerns as experts believe that the Chinese could be surveying the Indian Ocean to improve their submarine warfare capabilities.




IndiaTimes - Published





India closely monitors PLA Navy supported Chinese fishing fleet in Indian Ocean




IndiaTimes - Published





CDS Rawat downplays Chinese matrix in Indian Ocean, gives weight to freedom of navigation

Chief of Defence Staff General Bipin Rawat on Monday downplayed the question of China's growing presence in the Indian Ocean Region (IOR) and said every nation looked at its security from a strategic..




IndiaTimes - Published





Eye on China, South gets 1st Sukhoi squad with BrahMos

India now has a new lethal weapons platform to keep a 'strategic eye' over the Indian Ocean Region (IOR), especially the Bay of Bengal, as well as carry out 'long-range precision strikes'..




IndiaTimes - Published





Chinese involvement in Indian Ocean increasing; we are watching: Navy chief




IndiaTimes - Published





China may deploy aircraft carrier in Indian Ocean Region, says Navy commander




IndiaTimes - Published





Russia, China, Iran start joint naval drills in Indian Ocean

Iran, China and Russia began joint naval drills on Friday in the Indian Ocean and Gulf of Oman, an Iranian naval spokesman said.




Reuters - Published




China, Russia and Iran to hold joint naval drills from Friday

China, Iran and Russia will hold joint naval drills starting on Friday in the Indian Ocean and Gulf of Oman, China's defense ministry said on Thursday,amid heightened tension in the region between..




Reuters - Published




'I'm still scared' - Asia remembers tsunami that killed 230,000

Communities across Asia commemorated the more than 230,000 victims of the Indian Ocean tsunami on Thursday, the 15th anniversary of one of the world's most deadly disasters.




Reuters - Published





230,000 people lost in a day: Asia remembers devastating 2004 tsunami

Communities across Asia commemorated the 230,000 victims of the Indian Ocean tsunami on Thursday, the 15th anniversary of one of the world's most deadly disasters.




Reuters - Published





Hundreds of Thai tsunami victims yet to be identified, 15 years on

Fifteen years after the Indian Ocean tsunami killed more than 230,000 people on Boxing Day, 2004, a cargo container at a police station in southern Thailand bears witness to the hundreds of victims..




Reuters - Published





India expands Indo-Pacific policy

India is increasing the area covered by its Indo-Pacific policy to include the western Indian ocean and Arabian Sea. This means that Asean is not only the heart of the Indo-Pacific, but includes the..




IndiaTimes - Published





India & France to start joint patrolling mission of Indian Ocean Region




IndiaTimes - Published





'Take clearance before working in our Exclusive Economic Zone': Navy warns China on ships operating in Indian ocean

Noting that the presence of Chinese ships in the Indian Ocean is increasing, Admiral Karambir Singh assured that the naval forces have been keeping a close watch on them and are fully prepared to deal..




DNA - Published





A Presidential election you need to follow

Sri Lanka's presidential polls begin Saturday with incumbent Maithripala Sirisena, not in the fray, which means no matter who wins, India will have to deal with a new President while wrestling China in..




IndiaTimes - Published





Mauritius starts counting votes after parliamentary election

Mauritius electoral authorities began counting votes on Friday after a parliamentary election dominated by calls for a fairer distribution of wealth on the prosperous Indian Ocean island.




Reuters - Published





Rivals promise better wealth distribution as Mauritius votes

Mauritius held a parliamentary election on Thursday, with the main parties all promising a fairer distribution of wealth on the prosperous Indian Ocean island.




Reuters - Published





Better wealth distribution pledged as prosperous Mauritius votes for leader

Voters in the prosperous Indian Ocean island of Mauritius went to the polls on Thursday in a parliamentary election which will decide its leader for the next year five years.




Reuters - Published





Schools, colleges to remain closed in 6 south Tamil Nadu districts due to heavy rains today

Cyclone 'Kyarr' in the Arabian Sea has created a "Depression" over the Indian ocean, bringing heavy rainfall to Kerala, Lakshadweep, Karnataka and south Tamil Nadu.




DNA - Published





India boosts its profile in west Indian Ocean

Using its strengths in defence, economic and climate cooperation, India is quietly making its moves in the western Indian Ocean region. This week, India engaged the Vanilla Islands – Madagascar,..




IndiaTimes - Published





UK looks to ramp up maritime security tie-up with India

The United Kingdom now wants to seriously crank up maritime security cooperation with India in the Indo-Pacific, with special focus on the Indian Ocean Region (IOR), even as it has offered help to New..




IndiaTimes - Published





Mauritius' prime minister dissolves parliament, calls general election

Mauritius Prime Minister Pravind Kumar Jugnauth dissolved parliament on Sunday and said the Indian Ocean island would hold a general election on November 7.




Reuters - Published





Army chief Bipin Rawat embarks on Maldives visit

The press release says that the Maldives has always prime importance for India due to its centrality to Indian Ocean region




DNA - Published





U.N. suspends Sri Lankan troops from peacekeeping over army chief appointment

The United Nations suspended Sri Lankan Army deployments in the world body's peacekeeping operations after the Indian Ocean island nation appointed a war veteran who has been accused of serious human..




Reuters - Published





Senior Iranian military adviser threatens broad response to any U.S. move

Iran maintained its defiant stance against the United States in the wake of attacks on Saudi oil infrastructure claimed by a Tehran ally, saying on Friday it would resist any U.S. plots against it..




Reuters - Published





Spy planes spot China warship in south IOR

This comes a fortnight after intelligence agencies warned that China was allegedly spying on Indian Naval bases in the Indian Ocean through its advanced surveillance ship in the A&N Islands




DNA - Published





Navy tracks Chinese vessels operating in Indian Ocean Region

As many as seven Chinese Navy warships are operating in and around the Indian Ocean Region, including an over 27,000 tonnes amphibious vessel, which have been tracked closely by the Indian Navy using..




IndiaTimes - Published





Pope says Britain should obey U.N., return islands, including U.S. base

Pope Francis said on Tuesday Britain should comply with a U.N. resolution and return a chain of islands it holds in the Indian Ocean to Mauritius, including one rented to the United States for the..




Reuters - Published





Australia says asylum seekers from Sri Lanka rising

The number of Sri Lankans trying to enter Australia illegally by sea is rising, an Australian general said on Tuesday, a day after Canberra said it had intercepted a 13th boat carrying asylum seekers..




Reuters - Published





MARITIME HUNGER: New challenge for India

The Chinese manoeuvring in the Indian Ocean aims to challenge America's sway and chip away at India's natural-geographic advantage




DNA - Published





Exclusive: China-owned oil tanker changes name in apparent effort to evade U.S. sanctions

While in the Indian Ocean heading toward the Strait of Malacca, the very large crude carrier (VLCC) Pacific Bravo went dark on June 5, shutting off the transponder that signals its position and..




Reuters - Published