Purba Medinipur district
District of West Bengal in India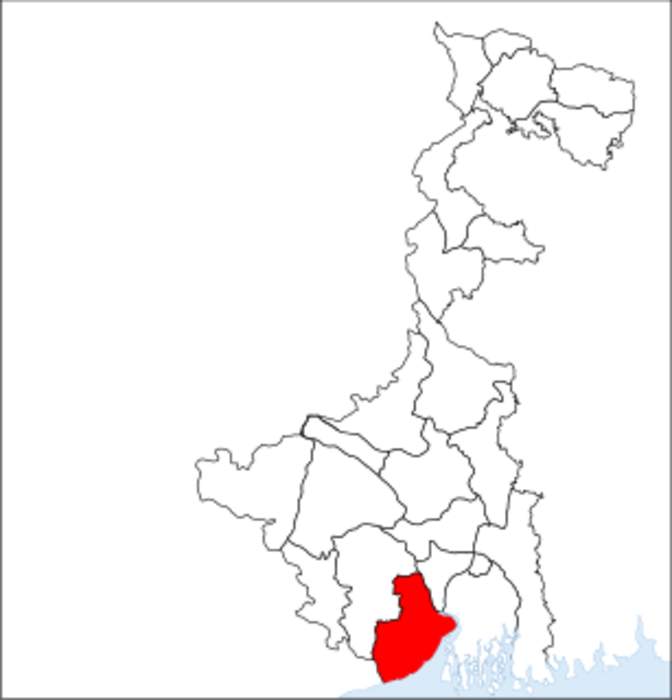 Purba Medinipur district is an administrative unit in the Indian state of West Bengal. It is the southernmost district of Medinipur division – one of the five administrative divisions of West Bengal. The headquarters in Tamluk. It was formed on 1 January 2002 after the Partition of Medinipur into Purba Medinipur and Paschim Medinipur which lies at the northern and western border of it. The state of Odisha is at the southwest border; the Bay of Bengal lies in the south; the Hooghly river and South 24 Parganas district to the east;Howrah district to the north-east; Paschim Medinipur district to the west.


You Might Like
Cyclone Yaas impact: PM Modi to visit Odisha, Bengal on Friday, Mamata to attend review meeting
Later, Banerjee will conduct her own aerial survey of North 24 Parganas, South 24 Parganas district & East Midnapore.
DNA - Published
'Goons from other states have entered Nandigram': Mamata urges EC for action
Speaking to reporters before hitting the campaign trail for the later phases, Banerjee alleged that locals are being hounded out of various villages in the assembly constituency in the Purba Medinipur..
IndiaTimes - Published
West Bengal Assembly Election 2021: First phase polling ends with 79.79% voter turnout, violence reported in some parts
A clash broke out between activists of the BJP and the TMC in Purba Medinipur's Nandigram constituency which is set to go to polls on April 1.
DNA - Published
Adhikari family patriarch & veteran TMC MP joins BJP
Trinamool Congress' three-time Kanthi MP Sisir Adhikari joined BJP on Sunday in the presence of Union home minister Amit Shah in East Midnapore's Egra, ending a decades-long association with Mamata..
IndiaTimes - Published
EC suspends SP, shunts DM for 'lapses' leading to Didi's injury
The Election Commission on Sunday ordered the removal of Vivek Sahay, West Bengal director security, the suspension of Purba Medinipur SP Pravin Prakash while transferring district magistrate Vibhu..
IndiaTimes - Published
Mamata Banerjee's assets worth Rs 16.72 lakh
Banerjee, who is contesting the Nandigram assembly constituency in Purba Medinipur district, doesn't own any vehicle or property, according to her self-sworn affidavit filed before the Election..
IndiaTimes - Published
Didi injured in Nandigram, alleges 'deliberate attack'
West Bengal chief minister Mamata Banerjee said she was injured "after being pushed against her car" in Nandigram on Wednesday, hours after she filed nomination papers to contest the election from..
IndiaTimes - Published
PM Modi inaugurates key projects including LPG import terminal in poll-bound Bengal
Prime Minister Narendra Modi on Sunday launched multiple development projects including an LPG import terminal built by the Bharat Petroleum Corporation Limited in Haldia of Purba Medinipur district in..
IndiaTimes - Published
TMC MP Sisir Adhikari, Suvendu's father, divested of another post
Nearly a month after West Bengal's political heavyweight Suvendu Adhikari joined the BJP, his father and TMC Lok Sabha MP Sisir Adhikari was on Wednesday removed as East Midnapore district president,..
IndiaTimes - Published
36-ft long whale washes ashore in West Bengal's Mandarmani
The carcass of a 36-feet-long critically endangered whale washed ashore in the coastal belts of West Bengal's East Midnapore district on Monday. The incident took place at Mandarmani when a huge whale..
IndiaTimes - Published
Protests against amended Citizenship Act continue in Bengal
Protests over the amended Citizenship Act continued in Bengal for the fourth consecutive day on Monday, with incidents of road and rail blockades reported from various parts of the state, officials..
IndiaTimes - Published
WB: TMC leader Basudeb Mondal allegedly murdered in East Midnapore
Police later recovered his body. Further investigation is underway.
DNA - Published