Police
Law enforcement body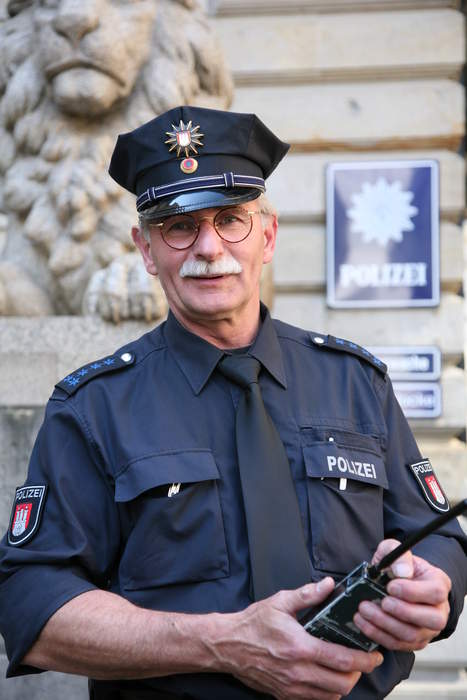 The police are a constituted body of persons empowered by a state, with the aim to enforce the law, to ensure the safety, health and possessions of citizens, and to prevent crime and civil disorder. Their lawful powers include arrest and the use of force legitimized by the state via the monopoly on violence. The term is most commonly associated with the police forces of a sovereign state that are authorized to exercise the police power of that state within a defined legal or territorial area of responsibility. Police forces are often defined as being separate from the military and other organizations involved in the defense of the state against foreign aggressors; however, gendarmerie are military units charged with civil policing. Police forces are usually public sector services, funded through taxes.


India been largest contributor to UN Peacekeeping: EAM Jaishankar

Union External Affairs Minister Dr S Jaishankar addressed ICWA-USI International Gallipoli virtual seminar. He said, "It's worth recalling that Indian soldiers during World War were motivated neither..
Credit: ANI Duration: 01:21
Published
Delhi Lockdown: Strict checking by police on vehicular movement

Police personnel checked vehicles and IDs of people who are commuting in Delhi amid the 6-day lockdown imposed in the national capital in the wake of COVID-19 pandemic. The lockdown will continue till..
Credit: ANI Duration: 01:06
Published
Ambulance engulfs in flames outside Lucknow welding shop

An ambulance caught fire outside a welding shop at Kineshwar Chauraha in Lucknow city on April 12. The ambulance was at the welding shop for repair. Oxygen cylinder blasted at the welding shop leading..
Credit: ANI Duration: 01:22
Published
Multiple victims found after shooting in Texas

Police responded to the scene of a shooting at an industrial park in Bryan, Texas, where they found "several victims," according to police.
Credit: Bleacher Report AOL Duration: 01:21
Published
Dilip Ghosh accuses TMC workers for attack on his convoy

After alleged attack on his convoy in Cooch Behar's Sitalkuchi, West Bengal BJP chief Dilip Ghosh in a press conference claimed that vehicles returning from Mamata Banerjee's rally threatened BJP..
Credit: ANI Duration: 01:26
Published
2 cops thrash Indore man for not wearing mask properly

In a viral video, two policemen were seen thrashing a man for not wearing mask properly in Madhya Pradesh's Indore. The victim said, "I was taking food for my father in hospital when Police asked me to..
Credit: ANI Duration: 03:23
Published
3 dead after factory's rooftop collapses in Ludhiana

Three persons have been confirmed dead, while seven are hospitalised after being injured in the Ludhiana rooftop collapse. The incident took place after lintel of a factory collapsed in Giaspura Daba,..
Credit: ANI Duration: 01:37
Published
Stone pelting during COVID-19 protocol enforcement drive in Bihar

A huge crowd comprising of students, pelted stones and vandalised vehicles and properties in Sasaram during COVID-19 protocol enforcement drive carried out by the police and local administration while..
Credit: ANI Duration: 02:29
Published
London police clash with protesters against new crime law

Police clashed with demonstrators in London protesting against a new crime law brought forward by Boris Johnson's government.
Credit: euronews (in English) Duration: 00:50
Published
Speaker was held hostage: Nitish Kumar justifies action against opposition MLAs

Justifying police action against opposition legislators over the 'Special Armed Police Bill', Bihar Chief Minister Nitish Kumar said that the protesting MLAs had held the Speaker hostage and his..
Credit: ANI Duration: 01:54
Published
Police move in to disperse latest 'Kill The Bill' protest in Bristol

Police moved in to disperse demonstrators in Bristol just two days after another protest which descended into rioting in the city.Specially trained public order officers were deployed on Tuesday night..
Credit: PA - Press Association STUDIO Duration: 00:56
Published
Ten people killed in Colorado supermarket shooting

A shooting at a Colorado supermarket killed 10 people, including a police officer who was the first to respond to the scene, authorities said.Police arrested a suspect, but did not reveal his name or..
Credit: PA - Press Association STUDIO Duration: 01:27
Published
Maskless 'Karen' Cries Police Brutality

Police arrested a maskless Texas woman in a bank after she refused to leave and cried "police brutality."
Credit: HuffPost NOW News Duration: 01:34
Published
Thousands attend Sarah Everard vigil in London despite ban

Police criticised for breaking up vigil as crowd pays tribute to slain woman hours after police officer charged with her murder appears in court.
Credit: Al Jazeera STUDIO Duration: 03:01
Published
You Might Like



Bottles thrown at police called to break up COVID rules-busting party

Police called to break up a COVID regulations-busting party were threatened and hit with bottles.




Sky News - Published





Two militants killed in encounter in J&K's Shopian

Two unidentified militants were killed in an encounter with security forces in Shopian district of Jammu and Kashmir on Monday, Police said. Security forces launched a cordon and search operation in..




IndiaTimes - Published





Vehicles in Priyanka Gandhi Vadra's cavalcade collide on UP's Hapur Road, no injuries reported

"We have come to know that a farmer Navneet ji who came from Canada and was participating in protest peacefully, was shot at by Police and lost his life, during tractor rally. Priyanka Gandhi ji will..




IndiaTimes - Published





India protests: Police block roads to stop farmers disrupting budget day

Indian police have blocked main roads to stop protesting farmers entering New Delhi, as the finance minister prepares to deliver the government's annual budget in parliament.




Sky News - Published




Shopian encounter: Police chargesheet says Army captain, 2 others attempted to destroy evidence

The case relates to the July 18, 2020 encounter in Shopian's Amshipura in which three youths were killed and dubbed as terrorists. Later, the Army ordered a Court of Inquiry after reports appeared on..




IndiaTimes - Published





J&K: Police arrests one for spying for Pakistan




IndiaTimes - Published





Hathras case: 4 men with PFI links arrested in Mathura

Police claimed that they have seized their mobile phones, laptops and some literature, which could disturb peace and stability in Uttar Pradesh.




DNA - Published





Rahul, Priyanka among 5 allowed to proceed to Hathras: Noida Police

Only five members of a delegation of MPs led by Congress leader Rahul Gandhi have been permitted to go to Hathras via Noida considering the restrictions imposed under CrPC Section 144, Police said on..




IndiaTimes - Published





IPL 2020 betting - Police formulates new strategy for curbing menace

Police have formulated a new strategy to curb the menace of betting during IPL 2020 and this has included direct jail-time and appeals to the youth to not get into betting.




DNA - Published





No data of alleged harassment by cops during Covid-19 lockdown maintained by Centre: MHA

Minister of State (MoS) Home G Kishan Reddy, in a written reply in the Rajya Sabha, said "Police and public order are State subjects as per 7th schedule of Constitution of India. Hence, the actions are..




IndiaTimes - Published





Umar Khalid held for Delhi riots 'conspiracy'

Police claimed to have found "crucial evidence", including Khalid's movement during the riots, after interrogating him about meeting members of 'United Against Hate' groups and the Popular..




IndiaTimes - Published





J&K: Army jawan martyred, one terrorist slain after encounter breaks out in Pulwama; cop wounded

Police clarified that the terrorists were asked to surrender first but they instead fired upon the joint security team.




DNA - Published




J&K: Encounter breaks out in south Kashmir's Pulwama; terrorists trapped in cordon

Police clarified that the terrorists were asked to surrender first but they instead fired upon the joint security team.




DNA - Published





Encounter breaks out between security forces and terrorists in Srinagar

Police confirmed the exchange of fire in Malbagh area of Srinagar.




DNA - Published





Tuticorin Jayaraj-Bennix case: CCTV footage indicates FIR was based on false info

A few CCTV clips from outside APJ mobiles shop that was owned by the father-son duo don't match the Police version.




DNA - Published





To cover-up one murder, man kills nine more people with sleeping pills as his 'weapon'

Police has arrested a 26-year-old man accused of killing 10 people.




DNA - Published





Bois Locker Room case: Police says minor girl created fake account to suggest sexual assault on herself

A fictitious name 'Siddharth' was used by the girl to create a fake profile and the conversation was to meant to test the 'values and character' of the boy.




DNA - Published





Scots' medical chief breaks own coronavirus rules, steps down from briefings

Police issued a warning to Scotland's Chief Medical Officer Catherine Calderwood on Sunday after she broke her own advice on social distancing to slow coronavirus spread when she visited her second..




Reuters - Published





Convicted criminals are among the special police terrorizing Venezuela

Since President Nicolas Maduro founded the Special Action Force of Venezuela's National Police two-and-a-half years ago, the squad has earned a fearsome reputation in poor neighborhoods across..




Reuters - Published





Tehran police chief denies shots fired at protesters: Iran state media

Police in the Iranian capital did not fire on protesters and officers have been under orders to show restraint, Tehran's police chief said in a statement carried by the state broadcaster's website on..




Reuters - Published





Want to avoid traffic snarls on New Year eve in Delhi? Follow this advisory

Police has also warned that strict action will be taken against drunken driving, stunt biking, over speeding, reckless driving, zig-zag and dangerous driving.




DNA - Published





Anti-CAA protests: Police complaint against 1,000 AMU students for violence

Aligarh's SSP Aakash Kulahari said an FIR in this regard was filed on December 23 by RAF commandant Punit Kumar.




DNA - Published





Factory owner, manager arrested after Indian capital's deadliest fire in 20 years

Police in New Delhi have arrested the owner and manager of a factory where 43 people died in the Indian capital's deadliest fire in 20 years, a spokesman said on Monday.




Reuters - Published




Telangana rape: Court likely to issue order on Police's plea seeking 10-day custody of four accused on Wednesday

The incident in Telangana caused a major uproar in the Parliament.




DNA - Published





Local LeT terrorist linked with attack on migrant labourer arrested in Sopore

Police said Danish Channa was tasked to carry out grenade attacks in the busy markets and other establishments.




DNA - Published





Mongolia arrests 800 Chinese citizens in cybercrime probe

Police in the Mongolian capital of Ulaanbaatar have apprehended 800 Chinese citizens and confiscated hundreds of computers and mobile phone SIM cards as part of an investigation into a cybercrime ring,..




Reuters - Published





Police free nearly 150 from school in northern Nigeria

Police said on Saturday they had freed nearly 150 students from a purported school in northern Nigeria that claimed it was teaching the Koran but had instead subjected them to abuse.




Reuters - Published





14 injured after swing ride swing breaks in Delhi's Anand Vihar area

Police visited the spot and found out that the swing was inside the trust premise without permission.




DNA - Published





Poster inviting people for nude party goes viral in Goa, Police begins probe

No offence has been registered yet, but we have started a preliminary probe, says Goa police.




DNA - Published





Mumbai: Man slit conductor's neck over Rs 10, held

Police said that the accused asked for a Rs 10 note instead of a Rs 10 coin in return.




DNA - Published





Delhi police seizes over 12500 quarter illicit liquor under 'Roko-Toko' scheme

"More than 12500 quarters of illicit liquor recovered in a single day during patrolling and picket checking by Outer-North district. To curb the menace of illegal transportation and sale of illicit..




DNA - Published





J&K: Eight LeT terrorist associates arrested for threatening locals in Sopore

Police recovered and seized the computers, other accessories and incriminating materials which were used for drafting and publishing of the posters, they added.




DNA - Published





Chinmayanand case: Police release poster of missing woman with her details




IndiaTimes - Published





Former Indian finance minister Chidambaram arrested in corruption case

Police arrested former Indian finance minister P. Chidambaram late on Wednesday in relation to alleged corruption and money laundering, a day after the Delhi High Court rejected his application to seek..




Reuters - Published





Mumbai: Daily soap actress kills daughter, hangs herself in Kalwa

Police also found a suicide note of Pragnya stating she killed her daughter and no one else should be held responsible for their death.




DNA - Published





Remains of British woman who fell from plane found in Madagascar

Police said on Wednesday they had found the remains of a British woman who fell 1,200 meters (4,000 feet) from a light aircraft in the remote north of Madagascar last month.




Reuters - Published





Police recommend charging Israeli deputy minister in Australia extradition case

Police recommended on Tuesday indicting Israel's deputy health minister on suspicion he tried to bolster the case of a former Australian school principal pleading mental illness as an argument against..




Reuters - Published





Mumbai: Mother-son duo electrocuted at their Santacruz residence

Police says the duo came in contact with safety door where the electric wire was broken and an electric current was passing




DNA - Published





Kolkata: Police arrests rowdy biker for dragging police constable, hitting elderly person

On July 1, the rowdy biker identified as Dhaneshwar Jha drove dangerously near the Quest Mall in Kolkata and dashed an elderly person and dragged traffic constable Tapan Orang for 100 metres. Jha..




DNA - Published





Jaipur: 7-year-old abducted and raped, massive tension in the area

Police has ruled out any communal angle in the incident.




DNA - Published





Police arrest newspaper publisher in midnight raid in Indian Kashmir

Police arrested the publisher of one of the most widely read newspapers in Indian-controlled Kashmir in a midnight raid over a decades-old case, the police and his brother said on Tuesday, highlighting..




Reuters - Published





Jharkhand: Police arrests two men, recover snake worth Rs 1.6 crore

Bokaro police on Friday arrested two men and recovered a rare snake Red Sand Boa worth Rs 1.6 crore.




DNA - Published





Kin of slain soldiers hail changes in PM Modi's Scholarship Scheme

The Scholarship Scheme has also been extended to the wards of State Police officials who were killed during terror or Naxal attacks.




DNA - Published





Did Empire Actor Jussie Smollett Fake His Own Attack?

by Adam Yardley - Jussie Smollett – an actor known for appearing on Fox's TV series Empire – has found himself at the center of media attention in the last few days, and not for his..




One News Page Staff - Published