Thiruvananthapuram
Metropolis in Kerala, India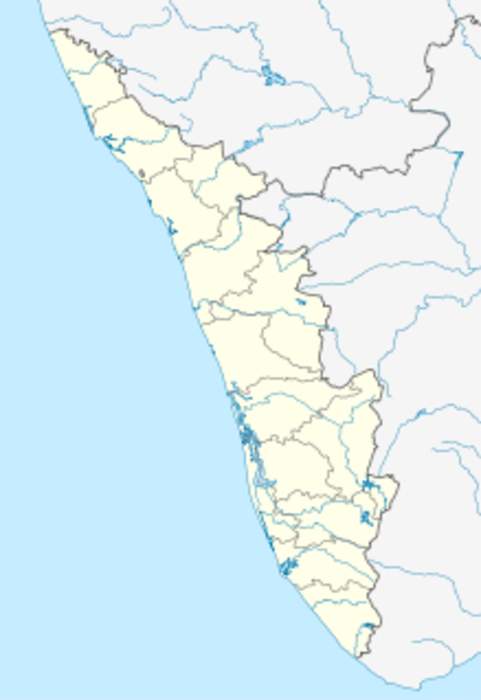 Thiruvananthapuram, commonly known by its former name Trivandrum, is the capital of the Indian state of Kerala. It is the most populous city in Kerala with a population of 957,730 as of 2011. The encompassing urban agglomeration population is around 1.68 million. Located on the west coast of India near the extreme south of the mainland, Thiruvananthapuram is a major information technology hub in Kerala and contributes 55% of the state's software exports as of 2016. Referred to by Mahatma Gandhi as the "Evergreen city of India", the city is characterised by its undulating terrain of low coastal hills.


Gouri Amma: The woman who laid foundation for modern Kerala | Oneindia News

101-year-old KR Gouri Amma died at a private hospital in Kerala's Thiruvananthapuram due to age-related illnesses. Who was she? Remembered as an efficient and strong-willed woman, Gouri Amma is counted..
Credit: Oneindia Duration: 02:40
Published
Kerala police on vigil to ensure lockdown restrictions are being followed

The country is witnessing exponential surge in COVID-19 cases and because of which several states have imposed lockdown in order to break the transmission of the COVID-19 virus. Kerala Government too..
Credit: ANI Duration: 01:23
Published
COVID: 9-day lockdown imposed in Kerala

The country is facing unprecedented rise in COVID-19 cases and due to it, Kerala Government imposed a nine-day lockdown to contain disease transmission in the second wave of COVID. On May 08, the..
Credit: ANI Duration: 01:13
Published
COVID: Kerala remains silent due to weekend lockdown

To curb the spread of COVID-19 virus, weekend lockdown has been imposed in Kerala. On May 01, streets remain deserted and shops remain closed in Thiruvananthapuram and only essential services and..
Credit: ANI Duration: 01:04
Published
CITU workers celebrate Labour Day in Thiruvananthapuram

Centre of Indian Trade Unions' workers hoisted red flag to celebrate Labour Day in Thiruvananthapuram on May 01. Amid weekend restrictions in the state, workers gathered at the Manacaud area to cherish..
Credit: ANI Duration: 01:01
Published
You Might Like



COVID-19 curbs extended in Kerala till May 23, CM Vijayan announces 'triple lockdown' in 4 districts

With triple lockdown, residents in Thiruvananthapuram, Ernakulam, Thrissur, Malappuram will see increased restrictions.




DNA - Published





Congress' Randeep Surjewala alleges secret understanding between Kerala CM Pinarayi Vijayan, PM Modi

"There seems to be a secret understanding between Kerala CM and PM Modi. Is it not correct that the decision to purchase 300-megawatt wind power has been purchased by the Kerala government at rates of..




IndiaTimes - Published





Thiruvananthapuram set to get 21-year-old mayor

Arya Rajendran, 21, a BSc mathematics student who faced her first local body elections as a voter and as a candidate in the Thiruvananthapuram corporation elections, is set to become the youngest..




IndiaTimes - Published





Kerala braces for cyclone Burevi; Thiruvananthapuram airport to remain shut today

Union Home Minister Amit Shah on Thursday spoke with the Chief Minister of Kerala in the wake of Cyclone Burevi and assured him support.




DNA - Published





PM Modi discusses cyclone situation with Kerala CM Pinarayi Vijayan

PM Modi virtually discussed the cyclone situation with Kerala chief minister Pinarayi Vijayan on Wednesday.​​Vijayan informed the prime minister about the arrangements made by the state to battle..




IndiaTimes - Published





Cyclone Nivar: Tamil Nadu declares public holiday on Nov 25, Sec 144 in Puducherry; more details here

Six special trains of the Thiruvananthapuram division of the Southern Railways have been cancelled on November 25 in view of cyclone Nivar.




DNA - Published





Forecast of heavy rain in Kerala tomorrow, meteorological department issues alert

IMD's regional meteorological centre in Thiruvananthapuram has also issued an Orange alert for 48 hours in these districts. The remaining parts of Kerala are likely to receive light to moderate rain.




DNA - Published





ED turns up heat on Kerala CM with chargesheet in gold case

The primary chargesheet filed by the Enforcement Directorate (ED) on Wednesday on the Thiruvananthapuram gold smuggling case said prime accused Swapna Suresh met M Sivasankar, former principal..




IndiaTimes - Published





Kerala Secretariat Fire: Opposition alleges attempt to sabotage Gold Smuggling case evidence; govt suspects 'conspiracy'

High drama was witnessed at the secretariat in Kerala's Thiruvananthapuram on Tuesday after a minor fire broke out at the protocol department, with Opposition Congress and BJP alleging that important..




DNA - Published





Pinarayi Vijayan moves resolution in Assembly urging Centre to reconsider decision to lease Trivandrum airport

Kerala chief minister Pinarayi Vijayan on Monday moved a resolution in the State Assembly urging the Central Government to reconsider its decision to hand over operations and supervision of Trivandrum..




IndiaTimes - Published





Kerala govt moves HC seeking stay on privatisation of Thiruvananthapuram airport

The Kerala government on Friday moved the high court seeking a stay on further proceedings in leasing out Thiruvananthapuram international airport to Adani Enterprises.




IndiaTimes - Published





Thiruvananthapuram airport privatisation: CPM to send 2 lakh emails to PM Modi

Protesting against the Centre's decision to lease out the airport here to Adani Enterprises, the ruling CPM in Kerala on Friday said it would send two lakh emails to Prime Minister Narendra Modi,..




IndiaTimes - Published





Kerala govt opposes privatisation of Trivandrum airport, CM Pinarayi Vijayan writes to PM Modi

Vijayan said that since the state government has rendered assistance to the airport wholeheartedly, including providing land on various stages, the Kerala government has the rightful claim on the..




DNA - Published





Kerala govt did not qualify in Thiruvananthapuram airport's bidding process: Hardeep Singh Puri

The Kerala government did not qualify in Thiruvananthapuram airport's bidding process that was carried out in a transparent manner, civil aviation minister Hardeep Singh Puri said on Thursday. The..




IndiaTimes - Published





Union Cabinet approves proposal to lease out 3 AAI airports through Public-Private Partnership

Union Cabinet on Wednesday approved the proposal for leasing out three airports of Airports Authority of India (AAI) through Public-Private Partnership (PPP). The three airports approved are Jaipur,..




DNA - Published





Centre likely to discuss privatisation of 6 airports in Cabinet meeting on Wednesday

The Modi government had earlier decided to privatise operations of 12 airports of the Airport Authority of India (AAI). The decision on privatisation of six airports of Ahmadabad, Mangalore, Lucknow,..




DNA - Published





Kerala gold smuggling case: NIA conducts searches at multiple locations; 6 arrested

The matter, which pertains to the smuggling of gold in the state through diplomatic channels, had come to light after 30 kg gold worth Rs 14.82 crores, smuggled in a consignment camouflaged as..




DNA - Published





On the road for a year, 74-wheel truck carrying sophisticated space machinery reaches Kerala

Finally, after travelling through four states moving 5 kilometres a day, it reached Thiruvananthapuram.




DNA - Published





Community spread of Covid-19 in some places of Thiruvananthapuram: Kerala CM

Kerala chief minister Pinarayi Vijayan on Friday said that there is a community spread in some places in coastal areas of Thiruvananthapuram, where a large number of coronavirus cases have been..




IndiaTimes - Published





Travancore royals get managerial right over Padmanabha temple

The Supreme Court on Monday restored the right of "Managership or the Shebaitship" of Sree Padmanabhaswamy temple at Thiruvananthapuram in Kerala to the royal family of Travancore but the..




IndiaTimes - Published





Kerala gold smuggling: Diplomat involved, says accused; NIA gets case

MHA on Thursday ordered a probe by NIA into the Thiruvananthapuram airport gold smuggling case. Sarith Kumar, who was earlier local PRO in the consulate-general office, turned up to claim the cargo..




IndiaTimes - Published





MHA allows NIA to probe Thiruvananthapuram airport gold smuggling case

The Ministry of Home Affairs on Thursday allowed the National Investigation Agency to probe the gold smuggling case detected at the Thiruvananthapuram international airport in Kerala as the incident..




IndiaTimes - Published





Covid-19: Indian dozes off at Dubai airport, misses repatriation flight

A 53-year-old Indian worker in the UAE has missed a special repatriation flight after he dozed off at the Dubai International Airport, a media report said. P Shajahan, who worked as a storekeeper in..




IndiaTimes - Published





Heavy rains lash southern parts of Kerala, five shutters of Aruvikkara dam raised

Due to the incessant rains, low lying areas in Thiruvananthpuram have been submerged in knee-deep water.




DNA - Published





Indian Railways to resume passenger train service from Tuesday

Initially with 15 pairs of trains will run, railway ministry said on Sunday. These trains will be run as special trains from New Delhi station connecting Dibrugarh, Agartala, Howrah, Patna, Bilaspur,..




IndiaTimes - Published





Railways passenger service to resume gradually from Tuesday

Initially with 15 pairs of trains will run, railway ministry said on Sunday. These trains will be run as special trains from New Delhi station connecting Dibrugarh, Agartala, Howrah, Patna, Bilaspur,..




IndiaTimes - Published





IAF conducts fly-past over Delhi saluting 'corona warriors'

The military jets, including Sukhoi-30 MKI, MiG-29 and Jaguar, flew over Rajpath, Delhi's centrepiece boulevard, and then orbited over the city for around 30 minutes from 11 am. IAF is carrying out..




IndiaTimes - Published





Special drills, flypast by forces on May 3 to express gratitude towards coronawarriors: CDS Bipin Rawat

Rawat said that the Air Force will conduct a flypast from Srinagar to Trivandrum & another one starting from Dibrugarh in Assam to Kutch in Gujarat. which will include both transport & fighter..




DNA - Published





Ramadan 2020 begins from Apr 25: First roza sehri & iftar timing for Delhi, Mumbai, Chennai, Bengaluru, Patna

Muslims across India will start fasting on Saturday (April 25) as the crescent moon was sighted on Friday, officially announcing the beginning of the holy month of Ramzan. Here is first roza sehri and..




DNA - Published





Ramadan 2020: Significance, sehri and iftar timings for Delhi, Mumbai, Bengaluru, Hyderabad, Chennai, Trivandrum

Muslims in coastal Karnataka and Kerala will start fasting on Friday as the crescent moon was sighted on Thursday, officially announcing the beginning of Ramzan.




DNA - Published





Sea of devotees gather at Arattu festival in Kerala amidst coronavirus fears; flouts govt guidelines

A traditional procession 'Arattu' was organised at Malayinkeezhu Sree Krishna Swami Temple in Thiruvananthapuram, on Friday flouting government guidelines which bars gathering of more than 50 people..




DNA - Published





Shashi Tharoor writes to S Jaishankar, seeks evacuation of stranded Kerala fishermen from Iran

In a letter to S Jaishankar, Shashi Tharoor said certain fishermen groups from India, including many from his Lok Sabha constituency of Thiruvananthapuram, are currently stranded in Iran following the..




IndiaTimes - Published





Tamil Nadu: 19 killed as container truck collides with passenger bus near Coimbatore

Kerala State Road Transport Corporation bus was going to Kerala's Thiruvananthapuram from Bengaluru in Karnataka, while the truck was coming from the opposite direction on the Coimbatore-Salem Highway.




DNA - Published





Arrest warrant issued against Shashi Tharoor for 'defaming' Hindu women in his book

A Trivandrum court on Saturday issued an arrest warrant for Congress MP Shashi Tharoor in connection with a case filed against him for allegedly defaming Hindu women in one of his books. After Tharoor..




IndiaTimes - Published





Six more airports may be privatised

The recommendation came as the Central government has already privatised airports at Lucknow, Ahmedabad, Jaipur, Mangaluru, Thiruvananthapuram, and Guwahati for operation, management and development..




IndiaTimes - Published





First visually impaired woman IAS officer takes charge

Pranjal Patil, India's first visually challenged woman IAS officer on Monday took charge as Sub-Collector of Thiruvananthapuram. A warm reception was arranged to welcome her as she took over from..




IndiaTimes - Published





Kerala governor-designate Arif Mohammad Khan arrives in Trivandrum, will take charge tomorrow

Kerala governor-designate Arif Mohammad Khan reached state's capital city Trivandrum on Thursday and is scheduled to take charge of his office on Friday. Former Union minister Khan was appointed as the..




IndiaTimes - Published





'Show me one leader from Kerala who put in 10% of my effort in opposing Modi': Tharoor hits back at state Cong chief

Shashi Tharoor, Congress MP from Thiruvananthapuram in Kerala, today in a letter addressed to Kerala Pradesh Congress Committee (KPCC) chief Mullapally Ramachandran hit back at the latter over..




DNA - Published





'Astonished to hear that I justified PM Modi': Tharoor's strong reply to Kerala Congress

Thiruvananthapuram MP Shashi Tharoor has given a strong reply to the explanation sought by KPCC president Mullappally Ramachandran for his Modi praise. In his detailed reply, he has made it clear that..




IndiaTimes - Published





Trivandrum: Local singers collect relief fund for flood-affected people

At a small-scale event which was organised at the heart of the city, crooners sang a few of their compositions




DNA - Published





Kolkata court issues arrest warrant against Shashi Tharoor over 'Hindu Pakistan' remark

In July last year, Shashi Tharoor had said if BJP won the 2019 Lok Sabha elections, it would create a condition leading to the formation of a 'Hindu Pakistan'. Addressing an event in..




IndiaTimes - Published





Red alert in 3 districts in Kerala; flood toll climbs to 88

The red alert has been sounded in Alappuzha, Ernakulam and Idukki on Tuesday and in northern districts of Malappuram and Kozhikode on Wednesday, IMD sources said adding over 20 cms of rains are..




IndiaTimes - Published





Kerala man wins $.27 million in UAE raffle draw

Speaking to Khaleej Times, Abdul Salam Shanavas, who hails from Thiruvananthapuram, said, "Even if I had worked for 50 years, I wouldn't have earned anything close to this amount. I arrived here in..




IndiaTimes - Published





Kerala journalist killed after IAS officer's car hits motorcycle

35-year-old K Muhammed Basheer was Thiruvananthapuram bureau chief of Malayalam daily Siraj and has left behind a wife and two children.




DNA - Published





Dog abandoned in Trivandrum for having 'illicit relationship'

A note was found attached to the collar of the dog in which the owner explained why the canine was being abandoned.




DNA - Published





Will resist attempt to hand over Thiruvananthapuram airport to Adani Group: Kerala CM

"No authority can take away the airport and hand it over to a private player by ignoring the opinion and demand of the state government.




IndiaTimes - Published