Jacinda Ardern
Prime Minister of New Zealand since 2017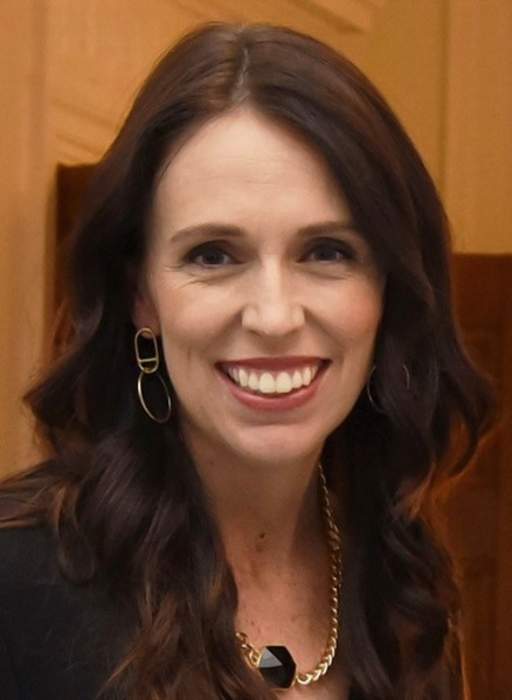 Jacinda Kate Laurell Ardern is a New Zealand politician who has been serving as the 40th prime minister of New Zealand and leader of the Labour Party since 2017. A member of the Labour Party, she has been the member of Parliament (MP) for Mount Albert since 2017.


First-Ever Direct Flight Connects New York With New Zealand

First-Ever Direct Flight , Connects New York , With New Zealand. On September 17, the first-ever direct flight from New Zealand to New York City touched down after about 16 hours in the air at JFK..
Credit: Wibbitz Top Stories Duration: 01:31
Published
You Might Like



Haka performance in Downing Street as Johnson welcomes New Zealand prime minister

Boris Johnson enjoyed a traditional haka performance in the Downing Street garden when he welcomed his New Zealand counterpart Jacinda Ardern.




Sky News - Published





New Zealand reveals dates for opening borders in stages

New Zealand is to begin reopening its borders in stages, but it won't be open to everyone for many months yet, prime minister Jacinda Ardern has announced.




Sky News - Published




'Violent extremist' carried out terrorist attack in New Zealand supermarket - Jacinda Arden

A "violent extremist" carried out a terrorist attack in an Auckland supermarket, New Zealand's prime minister has said.




Sky News - Published




Six people stabbed by 'violent extremist' in New Zealand terror attack

A man, inspired by ISIS ideology, who stabbed at least six people in a supermarket was a "violent extremist" known to the police, New Zealand Prime Minister Jacinda Ardern has said.




Sky News - Published





New Zealand suspends entry for travellers from India due to high Covid-19 cases

New Zealand Prime Minister Jacinda Ardern on Thursday announced a temporary ban on travellers from India starting April 11 due to the massive increase in Covid-19 cases, news agency Reuters reported...




IndiaTimes - Published





Chennai-born Keralite is NZ's 1st desi minister

Priyanca Radhakrishnan, a first-generation immigrant, became New Zealand's first-ever Indian-origin minister on Monday after Prime Minister Jacinda Ardern inducted five new ministers into her..




IndiaTimes - Published





PM Modi congratulates New Zealand's Jacinda Ardern on re-election

Prime Minister Narendra Modi on Sunday congratulated his New Zealand counterpart Jacinda Ardern for winning the general elections by a landslide victory and securing a second term in office.




DNA - Published

Also reported by •IndiaTimes


Ardern dances for joy after New Zealand eliminates coronavirus

New Zealand lifted all social and economic restrictions except border controls after declaring on Monday it was free of the coronavirus, one of the first countries in the world to return to..




Reuters - Published

Also reported by •Reuters India


New Zealand says coronavirus 'eliminated' and life can resume without restrictions

New Zealand has eliminated transmission of the coronavirus domestically and will lift all containment measures except for border controls, Prime Minister Jacinda Ardern said on Monday, making it one of..




Reuters India - Published

Also reported by •Reuters


New Zealand says coronavirus 'eliminated', to lift most curbs

New Zealand has eliminated transmission of the novel coronavirus and will lift all containment measures except for border curbs, Prime Minister Jacinda Ardern said on Monday, making the South Pacific..




Reuters - Published

Also reported by •Reuters India


New Zealand says to lift all coronavirus restrictions

New Zealand's Prime Minister Jacinda Ardern said on Monday that all coronavirus measures in the country will be lifted from Tuesday, barring border closure restrictions, as the virus had been..




Reuters - Published





New Zealand could return to normal life as early as next week

New Zealand Prime Minister Jacinda Ardern said on Wednesday she could lift all social distancing measures to return the country to normal life, bar the international border closure, as early as next..




Reuters - Published





New Zealand's Ardern says she is 'horrified' by George Floyd's death

Prime Minister Jacinda Ardern said on Tuesday that she was "horrified" by George Floyd's death, and welcomed peaceful protests in New Zealand in solidarity, but noted that they flouted social..




Reuters - Published





New Zealand expects plan for safe travel with Australia in June

New Zealand Prime Minister Jacinda Ardern said on Wednesday a draft blueprint on safely starting travel between New Zealand and Australia will be presented to both governments in early June.




Reuters - Published





New Zealand eases coronavirus curbs on public gatherings

New Zealand is easing back curbs on the size of gatherings to 100 people from 10, as it relaxes measures to limit the spread of the coronavirus, Prime Minister Jacinda Ardern said on Monday.




Reuters - Published





New Zealand's Ardern stays cool as earthquake strikes during live interview

New Zealand Prime Minister Jacinda Ardern was undaunted by an earthquake that struck the capital Wellington on Monday while she was doing a live TV interview, and calmly continued with the programme.




Reuters - Published





Jacinda Ardern stays cool as earthquake rattles New Zealand capital

An earthquake struck near New Zealand's capital on Monday morning, shaking many residents including Prime Minister Jacinda Ardern who continued with a live TV interview at the parliament building.




Reuters - Published





New Zealand opposition leader ousted as PM Ardern's popularity soars

The leader of New Zealand's main opposition party was ousted on Friday after opinion polls showed he was no match for the soaring popularity of Prime Minister Jacinda Ardern as the country heads toward..




Reuters - Published





New Zealand PM Ardern's election prospects boosted by latest poll

New Zealand's Prime Minister Jacinda Ardern's popularity has soared ahead of elections in September as a result of her handling of the coronavirus pandemic, a poll showed on Thursday.




Reuters - Published





Ardern becomes New Zealand's most popular PM in a century: poll

Jacinda Ardern became New Zealand's most popular prime minister in a century, a Newshub-Reid Research poll showed on Monday, thanks to her COVID-19 response that made the country among the most..




Reuters India - Published

Also reported by •Reuters


New Zealand's Ardern turned away from cafe under coronavirus rules

Hailed for her leadership during the coronavirus pandemic, New Zealand Prime Minister Jacinda Ardern and her partner were turned away from a cafe on Saturday because it was too full under the physical..




Reuters - Published





PM Ardern touts New Zealand as 'safe haven' for investment

New Zealand's success in curbing the coronavirus has given it a "safe haven" advantage, allowing the country to be open for investment, Prime Minister Jacinda Ardern said on Wednesday.




Reuters - Published





Australia, New Zealand flights to resume once virus risk eliminated: Ardern

New Zealand Prime Minister Jacinda Ardern joined Australia's coronavirus cabinet meeting on Tuesday as the neighbouring countries discuss reopening their borders to trans-Tasman travel following their..




Reuters - Published





New Zealand records no new coronavirus cases for a second day

New Zealand recorded no new coronavirus cases for a second day in a row on Tuesday, and Prime Minister Jacinda Ardern said the outcome of her discussions with Australia on a travel bubble between the..




Reuters - Published





New Zealand's Ardern asks citizens to follow virus-linked curbs even as no new cases reported

New Zealand Prime Minister Jacinda Ardern asked citizens to stay the course on social restrictions still in place to contain the coronavirus, and said no decision had been taken yet on whether the..




Reuters - Published





New Zealand's Ardern spoke to Queen on pandemic response

New Zealand's Prime Minister Jacinda Ardern said on Wednesday that she spoke to Queen Elizabeth II after the country emerged out a strict lockdown that helped contain the spread of the coronavirus.




Reuters - Published





Freed from strict lockdown New Zealanders head to fast food outlets, beaches

New Zealanders queued for burgers, fries and coffee takeaway on Tuesday after they were freed from a month-long lockdown, which Prime Minister Jacinda Ardern has credited with eliminating domestic..




Reuters - Published





New Zealanders crave fast food as country eases out of lockdown

New Zealanders queued for burgers, fries and coffee takeaway on Tuesday after they were freed from a month-long lockdown, which Prime Minister Jacinda Ardern credited with eliminating domestic..




Reuters - Published





Burgers, fries and coffee: New Zealanders rush for fast food as lockdown eases

New Zealanders queued for burgers, fries and coffee takeaway on Tuesday after they were freed from a month-long lockdown, which Prime Minister Jacinda Ardern credited with eliminating domestic..




Reuters - Published





New Zealand's lockdown contained coronavirus. Now comes the hard part

When New Zealand Prime Minister Jacinda Ardern and her top health official announced this week they would delay easing tough measures to control the coronavirus pandemic, they might have expected an..




Reuters - Published





New Zealand to ease tough virus lockdown measures next week

New Zealand will next week ease some of the world's strictest lockdown measures taken to tackle the novel coronavirus pandemic, Prime Minister Jacinda Ardern said on Monday, after a month of tight..




Reuters - Published





New Zealand extends lockdown by a week, to ease measures on April 27

New Zealand will extend the lockdown measures in place to beat the coronavirus by a week, after which it will move to a lower level of restrictions, Prime Minister Jacinda Ardern said on Monday.




Reuters - Published





New Zealand activist flies flag of environmental revolution with election run

The growing green concerns that will be in the spotlight on Earth Day next week are mirrored in a call for an "environmental revolution" by an 18-year-old New Zealand activist looking to take on Prime..




Reuters - Published





New Zealand's Ardern says many restrictions to be kept in place when lockdown ends

New Zealand Prime Minister Jacinda Ardern said on Thursday that significant restrictions would be kept in place even if the country eases the nationwide one-month lockdown enforced to beat the spread..




Reuters - Published





New Zealand's Ardern, ministers take 20% pay cut for six months due to coronavirus impact

New Zealand Prime Minister Jacinda Ardern, ministers in her government and public service chief executives will take a 20% pay cut for the next six months given the economic impact of the coronavirus..




Reuters - Published





New Zealand PM cautiously optimistic about coronavirus, urges Easter 'staycation'

New Zealand's prime minister, Jacinda Ardern, said on Wednesday she was cautiously optimistic about slowing the spread of the novel coronavirus as authorities reported the lowest number of new daily..




Reuters - Published





New Zealand demotes minister for coronavirus lockdown breach, extends emergency

New Zealand Prime Minister Jacinda Ardern said on Tuesday she had rejected her health minister's offer to resign for breaching nationwide lockdown rules as doing so would jeopardise plans to slow the..




Reuters - Published





New Zealand to stick with coronavirus curbs despite signs of improvement

New Zealand will stick to its tough curbs to combat the coronavirus, despite some early signs the spread of the illness has been stabilising, Prime Minister Jacinda Ardern said on Monday.




Reuters - Published





Ardern's online messages keep spirits up in New Zealand's coronavirus lockdown

Hours after New Zealand imposed a nationwide lockdown to beat a coronavirus pandemic, Prime Minister Jacinda Ardern took to Facebook, livestreaming in a sweater from bed, to "check in" on citizens and..




Reuters - Published





NZ's Ardern says guilty plea gives some relief to people shattered by mosque attack

New Zealand's Prime Minister Jacinda Ardern said on Thursday the guilty plea and conviction of the Christchurch mosque attacker brings some relief to many people affected by last year's attack.




Reuters - Published





'Act like you have COVID-19': PM Ardern says as New Zealand heads into lockdown

Prime Minister Jacinda Ardern told New Zealanders on Wednesday to behave as if they had the coronavirus and cut all physical contact outside their household when the country heads into a one-month..




Reuters - Published





New Zealand PM Ardern declares national emergency to tackle coronavirus

New Zealand Prime Minister Jacinda Ardern on Wednesday declared a state of national emergency as the country prepared to go into a complete lockdown at midnight to combat the coronavirus outbreak.




Reuters - Published




'Stay at home' New Zealand PM urges ahead of coronavirus lockdown

Prime Minister Jacinda Ardern urged New Zealanders on Tuesday to reduce contacts to a bare minimum to help fight the coronavirus, as the country prepared for a one-month lockdown.




Reuters - Published




New Zealand announces move to enter lockdown over next 48 hours

New Zealand Prime Minister Jacinda Ardern said on Monday the country will move into its highest alert level, with all-non-essential services, schools and offices to be shut over the next 48 hours.




Reuters - Published





New Zealand's Ardern keeps schools open, urges limits on movement

New Zealand Prime Minister Jacinda Ardern urged people on Saturday to cut non-essential internal travel and asked older residents to stay at home to help combat the spread of the coronavirus, which has..




Reuters - Published