Myanmar
Country in Southeast Asia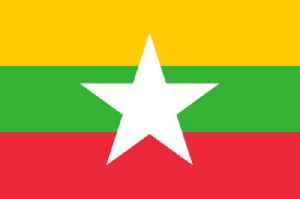 Myanmar or Burma, officially the Republic of the Union of Myanmar, is a country in Southeast Asia. Myanmar is bordered by Bangladesh and India to its northwest, China to its northeast, Laos and Thailand to its east and southeast, and the Andaman Sea and the Bay of Bengal to its south and southwest. With a size of 676,578 square kilometres, Myanmar is the largest of the Mainland Southeast Asian states by area. As of 2017, the population is about 54 million. Its capital city is Naypyidaw, and its largest city is Yangon (Rangoon). Myanmar has been a member of the Association of Southeast Asian Nations (ASEAN) since 1997.


Myanmar: Karen minority demand troops leave area

Myanmar's Karen community marches for justice after soldiers are accused of shooting dead a mother and stealing her jewellery.
Credit: Al Jazeera STUDIO Duration: 01:58
Published
How COVID-19 Drew The Curtain Back On India's Inability To Provide Basic Public Health Services

India is now third on the Johns Hopkins University tally of countries struggling with the novel coronavirus COVID-19, following the US and Brazil. Far from flattening the curve, CNN reports India's..
Credit: Wochit News Duration: 00:34
Published
THIS STORY HAS BEEN WITHDRAWN. PLEASE MAKE NO FURTHER USE OF THIS VIDEO.

EDITORS PLEASE NOTE, 4442 MYANMAR-MINE/UGC SENT ON JULY 2, 2020 HAS BEEN WITHDRAWN BECAUSE THE VIDEO CONTENT WAS NOT CORRECTLY SOURCED. PLEASE MAKE NO FURTHER USE OF THIS VIDEO AND ADJUST YOUR OUTPUT
Credit: Reuters Studio Duration: 00:04
Published
UK sanctions Russians and Saudis under new human rights powers

The UK sanctions target alleged perpetrators in the killings of Saudi journalist Jamal Khashoggi and Russian lawyer Sergei Magnitsky, as well as others from Myanmar and North Korea. View on euronews
Credit: euronews (in English) Duration: 00:49
Published
Dominic Raab announces UK's first sanctions for human rights abuse

The UK's first sanctions for human rights abuse will cover those involved in the deaths of the Russian lawyer Sergei Magnitsky and the Saudi journalist Jamal Khashoggi, the systematic killings of the..
Credit: PA - Press Association STUDIO Duration: 01:18
Published
Raab introduces sanctions against human right abusers

Foreign Secretary Dominic Raab introduces the UK's first sanctions regime that targets people who have committed the gravest human rights abuses. He mentions specifically those involved in the deaths..
Credit: ODN Duration: 01:26
Published
Myanmar jade mine disaster: More bodies found at landslide site

Rescuers retrieve 166 bodies but dozens more are feared dead after miners were swept away in a wave of mud.
Credit: Al Jazeera STUDIO Duration: 01:40
Published
Myanmar: More than 160 killed in jade mine landslide

At least 50 also injured after miners 'smothered by a wave of mud' caused by heavy rain, officials say.
Credit: Al Jazeera STUDIO Duration: 02:01
Published
Death toll in Myanmar landslide surges past 100

A landslide at a jade mine in northern Myanmar killed at least 100 people, with more feared dead, authorities said on Thursday, after a pile of mine waste collapsed into a lake, triggering a wave of..
Credit: Reuters Studio Duration: 01:30
Published
Indonesian community praised for rescuing Rohingya refugee

Hundreds of thousands of largely Muslim Rohingya have been escaping from Myanmar since 2017.
Credit: Al Jazeera STUDIO Duration: 02:38
Published
You Might Like



Security agencies raise alarm over Chinese weapons being supplied to terror groups in Myanmar to target Indian assets

Myanmar and Thailand police conducted a joint operation last month in June and caught a large consignment of Chinese weapons.




DNA - Published





From Pagodas in Myanmar to Shiva temple in Lao, how India is helping countries restore cultural heritage

Playing an important role in the restoration of cultural heritage in several countries across the region from Sri Lanka to Myanmar to Vietnam to Bhutan, India is playing an important role in heritage..




DNA - Published





China supplying weapons to Arakan Army armed group to weaken India, Myanmar: Report

China is supplying funds and sophisticated weaponry to armed groups in Myanmar and the Naypyitaw-designated terrorist group, the Arakan Army, to have leverage over Myanmar and India, Licas News..




IndiaTimes - Published





Moscow: Rajnath Singh holds talks with Myanmar Military Chief

"Raksha Mantri Shri @rajnathsingh had a meeting with Myanmar's Military Chief, Senior General Min Aung Hlaing in Moscow," RMO tweeted. On Wednesday, Singh attended the Victory Day Parade in Moscow..




IndiaTimes - Published





Myanmar barber truck cuts virus worries by going door-to-door

A Myanmar barbershop business is trimming costs and generating cash amid concerns about the coronavirus, offering a salon on wheels to cautious customers who want their cuts away from crowded places.




Reuters - Published





Refusing to be silenced, some Myanmar journalists work from shadows

Hiding from Myanmar's police, journalist Aung Marm Oo refuses to conceal his anger with the civilian government led by Nobel Laureate Aung San Suu Kyi as his country prepares for an election later this..




Reuters - Published




U.S. court asked to force Facebook to release Myanmar officials' data for genocide case

Lawyers bringing a case before the World Court accusing Myanmar of genocide against its Rohingya Muslim minority have asked a U.S. district court to order Facebook to release posts and communications..




Reuters India - Published

Also reported by •Reuters


Eight countries, including India, ask UN Human Rights Commissioner to be responsible amid COVID-19 crisis

The joint letter was written by the permanent missions of India, Indonesia, Cambodia, Malaysia, Myanmar, the Philippines, Thailand, and Vietnam in Geneva to the OHCHR




DNA - Published





No discussion on RCEP during India-Australia virtual summit: MEA

The RCEP is a proposed free trade agreement in the Asia-Pacific region between the ten member states of the Association of Southeast Asian Nations (ASEAN) namely, Brunei, Cambodia, Indonesia, Laos,..




IndiaTimes - Published





Myanmar court denies bail to Canadian preacher who defied virus ban

A Myanmar court on Wednesday denied bail to a Canadian Christian preacher who held church services in defiance of a ban on gatherings to prevent the spread of the coronavirus that led to infections in..




Reuters - Published





Myanmar updates U.N. court on 'confidential' Rohingya measures

Myanmar has filed a report on its adherence to measures to protect its Rohingya Muslim minority imposed by the United Nations' highest court, but details of the document have not been published.




Reuters - Published





Myanmar updates top U.N. court on measures to protect Rohingya minority

Myanmar has filed a first report with the U.N.'s highest court on its adherence to measures imposed in January to protect the Muslim minority Rohingya, the court said on Monday.




Reuters - Published





Rohingya targeted in Malaysia as coronavirus stokes xenophobia

Eleyas, a Rohingya Muslim, fled to Malaysia six years ago, seeking a safe haven from persecution in Myanmar.




Reuters India - Published

Also reported by •Reuters


Preacher who claimed Christians immune to virus appears in Myanmar court

A preacher who said Christians were immune to the coronavirus and then contracted it himself appeared in a Myanmar court on Wednesday to face charges over organising services in defiance of a ban on..




Reuters - Published





'All my dreams are shattered': coronavirus crushes Asia's garment industry

Zarchi Lwin pawned her only two gold bangles for $140 when the owner of the Myanmar factory where she sewed winter coats for British retailer Next Plc shut it down after orders dried up due to the..




Reuters India - Published





Myanmar says eight coronavirus cases among returnees from Malaysia

Myanmar authorities said on Tuesday said they have found eight coronavirus cases among scores of people who returned from Malaysia, where the authorities have recently been detaining undocumented..




Reuters - Published





Exclusive: Huge fentanyl haul seized in Golden Triangle as Asian crime gangs shift to opioids

Myanmar police say they have seized a huge haul of liquid fentanyl, the first time one of the dangerous synthetic opioids that have ravaged North America has been found in Asia's Golden Triangle..




Reuters India - Published

Also reported by •Reuters


Myanmar hands over 22 NE insurgents




IndiaTimes - Published





Myanmar's army investigating soldiers over video of abuses

Myanmar's army said on Wednesday it was investigating soldiers filmed beating and threatening to kill suspected insurgents in the western state of Rakhine, where dozens of people have been killed..




Reuters - Published





Myanmar dismisses fresh war crimes allegations by U.N. rights envoy as 'biased'

A Myanmar government spokesman on Friday dismissed allegations by the departing United Nations rights envoy that the military was committing fresh war crimes in Rakhine state as "biased", blaming..




Reuters - Published





PM Modi discusses coronavirus situation with Myanmar leader Suu Kyi

Prime Minister Narendra Modi discussed the evolving COVID-19 situation with Myanmar State Counsellor Aung San Suu Kyi on Friday. "Had a good discussion with State Counsellor Daw Aung San Suu Kyi," the..




IndiaTimes - Published





Myanmar military may be committing new war crimes, says departing rights envoy

The departing U.N. human rights envoy for Myanmar said its military may be committing war crimes and crimes against humanity in Rakhine and Chin states, where fighting between government troops and..




Reuters - Published





Driver killed in WHO vehicle carrying virus swabs in Myanmar's Rakhine

A World Health Organization vehicle carrying swabs from patients to be tested for coronavirus came under gunfire in Myanmar's western Rakhine state and the driver was killed, the United Nations said on..




Reuters - Published





U.N. says mostly women and children among 32 killed as insurgents, Myanmar military clash

A surge in fighting between the Myanmar military and insurgents has killed at least 32 civilians, mostly women and children, in the restive Rakhine and Chin states, the U.N. human rights office said on..




Reuters - Published




U.N. rights office says Myanmar carrying out air strikes in Rakhine state

The Myanmar army is carrying out "almost daily airstrikes and shelling" in the restive Rakhine and Chin states, where at least 32 civilians have been killed since March 23, the United Nations human..




Reuters - Published





Myanmar to free almost 25,000 prisoners in largest amnesty in years

Myanmar will free almost 25,000 prisoners in an amnesty to mark the traditional New Year, the president's office said on Friday, its largest mass pardon in recent years.




Reuters - Published




Myanmar charges preacher for defying virus ban on services

A Myanmar preacher who posted a sermon online saying Christians were immune to the coronavirus will face charges along with three other people for organising services in defiance of a ban on mass..




Reuters - Published





Officials say eight killed in Myanmar's Rakhine state; army says reports fabricated

Eight people were killed by shelling in Myanmar's Rakhine state on Monday, two local officials and a resident said, but the army said reports that civilians in the village had been shelled were..




Reuters - Published




Myanmar frees journalist who was charged under terrorism law

A Myanmar journalist arrested on terrorism charges after publishing an interview with a spokesman for the Arakan Army rebel group was freed on Thursday and said police had told him they would not..




Reuters - Published





Coronavirus pushes reluctant Aung San Suu Kyi to Facebook

Myanmar leader Aung San Suu Kyi cited the coronavirus pandemic as the impetus for reluctantly creating her first personal Facebook account in a post on Wednesday.




Reuters - Published





Myanmar charges journalist under terrorism law, blocks news websites

A Myanmar court charged a journalist who published an interview with the Arakan Army rebel group under a terrorism law on Tuesday while his website and others that cover conflict in the troubled..




Reuters - Published





Myanmar reports first coronavirus death as case numbers rise

Myanmar reported its first coronavirus death on Tuesday, a 69-year-old man who also had cancer and died in a hospital in the commercial capital of Yangon, a government spokeswoman said.




Reuters - Published





Myanmar reports first cases of coronavirus

Myanmar reported its first confirmed cases of coronavirus in two men who had recently traveled to the United States and the United Kingdom.




Reuters - Published





Myanmar army withdraws criminal complaint against Reuters

Myanmar's army said on Wednesday it had withdrawn a criminal complaint it filed against Reuters news agency after being requested to do so by the Myanmar Press Council and in the interest of good..




Reuters - Published





India cancels almost all visas, closes Myanmar border, as regional coronavirus cases rise

India said on Wednesday it will suspend the vast majority of visas to the country in a wide-reaching attempt to prevent the spread of coronavirus, as cases across the region continued to rise.




Reuters - Published




India closes a border, extends travel curbs as regional coronavirus cases rise

India ramped up travel restrictions and closed a border with neighboring Myanmar to counter the coronavirus outbreak, as countries across South Asia reported a rise in cases on Wednesday.




Reuters - Published





Myanmar's parliament blocks bid by Suu Kyi party to reduce army power

Myanmar's parliament blocked a bid by the party of leader Aung San Suu Kyi to reduce the role of the military in politics on Tuesday, almost a decade into a troubled democratic transition.




Reuters - Published





Myanmar army sues Reuters for criminal defamation: police

Myanmar police said the army had filed a lawsuit against Reuters news agency and a local lawmaker for criminal defamation, weeks after the military objected to a news story published about the death of..




Reuters - Published





Foreign attaches safe after helicopter crashes in Myanmar: diplomat

Foreign military attachés aboard a Myanmar military helicopter escaped serious injury when it crashed in eastern Myanmar on Friday afternoon, a Western diplomat told Reuters.




Reuters - Published





Army helicopter carrying diplomats crashes in Myanmar: spokesman

A military helicopter carrying foreign diplomats crashed in eastern Myanmar on Friday afternoon, injuring two pilots, a military spokesman said.




Reuters - Published





As Myanmar farmers lose their land, sand mining for Singapore is blamed

From a boat on the Salween River in southeastern Myanmar, Than Zaw Oo pointed to a brown stretch of water he said was once full of lush paddy fields.




Reuters - Published





Myanmar turns away cruise ship over coronavirus fears

Myanmar stopped a cruise boat carrying hundreds of tourists from docking in the country, a senior tourism official said on Tuesday, citing fears passengers could be carrying the coronavirus.




Reuters - Published





Myanmar army clash with insurgents kills five Rohingya: lawmaker, residents

At least five ethnic Rohingya were killed and several injured after troops clashed with insurgents in Myanmar's conflict-torn western state of Rakhine, a lawmaker and two residents said on Sunday.




Reuters - Published





PM Modi holds talks with Myanmar President; India, Myanmar sign 10 pacts

The prime minister and President Myint later held talks at Hyderabad House and 10 agreements were signed between the two countries. The focus of many agreements was on development projects under..




IndiaTimes - Published





Myanmar President U Win Myint meets PM Modi




IndiaTimes - Published





Myanmar President arrives in India; to hold talks with top leadership to strengthen ties

Myanmar President U Win Myint arrived in India on Wednesday on a four-day visit during which he will hold talks with the top leadership here to deepen bilateral ties.




IndiaTimes - Published