Myanmar
Country in Southeast Asia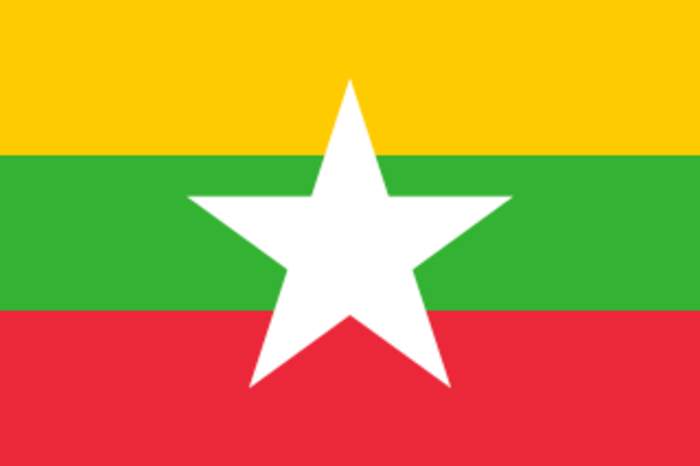 Myanmar, officially the Republic of the Union of Myanmar, also known as Burma, is a country in Southeast Asia. It is the largest country by area in Mainland Southeast Asia and has a population of about 55 million. It is bordered by Bangladesh and India to its northwest, China to its northeast, Laos and Thailand to its east and southeast, and the Andaman Sea and the Bay of Bengal to its south and southwest. The country's capital city is Naypyidaw, and its largest city is Yangon.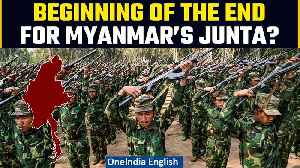 Myanmar Civil War: Opponents vow 'beginning of the end' for Myanmar's junta | Oneindia News

Almost three years on from its Bloody coup, Myanmar's military junta is facing the biggest threat to its hold on power as it fights wars on multiple fronts across the Southeast Asian nation. In..
Credit: Oneindia Duration: 03:04
Published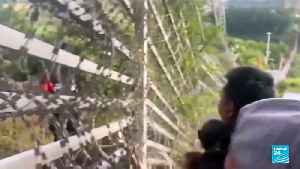 Chinese navy ships visit Myanmar amid heightened security tensions


Credit: FRANCE 24 English Duration: 01:50
Published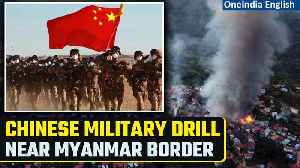 Chinese Military Conducts Training Drills Near Myanmar Border Following Convoy Fire | Oneindia News

In the aftermath of a recent convoy fire near the Myanmar border, the Chinese military intensifies its preparedness with training drills. Join us as we explore the implications of these strategic..
Credit: Oneindia Duration: 02:16
Published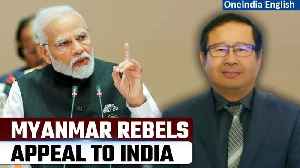 Myanmar Rebels Urge India to Reject Myanmar's Junta amidst widespread unrest| Oneindia News

The Tatmadaw, Myanmar's military junta, faces heightened resistance from armed rebel groups, causing domestic unrest to become a global concern. Rebels, advancing and taking control of key areas,..
Credit: Oneindia Duration: 02:19
Published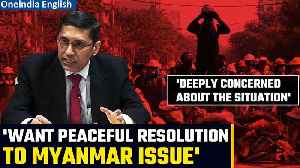 India Calls for Peaceful Resolution in Escalating Myanmar Civil Unrest| OneIndia News

As tensions escalate in Myanmar's conflict, rebel forces seized a border post near India, impacting the neighboring region of Mizoram. Despite citizens fleeing to India, most returned amid fierce..
Credit: Oneindia Duration: 02:00
Published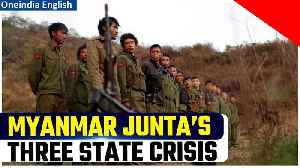 Myanmar's Junta Faces Heavy Assualt, Confronts Insurgent Attacks in Multiple States| OneIndia News

In Myanmar, insurgent attacks intensify across multiple states, prompting the junta to announce "heavy assaults" by rebel forces. Rebels employ drones, forcing junta fighters to retreat. Clashes, most..
Credit: Oneindia Duration: 02:14
Published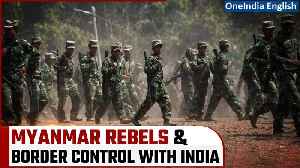 Myanmar Rebels, Fighting Junta for Border Control with India | Latest Update | Oneindia News

Stay informed with the latest developments as Myanmar rebels intensify efforts to control the border with India amidst ongoing conflict with the military junta. Explore the complexities of this..
Credit: Oneindia Duration: 02:05
Published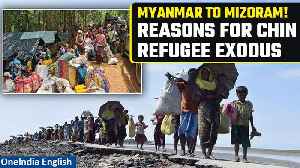 Escalating Fight In Myanmar Sparks New Wave Of Chin-Kuki Refugees Fleeing To Mizoram | Oneindia News

In a shocking development, 2,000 individuals from Myanmar have sought refuge in India amidst escalating gunfights in Chin State. Stay tuned as we bring you the latest updates on this intense situation,..
Credit: Oneindia Duration: 02:16
Published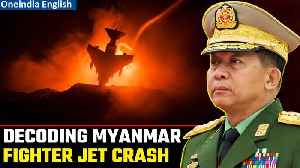 Myanmar Fighter Jet Nose-Dives in Rebel Confrontation Near Border| Oneindia News

Amid Myanmar's ongoing civil war since the 2021 coup, rebel groups, including People's Defence Forces and ethnic armed organizations, have gained ground. In a significant development, rebels claim to..
Credit: Oneindia Duration: 02:30
Published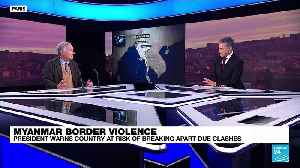 'Please bear with us': Amid 'civil war', Myanmar junta seeks to reassure Chinese government


Credit: FRANCE 24 English Duration: 05:57
Published
You Might Like



Avoid travelling to Myanmar if not essential, advises Centre

As the security situation in Myanmar deteriorates further, the government asked all Indian nationals to avoid non-essential travel to the country. "Those already living in Myanmar are advised to take..




IndiaTimes - Published





India issues travel advisory to citizens as unrest grows in Myanmar

India has issued an advisory to its citizens, urging them to avoid traveling to Myanmar due to the escalating security situation in the country. The advisory also advises Indian nationals living in..




IndiaTimes - Published





IAF airlifts 29 runaway Myanmarese soldiers from Mizoram village

A group of 29 Myanmarese soldiers who sought refuge in Mizoram after their camp was attacked by the Chin militia have been airlifted by the Indian Air Force to Assam Rifles camps in Manipur. They will..




IndiaTimes - Published





Over 5,000 Myanmar nationals take refuge in Mizoram as fresh violence erupts

The fighting began after the Myanmar army launched airstrikes in retaliation to an attack by the People's Defence Force (PDF) at two military bases in Khawmawi and Rihkhawdar in Chin state near the..




DNA - Published





After fresh fighting, over 5k from Myanmar take refuge in Mizoram

A group of 39 Myanmarese soldiers and around 5,000 civilians have sought refuge in villages in Mizoram's Champhai district following renewed fighting between militia groups and junta-backed forces. The..




IndiaTimes - Published





2,000 people from Myanmar cross over to India as intense gunfight rock Chin state

Over 2,000 Myanmar nationals have crossed the international border into India's Mizoram state in the past 24 hours due to a gunfight between Myanmar's ruling junta-backed forces and the People's..




IndiaTimes - Published





Sky News wins two awards for its coverage of Myanmar civil war and Westminster Accounts project

Sky News has won two awards at the Society of Editors' Media Freedom Awards 2023.




Sky News - Published





NIA conducts nationwide raids in human trafficking cases; Myanmar national detained in Jammu




IndiaTimes - Published





There won't be hung assembly, MNF will sweep polls: Zoramthanga

Exuding confidence that there will not be hung assembly in Mizoram as the ruling MNF will sweep the polls, Chief Minister Zoramthanga on Tuesday said his party does not have an alliance with the BJP in..




IndiaTimes - Published





170 in fray, 8.5 lakh voters will pick 40 for Mizoram House today

Mizoram, the former hotbed of militancy in the North-East that has zealously guarded its peace for 37 years, kicks off a five-state round of assembly elections on Tuesday under the shadow of an ethnic..




IndiaTimes - Published





Mizoram polls: Myanmar refugees want ration, kids education from new government

A decent two-time meal and good education for children are the expectations of a group of Myanmar citizens, who fled their country and are now taking shelter in Mizoram, from the new government in the..




IndiaTimes - Published





Day after cop killing, 32 Myanmarese among 44 held

After a sniper attack that killed a police officer in Manipur, security forces detained 44 people, including suspected infiltrators from Myanmar. However, the unrest continued as angry mobs attacked a..




IndiaTimes - Published





Not the time to work with BJP: Mizoram CM

Mizoram Chief Minister and president of the Mizo National Front (MNF), Zoramthanga, has stated that his party will not collaborate with the BJP in the upcoming state legislature election. He cited the..




IndiaTimes - Published





At least 29 dead after 'artillery strike on Myanmar refugee camp'

At least 29 people, including women and children, have been killed in an artillery strike on a refugee camp in Myanmar, according to local media reports.




Sky News - Published




EAM S Jaishankar, UN secretary general Antonio Guterres discuss India's G20 Presidency, global challenges

Indian External Affairs Minister S Jaishankar and UN Secretary-General Antonio Guterres discussed India's G20 Presidency and global challenges, including Afghanistan and Myanmar, during their meeting..




IndiaTimes - Published





Myanmar military junta 'deliberately bombing medical facilities' with secret jungle hospital now being sought

The Myanmar military junta is deliberately targeting medical facilities and medical staff with airstrikes, raids by soldiers and the burning down of buildings, using a map of public hospitals and..




Sky News - Published




Retd Colonel of Myanmar surgical operation fame is now Manipur SSP (combat)

The Manipur government has appointed retired Colonel Nectar Sanjebam, a highly decorated officer of 21 Para (Special Forces) known for leading India's surgical strike across the Myanmar border in 2015,..




IndiaTimes - Published





Kuki MLAs slam Shah for linking Manipur clashes to influx from Myanmar

In two separate statements, 10 Kuki MLAs of Manipur, including seven from BJP, and the Indigenous Tribal Leaders' Forum (ITLF) on Friday slammed home minister Amit Shah for his statement in the Lok..




IndiaTimes - Published





At 78, Mizoram man enrolls in Standard 9, walks 3km to school daily

Come rain, come sunshine, a 78-year-old man in a village in Champhai district along the Mizoram-Myanmar border walks 3km to school every day. ​​ Born in 1945 at Khuangleng village in Champhai..




IndiaTimes - Published





Aung San Suu Kyi receives partial pardon from Myanmar's military junta but to stay under house arrest

Myanmar's junta has pardoned ousted civilian leader Aung San Suu Kyi for some of the offences she denies - more than two years after she was detained as part of a military coup.




Sky News - Published




Amid violence, Manipur govt cracks down on illegal Myanmar immigrants; know state's big move

The Manipur government has made a big move regarding the illegal immigrants from Myanmar who entered the state in the midst of the incidents of ethnic violence.




DNA - Published





Can't rule out foreign agencies' role in Manipur: Former Army chief Naravane

Involvement of foreign agencies in the ongoing violence in Manipur "cannot be ruled out", former Army chief General MM Naravane (retd) has said, while flagging China's aid to various insurgent groups..




IndiaTimes - Published





Process of capturing biometric details of 'illegal' Myanmar immigrants begins in Manipur

The government of Manipur has resumed its campaign for biometric capture of all "illegal" Myanmar immigrants in the State from Saturday on the instructions of the ministry of home affairs, an official..




IndiaTimes - Published





Arson, gunbattles in Manipur town on Myanmar border

The India-Myanmar border town of Moreh virtually looked like a war zone as armed groups and security forces engaged in an intense gunfight after a mob burned down Wednesday morning about 30 houses and..




IndiaTimes - Published





Myanmar 'categorically rejects' claims made by Sky News about the civil war in the country

Myanmar has said it "categorically rejects" claims made by Sky News in its undercover reporting of the civil war in the country.




Sky News - Published




Manipur govt wants to send back 718 Myanmar refugees

The Manipur government asked Assam Rifles on Tuesday to repatriate 718 refugees from neighbouring Myanmar who are believed to have entered the state over the weekend and questioned lapses by the..




IndiaTimes - Published





Manipur police search for origin of fake lynching video

Manipur police have launched a hunt for the owner of an IP address who uploaded video footage from Myanmar, falsely attributing it to an incident of a woman being assaulted in Manipur. This..




IndiaTimes - Published





Manipur violence: Over 700 Myanmar nationals enter state 'illegally' in 2 days; fear of clashes intensifies

As the violence erupting in Manipur is making headlines across the country, the Home Ministry has said that over 700 Myanmar nationals have entered the state illegally in the last two days.




DNA - Published





Ousted leader's son calls on governments to impose 'tougher sanctions' on Myanmar

International governments should impose "tougher sanctions" on Myanmar and restrict its military from accessing aviation fuel, the son of the country's ousted leader has said.




Sky News - Published




China has 'a responsibility' for the 'tragic' situation in Myanmar

China has a responsibility for the "tragic" situation in Myanmar because it is the "foremost supporter" of the military regime, the head of the British foreign intelligence service MI6 has said.




Sky News - Published




I felt at risk every hour of every day in Myanmar - but it was a risk worth taking

"What if nothing much is going on when you get there, and you're stuck for weeks?" one of the Sky News bosses asked.




Sky News - Published




How China is using new railway line to extend influence in Myanmar

At one of the furthest ends of this vast country, there is a new train line, and it speaks volumes about China's ambitions in the region.




Sky News - Published




'Courageous': Sky report on Myanmar highlights 'poignant' situation - UN human rights chief

A UN human rights chief has said Stuart Ramsay's exclusive Sky News report on Myanmar's hidden war is "courageous" and "shows the power of journalism".




Sky News - Published




Stuart Ramsay in Myanmar: What leaders don't want the world to see

Sky's chief correspondent Stuart Ramsay and his team have witnessed the deadly realities of a civil war, which Myanmar's leaders claim isn't happening.  




Sky News - Published





External affairs minister holds talks with Thailand, Myanmar on trilateral highway

External affairs minister S Jaishankar on Sunday met his Myanmar counterpart Than Swe and discussed expediting projects, especially the India-Myanmar-Thailand trilateral highway, and underlined the..




IndiaTimes - Published





India trying to find ways to resume India-Myanmar-Thailand Trilateral Highway project: EAM Jaishankar

India–Myanmar–Thailand Trilateral Highway has been a "very difficult project" because of the situation in Myanmar and it is the government's priority to find ways to resume it, External Affairs..




IndiaTimes - Published





India-Thailand highway: Manipur to Myanmar by bus, Kolkata-Bangkok travel time cut; Gadkari gives big update

Union Minister Nitin Gadkari gave a major update when it came to the India-Thailand-Myanmar highway, guaranteeing a trip to Bangkok via road soon.




DNA - Published





Nitin Gadkari: 70% work of India-Myanmar-Thailand Trilateral Highway complete




IndiaTimes - Published





Why Myanmar is rattled by India-US joint statement




IndiaTimes - Published





Don't hurt India's integrity: Unity govt of Myanmar




IndiaTimes - Published





Manipur: Amit Shah to visit Moreh on Myanmar border, review security measures

Incidents of gunfight between militants and security forces were reported from Sugnu in Kakching district overnight, officials said.




DNA - Published





Govt: Manipur violence due to crackdown on illegal migrants

The Centre and Manipur government on Wednesday told the Supreme Court that the genesis of ethnic violence in the state was the crackdown on illegal Myanmar migrants' illicit poppy cultivation and drug..




IndiaTimes - Published





Cyclone Mocha: West Bengal authorities on high alert, 3 killed in Myanmar

At least three people were killed and several buildings and infrastructures were damaged after cyclone Mocha made landfall in Myanmar's Rakhine region on Sunday with wind speeds of up to 130 mph (209..




DNA - Published





Cyclone Mocha in West Bengal: Here's what tourists are advised not to do

Tourists have been barred from entering the beaches of West Bengal as as cyclone Mocha made landfall along the coasts of Bangladesh and Myanmar.




DNA - Published





Bangladesh and Myanmar 'preparing for the worst' ahead of cyclone

Tens of thousand of people living along the coast of Bangladesh and Myanmar have been urged to seek shelter as the nations brace for an extremely severe cyclone - known as Storm Mocha - on Sunday.




Sky News - Published