Catholic Church
Largest Christian church, led by the Pope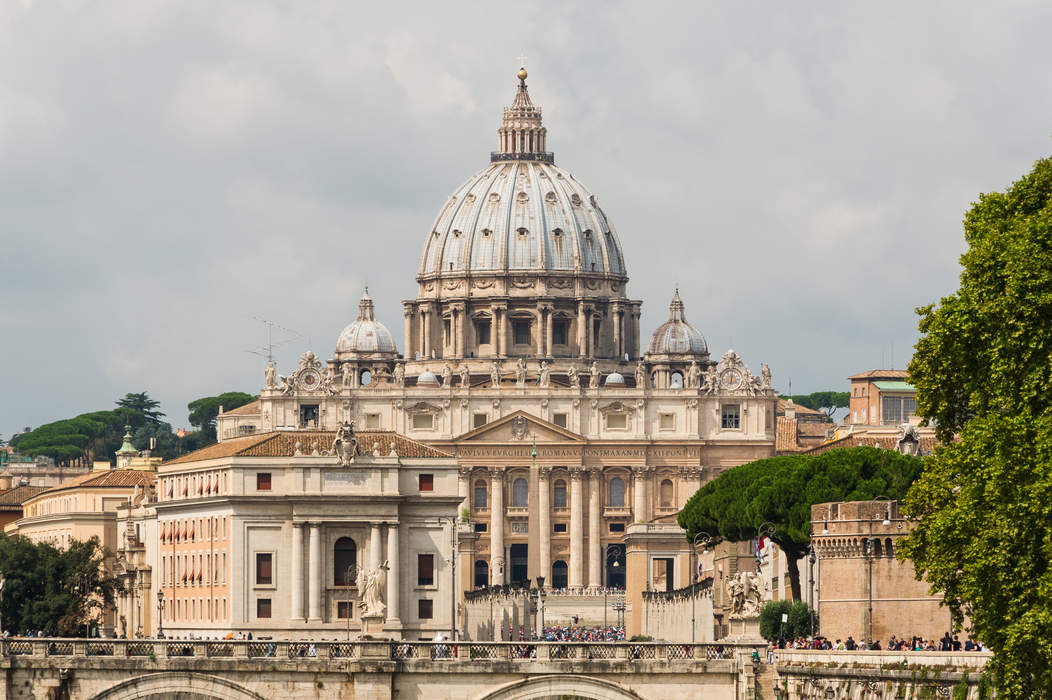 The Catholic Church, sometimes referred to as the Roman Catholic Church, is the largest Christian church, with approximately 1.3 billion baptised Catholics worldwide as of 2018. As the world's oldest and largest continuously functioning international institution, it has played a prominent role in the history and development of Western civilization. The church consists of almost 3,500 dioceses around the world. The pope, who is the Bishop of Rome, is the chief pastor of the church, entrusted with the universal Petrine ministry of unity and correction. The church's administration, the Holy See, is in the Vatican City, a tiny enclave of Rome, of which the pope is head of state.


As Polish Church embraces politics, Catholics leave

Katarzyna Lipka is no longer Catholic, and she says that is a political statement. Like many, she has been drifting away from the Church - and in November, after the country's courts decreed a..
Credit: Reuters Studio Duration: 03:06
Published
SE Cupp: Attacking Amy Coney Barrett's Catholicism may backfire

In this week's edition of "Unfiltered from Home," host SE Cupp examines how some Democrats' attempt to "otherize" Amy Coney Barrett's Catholicism could backfire if she is chosen to..
Credit: Bleacher Report AOL Duration: 05:47
Published
Irish PM apologizes over shocking Church child mortality report

Irish Prime Minister Micheal Martin has formally apologized for the state's "profound failure," after a government report detailed shocking conditions at Catholic Church-run homes for mothers and..
Credit: Reuters Studio Duration: 01:09
Published
Catholic Archbishop of Glasgow dies after contracting coronavirus

The Catholic Archbishop of Glasgow Philip Tartaglia has died after contractingCovid-19. The 70-year-old had served as archbishop since 2012 and was one ofthe most senior figures in the Catholic Church..
Credit: PA - Press Association STUDIO Duration: 00:48
Published
Report details dark chapter in Ireland's history

Thousands of infants died in Irish homes for unmarried mothers and their offspring run by the Catholic Church from the 1920s to the 1990s, an inquiry found on Tuesday, an "appalling" mortality rate..
Credit: Reuters - Politics Duration: 02:46
Published
You Might Like



Vatican urges Catholics to drop investments in fossil fuels, arms

The Vatican urged Catholics on Thursday to disinvest from the armaments and fossil fuel industries and to closely monitor companies in sectors such as mining to check if they are damaging the..




Reuters - Published





Former Mexican bishop shot in neck after getting caught in crossfire

A former prominent Roman Catholic bishop on Monday said he was shot in the neck as he was traveling by car through his home state at the weekend.




Reuters - Published





As Catholics mark 100 years since birth of John Paul, shadows remain

The Catholic Church on Monday marked the 100th anniversary of the birth of Pope John Paul II but questions remained about whether he did enough against sexual abuse.




Reuters - Published





French Catholics celebrate mass in parking lot

Roman Catholics in a town in eastern France were able to attend mass in their cars on Sunday, in the country's first drive-in religious service since the start of a lockdown eight weeks ago aimed at..




Reuters - Published





Coronavirus drains Vatican coffers as income falls, deficits loom

Late last month, the Vatican announced the coronavirus pandemic had forced Pope Francis to postpone an annual fund raising campaign among Catholics worldwide to help him carry out his ministry.




Reuters - Published





Public Masses in Italy to resume May 18, ending bitter Church-state rift

Italy's government and Roman Catholic bishops signed an agreement on Thursday to allow the faithful to attend Masses again from later this month, ending a standoff between the Church and state over the..




Reuters - Published





In a Philippine lockdown, priests bring church to the community

Catholic priest Eduardo "Ponpon" Vasquez has worn a hazmat suit more than a vestment this past month. 




Reuters - Published





Knights of Malta Grand Master who healed rift with Vatican dies

Giacomo Dalla Torre, the Grand Master of the Knights of Malta who steered the global Catholic chivalric order and charity to reconciliation with the Vatican after a period of conflict, died on..




Reuters - Published





Italy bishops scold government for excluding Mass from lockdown easing

Italy's Roman Catholic Church has reprimanded the government for not allowing the faithful to return to Masses at the start of a gradual staged end to Europe's longest coronavirus lockdown.




Reuters - Published





Pope postpones two mega-events by a year because of coronavirus

Pope Francis has postponed two major international Catholic Church events by a year because of the uncertainties caused by the coronavirus pandemic, the Vatican said on Monday.




Reuters - Published





Poland's parliament sends abortion bill to parliamentary commission

Poland's lower house of parliament voted on Thursday to send a bill on tightening abortion rules in the staunchly Catholic country to a parliamentary commission for further work.




Reuters - Published





Senior Italian cardinal, papal vicar for Rome, has coronavirus

Cardinal Angelo De Donatis, Pope Francis' vicar for the diocese of Rome, on Monday became the highest-ranking Catholic official known to test positive for coronavirus.




Reuters - Published





Locked-down French Catholics mark holy mass via YouTube

Coronavirus restrictions meant Catholic priest Guillaume Le Floc'h officiated at Wednesday evening's mass in front of empty pews, so to make sure his flock could celebrate the holy feast of..




Reuters - Published





Poland limits numbers at Catholic masses due to coronavirus

Poland's government decided on Tuesday to limit the number of people allowed to take part in religious services to five at one time, in a move aimed at containing the spread of the coronavirus..




Reuters - Published





Catholics worldwide pray with pope for end to coronavirus pandemic

Catholics around the world joined Pope Francis in praying the rosary on Thursday night to ask God to end the coronavirus pandemic, which has killed more people in Italy than anywhere else.




Reuters - Published





Coronavirus: Do not kiss Holy Cross, says Archbishop Goa

In order to help prevent the spread of coronavirus, the Roman Catholic Church in Goa on Saturday issued advisory asking people to not kiss the Holy Cross and urged priests to purify their hands with..




IndiaTimes - Published





Rome churches remain open after Catholics rail against 'Christ in quarantine'

A cardinal on Friday modified his order to close Rome's churches to help contain the spread of coronavirus after Pope Francis cautioned against "drastic measures" and Catholics took to social media to..




Reuters - Published





Catholics rail against 'Christ in quarantine' church closures in Rome

Catholics criticized a cardinal's order to close churches in Rome on Friday to help contain the spread of coronavirus and Pope Francis cautioned against "drastic measures".




Reuters - Published





Rome Catholic churches ordered closed due to coronavirus, unprecedented in modern times

Rome's Catholic churches were ordered closed on Thursday because of the coronavirus pandemic, in a moved believed to be unprecedented in modern times.




Reuters - Published





Catholic Italy adapts to religion in a time of coronavirus

It's hard being a Catholic in Italy these days.




Reuters - Published





Another victim of coronavirus: Spain's religious statue-kissing

A Spanish pre-Easter tradition, where Catholics flock in droves to kiss statues of Jesus and Mary, fell victim to the coronavirus epidemic this week as churches with some of the most sought-after..




Reuters - Published





Pope Francis picks Savannah bishop to lead Atlanta archdiocese

Pope Francis on Thursday named Gregory Hartmayer, the Roman Catholic bishop of Savannah, to lead the Atlanta archdiocese, its 100 parishes and 1.2 million Catholics.




Reuters - Published





Pope defrocks rape-convict Kerala vicar

Pope Francis has dismissed Robin Vadakkumchery. Vadakkumchery was the vicar of St Sebastian Church at Neendunoki, in Kannur district. The dismissal of a priest of the Catholic Church from the clerical..




IndiaTimes - Published





Vatican says pope 'slightly unwell', dismisses speculation

The Vatican moved on Friday to dismiss speculation that Pope Francis was anything more than "slightly unwell" as the 83-year-old Roman Catholic leader canceled official audiences for the second day.




Reuters - Published





Coronavirus fears lead Holy Land Catholic churches to give communion by hand only

Roman Catholic authorities in Jerusalem have instructed their priests to give communion by hand only, rather than placing the wafers on worshippers' tongues, and to empty holy water fonts - as..




Reuters - Published





Disgraced Catholic order vows to turn page on abuse with new norms

The new leader of the disgraced Legionaries of Christ Catholic religious order, whose founder was a serial sexual abuser, has promised to turn a page as the group enacted new norms to protect children.




Reuters - Published





Pope leads world's Catholics into Lent at Ash Wednesday rite

Pope Francis led the world's 1.3 billion Roman Catholics into the penitential season of Lent, reminding them on Ash Wednesday that everyone will be "dust in the universe" regardless of their status on..




Reuters - Published





Pope to Catholics: For Lent, give up trolling

During Lent, Catholics are called on to give up something, like sweets. On Wednesday, Pope Francis added a modern twist to the list of things to quit during the season and beyond: insulting people on..




Reuters - Published





Vatican police make new raid in investigation of London property deal

Vatican police raided the home and office of a senior Catholic Church official on Tuesday, seizing documents and computers in the latest phase of an investigation into the purchase of luxury London..




Reuters - Published





Amazon Catholics pledge to press on after Pope says no to married priests

Catholic communities across the Amazon said they would keep pushing for married men to be allowed to celebrate Mass in the remote rainforest region, after a papal decision on Wednesday blocked their..




Reuters - Published





Upholding celibacy, Pope sidesteps bid to ordain some married men

Pope Francis on Wednesday dismissed a proposal to allow some married men to be ordained in remote areas, reaffirming the Roman Catholic Church's centuries-old commitment to celibacy among priests.




Reuters - Published





Priests in defunct Catholic order in Italy accused of sexual abuse

Nine members of a defunct, cult-like Roman Catholic religious order in Italy's Tuscany region are under investigation for alleged sexual abuse of two brothers when they were minors, authorities said on..




Reuters - Published





Catholic clergy abuse victim leads drive to shakeup establishment politics in Chile

A Chilean sexual abuse victim who took on the Catholic Church has announced plans to form a new political party, one of several that has emerged since protests rocked the country late last year.




Reuters - Published





Pope asks Catholics to say 'Never Again' to the Holocaust

Pope Francis on Sunday asked the world's 1.3 billion Catholics to stop for a moment of prayer and reflection on the 75th anniversary of the liberation of the Nazi death camp at Auschwitz and say "Never..




Reuters - Published





Pence to Pope Francis: 'You have made me a hero'

U.S. Vice President Mike Pence, a former Catholic, held an unusually long meeting with Pope Francis on Friday and quipped that he emerged from the encounter feeling like "a hero".




Reuters - Published





Ex-pope Benedict wants name removed from new book: aide

Former Pope Benedict wants his name removed as co-author of a new book on the issue of priestly celibacy, his personal secretary said on Tuesday, in the latest twist in a saga that has riveted the..




Reuters - Published





Philippines' Catholics parade 'Black Nazarene' in celebration of Christ

Hundreds of thousands of Roman Catholics in the Philippines walked barefoot on Thursday around a centuries-old black wooden statue of Jesus Christ believed to have healing powers, praying for good..




Reuters - Published





Don't let Church failings distance you from God, Pope says on Christmas Eve

Pope Francis led the world's 1.3 billion Roman Catholics into Christmas on Tuesday, urging them not to let the Church's failings lead them away from accepting God's love.




Reuters - Published





Mexican Catholic group says late leader Maciel abused at least 60 minors

Marcial Maciel, the Mexican founder of the ultra-conservative Legionaries of Christ, abused at least 60 minors, according to a new report published Saturday by the Roman Catholic group.




Reuters - Published





In unusual move, Vatican postpones beatification of first U.S. 'televangelist'

In a highly unusual move, the Vatican has postponed the beatification of the late Archbishop Fulton Sheen, a charismatic figure of U.S. Roman Catholicism in the 20th century and pioneer in religious..




Reuters - Published





Pope urges Thais not to see Christianity as 'foreign'

Pope Francis paid tribute on Friday to Catholics in Thailand who suffered or were killed for their faith in the past and urged today's Thais not to consider Christianity a "foreign" religion.




Reuters - Published





Pro-government supporters attack Catholic church in Nicaragua as tensions flare

Supporters of Nicaraguan President Daniel Ortega tried to storm a church on Thursday, with a priest saying they hit churchgoers, as tension ratchets up between Roman Catholics and the government in the..




Reuters - Published





Small in numbers, Thai Catholics preserve centuries-old traditions

The last time Vararunee Khonchanath was in the presence of a pope was before she was born just over 35 years ago, but when Pope Francis visits Bangkok later this week to bless Thailand's tiny Catholic..




Reuters - Published





Guess who's coming to lunch? Pope hosts meal for 1,500 needy people

Pope Francis hosted 1,500 homeless and needy people for lunch on Sunday as the Roman Catholic Church marked its World Day of the Poor.




Reuters - Published





Catholic devotees in Thailand join choir for visit of Pope Francis

A choir formed of Catholic devotees training to join the church in Thailand were rehearsing on Saturday ahead of the visit of Pope Francis next week.




Reuters - Published





Pope, closing synod, decries plundering of the Amazon

Pope Francis on Sunday called for an end to the plundering of the Amazon basin, as he closed an assembly of Roman Catholic bishops who discussed the challenges the Church faces in the region.




Reuters - Published





Vatican synod proposes ordaining married men as priests in the Amazon

An assembly of Roman Catholic bishops from the Amazon on Saturday proposed that married men in the remote area be allowed to be ordained priests, which could lead to a landmark change in the Church's..




Reuters - Published




Pope, ending synod, says will re-launch study of women deacons

Pope Francis said on Saturday he would reconvene a commission to study the history of women deacons in the early centuries of the Catholic Church, responding to calls by women that they be allowed to..




Reuters - Published





Haitian Catholics march for political reform as protests spread

As Haiti entered a sixth week of violent anti-government protests over corruption and economic woes, Catholic leaders held a rare march on Tuesday calling for a resolution to the crisis that has..




Reuters - Published





Vatican accuses conservative social media of fomenting hate after statues dumped

The Vatican on Tuesday accused ultra-conservative Catholic social media of fomenting hate, a day after militants stole statues they considered pagan idols from a church and dumped them in the Tiber..




Reuters - Published