Ravana
Primary antagonist in the Hindu epic Ramayana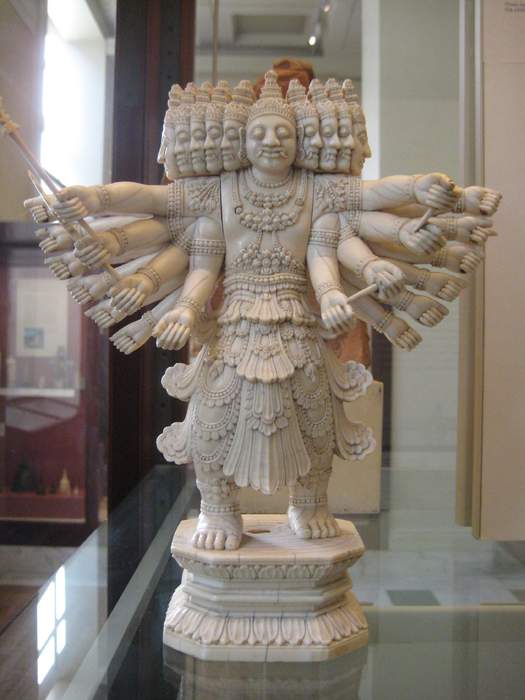 Ravana is a rakshasa king of the island of Lanka, and the chief antagonist of the Hindu epic Ramayana and its adaptations. In the Ramayana, Ravana is described to be the eldest son of sage Vishrava and rakshasi Kaikesi. He abducted Prince Rama's wife Sita and took her to his kingdom of Lanka, where he held her in the Ashoka Vatika. Later, Rama, with the support of vanara King Sugriva and his army of vanaras, launched an invasion against Ravana in Lanka. Ravana was subsequently slain and Rama rescued his beloved wife Sita.


You Might Like
'Rahul Gandhi not Ram, BJP following path of Ravana': Salman Khurshid
Congress leader Salman Khurshid, who recently triggered a controversy by comparing party MP to Rahul Gandhi with Lord Ram, on Wednesday added fuel to the fire. "Rahul Gandhi is not Lord Ram, but he can..
IndiaTimes - Published
Using abusive words against PM Modi new normal for Congress: BJP
BJP spokesperson Sambit Patra cited reports of Karnataka Congress leader V S Ugrappa calling Modi "Bhasmasur", a demon in Indian mythology, to hit out at the opposition party. He noted that it comes..
IndiaTimes - Published
Mahatma Gandhi and Sardar Patel symbols of Gujarat's pride and honour in 20th century, PM Modi of 21st century: Rajnath Singh
Addressing a press conference ahead of the first phase of polling for Gujarat assembly elections on December 1, Rajnath Singh said Congress chief Mallikarjun Kharge's "Ravan" remark against PM Modi..
IndiaTimes - Published
Mega Sena vs Sena Dussehra showdown: Uddhav says 'Ravana different this time', Bal Thackeray's son accompanies Shinde
Sena vs Sena on Dussehra: This was the first time since Shiv Sena's inception 56 years ago that two Dussehra rallies were held in Mumbai.
DNA - Published
Dussehra 2022: Video shows Ravan effigy falling on people in Haryana's Yamunanagar, major accident averted
Dussehra 2022: Many people had a narrow escape at the Haryana event.
DNA - Published
Ram temple to use stone from 'Ashok Vatika' where Goddess Sita was held captive
A temple dedicated to Goddess Sita is situated in Sita Eliya, the place where she was held captive by the demon king Ravana.
DNA - Published
'Petrol Rs 93 in Ram's India, Rs 51 in Ravan's Lanka': Subramanian Swamy takes a jibe at Centre
Subramanian Swamy attacks centre, says, "Petrol Rs 93 in ram's India, Rs 53 in Sita's Nepal and Rs 51 in Ravan's Lanka".
DNA - Published