Yogi Adityanath
Indian politician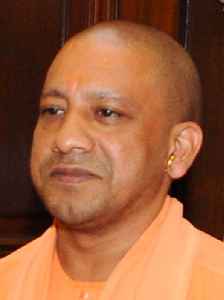 Yogi Adityanath is an Indian monk and Hindu nationalist politician who is the current Chief Minister of Uttar Pradesh, in office since 19 March 2017.


Rant of nothing done in 70 years has expiry date: Priyanka Gandhi
Priyanka Gandhi said the ground reality was different than what the UP government has been portraying and there is an expiry date to the rant that nothing was done in the past 70 years. She was..
IndiaTimes - Published
No riots in UP since BJP came to power: Yogi Adityanath
Uttar Pradesh CM Yogi Adityanath Tuesday said the state had not seen a single riot after the BJP came to power and his two-year government had shown zero tolerance towards crime and criminals...
IndiaTimes - Published
Opposition has no knowledge of Indian traditions:Yogi on criticism over renaming Ardh Kumbh
IndiaTimes - Published
Opposition parties frustrated because of their own misdeeds: Yogi Adityanath
IndiaTimes - Published
Priyanka Gandhi will make 'no difference' to BJP's Lok Sabha poll prospects in UP, says Yogi Adityanath
UP CM Yogi Adityanath on Saturday said Priyanka Gandhi Vadra's entry into politics will make "no difference" to the BJP's Lok Sabha poll prospects in the state
DNA - Published
Also reported by •IndiaTimes
In last-minute rush, Yogi Adityanath gives 75 ministers MoS status
IndiaTimes - Published
You Might Like