Shanghai
Provincial-level municipality in China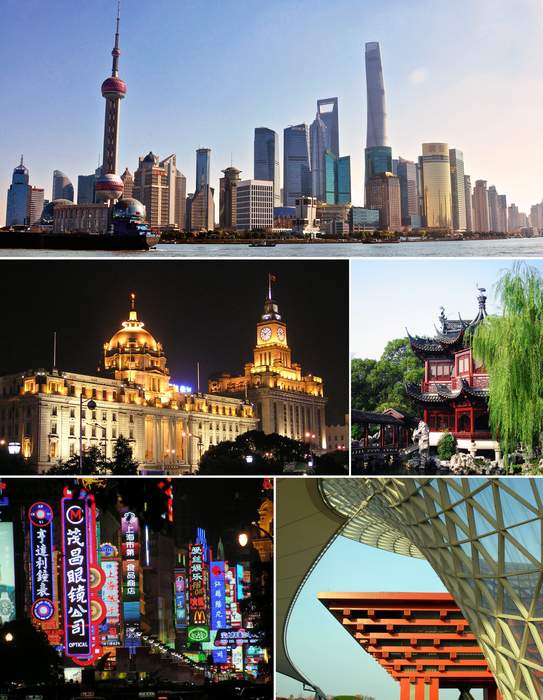 Shanghai is one of the four direct-administered municipalities of the People's Republic of China, governed by the State Council. The city is located on the southern estuary of the Yangtze River, with the Huangpu River flowing through it. With a population of 24.87 million as of 2020, it is the most populous urban area in China, the most populous city proper in the world and the only city in East Asia with GDP greater than its corresponding capital's. Shanghai is a global center for finance, business and economics, research, education, science and technology, manufacturing, tourism, culture and transportation, and the Port of Shanghai is the world's busiest container port.


U.S. to limit several Chinese flights

The U.S. Transportation Department on Wednesday said it will limit some flights from Chinese carriers to 40% passenger capacity for four weeks after the Chinese government imposed similar limits on..
Credit: Reuters - Politics Duration: 01:19
Published
You Might Like



Loan apps scam: Chinese held at IGI before flight

The Telangana police on Wednesday arrested yet another Chinese national from Delhi in the illegal instant loan app case. He was picked up in dramatic fashion from Delhi airport minutes before he was to..




IndiaTimes - Published





Russia supports India at SCO, says bilateral matter should not be raised

Prime minister Narendra Modi had also raised the matter at the SCO head of state meeting earlier this week. He said, "It is unfortunate that many attempts are being made to unnecessarily bring..




DNA - Published





Virus-hit Beijing tightens outbound travel; Shanghai demands quarantine

Beijing banned high-risk people from leaving the Chinese capital and halted some transportation services on Tuesday to stop the spread of a fresh coronavirus outbreak to other cities and provinces.




Reuters India - Published

Also reported by •Reuters


Shanghai to quarantine all who arrive from mid to high-risk COVID-19 areas in China

Shanghai will quarantine all people coming to the city from mid to high-risk COVID-19 areas in China for 14 days, a city official said on Tuesday amid concerns about a resurgence of the disease..




Reuters - Published





UP 'princess' photo goes off menu at Shanghai eatery

In the letter written to India's consul general to Shanghai Anil Kumar Rai on June 11, Ali said it was an "invasion of privacy".




IndiaTimes - Published





Pride events kick off in Shanghai with city run

More than 100 people took part in the Shanghai's eighth annual Pride Run on Sunday, one of a series of events over nine days in China's financial hub to raise public awareness for the LGBT community.




Reuters - Published





China drops Shanghai as a first port of entry for Beijing-bound flights

China on Monday dropped Shanghai as one of the first ports of entry for international flights bound for the capital, Beijing, while four new cities were added to the list and Wuhan, where the..




Reuters - Published





Seven new coronavirus cases in mainland China on May 12, up from one a day earlier

China reported seven new coronavirus infections on the mainland on May 12, versus one a day earlier, the national health authority said on Wednesday, with six local cases in northeastern Jilin province..




Reuters India - Published





Absence makes the heart grow fonder as China goes back to school

Temperature checks, compulsory face masks and scrupulous hygiene - it's more like going to a hospital than a school, but the Shanghai students returning to class after three months of lockdown are..




Reuters - Published





SpiceJet operates first freighter flight to China to bring medical supplies to Hyderabad

The flight left from Kolkata airport at 8.25 am Wednesday and landed at 3.30 pm (local time) at Shanghai, it said.




IndiaTimes - Published





Shanghai set to reopen schools after coronavirus closures

Local schools in Shanghai that have been closed in an effort to contain the spread of the new coronavirus will reopen starting April 27, the director of the city's education commission said on..




Reuters - Published





China's Shanghai orders all incoming travellers to undergo 14-day quarantine

The eastern Chinese city of Shanghai will make all incoming travellers undergo 14 days of quarantine and observation from Thursday in a bid to prevent coronavirus transmission, the local government..




Reuters - Published





Chinese father builds 'baby pod' to protect infant from coronavirus

The father of a two-month-old infant in Shanghai has created a custom-built pod complete with an air purification system to keep his baby safe from the coronavirus outbreak.




Reuters - Published





China appoints Gong Zheng as acting mayor of Shanghai

China's Shanghai government said on Monday that Gong Zheng would become its acting mayor, according to a statement on its WeChat account.




Reuters - Published





Shanghai downgrades emergency alert level as coronavirus spread subsides

The government of Shanghai downgraded the city's emergency alert level on Monday from level 1 to level 2 as the coronavirus spread subsides.




Reuters - Published





From schools in Shanghai to picnics in Caracas: How coronavirus is moving global life online

Millions of people worldwide are having to embrace life under lockdown - confined to their own four walls or neighbourhoods for weeks on end as countries battle to reduce the spread of the coronavirus.




Reuters - Published





Imported coronavirus cases in China outpace local infections for fifth day

Imported coronavirus cases in China outnumbered cases of location transmission for the fifth straight day as infected travellers passed through major Chinese transportation hubs in Beijing, Shanghai,..




Reuters - Published





Shanghai extends quarantine requirement to UK, 7 other European countries

Travelers who have visited the United Kingdom, Switzerland, Sweden, Belgium, Norway, the Netherlands, Denmark and Austria in the past 14 days will be subject to a 14-day quarantine on arrival in..




Reuters - Published





China sees fewer coronavirus cases, wary of international travellers

Mainland China reported a drop in new coronavirus infections on Sunday, but major cities such as Beijing and Shanghai continued to wrestle with cases of infected travellers arriving from abroad.




Reuters - Published




Shanghai says travelers from more countries to face quarantine

China's financial hub Shanghai will from March 13 require travelers from France, Spain, Germany and the United States to undergo a 14-day quarantine upon arrival, the city government said on Thursday.




Reuters - Published




China shuts all temporary coronavirus hospitals in city of Wuhan - state media

China has now closed all temporary hospitals in the central city of Wuhan, the epicenter of a coronavirus outbreak, a news website backed by the Shanghai government, the Paper, said on its official..




Reuters - Published





Shanghai tightens airport checks as imported virus infections in China jump

Shanghai increased airport screening on Saturday as imported coronavirus infections from countries such as Italy and Iran emerge as the biggest source of new cases in China outside Hubei, the province..




Reuters - Published





Shanghai reports three new coronavirus cases imported from abroad - state media

China's financial center of Shanghai reported three new coronavirus infections on Friday, in Chinese nationals who caught the virus abroad, the official People's Daily of the ruling Communist Party..




Reuters - Published





China appoints new deputy party secretary in Shanghai

China's Communist Party's ruling Central Committee named a new deputy party secretary for Shanghai on Friday, after the previous deputy party secretary Ying Yong was transferred to head Hubei province..




Reuters - Published





Shanghai trying to find people who crossed coronavirus patient from Iran

Shanghai is trying to identify anyone who came into contact with a coronavirus patient who arrived in the city from Iran, the local government said on Thursday.




Reuters - Published





Air India extends suspension of its China flights till June 30

Last month, the national carrier had suspended its six weekly Delhi-Shanghai flights from January 31 to February 14. However, it did not restart the flight operations from February 15 onwards. The..




IndiaTimes - Published





In coronavirus fight, Shanghai river town opts for caution

In Qibao, an old river town on the outskirts of Shanghai, officials have deployed more than 2,700 staff and volunteers to check temperatures and monitor traffic as they work to contain the coronavirus..




Reuters - Published





Shanghai says students won't return to school now, online learning to start March 2

The Shanghai government has said that students will not return to schools now and the semester will start via online learning amid China's coronavirus outbreak.




Reuters - Published





Chinese doctors using plasma therapy on coronavirus, WHO says 'very valid' approach

Doctors in Shanghai are using infusions of blood plasma from people who have recovered from the coronavirus to treat those still battling the infection, reporting some encouraging preliminary results,..




Reuters - Published




Coronavirus spells brutal Valentine's Day for Shanghai dining spots

As Valentine's Day nears on Friday, Shanghai restaurant owner Bill Hu finds himself unusually free.




Reuters - Published





Coronavirus diagnosis method not changed in other Chinese provinces, regions: Shanghai health commission

The methodology for coronavirus diagnosis has not changed in other provinces apart from Hubei, and not in municipalities such as the city of Shanghai, a Shanghai Health Commission spokeswoman said on..




Reuters - Published





Taiwan to suspend most flights to mainland China to control coronavirus

Taiwan will suspend flights to most cities in mainland China from Monday due to the coronavirus epidemic but those to the capital Beijing, Shanghai, Xiamen and Chengdu will continue, the government..




Reuters - Published





Lufthansa extends flight suspension to Beijing and Shanghai until February 28

Lufthansa is extending until Feb. 28 its suspension of flights to Beijing and Shanghai, the German airline said on Monday, citing the coronavirus outbreak.




Reuters - Published





U.S. authorizes departure of some employees from diplomatic facilities in China

The U.S. State Department has authorized the departure of family members and all non-emergency U.S. government employees at the American embassy in Beijing and consulates in Chengdu, Guangzhou,..




Reuters - Published





Virgin Atlantic suspends Shanghai flights over coronavirus

Virgin Atlantic has suspended its daily operations to Shanghai for two weeks from Feb. 2 due to the outbreak of coronavirus and a declining demand for flights, it said on Thursday.




Reuters - Published





Factbox: Tesla, Apple, Starbucks warn of virus hit; firms restrict travel, flights cancelled

Tesla warned a delay in the output of Shanghai-built Model 3 cars would hurt first-quarter profit after China ordered a shutdown of the factory following a virus outbreak that has killed 170 people and..




Reuters - Published





Air France reduces China flights as virus outbreak hits demand

Air France said on Wednesday it would reduce its flight schedule to Beijing and Shanghai this week, as the coronavirus outbreak hit demand for travel to China.




Reuters - Published





American Airlines joins others in suspending some China flights as demand sags

American Airlines Group Inc, the largest U.S. carrier, said on Wednesday it would suspend flights from Los Angeles to Beijing and Shanghai, as demand has sagged amid a coronavirus outbreak in China..




Reuters - Published





American Airlines suspending flights to China because of sagging demand

American Airlines Group Inc, the largest U.S. carrier, said Wednesday it will suspend flights from Los Angeles to Beijing and Shanghai, citing sagging demand in the wake of the coronoavirus outbreak.




Reuters - Published





British Airways suspends bookings for China flights after coronavirus warnings

British Airways has suspended bookings on its website for direct flights from London to Beijing and Shanghai until March, after warnings over travel to China due to the coronavirus outbreak.




Reuters - Published





Man in Germany contracts coronavirus in one of first cases of transmission outside China

Germany has declared its first confirmed case of the coronavirus after a 33-year-old man contracted it from a colleague visiting his workplace from Shanghai, in one of the first few cases of..




Reuters - Published





Companies in Shanghai cannot resume work before February 9 due to virus fight: government

The Shanghai government has said companies in the city are not allowed to resume operations before Feb. 9, an official at the municipality announced at a press conference on Monday.




Reuters - Published





Shanghai's Pudong International Airport to suspend long distance bus services as virus spreads

Shanghai's Pudong International Airport will suspend long-distance inter-city bus services to-and-from the airport starting on Tuesday, the company's bus service provider in a statement on Monday.




Reuters - Published





Shanghai shuts down all cinemas during Lunar New Year holidays: local paper

Shanghai has shut down all cinemas during the Lunar New Year holidays, which last until Jan. 30, the Liberation Daily said on its online channel.




Reuters - Published





Beijing, Shanghai urge people from virus outbreak areas to stay at home for 14 days

Beijing city government has urged residents returning from coronavirus outbreak areas to stay at home for 14 days to prevent its spread, the Beijing Daily said on Friday.




Reuters - Published





Shanghai Disney to be closed from Saturday to help prevent spread of virus

The Shanghai government said Shanghai Disneyland will be closed from Saturday to help prevent the spread of a deadly virus that broke out in the Chinese city Wuhan.




Reuters - Published





More vegetables, doctor's visits for Shanghai elderly looking to beat virus

Senior citizens in China's commercial capital of Shanghai are taking preventive steps against the spread of a new virus, monitoring their health, staying indoors to reduce exposure, and even giving up..




Reuters - Published





As virus spreads to more Chinese cities, WHO calls emergency meeting

An outbreak of a new coronavirus has spread to more Chinese cities, including the capital Beijing and Shanghai, authorities said on Monday, and a fourth case has been reported beyond China's borders.




Reuters - Published





Virus spreads to more Chinese cities, President Xi says containment is priority

An outbreak of a new coronavirus has spread to more Chinese cities, including the capital Beijing and Shanghai, national and local authorities confirmed on Monday, and a fourth case has been reported..




Reuters - Published





Shanghai suspends all ties with Prague in spat over Taiwan

The Shanghai city government said on Tuesday it was suspending official contact with Prague after the Czech capital Prague signed a sister city agreement with Taiwan's capital, Taipei, in the latest..




Reuters - Published