Dover
Town and major ferry port in England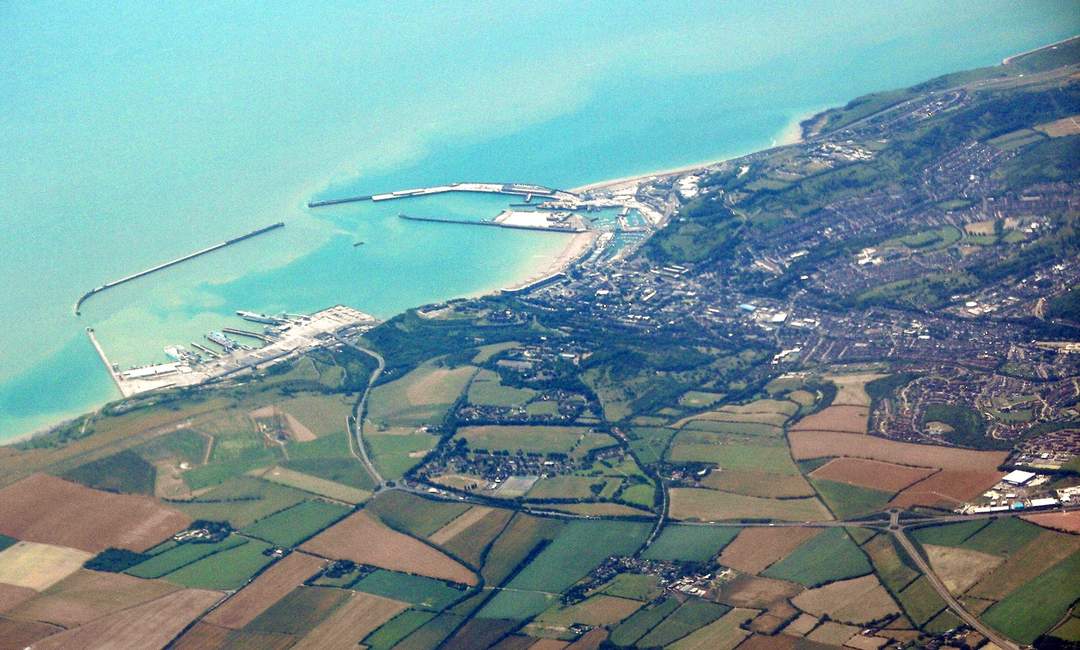 Dover is a town and major ferry port in Kent, South East England. It faces France across the Strait of Dover, the narrowest part of the English Channel at 33 kilometres (21 mi) from Cap Gris Nez in France. It lies south-east of Canterbury and east of Maidstone. The town is the administrative centre of the Dover District and home of the Port of Dover.


You Might Like
Teenage boy killed at fairground in Dover
A teenage boy has died at a fair on the Kent coast.
Sky News - Published
UK-French taskforce set up to tackle travel chaos after huge queues at Dover
A UK-French taskforce has been set up to tackle travel chaos in Kent after holidaymakers spent hours in gridlocked traffic trying to cross the Channel last weekend.
Sky News - Published
Rail strikes expected to add to weekend roads misery - as UK-French taskforce to tackle Dover chaos
A UK-French taskforce is to tackle Channel travel chaos after gridlocked traffic caused hours of hold-ups last weekend - with rail strikes on Saturday and holiday traffic expected to add to the misery.
Sky News - Published
P&O ferry Pride of Kent detained at Dover after failing reinspection
The Pride of Kent, a P&O ferry, has failed its reinspection by authorities.
Sky News - Published
P&O Ferries to resume Dover to Calais sailings with passenger services next week
P&O Ferries plans to resume passenger sailings operating between Dover and Calais in the next few days, amid accusations that it tried to further reduce the wages of seafarers.
Sky News - Published
P&O hopes of Dover crossings from Good Friday in doubt as ship 'detained'
P&O Ferries' hopes of resuming cross-Channel services between Dover and Calais later this week appear to have suffered a big blow after the Spirit of Britain was further detained, according to the..
Sky News - Published
Dover crossing delays 'mean that British hauliers lose £800 per lorry' as products go off
Congestion chaos at the Dover port crossing is reportedly costing transport companies £800 per lorry - as British hauliers of perishable goods complain the long waiting times are causing products to..
Sky News - Published
Queues at Dover as ferry services to Calais and Dunkirk disrupted due to weather
Ferry passengers heading to France face disruption today after cross-Channel services from Dover to Calais and Dunkirk were hit by weather conditions yesterday and overnight.
Sky News - Published
Migrants cross Channel for fourth consecutive day as Priti Patel meets with Border Force in Dover
Migrants have been seen crossing the Channel to the UK for the fourth day in a row, as warm weather and calm seas provided comparatively safe conditions to make the journey.
Sky News - Published
Bishop of Dover: UK not yet a model for other white-majority countries
Britain is not yet a model for other white-majority countries in terms of racial equality, according to the Church of England's first black female bishop.
Sky News - Published
UK's Dover is ready for Brexit but eyes French border and paperwork
Dover, Europe's busiest ferry port, is as prepared for Brexit as it can be but there are uncertainties over the extent to which freight operators are ready for new declarations and whether France will..
Reuters - Published
Queues at Dover a material risk of a no-deal Brexit: UK's Gove
Long queues at the southeastern port of Dover are a material risk if Britain leaves the European Union without a deal, Michael Gove, the British minister in charge of coordinating no-deal Brexit..
Reuters - Published