Buckingham Palace
Official London residence and principal workplace of the British monarch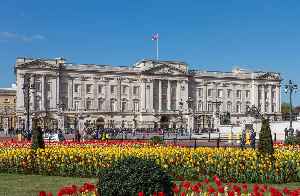 Buckingham Palace is the London residence and administrative headquarters of the monarchy of the United Kingdom. Located in the City of Westminster, the palace is often at the centre of state occasions and royal hospitality. It has been a focal point for the British people at times of national rejoicing and mourning.


Royal Parks unveils NHS floral display in front of Buckingham Palace

In celebration of the NHS' 72nd birthday, The Royal Parks charity has created two special flowerbeds in front of Buckingham Palace, containing 45,000 white and blue flowers.
Credit: PA - Press Association STUDIO Duration: 00:27
Published
Black Lives Matter marches past Buckingham Palace

Demonstrators taking part in the Black Lives Matter protest have marched past Buckingham Palace today, chanting slogans aimed at highlighting racial injustices and inequalities in the wake of George..
Credit: ODN Duration: 00:35
Published
Three cheers for the Queen from the Welsh Guards

The Welsh Guards give three cheers to the Queen on her official birthday at Windsor Castle. The soldiers has earlier paraded in front of the Queen in a special ceremony performed instead of the..
Credit: PA - Press Association STUDIO Duration: 00:47
Published
Britain's Queen Elizabeth marks official birthday

Britain's Queen Elizabeth marked her "official" birthday on Saturday with a military ceremony in the quadrangle of Windsor Castle, performed by soldiers from the 1st Battalion Welsh Guards with music..
Credit: Reuters Studio Duration: 01:12
Published
The royal couple from engagement to now

The Duke of Edinburgh celebrates his 99th birthday with the release of an official photograph with the Queen. The PA news agency looks back at the then Princess Elizabeth and Lieutenant Philip..
Credit: PA - Press Association STUDIO Duration: 00:48
Published
U.S. has 'no plan' to extradite Prince Andrew

U.S. Attorney General William Barr said on Monday there were no plans to extradite Britain's Prince Andrew to the United States for questioning in the sex crimes case involving Jeffrey Epstein, after..
Credit: Reuters Studio Duration: 01:38
Published
Queen Elizabeth's former chef compares Buckingham Palace to Downton Abbey

Former royal chef Darren McGrady has compared Buckingham Palace to 'Downton Abbey' due to the segregated living arrangements for male and female staff.
Credit: Bang Media World Duration: 01:18
Published
Queen Elizabeth allows Boris Johnson to exercise at Buckingham Palace

Queen Elizabeth allows Boris Johnson to exercise at Buckingham Palace
Credit: Bang Media World Duration: 00:43
Published
You Might Like



UK's Queen Elizabeth last saw PM Johnson on March 11, is in good health

Britain's Queen Elizabeth last saw Prime Minister Boris Johnson, who has tested positive for coronavirus, on March 11 and she remains in good health, Buckingham Palace said on Friday.




Reuters - Published





State visit to UK by Japan emperor postponed: Buckingham Palace

A planned state visit to Britain by the emperor and empress of Japan in June has been postponed and will be rescheduled at a later date, Buckingham Palace said on Thursday.




Reuters - Published





Queen Elizabeth's granddaughter scales back wedding plans over coronavirus

Queen Elizabeth's granddaughter Princess Beatrice is scaling back her wedding plans and cancelling a planned reception due to be held at Buckingham Palace in May because of coronavirus, the royal..




Reuters - Published





Queen Elizabeth cancels parties, heads to Windsor Castle over virus

Queen Elizabeth canceled her annual garden parties and will leave London for Windsor Castle earlier than planned because of the coronavirus outbreak, Buckingham Palace said on Tuesday.




Reuters - Published




Tell Prince Andrew to call FBI says message on U.S-style bus near palace

A yellow, U.S.-style school bus displaying Prince Andrew's face and asking him to call the FBI drove past Buckingham Palace on Friday, in a move designed to press him to help authorities investigating..




Reuters - Published





British man guilty of plotting Islamist attack on London sights

A British Uber driver, previously cleared of a sword attack on police outside Buckingham Palace, was convicted on Monday of a plot to kill people in the name of Islam at London tourist destinations..




Reuters - Published





Meghan's father accuses daughter of 'cheapening' UK's royal family

Meghan Markle's father, Thomas Markle, has accused his daughter of "cheapening" the British royal family, in part of an interview released a day after Buckingham Palace said Prince Harry and his wife..




Reuters - Published





Factbox: Queen Elizabeth's statement on Harry and Meghan's future

Buckingham Palace announced on Saturday that Prince Harry and his wife Meghan will no longer be working members of Britain's royal family and they will not use their "royal highness" titles as they..




Reuters - Published





UK's Harry and Meghan to drop titles and retire as working royals

Prince Harry and his wife Meghan will no longer be working members of Britain's monarchy and they will pay their own way in life as they embark on an independent future, Buckingham Palace said on..




Reuters - Published





Factbox - Britain's retiring royals: who are Harry and Meghan?

Prince Harry and his wife Meghan will no longer be working members of Britain's monarchy, will forgo public funds and will repay money spent on refurbishing their cottage west of London as they embark..




Reuters - Published





UK's Buckingham Palace says it 'understands' Harry and Meghan's move

Queen Elizabeth's Buckingham Palace issued a statement on Wednesay saying discussions with Prince Harry and his wife Meghan over their plans to step back from royal duties were at an early stage.




Reuters - Published





Four generations of UK royal family pose for photo to mark new decade

Buckingham Palace has issued a new photographic portrait of Queen Elizabeth, her son Prince Charles, her grandson Prince William and her great-grandson Prince George to mark the start of a new decade.




Reuters - Published





UK's Queen Elizabeth stresses reconciliation after 'quite bumpy' 2019

Queen Elizabeth will stress the value of harmony and reconciliation in her Christmas message this year, Buckingham Palace said on Tuesday, after a "quite bumpy" year for her own family and for Britain..




Reuters - Published





UK Queen stresses reconciliation after bruising Brexit year

Queen Elizabeth will stress the value of harmony and reconciliation in her Christmas message this year, Buckingham Palace said on Tuesday, after a year in which the tortuous Brexit process aggravated..




Reuters - Published




Prince Philip, 98, husband of Queen Elizabeth, taken to hospital as a precaution

Britain's Prince Philip, the 98-year-old husband of Queen Elizabeth, was taken to hospital on Friday as a precaution for treatment of an existing condition, Buckingham Palace said.




Reuters - Published




UK's Johnson heads to Buckingham Palace to ask to form government

British Prime Minister Boris Johnson has left his Downing Street residence to ask Queen Elizabeth for formal permission to create a new government, after his Conservative Party won an unexpectedly..




Reuters - Published





Trump calls Canada's Trudeau 'two-faced' after summit video

U.S. President Donald Trump denounced Justin Trudeau as "two-faced" on Wednesday after the Canadian prime minister was caught on camera laughing over Trump's press appearances during a chat with other..




Reuters - Published





Trudeau says 'jaws drop to the floor' during Trump remarks

Canadian Prime Minister Justin Trudeau was filmed at a Buckingham Palace reception on Tuesday evening describing how surprised U.S. President Donald Trump's team appeared to be by his performance at a..




Reuters - Published





U.S. President trump arrives in London for NATO summit

U.S. President Donald Trump landed in London on Monday for a NATO summit. Queen Elizabeth will host the NATO leaders at Buckingham Palace on Tuesday.




Reuters - Published





Cab ride to queen: Johnson rivals eye a very British power grab

British opposition leader Jeremy Corbyn would dash across London in a cab to Buckingham Palace and tell Queen Elizabeth "We're taking over" should Prime Minister Boris Johnson refuse to quit if he lost..




Reuters - Published





Meghan guest edits British Vogue, features 'Forces for Change' women

Meghan, wife of Britain's Prince Harry, has chosen to feature 15 women she considers "Forces for change" on the cover of the September issue of British Vogue that she guest edited, Buckingham Palace..




Reuters - Published





Boris Johnson takes over as UK's new prime minister, promises to leave EU on 31 October with 'no ifs, no buts'

Boris Johnson laid out his vision as Prime Minister in his first speech on the steps of Downing Street after a meeting with Queen Elizabeth II at Buckingham Palace.




Firstpost - Published





Climate protesters try to block UK's Johnson as he goes to palace

Demonstrators briefly tried to block the wide ceremonial road leading to Buckingham Palace on Wednesday as Britain's incoming Prime Minister Boris Johnson was driving up it in a convoy to meet Queen..




Reuters - Published





Man held after climbing gates of London's Buckingham Palace

British police said they had detained a man who scaled the front gates of Queen Elizabeth's Buckingham Palace, almost 37 years to the day after the most famous break-in at the monarch's home in central..




Reuters - Published





Donald Trump welcomed to Buckingham Palace by Queen Elizabeth

Britain rolled out the royal red carpet for Donald Trump on Monday but the pomp, pageantry and banquet with Queen Elizabeth looked set to be overshadowed by the U.S. President's views on Brexit, the..




Reuters - Published





Donald Trump meets Queen Elizabeth at Buckingham Palace

U.S. President Donald Trump and his wife Melania were greeted by Queen Elizabeth II when they arrived at Buckingham Palace on Monday.




Reuters - Published





Donald Trump's UK State Visit Confirmed: What to Expect

by Simon Baxendale - After months of speculation, it has been confirmed this week that US President Donald Trump will return to the UK later this year as part of a state visit. This means that Trump..




One News Page Staff - Published