Mulayam Singh Yadav
Indian politician and former chief minister of the state of Uttar Pradesh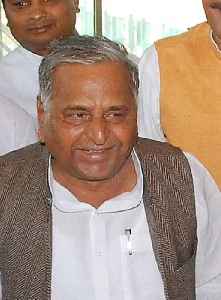 Mulayam Singh Yadav is an Indian politician from Uttar Pradesh and the founder of the Samajwadi Party. He served for three non-consecutive terms as the Chief Minister of Uttar Pradesh from 1989 to 1991, 1993 to 1995, and 2003 to 2007 respectively and also served as the Minister of Defence of India from 1996 to 1998 in the United Front government. He currently serves as the Member of Parliament in the Lok Sabha from Azamgarh.


Lok Sabha Election 2019: 24 years on, Mayawati & Mulayam Singh share dais at Mainpuri
Mayawati says Mulayam is a true leader of the backward community and called Prime Minister Narendra Modi "a farzi (fake) leader of the backward classes"
DNA - Published
Mulayam, Mayawati share stage. BSP chief says SP patriarch not 'fake OBC leader' like PM Modi
Both leaders praised each other.
DNA - Published
HC issues notice to Mulayam in IPS officer threatening case
The Lucknow bench of the Allahabad high court on Monday issued a notice to former Uttar Pradesh chief minister Mulayam Singh Yadav in connection with reportedly issuing threats to IPS officer Amitabh..
IndiaTimes - Published
Samajwadi Party chief, kin almost cut loose by CBI
This is the first time the agency has spoken about a formal closure, although Mulayam hinted to it while filing an affidavit in the apex court earlier this week.
DNA - Published
Preliminary inquiry against Mulayam Singh Yadav, Akhilesh in DA case closed in 2013: CBI to Supreme Court
CBI told the Supreme Court Friday that it had closed in 2013 a preliminary inquiry against former Uttar Pradesh chief minister Mulayam Singh Yadav and his son Akhilesh in a disproportionate assets..
DNA - Published
Mulayam Singh Yadav disproportionate asset case: SC asks CBI to file reply
The SC asked the CBI to file a reply to a petition seeking to know the status of probe into Mulayam Singh Yadav and his family's disproportionate assets. The court gave CBI four weeks to file status of..
IndiaTimes - Published
CBI has closed my disproportionate assets case, Mulayam Singh Yadav tells Supreme Court
Mulayam added that even the Income Tax authorities did not find anything against him or his family
DNA - Published
You Might Like