Mulayam Singh Yadav
Indian politician and former chief minister of the state of Uttar Pradesh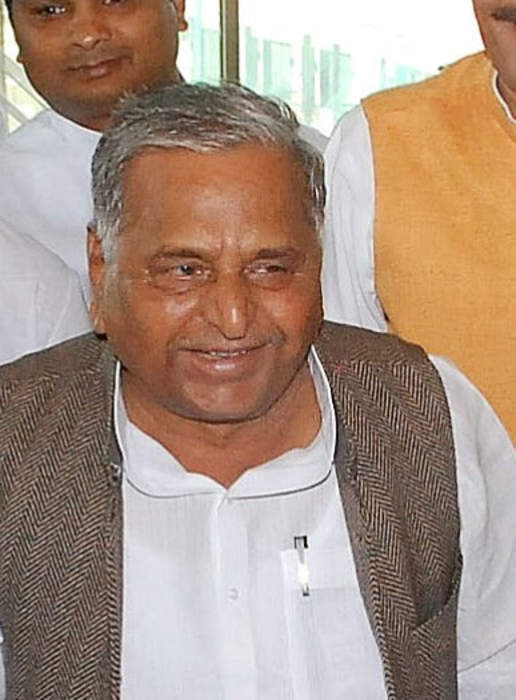 Mulayam Singh Yadav is an Indian politician from Uttar Pradesh and the founder-patron of the Samajwadi Party. He served for three non-consecutive terms as the Chief Minister of Uttar Pradesh from 1989 to 1991, 1993 to 1995 and 2003 to 2007 respectively and also served as the Minister of Defence, Government of India from 1996 to 1998 in the United Front. He is currently the Member of Parliament, representing the constituency of Mainpuri in the Lok Sabha. He had also earlier served as the Member of Parliament from Azamgarh.


Mulayam Singh Yadav celebrates birthday with SP workers

Mulayam Singh Yadav, on November 22, turned 82. He reached Samajwadi Party office to celebrate his birth anniversary with the party workers. His son and SP chief Akhilesh Yadav was also present at the..
Credit: ANI Duration: 01:17
Published
You Might Like



'One of our most experienced': PM Modi greets Mulayam Singh Yadav on 82nd birthday

Samajwadi Party workers celebrated party supremo Mulayam Singh Yadav's 82nd birthday outside his residence and the party office in Lucknow on Sunday.




DNA - Published





Mulayam Yadav turns 82, party celebrates on subdued note

Though there are no formal celebrations on the occasion in view of the pandemic, hoardings have been put up all over the state capital wishing the leader on his birthday.




IndiaTimes - Published





Samajwadi Party patriarch Mulayam Singh Yadav tests positive for Covid-19




IndiaTimes - Published

Also reported by •DNA


SP leader Mulayam Singh tests Covid positive

Samajwadi Party leader Mulayam Singh Yadav on Wednesday tested positive for coronavirus, his party said in a statement. At present, he does not have any symptoms," SP's official handle tweeted.




IndiaTimes - Published





Veteran Samajwadi Party leader Mulayam Singh Yadav passes away

Former MLC of Samajwadi Party and veteran leader Mulayam Singh Yadav passed away on Saturday night in his native village.




DNA - Published





SP leader Mulayam Singh Yadav admitted to hospital




IndiaTimes - Published




Amar Singh: The wily Thakur who had friends across political spectrum

Rajya Sabha MP Amar Singh, who died in a Singapore hospital on Saturday at the age of 64, skilfully navigated the intersection of politics and corporate world and then imbued it with a dash of filmy..




IndiaTimes - Published





Samajwadi Party patriarch Mulayam Singh Yadav admitted to Lucknow hospital again for stomach-related ailments

This is the second time that the Samajwadi leader has been admitted to the hospital within the span of just five days.




DNA - Published





Mulayam Singh Yadav hospitalised after stomach-related ailments, condition stable




IndiaTimes - Published





Former Union Minister and Samajwadi Party leader Beni Prasad Verma passes away

Verma, a founding member of the Samajwadi Party, had been a close associate of Mulayam Singh Yadav, the founder-patron of the party.




DNA - Published





UP governor meets Mulayam Singh Yadav, inquires about his health




IndiaTimes - Published





Mulayam Singh hospitalised in Mumbai for abdominal health issues

Samajwadi Party (SP) founder and former Uttar Pradesh chief Mulayam Singh Yadav has been admitted to a hospital in Mumbai for some abdominal health issues, sources said on Sunday. The 80-year-old..




IndiaTimes - Published





UP: Mulayam Singh Yadav celebrates 80th birthday with party workers

Mulayam's son and Samajwadi Party chief Akhilesh Yadav was also present on the occasion. The cake cutting ceremony was held in the presence of party workers and cadres. As the Samajwadi party patron..




IndiaTimes - Published





Mulayam complains of stomach ache, admitted to hospital




IndiaTimes - Published





Yogi Adityanath meets Mulayam Singh Yadav, extends Diwali greetings




IndiaTimes - Published





Mulayam Singh Yadav stands in support of Azam Khan

Rampur MP Mohd Azam Khan has been booked in more than 75 cases with allegations as serious as of loot and land grabbing.




DNA - Published

Also reported by •IndiaTimes


Mulayam backs Azam Khan, to launch campaign in his favour

Samajwadi Party patron Mulayam Singh Yadav on Tuesday alleged that injustice was being meted out to senior party leader Azam Khan and said a protest will be launched by party workers against it. Khan..




IndiaTimes - Published





DNA EXCLUSIVE: Mulayam Singh Yadav gave forged documents in SC to claim clean chit in disproportionate assets case

The order was passed on a petition filed by lawyer Vishwanath Chaturvedi, on whose petition initially CBI probe was ordered




DNA - Published





Amid walkout, Lok Sabha passes bill to ban individuals too as terrorists

Some opposition parties like Congress, DMK and Trinamool Congress walked out in protest against the introduction of UAPA amendment bill in the Lok Sabha. However, Samajwadi Party patriarch Mulayam..




IndiaTimes - Published





Sonia proposes Adhir Ranjan Chowdhury as PAC Head; Rahul Gandhi to sit in 2nd row of Lok Sabha

Along with Trinamool and YSRCP floor leaders, SP leader Mulayam Singh Yadav and NC leader Farooq Abdullah may also get front row seats.




IndiaTimes - Published





Sonia Gandhi, Mulayam Singh Yadav among members administered oath on 2nd day

Congress leader Sonia Gandhi and Samajwadi Party patron Mulayam Singh Yadav were among leaders who took oath as members of 17th Lok Sabha on Tuesday, with the House witnessing a virtual slogan-shouting..




IndiaTimes - Published





Mulayam affidavit may have relied on forged papers

Samajwadi Party leader Mulayam Singh Yadav appears to have relied on forged CBI probe status reports to file an affidavit in the Supreme Court seeking dismissal of a fresh attempt to reactivate..




IndiaTimes - Published





Mulayam Singh Yadav admitted to Gurgaon hospital for routine check-up: Family

Family sources stated that he was shifted to the hospital on the advice of Dr Naresh Trehan who has in past also catered to Yadav's health issues.




DNA - Published





Adityanath calls on ailing Mulayam

The other surprise visitor at the meeting on Monday was Akhilesh Yadav's estranged uncle, Shivpal, who went along with Yogi.Shivpal had parted ways with the family to form his own party in 2018.




IndiaTimes - Published





UP CM meets convalescing Mulayam Singh Yadav

The SP supremo was discharged from Ram Manohar Lohia Institute of Medical Sciences on June 9.




DNA - Published





Mulayam Singh Yadav launches fresh efforts to unite clan

After Samajwadi Party's dismal performance in the Lok Sabha elections, party patriarch Mulayam Singh Yadav has launched fresh efforts to end acrimony between his son Akhilesh and brother Shivpal,..




IndiaTimes - Published