Central Bureau of Investigation
Premier investigating agency of India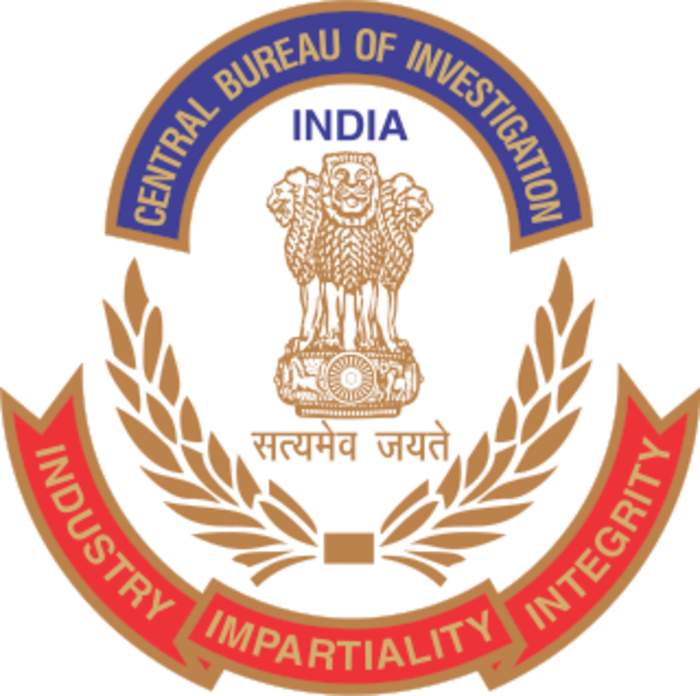 The Central Bureau of Investigation (CBI) is the premier investigating agency of India. Operating under the jurisdiction of the Ministry of Personnel, Public Grievances and Pensions(India), Originally set up to investigate bribery and governmental corruption, in 1965 it received expanded jurisdiction to investigate breaches of central laws enforceable by the Government of India, multi-state organised crime, multi-agency or international cases. The agency has been known to investigate several economic crimes, special crimes, cases of corruption and other cases. CBI is exempted from the provisions of the Right to Information Act. CBI is India's officially designated single point of contact for liaison with the Interpol.


IndiGo airlines manager murder case: Family demands CBI probe

Three days after Rupesh Kumar Singh, a manager with IndiGo airlines, was shot dead by unidentified bike-borne men in the Punaichak area of Patna, his family said the probe should be transferred from..
Credit: ANI Duration: 01:38
Published
CBI's conclusion in Sushant death probe won't be different from ours: Mumbai CP

Mumbai Commissioner of Police on actor Sushant Rajput death case said that CBI will reach to a conclusion that will be similar to Mumbai Police one. "I'm sure CBI will soon reach a conclusion that..
Credit: ANI Duration: 01:07
Published
CBI: Neither side can be 'fully ready' to implement deal'

CBI Director General, Tony Danker, says "there's no way any business on either side of the channel could be fully ready to implement this deal." Report by Browna. Like us on Facebook at..
Credit: ODN Duration: 00:34
Published
Maharashtra Home Minister requests CBI to reveal probe findings in SSR death

Maharashtra Home Minister Anil Deshmukh on December 27 requested CBI to reveal findings of the investigation in the death mystery of Bollywood actor Sushant Singh Rajput. Levelling questions on CBI,..
Credit: ANI Duration: 01:19
Published
Sister Abhaya murder case: After 28 years, CBI court finds Fr Thomas, nun guilty

In a 28-year-old case, a Central Bureau of Investigation (CBI) court in Kerala's Thiruvananthapuram on December 22 pronounced its verdict in the sister's Abhaya murder case. In the case both accused..
Credit: ANI Duration: 01:17
Published
BJP demands CBI probe, local minister's resignation: Patra on murder of minor in Odisha's Nayagarh

BJP demands CBI probe, Minister Arun Sahu's resignation over the killing of 5-year-old girl child in Odisha's Nayagarh, said BJP national spokesperson Sambit Patra on December 20. "It's very sad that a..
Credit: ANI Duration: 01:41
Published
AAP announces sit-in outside Amit Shah, Delhi L-G's house over alleged MCD scam

Alleging that Bharatiya Janata Party-led North Municipal Corporation of Delhi (MCD) waived off around Rs 2,500 crore rent dues of South MCD, Aam Aadmi Party (AAP) leader Atishi on Saturday said the..
Credit: HT Digital Content Duration: 04:14
Published
People associated with Gupkar alliance robbed JandK for years: Anurag Thakur

Speaking on the Roshni land scam, Union Minister of State for Finance and Corporate Affairs, Anurag Thakur on November 24 stated that people associated with Gupkar alliance have robbed Jammu and..
Credit: ANI Duration: 01:49
Published
You Might Like



CBI arrests Senior Railways officer, two others for demanding bribe of Rs 1 crore

CBI launched a widespread search operation at 21 locations in five states - Delhi, Uttarakhand, Tripura, West Bengal and Assam.




DNA - Published





CBI arrests senior railways official in Rs 1-crore bribery case, conducts searches

The CBI on Sunday arrested a senior Indian Railways Engineering Service (IRES) official for allegedly accepting bribe of Rs 1 crore and carried out searches at 20 locations across the country,..




IndiaTimes - Published





Cite rules under which look out circulars were issued against Mallya: CIC to CBI




IndiaTimes - Published





Ponzi case: CBI arrests wife of Rose Valley boss




IndiaTimes - Published





CBI books its 4 personnel for taking bribe from bank fraud accused, conducts searches

The CBI has booked its four personnel, including two deputy superintendents of police, for allegedly receiving bribe to compromise on investigation against companies accused of bank fraud, and started..




IndiaTimes - Published





CBI books DARE scientist, US firm for irregularities in procurement of radar components




IndiaTimes - Published





CBI registers a case against 'Shakti Bhog', SBI alleged loss of 3000 crores!

Searches conducted at eight locations in Delhi at the official and residential premises of the accused led to the recovery of incriminating documents.




DNA - Published





Cattle smuggling case: CBI searches at multiple locations in West Bengal

The CBI on Thursday carried out searches at multiple locations in West Bengal including the premises of TMC leader Vinay Mishra, considered close to Chief Minister Mamata Banerjee's nephew Abhishek..




IndiaTimes - Published





CBI arrests wife of UP engineer nabbed for child sexual abuse

Durgawati, the wife of serial child molester Ram Bhuvan Yadav, has been remanded to judicial custody till January 4.




DNA - Published





IIS officer Ramesh Chandra Joshi takes charge as CBI's chief information officer

Senior Indian Information Service (IIS) officer Ramesh Chandra Joshi became the new face of the CBI for interactions with the media by taking charge as its chief information officer, a post lying..




IndiaTimes - Published





Saradha scam: CBI moves fresh plea in SC to quiz WB IPS officer

The CBI has moved the Supreme Court seeking to question senior IPS officer and former Kolkata police commissioner Rajeev Kumar in connection with the multi-crore-rupee Saradha chit fund scam case.




IndiaTimes - Published





CBI registers two separate cases on the allegations of multi-crore bank fraud

It was further alleged that only around 20 per cent of its receipts and payments from its debtors and creditors respectively.




DNA - Published





ASI who prepared FIR killed self after CBI took his statement




IndiaTimes - Published





Priest, nun convicted in 1992 Sister Abhaya's murder case

The CBI special court here on Tuesday held that the mysterious death of Sister Abhaya at the St. Pius X Convent in Kottayam in 1992 was a murder and found priest Father Thomas Kottoor and nun Sister..




IndiaTimes - Published





After 15 years, CBI updates SOPs for its investigators




IndiaTimes - Published





Hathras case: CBI charges four with gang rape, murder

Nearly three months after a 19-year-old Dalit girl from a village in Hathras said in her dying declaration that she had been raped by four upper caste men in her village, the CBI filed a chargesheet..




IndiaTimes - Published





Hathras case: Priyanka Gandhi Vadra says ''truth has prevailed'' as CBI files chargesheet

Priyanka Gandhi Vadra said that the state left no stone unturned to deny the victim dignity - in life and death.




DNA - Published





Hathras case: CBI files chargesheet against 4 accused in special court

The CBI also submitted that it will take the victim's brother, who had registered the FIR in the matter, to Gujarat for a psychological assessment.




DNA - Published

Also reported by •IndiaTimes


AAP alleges Rs 2500 crore scam in BJP-ruled MCD, passes resolution for CBI probe

The Aam Aadmi Party (AAP) MLAs moved a motion in the Legislative Assembly for a CBI probe in the alleged MCD scam, which was opposed by the BJP MLAs.




DNA - Published





ED attaches Gujarat bullion trader's assets worth Rs 1.12 crore

Investigation under the PMLA was initiated on the basis of 2 FIRs registered by CBI




DNA - Published





No CBI court relief for Gupta in Agusta case




IndiaTimes - Published





CBI: Inquiry under way in 'missing' TN gold case




IndiaTimes - Published





Chennai: Madras HC orders probe after 103 kg gold goes 'missing' from CBI custody

Reportedly, the CBI seized at least 103 kg of gold from an importer in a raid which went missing.




DNA - Published





103kg gold worth Rs 45cr goes 'missing' from CBI custody in Tamil Nadu




IndiaTimes - Published





Unitech MD, kin booked by CBI for 'cheating bank of Rs 198 crore'




IndiaTimes - Published





CBI books Unitech MD Sanjay Chandra, his father & brother in Canara Bank fraud case




IndiaTimes - Published





CBI searches 3 locations in Delhi in Rs 1,800-crore bank fraud case

The CBI on Friday carried out searches at three locations here after booking Jay Polychem Ltd in a Rs 1,800-crore alleged bank fraud in the State Bank of India, officials said. The agency has received..




IndiaTimes - Published





Instal CCTVs at all thanas and offices of CBI, NIA, ED, NCB: SC

The court asked the Centre and states as well as UTs to compulsorily install CCTV cameras with night vision facility at all police stations with provision for storing recorded data for at least 12..




IndiaTimes - Published





SC directs Centre to install CCTV cameras in offices of CBI, ED & NIA

The Supreme Court directed the Centre on Wednesday to install CCTV cameras and recording equipment at the offices of investigating agencies, including the CBI, the ED and National Investigation Agency..




IndiaTimes - Published





Retired CBI official gets bail in corruption case




IndiaTimes - Published





Frame charges against Hooda, 32 others in land case: CBI court




IndiaTimes - Published





2G scam: Delhi HC to hear CBI appeal against acquittals from Jan 13

A single-judge bench of Justice Yogesh Khanna said it will hear the "leave to appeal" in the matter from January 13. The case was transferred to Justice Khanna after Justice Brijesh Sethi, who was..




IndiaTimes - Published





Coal scam: CBI raids 40 places across 3 states




IndiaTimes - Published




Coal mine scam accused dies of cardiac arrest after raid by CBI in Asansol

When the CBI reached Dhananjay's residence to carry out raids, he complained of chest pain after which he was rushed to the hospital.




DNA - Published





CBI raids 45 locations in 4 states for coal smuggling from Eastern Coalfield Limited

Majhi is the alleged kingpin of the illegal coal operation that was being run in the open cast colliery belts along the Bengal-Jharkhand border.




DNA - Published





MVA govt can't be intimidated by ED, CBI probes: Thackeray

Maharashtra Chief Minister Uddhav Thackeray has hit out at the BJP for indulging in "politics of vendetta" and said his Maha Vikas Aghadi (MVA) government cannot be intimidated by the ED and the CBI..




IndiaTimes - Published





Raja acquittal: HC upholds govt nod for CBI's 2G appeal

The CBI and ED won a partial victory on Monday before the Delhi high court when it rejected several petitions challenging the Central government's sanction to the CBI to appeal against the acquittal..




IndiaTimes - Published





CBI takes along Hathras case accused for polygraph, brain mapping test

Yesterday, the CBI took the accused persons to Gandhinagar in Gujarat from Aligarh Jail, Jail Superintendent informed.




DNA - Published





CBI books former Shia Waqf Board chief over illegal sale-purchase, transfer of Waqf properties

This development comes after the Central government gave its nod to the CBI to proceed with the case.




DNA - Published





State govt's consent must for CBI to probe in its jurisdiction, says Supreme Court

The court said the provisions are in tune with the federal character of the Constitution, which has been held to be one of its basic structures.




DNA - Published





Anil Deshmukh welcomes SC order on state's consent for CBI probe




IndiaTimes - Published





CBI carries out searches at 25 locations in Andhra Pradesh, Telangana




IndiaTimes - Published





State's nod must for Centre to extend CBI jurisdiction: SC




IndiaTimes - Published





CBI arrests UP junior engineer for sexually abusing kids for 10 years

A 40-year-old junior engineer with the Uttar Pradesh irrigation department was arrested on Tuesday by the Central Bureau of Investigation for allegedly sexually exploiting children and peddling videos..




IndiaTimes - Published





CBI arrests UP irrigation department's junior engineer for sexual abuse of 50 minors

Searches were conducted at the residence of the accused which led to the recovery of cash of Rs 8 lakh (approx.), mobile phones, laptops, web-camera and other electronic storage devices including pen..




DNA - Published





Palghar Lynching Case: BJP to hold rally in Mumbai seeking CBI probe

Four persons among the 200 arrested by the Maharashtra government in the Palghar lynching case were granted bail by a special court in Thane early this month.




DNA - Published





CBI files three cases of alleged land encroachment in Jammu and Kashmir

The probe agency took over these cases in pursuance to J&K High Court's order. The probe may cause trouble to two working IAS officers who were then deployed in Jammu and Kashmir.




DNA - Published





Secretary-rank officer in Delhi under CBI lens for land grab




IndiaTimes - Published





CBI books 16 for 'defaming' SC, AP HC judges




IndiaTimes - Published





Hyderabad: CBI arrests 2 Income Tax inspectors on bribery charges

The CBI laid a trap and caught the accused and also another tax inspector while accepting bribes of Rs 30,000 and Rs 50,000, respectively.




DNA - Published