Gwalior
Metropolis in Madhya Pradesh, India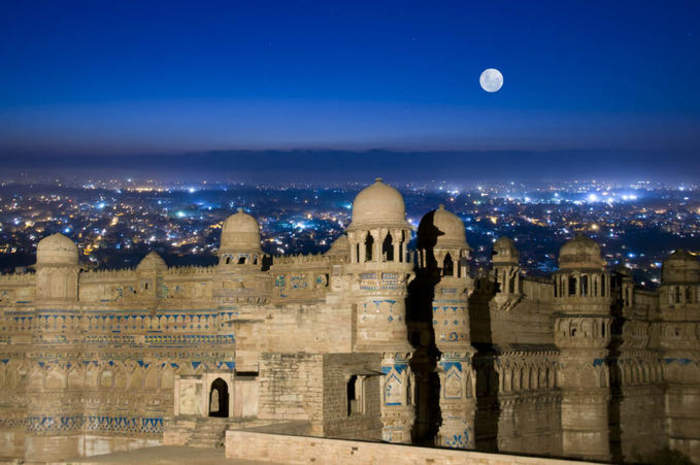 Gwalior is a major city in the central Indian state of Madhya Pradesh and one of the Counter-magnet cities. Located 343 kilometres (213 mi) south of Delhi, the capital city of India, 120 kilometres (75 mi) from Agra and 414 kilometres (257 mi) from Bhopal, the state capital, Gwalior occupies a strategic location in the Gird region of India. The historic city and its fortress have been ruled by several historic northern Indian kingdoms. From the Kachchhapaghatas in the 10th century, Tomars in the 13th century, it was passed on to the Mughal Empire, then to the Maratha in 1754, followed by the Scindia in the 18th century. A study of urban pollution in 2016 by the World Health Organization found the city to have the highest level of air pollution in India, and the second highest in the world.


Remdesivir injections reaches Indore from Bengaluru

A consignment of 15,000 Remdesivir injections reached Indore from Karnataka's Bengaluru on April 20. The vaccines will be further distributed across cities in Madhya Pradesh. According to Additional..
Credit: ANI Duration: 01:25
Published
3 dead after bus carrying migrant workers overturns in MP's Gwalior

Three people died after a bus, carrying migrants to Chhatarpur and Tikamgarh from Agra, overturned in Jorasi of Gwalior district on April 20. Several also got injured in the accident. A case has been..
Credit: ANI Duration: 01:34
Published
Watch: Drunken men vandalise vaccination centre in MP's Gwalior

In a viral video, two drunken men were seen vandalising a vaccination centre in Madhya Pradesh's Gwalior. Both accused were seen manhandling with staffs. An FIR has been registered and both the accused..
Credit: ANI Duration: 01:22
Published
Gwalior observes weekend lockdown to contain spread of COVID-19

Gwalior witnessed weekend lockdown on April 11 to contain the pandemic. People remained indoors, streets were deserted, and shops were closed. Due to surge in COVID-19 cases in Madhya Pradesh,..
Credit: ANI Duration: 01:06
Published
Covid vaccine: Jail inmates get the jab at Gwalior central prison amid surge

Prison inmates at the Gwalior central jail in Madhya Pradesh received their first dose of the Covid-19 vaccine on April 5. The inoculation drive was organised by jail and district authorities. Inmates..
Credit: HT Digital Content Duration: 01:05
Published
Inmates in MP's Gwalior Central Jail receive COVID-19 vaccine jab

A Covid-19 vaccination camp was organised for the inmates at Gwalior's Central Jail in Madhya Pradesh. The prisoners were given the first shot of Covid-19 vaccine during the camp. The vaccination drive..
Credit: ANI Duration: 01:08
Published
Locals in Gwalior resort to cool drinks to beat the heat

Heatwave conditions have intensified in Madhya Pradesh's Gwalior. Locals resorted to earthen pots and cool drinks like sugarcane juice in city to beat the summer heat. "It is getting hotter day by day...
Credit: ANI Duration: 02:03
Published
13 dead after bus-auto collision in MP's Gwalior

13 people were killed after a bus and an auto rickshaw collided with each other in Madhya Pradesh's Gwalior on March 23. The 13 deceased include 9 women travellers in the auto and its driver. Injured..
Credit: ANI Duration: 01:09
Published
MiG-21 crash: IAF pilot Ashish Gupta cremated in Gwalior

IAF pilot Ashish Gupta's mortal remains were consigned to flames on Thursday. Group Captain Gupta died in an accident involving a Mig- 21 Bison aircraft on Wednesday. Gupta's last rites were performed..
Credit: HT Digital Content Duration: 01:56
Published
MiG-21 crash: Mortal remains of IAF pilot Ashish Gupta taken for last rites

The mortal remains of Indian Air Force pilot Ashish Gupta have been rested at crematorium for last rites in Madhya Pradesh's Gwalior on March 18. Ashish lost his life in the MiG-21 Bison crash on March..
Credit: ANI Duration: 01:15
Published
Watch: Neena Gupta yells 'mummy' as she takes Covid-19 vaccine jab

Actor Neena Gupta is the latest celeb to get vaccinated under Centre's Covid vaccination drive. Taking to Instagram, the actor shared a video of herself getting the vaccine shot. In the video, Neena..
Credit: HT Digital Content Duration: 02:04
Published
Minor girl allegedly raped in Gwalior, accused nabbed

A minor girl was allegedly raped in Madhya Pradesh's Gwalior. Accused has been arrested in the heinous crime. While speaking to ANI, Gwalior SP, Amit Sanghi said, "The accused used to work in a shop of..
Credit: ANI Duration: 01:39
Published
You Might Like



PM Modi to address farmers' conferences in Madhya Pradesh today

Prime Minister Narendra Modi will address farmers' conferences in Madhya Pradesh through video conferencing on Friday. On December 16, Union Agriculture Minister Narendra Singh Tomar addressed the..




IndiaTimes - Published





Farmers Protest Day 21: What to expect today as agitation continues

Union Agricultural Minister Narendra Singh Tomar will address a 'kisan sammelan' in Gwalior on Wednesday.




DNA - Published





Will Jyotiraditya Scindia get a berth in the Modi cabinet?

In Madhya Pradesh by-elections, BJP won 19 out of 28 seats, while Jyotiraditya Scindia's stronghold Gwalior-Chambal region got only nine seats.




DNA - Published





Kamal Nath, Digvijay are real 'Jaichands', betrayed 7.5 cr people of Madhya Pradesh, says Scindia

Scindia was responding to Congress campaign in the state by-polls necessitated by the resignation of 22 Congress MLAs considered close to the scion of the erstwhile Gwalior royal family. Speaking to..




IndiaTimes - Published





BJP to approach SC against MP high court order restricting political rallies

"Today I had meetings in Sadora and Bhander. We have cancelled the meetings respecting the order of the Gwalior bench of Madhya Pradesh HC that restricts political rallies in the state. But, we will be..




IndiaTimes - Published





MP bypolls: HC orders FIR against Kamal Nath, Narendra Tomar for Covid-19 violation

Madhya Pradesh high court on Wednesday ordered district magistrates in Gwalior and Datia to ensure registration of FIR against union minister Narendra Singh Tomar and former chief minister Kamal Nath..




IndiaTimes - Published





Why even Scindia can't make it easy for BJP in Gwalior-Chambal region of Madhya Pradesh

Though Scindia is the tallest leader in Gwalior-Chambal region to which Congress has no match, BJP still needs to get its camp in order to leave the opposition party without any chance of pulling out a..




DNA - Published





Jyotiraditya Scindia supporters to join BJP during 3-day drive in Gwalior-Chambal region




IndiaTimes - Published





PM Modi, Amit Shah, Rajnath Singh remember Atal Bihari Vajpayee on second death anniversary

Born on December 25, 1924, in Madhya Pradesh's Gwalior, Vajpayee was the first-ever person from the BJP to become the Prime Minister.




DNA - Published





Madhya Pradesh: BJP leader Balendu Shukla joins Congress

Senior BJP leader and former state minister Balendu Shukla on Friday returned to the Congress as the opposition party in Madhya Pradesh seeks to strengthen itself in the Gwalior region after..




IndiaTimes - Published





RPF jawan from Gwalior to be first 'Captain Rlys'

If the US has 'Captain America' to look up to in times of distress, the world's largest passenger carrier will now have its own 'Captain Railways'. But unlike the popular film character based..




IndiaTimes - Published





DRDO testing facility shifted to Delhi from Gwalior for swift delivery

The DRDO has shifted its testing facility from the Defence Research Development Establishment (DRDE), Gwalior to the Institute of Nuclear Medicine & Allied Sciences (INMAS) in Delhi, officials said.




IndiaTimes - Published





Paramilitary forces report first Covid-19 cases: BSF officer, CISF jawan test positive

A BSF officer and a CISF jawan tested positive for coronavirus on Saturday, first cases of the highly contagious infection in the paramilitary forces, officials said. The 57-year-old Border Security..




IndiaTimes - Published





Jyotiraditya Scindia follows father's footsteps, quits Congress

Jyotiraditya Scindia, the scion of the erstwhile Gwalior royal family, quitting the Congress and eyeing to join the BJP is like "homecoming", as his aunt puts it, following in the footsteps of his..




IndiaTimes - Published





In Gwalior, gau bhakti must for gun licences




IndiaTimes - Published





Gwalior: Two pilots escape in MiG-21 crash, Defence Minister to probe

An Indian Air Force also confirmed that a court of inquiry has been instituted to ascertain the reason behind the crash




DNA - Published





Gwalior: Balakot airstrikes planner ejects safely in MiG-21 crash




IndiaTimes - Published





IAF MiG-21 combat trainer aircraft crashes in Gwalior, both pilots eject safely

The aircraft was on a routine training mission from the Gwalior airbase when the crash occurred at around 10 am.




DNA - Published

Also reported by •IndiaTimes


IAF receives Spice-2000 'building blaster' bombs

In a major boost for India's aerial firepower, the Indian Air Force has started receiving the 'building blaster' version of the Balakot air strike-fame Spice-2000 bombs at the Gwalior airbase. The..




IndiaTimes - Published





Gwalior: After 41 years, man acquitted of Rs 20 theft charge

On Saturday, in a judicial enquiry in a people's court, accused Ismail Khan was acquitted for a crime that he allegedly committed 41 years ago in 1978




DNA - Published





Air cheer: PM10 level dipping in Delhi

Analysis of data for 50 metropolitan cities for 2016, 2017 and 2018 showed a declining trend in Delhi, Varanasi, Ranchi, Raipur, Vijayawada and Bengaluru, among others, whereas the level of PM10 rose..




IndiaTimes - Published





20th year of Kargil war: IAF reenacts milestones in Gwalior Air Base

Commemorating 20 years of the Kargil War, the IAF Monday turned the Gwalior air base virtually into a conflict theatre, with dramatic reenactment of some of the milestones of the operation in 1999.




DNA - Published