Congress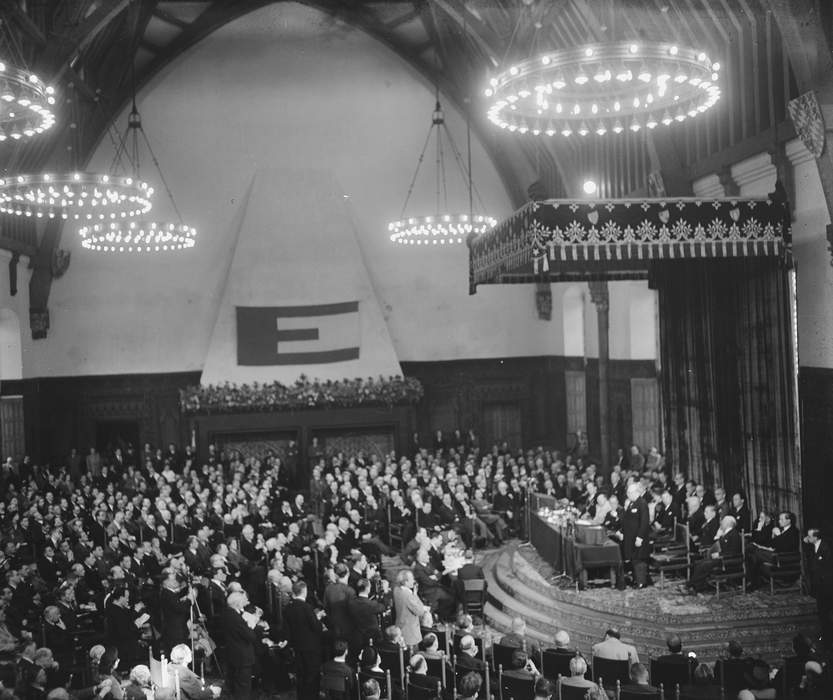 A congress is a formal meeting of the representatives of different countries, constituent states, organizations, trade unions, political parties or other groups. The term originated in Late Middle English to denote an encounter during battle, from the Latin congressus.


Assam polls: Nadda terms Congress' '5 guarantees' as 'display of mental bankruptcy'

For the ongoing elections in Assam, Congress had offered 5 guarantees in their manifesto. Tearing their guarantees apart and calling it 'display of mental bankruptcy', JP Nadda asked that how limited..
Credit: ANI Duration: 01:30
Published
Amit Shah's 'land Jihad' attack at Badruddin Ajmal; tourist jibe at Rahul

Home Minister hit out at the Congress and the AIUDF during a public meeting in Kamrup, Assam. Shah accused the AIUDF chief of indulging in 'Land Jihad' to change the identity of Assam. 'Congress..
Credit: HT Digital Content Duration: 02:17
Published
Ruckus during Congress meeting in Puducherry after party leader raised DMK flag

Ruckus at Congress office in Puducherry during party's Election Committee meeting. Additional security forces were deployed outside the party office following ruckus. Scuffle started after Congress..
Credit: HT Digital Content Duration: 01:42
Published
2 more MLAs quit; Puducherry CM meets Cong, DMK MLAs ahead of floor test

A day before the floor test in Puducherry Assembly, Chief Minister V Narayanasamy held a meeting with Congress and DMK MLAs to discuss the strategy ahead. Briefing the reporters, Narayanasamy said, "I..
Credit: HT Digital Content Duration: 02:30
Published
'Will disclose our strategy in assembly': CM V Narayanasamy ahead of floor test

After resignation spree of MLAs from Congress and DMK in Puducherry, state government's strength has dwindled in Assembly. After the meeting with party leaders, ministers, MLAs and MPs, Puducherry CM V..
Credit: ANI Duration: 01:29
Published
You Might Like



UP Dy CM Dinesh Sharma accuses Congress of playing politics in times of crisis

Uttar Pradesh Deputy Chief Minister Dinesh Sharma on Wednesday accused the Congress of playing politics at a time of intense crisis, saying this has never been done before by a major political party.




IndiaTimes - Published





Congress's allegation on protective equipment bogus: BJP

The BJP on Tuesday rejected as "bogus" the Congress's suggestion that India did not have adequate stock of protective personal equipment (PEP) and wondered if the opposition party was missing the..




IndiaTimes - Published





Won't relent till govt agrees to debate Delhi riots in Parliament: Congress

The Congress said on Wednesday it would continue with its protests till the government agrees to debate Delhi riots in Parliament. The Congress has been demanding that the issue of communal riots in..




IndiaTimes - Published





'Disappearance' of Congress led to BJP's defeat in Delhi: Prakash Javadekar

Union minister Prakash Javadekar on Friday said the "sudden disappearance" of the Congress was responsible for the BJP's defeat in Delhi assembly polls as it led to a direct fight between his party and..




IndiaTimes - Published





Congress creating confusion among Muslim over Citizenship Amendment Act: BS Yediyurappa

Yediyurappa was on a door-to-door campaign to make people aware of the Citizenship Amendment Act and to allay their fears. "Unnecessarily, the members of Congress are creating confusion among the..




IndiaTimes - Published





Amit Shah challenges Congress to show any clause in CAA that can take away citizenship

Union home minister Amit Shah on Friday accused Congress of spreading rumours about the newly-amended citizenship law and challenged party leader Rahul Gandhi to highlight even one clause in the Act..




IndiaTimes - Published





Congress: Didn't tie NPR to NRC, BJP move sinister




IndiaTimes - Published





Mayawati accuses Congress of duplicity for continuing alliance with Sena

Bahujan Samaj Party supremo Mayawati on Sunday accused the Congress of practising duplicity by keeping its alliance intact with Shiv Sena in Maharastra despite the Hindutva party support to Citizenship..




IndiaTimes - Published





Congress to oppose peace agreement if it changes geography of Manipur: Jairam Ramesh

A six-member Congress delegation arrived here on Sunday to take stock of the situation in Manipur arising out of the Naga peace talks and gather the opinions of people and party leaders on the National..




IndiaTimes - Published





Congress used Manmohan Singh for telling lie on Article 370: Naqvi

Union minister Mukhtar Abbas Naqvi on Friday slammed Congress over former prime minister Manmohan Singh's comment that Congress had voted in favour of the dilution of Article 370 in Parliament and had..




IndiaTimes - Published





Rajiv Gandhi's visit to China started meaningful engagement between two nations: Congress

As Prime Minister Narendra Modi and Chinese President Xi Jinping concluded their informal meeting at Mamallapuram on Saturday, the Congress said India's meaningful engagement with China started with..




IndiaTimes - Published





Peru lawmaker files last-ditch legal appeal over Congress closure

The head of Peru's dissolved Congress presented a legal appeal to the country's top court on Thursday seeking to suspend the closure of parliament on the grounds that President Martín Vizcarra had..




Reuters - Published





'Appalling!' says BJP after Congress delegation meets UK Labour Party leader Jeremy Corbyn to discuss Kashmir

Terming it as "appalling" the BJP said India will give a befitting reply to the Congress for these "shameful shenanigans."




DNA - Published

Also reported by •IndiaTimes


Peru's Vizcarra closes Congress, but rebel lawmakers refuse to leave

Peruvian President Martin Vizcarra dissolved Congress on Monday to end a yearlong battle with rightwing lawmakers over his anti-graft campaign, but rebel legislators refused to leave the chamber as..




Reuters - Published





Mayawati's reaction 'natural'; Congress did not mount any pressure on BSP MLAs: Rajasthan CM Ashok Gehlot

With BSP chief Mayawati accusing the Congress of "betraying" her for the merger of entire block of six Rajasthan MLAs with the ruling party, chief minister Ashok Gehlot on Tuesday denied having given..




IndiaTimes - Published





Congress member brings bill in Rajya Sabha for abolishing death penalty

Congress member Pradeep Tamta said that around 140 countries have abolished capital punishment around the globe. "There are only 53 countries which currently award death penalty and most of them don't..




IndiaTimes - Published





Karnataka crisis rocks Rajya Sabha; House adjourned for day

The Rajya Sabha on Tuesday witnessed uproar over the Karnataka crisis with opposition Congress members storming the well of the House and raising slogans, leading to adjournment of proceedings for the..




IndiaTimes - Published





PM Narendra Modi addresses Parliament, reminds Congress of emergency




IndiaTimes - Published





Will not let BJP have a walkover in Parliament: Rahul Gandhi

Affirming that Congress' ideological battle with the BJP will continue, Rahul Gandhi on Saturday said that despite only 52 Lok Sabha members, Congress will not let BJP "have a walkover in Parliament."..




IndiaTimes - Published