Rajouri district
District of Jammu and Kashmir in India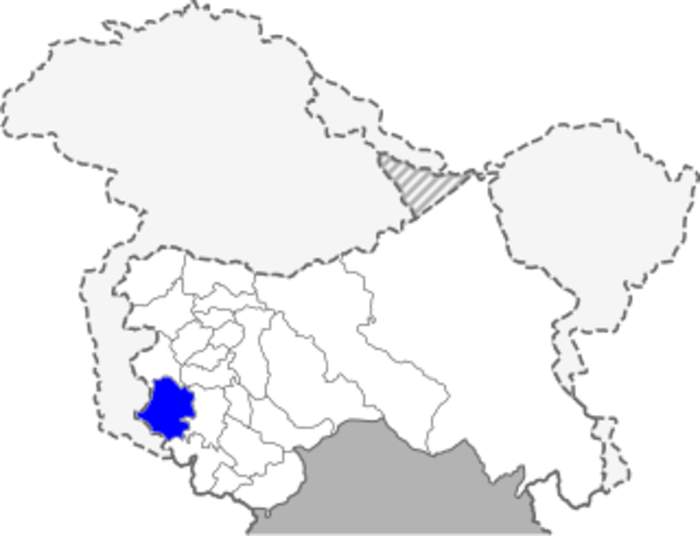 Rajouri is a district of Jammu region in the Indian union territory of Jammu and Kashmir. The Line of Control lies to its west, Poonch to its north, the Reasi district to the east and the Jammu district to its south. Rajouri is famous for its "Kalari". Representing an ancient principality, Rajouri was a joint district, along with Reasi, at the time of princely state's accession to India in 1947. The two tehsils were separated and Rajouri was merged with the Poonch district. Rajouri again became a separate district in 1968.


Snow clearing operation underway on JandK's Mughal Road

The snow clearance operation is underway on Mughal Road in JandK's Rajouri district. Heavy machinery such as JCB is being used by the local authorities to clear snow in the region. The Mughal Road..
Credit: ANI Duration: 01:24
Published
Snow clearance operation underway on JandK's Mughal Road

Snow clearing operation is underway at Mughal Road in Jammu and Kashmir's Rajouri district. The roads here have been covered with a thick layer of snow and the clearing operations are in process of..
Credit: ANI Duration: 02:08
Published
Centre's schemes improving lives of Rajouri locals

Residents of far-flung hilly areas in the UT of J and K have expressed satisfaction over developmental works done by the government over the last few years and also hailed Centre's welfare schemes...
Credit: ANI Duration: 03:41
Published
You Might Like



2 soldiers martyred in ceasefire violation by Pakistan in Sunderbani

Two Indian soldiers were killed in a ceasefire violation by Pakistan along the LoC in the Sunderbani sector of Rajouri, said an army statement.




DNA - Published





J&K: Army Jawan martyred by Pakistani forces along LOC in Rajouri district

The unprovoked firing from across the border in Lam area of Nowshera sector took place around 1 am. The Indian Army retaliated strongly.




DNA - Published





One Army jawan killed in ceasefire violation by Pakistan at LOC

One army jawan was killed on Saturday in ceasefire violation by Pakistan along Line of Control in Rajouri district of Jammu and Kashmir. The firing led to severe injuries to a havaldar who died later...




IndiaTimes - Published




SSB jawan arrested in Rajouri district




IndiaTimes - Published





Army officer among 3 personnel injured in Pak firing along LoC in Rajouri

Three Army personnel including an officer were injured on Tuesday as Pakistani troops violated ceasefire by using heavy fire and mortar shells along the Line of Control in Rajouri district of Jammu and..




IndiaTimes - Published





J&K: Army JCO martyred in Keri sector of Rajouri after Pakistan violates ceasefire

A Junior Commissioned Officer (JCO) of the Indian Army was martyred in the line of action along the Line of Control(LoC) in the Rajouri district of Jammu and Kashmir (J&K) after Pakistan violated the..




DNA - Published





Army personnel killed in firing by Pakistani troops

A Junior Commissioned Officer (JCO) of the Army was killed on Wednesday in firing by Pakistani troops along the Line of Control (LoC) in Rajouri district of Jammu and Kashmir, defence sources said.




IndiaTimes - Published





Pakistan violates ceasefire in J-K's Nowshera sector, gets fitting reply from Indian Army

The violation took place around 9.15 pm through firing with small arms and intense shelling with mortars along LoC in Nowshera Sector, District Rajouri of Jammu and Kashmir.




DNA - Published





Army chief offers condolences to kin of army man killed in Rajouri ceasefire violation

As per lieutenant colonel Devender Anand, PRO (defence), Indian Army, the Pakistan army resorted to an unprovoked ceasefire violation on the Line of Control in Nowshera of Jammu and Kashmir's Rajouri..




IndiaTimes - Published





Army JCO killed in firing along LoC in J&K's Rajouri

A Junior Commissioned Officer (JCO) of the Army was killed on Sunday in a firing incident along the Line of Control (LoC) in Rajouri district of Jammu and Kashmir, defence sources said.




IndiaTimes - Published





Soldier killed in J&K as Pakistan violates ceasefire along LoC

A soldier was killed early on Saturday as Pakistan breached the truce along the Line of Control (LoC) in J&K's Rajouri district, resorting to unprovoked firing and shelling targeting forward Indian..




IndiaTimes - Published





Army foils infiltration bid in Rajouri, armed terrorist killed

Security forces foiled an infiltration bid early on Wednesday morning and killed a terrorist along the Line of Control (LoC) in Keri area of Bhimber Gali sector in Jammu and Kashmir's Rajouri..




IndiaTimes - Published





Pakistani terrorist killed as Army foils infiltration bid in Rajouri

Troops intercepted the group when it entered 400 metres into this side from across the LoC in Keri sector of Rajouri around 0555 hours, triggering a gunfight, the officer said. He said one terrorist..




IndiaTimes - Published





Pakistan shelling along LoC kills another soldier

An Army jawan was killed on Monday in Nowshera sector of Jammu & Kashmir's Rajouri district when Pakistan resorted to unprovoked firing and mortar shelling along the Line of Control (LoC) around..




IndiaTimes - Published





Twin breach of truce by Pakistan, 5 civilians injured in Uri

Five Uri residents, including two minors, were injured after Pakistan shelled forward posts and civilian areas along the Line of Control (LoC) in north Kashmir's Baramulla district on Saturday,..




IndiaTimes - Published





Pakistan shells forward areas along LoC in Jammu and Kashmir's Rajouri

The firing with small arms and mortar shelling started from across the border in Sunderbani sector at around 2.30 pm, drawing a befitting retaliation from the Indian army, the spokesman said. He said..




IndiaTimes - Published




Security forces gun down terrorist in J&K's Rajouri sector

The encounter in Jammu and Kashmir's Rajouri district has been called off.




DNA - Published





J&K: Army jawan martyred after Pakistan violates ceasefire again in Rajouri's Sunderbani sector

The incident happened at around 7 pm when firing from Pakistani side started that targeted the forward areas in the sector.




DNA - Published





Pak Army shells areas along LoC in Rajouri

The Pakistan Army on Tuesday shelled forward areas along the Line of Control (LoC) in Jammu and Kashmir's Rajouri district, drawing retaliation from the Indian Army, a defence spokesperson said.




IndiaTimes - Published




Two soldiers killed as Army foils major infiltration bid by terrorists along LoC in J&K

Two soldiers lost their lives as army personnel battled heavily armed terrorists, foiling an infiltration bid on New Year's day along the Line of Control (LoC) in Rajouri district of Jammu and Kashmir...




IndiaTimes - Published





Two army personnel killed in gunfight with Pakistani infiltrators along LoC in J&K

Two army personnel were killed in a gunfight with heavily-armed Pakistani infiltrators along the Line of Control (LoC) in Jammu and Kashmir's Rajouri district on Wednesday, officials said.




IndiaTimes - Published





Intruder from PoK held near LoC in J&K's Rajouri district




IndiaTimes - Published





Pak violates ceasefire in Nowshera and Sunderbani of J&K's Rajouri; Indian Army retaliates

The Indian Army has been retaliating to the ceasefire violation by Pakistani troops.




DNA - Published





Army jawan killed in Pakistan firing along LoC

The soldier was manning a forward post in Kalsia village of Nowshera sector in Rajouri district that came under unprovoked firing from across the border in the early hours, the officials said. The..




IndiaTimes - Published





Army retaliates to Pakistan firing

This comes just days after a Pakistani post was destroyed after Indian Army retaliated to unprovoked heavy shelling and ceasefire violation in Rajouri district on Saturday




DNA - Published





Indian Army destroys Pak post in retaliation after jawan martyred in ceasefire violation

The jawan, identified as Lance Naik Sandeep Thapa, lost his life in ceasefire violation by Pakistan in Nowshera Sector of Rajouri district.




DNA - Published





Indian Army Jawan meets martyrdom in firing on LoC

The artillery fire started after 34-year-old Naik Krishan Lal died in mortar shelling by Pakistan in Rajouri's Sunderbani sector.




DNA - Published





Pakistan violates ceasefire along LoC in J&K's Rajouri

The troops targeted forward posts and villages in Sunderbani sector with mortars and small arms in the early morning hours, prompting retaliation by the Indian Army, the spokesman said. A police..




IndiaTimes - Published