Baramulla
Town in Jammu and Kashmir, India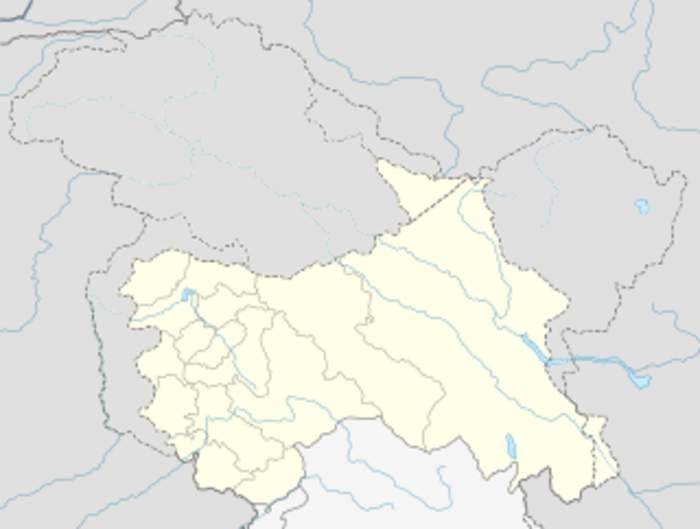 Baramulla
, known as
Varmul
(
Kashmiri pronunciation: 
[warmul]
) in Kashmiri, is a city and a municipality in the Baramulla district in the Indian union territory of Jammu and Kashmir. It is on the bank of the Jhelum River downstream from Srinagar, the state capital. The city was earlier known as
Vārāhamūla
. The name is derived from two Sanskrit words, Vārāha and Mūla.
You Might Like



2 civilians, cop duo killed in J&K terror attack

Two civilians and as many cops were killed in indiscriminate firing by Lashkar-e-Taiba terrorists at Arampora in Sopore town of north Kashmir's Baramulla district on Saturday. Two other civilians and..




IndiaTimes - Published





Jammu and Kashmir: Two Lashkar-e-Taiba terror associates arrested, arms and ammunition recovered

The Jammu and Kashmir Police on Monday (April 12) arrested two Lashker-e-Taiba Over Ground Workers (OGW) in North Kashmir's Baramulla district.




DNA - Published





Municipal councillor, personal security guard shot dead by terrorists in J&K's Sopore

A block development council (BDC) member and his personal security guard were killed and a civilian was injured in a terrorist attack outside the municipality office in the Sopore area of Jammu and..




IndiaTimes - Published





Khelo India fest in Gulmarg reflects J&K touching new heights in peace, devpt: PM

Prime Minister Narendra Modi on Friday said holding of Khelo India International Games Festival at the famous ski-resort of Gulmarg in north Kashmir's Baramulla district reflects that J&K is touching..




IndiaTimes - Published





Pakistani intruder killed at Line of Control, arms and ammunition recovered

The intruder is believed to be a resident of Kamalkote, Uri in Baramullah. As per initial reports, he has been identified as Kundibarj.




DNA - Published





Encounter breaks out in Jammu and Kashmir's Baramulla

Security forces launched a cordon and search operation in Wanigam Payeen in Kreeri area of Baramulla district of north Kashmir this morning following information about the presence of terrorists in the..




IndiaTimes - Published




Yellow alert avalance warning issued for higher reaches of J&K districts

A yellow alert avalanche warning has been issued for higher reaches of several districts in Jammu and Kashmir by the Disaster Management Authority. These districts include Rajouri, Ramban, Kishtwar,..




IndiaTimes - Published





J-K: BSF jawan, 3 Army soldiers, 3 civilians killed in unprovoked ceasefire violation by Pakistan

In Baramulla district, three army men were killed in action while BSF personnel also lost his life in the Naugam sector in the Kupwara district.




DNA - Published





J&K: IED defused near Baramullah-Srinagar national highway

A road opening party of Army found a suspicious bag at Kuta Morh Pattan in apple orchards adjacent to BaramullahSsrinagar national highway.




DNA - Published





Terrorist killed, 3 security personnel injured in encounter in Baramulla

Security forces launched a cordon and search operation at Yedipora in Pattan area of the district in north Kashmir following specific information about the presence of terrorists, a police official..




IndiaTimes - Published





J-K: Two terrorists who hurled grenade in Baramulla held within 24 hours

Fayaz Ahmad Kumar alias Narsimha of Khanpora, Baramulla and Aqib Sharif Bhat alias DK of Baramulla were detained and after sustained interrogation they revealed that they lobbed the grenade on..




DNA - Published





J-K: Huge cache of arms, ammunition recovered from Baramulla's Boniyar

Searches and cordon operation was launched on a tip-off of human intelligence by the Army and the Baramulla police are the forest area Boniyar.




DNA - Published





Security forces eliminate terrorist in Kashmir's Baramulla

The encounter took place in Saloosa area of Kreeri in Baramulla.




DNA - Published





Encounter breaks out between security forces, militants in J&K's Baramulla

An encounter broke out between security forces and militants in Baramulla district of Jammu and Kashmir on Saturday, police said. Security forces launched a cordon and search operation in..




IndiaTimes - Published




Baramulla operation concludes as terrorist who murdered J&K BJP leader Wasim Bari killed in encounter

A third terrorist was killed by the security forces in Kreeri area of Jammu and Kashmir's Baramulla district on Tuesday, as the operation concluded. Police said one of the three terrorists killed in..




DNA - Published





3 security force personnel killed in terror attack in Baramulla

Three security force personnel were killed in a terror attack in Baramulla district of Jammu and Kashmir on Monday, a police official said.




IndiaTimes - Published




Policeman martyred, two CRPF jawans critically injured in terror attack J&K's Baramulla

The terror attack on security forces happened in Kreeri area of Baramulla in north Kashmir.




DNA - Published




Pak violates ceasefire in J&K's Kamalkote sector

Pakistani troops violated the ceasefire along the Line of Control (LoC) in Kamalkote sector of Jammu and Kashmir on Sunday, officials said. From 10:45 to 11:45 am, ceasefire violation was reported from..




IndiaTimes - Published





AK-47, Chinese pistols, grenades recovered during search operation in Jammu and Kashmir's Baramulla

"On 22 July 2020 late evening, input was received regarding likely weapon drop along the Line of Control ahead of AIOS. On this basis, a search operation was launched along the Line of Control in..




IndiaTimes - Published





BJP's Baramulla municipal committee V-P abducted, rescued




IndiaTimes - Published





BJP worker kidnapped in J&K's Baramulla

A BJP worker was allegedly kidnapped by unknown persons in Baramulla district of Jammu and Kashmir on Wednesday, officials said. Mehrajuddin Malla, who is also the vice chairman of Municipal Committee..




IndiaTimes - Published





3 Lashkar terrorists killed in Sopore encounter

Three Lashkar-e-Taiba terrorists, including one Pakistani indentified as Usman Bhai, were killed in an encounter with security forces at Reban village of Sopore tehsil in north Kashmir's Baramulla..




IndiaTimes - Published




2 terrorists killed in J&K's Kupwara; ammunition, Pakistan currency recovered

Two terrorists were killed in an ambush by the Indian Army at Nougam sector in north Kashmir along the Line of Control (LoC) on Saturday. The Army recovered arms and ammunition, along with Pakistani..




IndiaTimes - Published





CRPF jawan, civilian killed in terrorist attack in J&K's Baramulla

The terrorists opened firing on a naka party of security forces in Sopore, resulting in injuries to three Central Reserve Police Force (CRPF) jawans and a civilian, the officials said. They said the..




IndiaTimes - Published





Encounter between terrorists and security forces in south Kashmir's Tral, second op of the day in J&K

Earlier on Thursday, two terrorists were killed in Handshiva village of Sopore area in Baramula district in the morning hours.




DNA - Published





Twin breach of truce by Pakistan, 5 civilians injured in Uri

Five Uri residents, including two minors, were injured after Pakistan shelled forward posts and civilian areas along the Line of Control (LoC) in north Kashmir's Baramulla district on Saturday,..




IndiaTimes - Published





Pakistan Army violates ceasefire along LoC in J&K's Baramulla district




IndiaTimes - Published





Pakistani troops violate ceasefire, fire towards Indian positions

Pakistani troops violated the ceasefire along the Line of Control (LoC) in Kamalkote sector of Jammu and Kashmir on Saturday by firing without provocation towards Indian positions, officials said. "At..




IndiaTimes - Published





Three Lashkar associates arrested in north Kashmir

Three Lashkar-e-Taiba (LeT) associates were arrested in Sopore area of north Kashmir's Baramulla district on Saturday. Police also recovered a huge cache of arms, ammunition and other incriminating..




IndiaTimes - Published





In a first, Army seeks to 'buy' land in J&K post Article 370 move

Ten months after the nullification of Article 370, the Army, in a letter to the Jammu & Kashmir government, has sought permission to acquire 129 kanals or 16.12 acre of land at Tapperwari village in..




IndiaTimes - Published





NIA raids Ghulam Mohammad Mir's residence in Baramulla

National Investigation Agency conducted a raid at the residence of Ghulam Mohammad Mir at Nilah in Pattan, Baramulla, today morning However, it was not immediately known regarding which case the..




IndiaTimes - Published





Police arrest 19-year-old LeT terrorist from Baramulla

Sajid Farooq Dar alias Adnan was arrested from Andergam village in Pattan area of the district during an operation on Monday, the official said. Dar, a resident of Bandipora, was affiliated with LeT.




IndiaTimes - Published





18 houses suffer damage as Pakistan violates ceasefire in Kashmir

Earlier on the 25th of this month, one army officer and a girl were killed in Pakistan shelling in Baramulla's Uri sector.




DNA - Published





Militant hideout busted in Baramulla; arms, ammunition seized

The hideout was busted in Rafiabad area of Sopore in north Kashmir, a police official said. He said the recovery includes two AK rifles, 2000 AK rounds, three RPG rounds, two wireless sets and a..




IndiaTimes - Published





J&K: Five terror suspects arrested in Sopore area of Baramulla district

Further details are awaited.




DNA - Published





Watch video: Gulmarg in J-K's Baramulla district receives season's first snowfall

With the normalcy returning to the Valley, tour operators hope to make up for the lost time.




DNA - Published





Lashkar man plotting terror attacks held

A 'local' Lashkar-e-Toiba terrorist, allegedly tasked to carry out grenade attacks at busy markets and other establishments in Baramulla, was on Saturday apprehended by Jammu & Kashmir police from..




IndiaTimes - Published





LeT terrorist arrested from Baramullah in Kashmir




IndiaTimes - Published





J&K: Northern Army Commander Lt Gen Ranbir Singh interacting with locals in Kupwara and Baramulla on Wednesday

He also met the locals of Vilgam village in Kupwara district and Rampur and Boniyar villages in Baramulla district in a bid to promote a sense of security and well being among them. The Army Commander..




IndiaTimes - Published





18,000 offer namaz in Srinagar on first Friday after reorganisation: Govt

According to the J&K administration, more than 18,000 people in Srinagar, 7,500 in Budgam and 11,000 in Anantnag came out for namaz. Baramulla, Kulgam and Shopian reported gatherings of less than 4,000..




IndiaTimes - Published





NIA conducts fresh raids in north Kashmir in crackdown on cross-LoC trade

A National Investigation Agency (NIA) team carried out fresh raids in north Kashmir's Baramulla district on Sunday to crack down on cross-LoC traders. India had stopped trading with Pakistan after..




IndiaTimes - Published





NIA raids locations of 4 businessmen in J&K's Baramulla district




IndiaTimes - Published





Jammu & Kashmir: Encounter underway between terrorists and armed forces in Baramulla

An encounter is currently underway between terrorists and security forces in Boniyar area of Jammu and Kashmir's Baramulla district.




DNA - Published





Sopore encounter: Body of 1 terrorist retrieved by security forces

The body of a terrorist was recovered by security forces on Wednesday morning after an encounter took place on Tuesday in Bomai area of Sopore in Baramulla district.




DNA - Published