Jalandhar
City in Punjab, India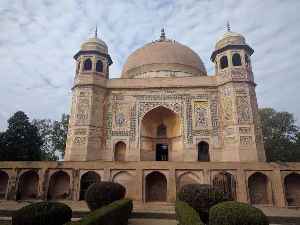 Jalandhar is a city in the Indian state of Punjab. Jalandhar lies alongside the Grand Trunk Road and is a well-connected rail and road junction. Jalandhar is 146 km northwest of Chandigarh, the state capital of Punjab and Haryana. Its name was rendered Jullundur during the British period.


You Might Like
ASI dragged on car's bonnet in Jalandhar
IndiaTimes - Published
Video of Jalandhar coronavirus patients enjoying Punjabi song goes viral on social media
In the video, which went viral on social media, patients are seen wearing face masks and sitting on their beds enjoying the song.
DNA - Published
New monsoon calendar: Duration gets eight days longer in Mumbai, five days in Chandigarh and 26 days in Jalandhar
IndiaTimes - Published
Viral photos: Snowy mountains visible from Jalandhar as lockdown turns air purifier
With the closure of road traffic and industries, the atmosphere has indeed become cleaner and is being purified every day.
DNA - Published
Public sector banks, roadways join nationwide strike call
Representatives of trade unions and roadways unions held protests at several places, including Ludhiana, Jalandhar and Bathinda in Punjab and raised slogans against the government in support of their..
IndiaTimes - Published
Punjab to canalise all its state rivers
CM Captain Amarinder also announces dedicated village-relief in flood-affected Sultanpur and Jalandhar areas
DNA - Published
Row over cartoon on bishop Mulakkal hits Kerala
Mulakkal, then Bishop of Jalandhar, was arrested by the Kerala police in September last year amid a public outrage after a nun alleged she was repeatedly raped by him in a convent in Kottaym district..
DNA - Published
Jalandhar: Suspected rapist of a minor lynched to death
The alleged rapist of a nine-year-old girl was beaten to death by a mob in Jalandhar on Sunday, said police.
DNA - Published
Man lynched for raping 11-year-old girl in Jalandhar
According to police, the man, in an inebriated condition, barged into his neighbour's one-room house when the girl was alone and committed the crime. The girl's parents, who are from Nepal, were at..
IndiaTimes - Published