Ozzy Osbourne
English musician and television personality (born 1948)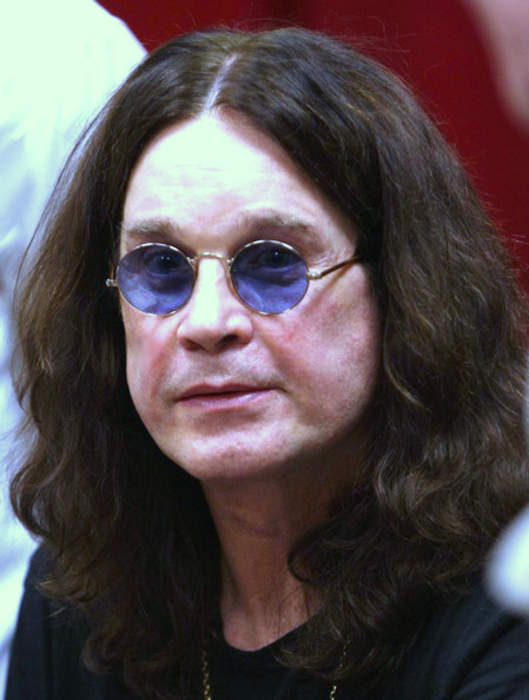 John Michael "Ozzy" Osbourne is an English singer, songwriter, and television personality. He rose to prominence during the 1970s as the lead vocalist of the heavy metal band Black Sabbath, during which period he adopted the nickname "Prince of Darkness".


Ozzy Osbourne to Undergo 'Major' Surgery

Ozzy Osbourne to , Undergo 'Major' Surgery. 'Fox News' reports Ozzy Osbourne is scheduled to undergo a "major operation on Monday" according to his wife, Sharon. Ozzy, 73, has experienced..
Credit: Wibbitz Top Stories Duration: 01:30
Published
You Might Like
'Come on, let's go crazy': Ozzy Osbourne stuns crowd in surprise Commonwealth Games appearance
Rock legend Ozzy Osbourne made a surprise appearance onstage in his home city of Birmingham to close out the 2022 Commonwealth Games - just weeks after undergoing "life-altering" surgery.
Sky News - Published
Commonwealth Games: Ozzy Osbourne surprise appearance headlines Birmingham 2022 closing ceremony
Birmingham ends a hugely successful Commonwealth Games as legendary Brummie rocker Ozzy Osbourne headlines the closing ceremony.
BBC Sport - Published
Ozzy Osbourne's daughter escapes fatal studio fire in Los Angeles
Ozzy Osbourne's daughter Aimee is "lucky" to be alive after escaping a fatal fire in Los Angeles, her mother Sharon has said.
Sky News - Published
Tearful Sharon Osbourne Reveals Ozzy Has COVID, Flying Home to be With Him
Sharon Osbourne is just 3 days into her new TV show, but a family health emergency has forced her to put things on hold ... Ozzy has COVID-19. In a tearful interview with Talk TV -- the new network..
TMZ.com - Published
'Amazing musician': Stars pay tribute to Foo Fighters drummer
Music stars including Liam Gallagher, Travis Barker, Ringo Starr, Miley Cyrus, Slash and Ozzy Osbourne are among the thousands paying tribute to Foo Fighters drummer Taylor Hawkins, who has died at the..
Sky News - Published
Ozzy & Sharon Osbourne Leaving L.A. for U.K. to Avoid Soaring Tax Rates
Sharon and Ozzy Osbourne are done with L.A. ... in fact, they're bailing from the U.S. Ozzy and Sharon are moving to the U.K. ... Ozzy told The Mirror it's because the tax rate is too high.  He wasn't..
TMZ.com - Published
Sharon Osbourne Never Going Back to 'The Talk' or CBS, Says They 'Suck d***'
Sharon Osbourne wouldn't go back to CBS if they unloaded a Brinks truck in front of her house ... because the bad blood is still boiling. Sharon and Ozzy were at Erewhon market in L.A. Thursday, and..
TMZ.com - Published
Guitar, Amp Recovered After Ozzy Osbourne Offers $25k Reward
Ozzy Osbourne must feel like he's flying high again -- some of the music gear looted from a school with ties to his late pal, Randy Rhoads, has been recovered. Sources connected to the case tell TMZ..
TMZ.com - Published
Ozzy Osbourne And Uriah Heep Drummer Lee Kerslake Dead At 73
Ozzy Osbourne and Uriah Heep drummer Lee Kerslake has died after a long battle with cancer. One of Lee's bandmates from Uriah Heep broke the news Saturday, saying, "It's with the heaviest of hearts..
TMZ.com - Published