V. K. Singh
Indian politician and former army general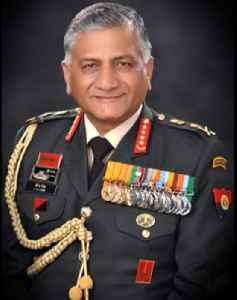 General
Vijay Kumar Singh
,
PVSM, AVSM, YSM, ADC, MP
is an Indian politician and a former four-star General in the Indian Army. Since May 30, 2019, he is serving as the Minister of State for Road Transport and Highways in the Second Modi ministry. He previously served as Minister of State for External Affairs in the First Modi ministry and as Minister of State for Development of the North-Eastern Region.
You Might Like
China declines to react to VK Singh's remarks that 40 PLA soldiers killed in Galwan Valley clash
IndiaTimes - Published
Need to make Self-Reliant India (SRI) a movement: Union minister VK Singh
"No country is considered powerful if it doesn't rely on its own resources. It's during the times of difficulty, that one's self-reliance is actually put to test," said Union Minister Gen V K..
IndiaTimes - Published
V K Singh terms roadways as pre-requisite for growth, development
IndiaTimes - Published
Check context with Army chief, don't politicise it: VK Singh on General Bipin Rawat's statement on protests against CAA
The Modi government came to the defence of Army chief General Bipin Rawat on Friday after he drew flak from several quarters over his remarks criticising those leading protests and guiding students to..
IndiaTimes - Published
Private security personnel can be used in traffic management: VK Singh
Exhorting private security agencies to adopt modern technologies to expand operations, Union Minister VK Singh on Saturday said private security guards can help government agencies in affairs like..
IndiaTimes - Published
India, Bangladesh should join hands to improve connectivity: VK Singh
IndiaTimes - Published
MP DGP V K Singh to represent India in Interpol's 88th General Assembly
IndiaTimes - Published
Govt has special strategy for PoK: Gen V K Singh
IndiaTimes - Published
Fines hiked to save lives, ignore those who grumble: V K Singh
IndiaTimes - Published
Nitin Gadkari defends hefty challans for traffic violations under new rules
He further informed that Chief Minister Devendra Fadnavis and union minister of state for roads and highways VK Singh too had to pay fine for speeding.
DNA - Published
Kashmir a matter of existence for corrupt Pakistan Army: VK Singh
Showing Pakistan a mirror to its ailing state of affairs, VK Singh said, "When they have nothing, they talk like this."
DNA - Published
Verdict gives hope that such brutalities will not go unpunished: V K Singh on Kathua case
IndiaTimes - Published
Govt, defence forces working tirelessly to locate missing A32 aircraft: VK Singh
Massive efforts are on to locate AN-32 transport aircraft with the Air Force deploying Navy's P-8I aircraft and Global 5000 surveillance aircraft along with NTRO satellites on the fifth day since it..
DNA - Published
Also reported by •IndiaTimes