Mecca
Saudi Arabian city and capital of the Makkah province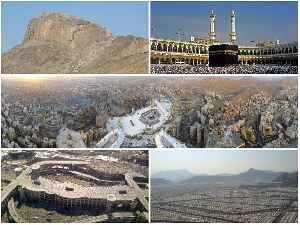 Mecca, officially Makkah al-Mukarramah and commonly shortened to Makkah, is the holiest city in Islam and the capital of the Makkah Province of Saudi Arabia. The city is located 70 km (43 mi) inland from Jeddah on the Red Sea, in a narrow valley 277 m (909 ft) above sea level. Its last recorded population was 1,578,722 in 2015. estimated metro population in 2020 is 2.042 million, making it the third-most populated city in the kingdom. Pilgrims more than triple this number every year during the Ḥajj pilgrimage, observed in the twelfth Hijri month of Dhūl-Ḥijjah.


Pilgrims respect social distancing during final walk around the Kaaba

Muslims pilgrims in the Mecca took part in the final tawaf on haj on Sunday by walking seven laps around the Kaaba, a stone structure that is the most sacred in Islam and the direction which Muslims..
Credit: Reuters Studio Duration: 00:38
Published
Haj pilgrims gather for second day of stoning of devil ritual

Muslim pilgrims in Saudi Arabia took part in the second day of the symbolic stoning of the devil near Mecca on Saturday but maintained social distancing in a ritual that usually brings millions of..
Credit: Reuters Studio Duration: 01:02
Published
Turks hold first Eid prayers at Hagia Sophia mosque

Eid al-Adha -- the Feast of Sacrifice -- is one of the most important holidays in the Muslim Calendar. It includes the pilgrimage to holy city of Mecca, the haj, which is one of the five pillars of..
Credit: Reuters Studio Duration: 01:02
Published
The chosen few enjoy Mecca's Haj pilgrimage

Pilgrims performed their main Tawaf, the act of going around the Kaaba seven times, following the first day of a symbolic stoning of the devil ritual on Friday.
Credit: Reuters Studio Duration: 01:03
Published
Mecca's Grand Mosque perfumed ahead of Haj

Saudi authorities started perfuming the holy sites of Mecca's Grand Mosque and the Prophet's Mosque in Medina on Monday ahead of the start of Haj.
Credit: Reuters Studio Duration: 01:07
Published
Saudi Arabia To Limit Pilgrims To Perform Hajj

Saudi Arabia will strictly limit the number of people who can take part in this year's Hajj pilgrimage. The Hajj pilgrimage to Mecca will be limited because of the coronavirus, according to CNN. Saudi..
Credit: Wochit News Duration: 00:35
Published
You Might Like



Saudi Arabia to end curfew on June 21, except in Mecca

Saudi Arabia will begin easing restrictions on movement and travel this week, more than two months after stringent measures were introduced to help curb the spread of the novel coronavirus.




Reuters - Published




Saudi eases coronavirus curfews, keeps 24-hour curfew in Mecca

Saudi Arabia eased curfews on Sunday across the country, while keeping 24-hour curfews in the city of Mecca and in neighbourhoods previously put in isolation, state news agency SPA said.




Reuters - Published





Saudi Arabia suspends praying in the two holy mosques for Ramzan

President General of the two holy mosques, Sheikh Dr. Abdulrahman bin Abdulaziz Al-Sudais, said in a tweet that Masjid Al-Haram in Makkah and Al Masjid Al-Nabawi will broadcast the call for prayer..




IndiaTimes - Published





Saudi Arabia imposes 24-hour curfew in Mecca and Medina

Saudi Arabia imposed a 24-hour curfew in the Muslim holy cities of Mecca and Medina on Thursday, extending measures to combat the spread of the coronavirus, which has infected more than 1,700 people in..




Reuters - Published





Saudis tighten anti-virus curfew, UAE closures leave travellers stranded

Saudi Arabia reported its second coronavirus death and tightened a nationwide curfew on Wednesday, barring entry to and exit from the capital Riyadh and the holy cities of Mecca and Medina as well as..




Reuters - Published




Saudi tightens coronavirus curfew; travelers stranded in UAE

Saudi Arabia reported its second coronavirus death and tightened a nationwide curfew, barring entry to and exit from the capital Riyadh and the holy cities of Mecca and Medina as well as movement..




Reuters - Published




Saudi Arabia tightens curfew to contain coronavirus

Saudi Arabia tightened a nationwide curfew to contain the spread of the coronavirus, barring entry to and exit from the capital Riyadh and the holy cities of Mecca and Medina as well as movement..




Reuters - Published




Saudi Arabia suspends prayers in the arenas outside Mecca, Medina holy mosques

Saudi Arabia said on Thursday it suspended Muslims from conducting their five daily prayers and the weekly Friday prayer in the overflow area just outside the walls of the two holy mosques in Mecca and..




Reuters - Published





Karnataka man, 76, is India's first Covid-19 fatality

The man had a travel history to Saudi Arabia and died while being brought from a Hyderabad hospital to Kalaburagi on March 10. His throat swab samples had been received at a Bengaluru lab only on March..




IndiaTimes - Published





Saudi Arabia reopens Mecca, Medina holy sites after coronavirus closure: state TV

Saudi Arabia reopened two of the most holy religious sites in Islam, Al-Haram Mosque in Mecca and Al-Masjid al Nabawy in Medina, after they were closed for sterilization to halt the spread of the new..




Reuters - Published





Saudi Arabia extends pilgrimage suspension to its own citizens

Saudi Arabia extended a suspension of pilgrimages by foreigners to the holy cities of Mecca and Medina to Saudi citizens and residents due to concerns about the coronavirus, state news agency SPA..




Reuters - Published





Saudi Arabia suspends pilgrimages for Saudi citizens and residents

Saudi Arabia, which has already suspended pilgrimages to the two holy cities of Mecca and Medina for foreigners due to coronavirus concerns, extended the ban on Wednesday to Saudi citizens and..




Reuters - Published




Saudi Arabia temporarily suspends entry of GCC citizens to Mecca and Medina: foreign ministry

Saudi Arabia temporarily suspended entry of Gulf Cooperation Council (GCC) citizens to Mecca and Medina, the foreign ministry announced in a statement published by the state news agency on Friday.




Reuters - Published





Eid-E-Milad-Un-Nabi: PM Modi, President Kovind extend greetings on Prophet Muhammad's birthday

The Prophet was born on the 12th day of Rabee ul Awwal in Mecca in 570 CE.




DNA - Published





Hatred On Demand: An attack on Hindu symbols

Would it run a serial where a totalitarian rape capital was called Mecca and used Islamic symbols?




DNA - Published





Muslim pilgrims pray in Mecca as haj winds down without incident

Millions of haj pilgrims began heading back to Mecca for final prayers on Tuesday as the world's largest annual gathering of Muslims wound down without incident despite the logistical challenges and..




Reuters - Published





Eid Mubarak: History, significance, importance of Eid al-Adha or Bakri Eid

The occasion marks the end of Hajj Pilgrimage, the holiest place for people of Muslim faith situated in Mecca, Saudi Arabia.




DNA - Published





Muslim pilgrims descend on Mecca for haj, Saudis warn against politics

Hundreds of thousands of white-clad pilgrims, many gripping umbrellas to ward off Saudi Arabia's blistering summer sun, descended on Mecca this week ahead of the annual haj.




Reuters - Published





Air India allows Haj pilgrims to bring holy Zamzam water from Saudi Arabia

The well of Zamzam is located in Mecca in Saudi Arabia and many Haj pilgrims bring the holy water from the well for family and friends.




DNA - Published





Maha Haj panel wishes to build facility at Mecca for pilgrims

Addressing reporters, he also demanded that the Central government slash the quota of private tour operators who take pilgrims on Haj.




DNA - Published





India slams OIC for references to Jammu & Kashmir in its Makkah summit declaration




IndiaTimes - Published





OIC backs 'legitimate rights of self-determination of people of Jammu and Kashmir' at Makkah summit

The Organisation of Islamic Cooperation (OIC) has reiterated the grouping's support for the legitimate rights of the people of Jammu and Kashmir in accordance with the United Nations resolutions, the..




Firstpost - Published





OIC notes with concern growing Islamophobia in many parts of the world: statement

The Organisation of Islamic Cooperation (OIC) summit in Mecca said on Saturday that it noted with concern growing Islamophobia in many parts of the world, according to the summit's final statement.




Reuters - Published





OIC refuses to accept any decision to change legal status of Syria's Golan Heights

The Organisation of Islamic Cooperation (OIC) summit in Mecca refused to accept any decision to change legal and demographic status of Syria's Golan Heights, especially the U.S. decision to recognize..




Reuters - Published