Akshay Kumar
Indian actor (born 1967)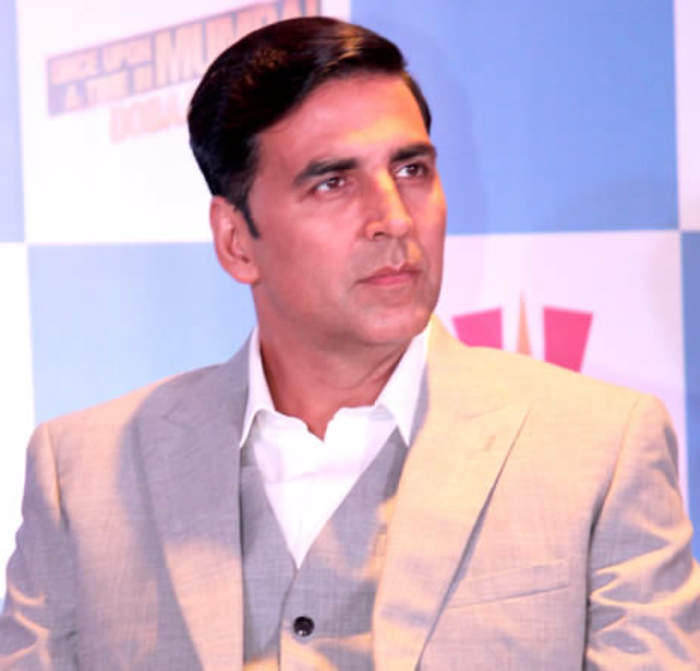 Rajiv Hari Om Bhatia, known professionally as Akshay Kumar, is an Indian-born naturalised Canadian actor and film producer who works in Hindi cinema. In over 30 years of acting, Kumar has appeared in over 100 films and has won several awards, including two National Film Awards and two Filmfare Awards. He received the Padma Shri, India's fourth-highest civilian honour, from the Government of India in 2009. Kumar is one of the most prolific actors in Indian cinema. Forbes included Kumar in their lists of both highest-paid celebrities and highest-paid actors in the world from 2015 to 2020. Between 2019 and 2020, he was the only Indian on both lists.


You Might Like
Akshay Kumar meets Uttar Pradesh CM Yogi Adityanath in Mumbai, says Bollywood awaiting opening of UP film city
Akshay Kumar also urged CM Yogi Adityanath to watch his latest film 'Ram Setu' during the meeting.
DNA - Published
Yogi Adityanath's oath-taking ceremony: From PM Modi to actor Akshay Kumar, see guest list
As per reports, Adityanath has also personally sent invitations to over 50 seers, including those from Ayodhya, Mathura and Varanasi.
DNA - Published
Maharashtra Congress chief Nana Patole threatens Amitabh Bachchan, Akshay Kumar
The Congress leader said that these actors used to tweet against the previous UPA regime when fuel prices used to be hiked but are now silent.
DNA - Published
Maha to probe celeb tweets, says minister; BJP calls it 'disgusting'
Maharashtra home minister Anil Deshmukh on Monday said the state intelligence department will conduct a probe into the tweets put out by celebrities such as Sachin Tendulkar, Lata Mangeshkar, Saina..
IndiaTimes - Published
Not Akshay Kumar but THIS star is India's Most Valuable Celebrity - Check list
Another interesting fact, Virat Kohli's brand value is four times more than the brand value of India's most celebrated actor Shah Rukh Khan.
DNA - Published
BJP backing 'outsiders' who are vilifying Mumbai's image: Shiv Sena
Sena also questioned why the film industry was silent and Bollywood stars including Akshay Kumar did not come forward to condemn Kangana Ranaut for her statements.
DNA - Published
There is nothing big or little, Modi tells man who gave Rs 501 to PM fund
Actor Akshay Kumar was perhaps the first one to announce his contribution to the fund created by Prime Minister Narendra Modi on Saturday to fight the coronavirus and similar "distressing" situations.
IndiaTimes - Published
Nirbhaya case: Delhi HC dismisses plea by 3 death row convicts seeking stay on execution
The three convicts -- Akshay Kumar Singh, Pawan Gupta, Vinay Sharma -- moved the Delhi High Court Thursday evening challenging the trial court order that declined to stay their execution scheduled for..
DNA - Published
Nirbhaya case: Pending divorce plea of convict Akshay's wife not relevant to stay execution
IndiaTimes - Published