Dubai
Metropolis in the United Arab Emirates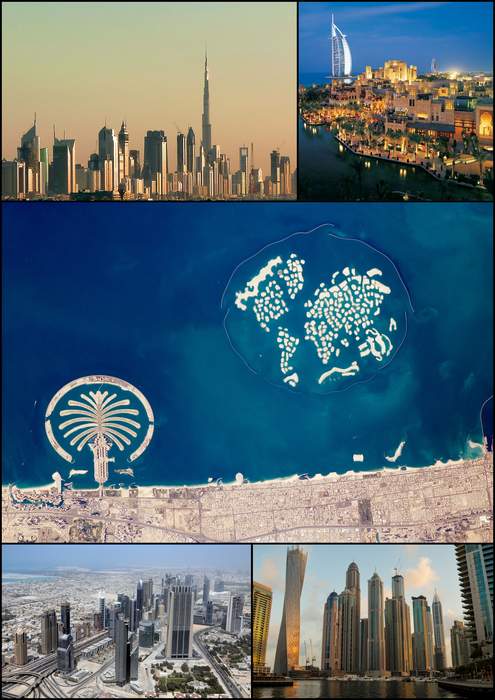 Dubai is the most populous city in the United Arab Emirates (UAE) and the capital of the Emirate of Dubai. Established in the 18th century as a small fishing village, the city grew rapidly in the early 21st century into a cosmopolitan metropolis with a focus on tourism and hospitality. Dubai is one of the world's most popular tourist destinations. This can be accredited to Dubai's mix of cosmopolitan lifestyle and local culture, as well as the city's having the second most five-star hotels in the world and the tallest building in the world, the Burj Khalifa. Because of upcoming competition and other reasons, the taller Creek Tower is being built to keep that title.


Arabian Travel Market 2022 opened its doors in Dubai

Arabian Travel Market (ATM) 2022 opened its doors for The 29th edition in Dubai. The Middle East's largest travel and tourism exhibition brought together global decision-makers in the sector seeking..
Credit: euronews (in English) Duration: 08:00
Published
UAE President Sheikh Khalifa bin Zayed Dead at 73

UAE President , Sheikh Khalifa bin Zayed, Dead at 73. CNBC reports that on May 13, it was announced that the United Arab Emirates president died at the age of 73. Sheikh Khalifa served as the..
Credit: Wibbitz Top Stories Duration: 01:31
Published
Dubai's little-known suburban communities

You might be familiar with Dubai's skyscrapers but did you know the city is home to thriving suburban communities where many residents live with schools, malls, hospitals and leisure facilities.
Credit: euronews (in English) Duration: 05:00
Published
Digital School aims to educate 1 million refugees over next five years

In this edition of Focus, we take a look at how Dubai is bridging the gap to make education more accessible to refugees and underprivileged children – with the help of digital technology.
Credit: euronews (in English) Duration: 05:00
Published
Dubai's thriving art scene attracts top talent

In this episode of City Scenes, we explore Dubai's booming art scene, from its thriving annual fairs to its established art hubs. We also talk to locally based artists about why they've made Dubai..
Credit: euronews (in English) Duration: 05:00
Published
You Might Like



Floyd Mayweather's Dubai Exhibition Fight Canceled

Floyd Mayweather's much-anticipated boxing match in Dubai this weekend has been called off ... TMZ Sports has learned. Sources tell us ... the exhibition fight -- which was supposed to pit Mayweather..




TMZ.com - Published





Delhi Airport replaces Dubai as the world's second busiest airport in March: Report

The Delhi Airport was in 23rd place in March 2019 before the pandemic.




DNA - Published





Floyd Mayweather Returning To Ring In May For 8 Rd. Exhibition Match In Dubai

Floyd Mayweather ain't done just yet … TBE is returning to the ring in May for an exhibition boxing match on a literal helicopter landing pad in Dubai, TMZ Sports has learned. The 45-year-old..




TMZ.com - Published





Kodak Black Allowed to Perform in Dubai, Plans Charity Donation

Kodak Black is headed overseas to make bank, but in asking permission to do so ... he told the judge he plans to donate a big chunk of his earnings to charity. According to legal docs, obtained by TMZ,..




TMZ.com - Published





Dubai ruler banned from raising his children after abusing their mother

The ruler of Dubai abused his sixth wife to such an "exorbitant degree" that he has been denied responsibility for their two children by a judge.




Sky News - Published




Russian Tennis Star Andrey Rublev Writes 'No War Please' On Camera After Match

Russian tennis star Andrey Rublev had a simple, yet powerful message as his country and Ukraine collide on the world stage ... writing "no war please" on a camera following his match in Dubai. Andrey..




TMZ.com - Published





Novak Djokovic to lose number one ranking after defeat to Jiri Vesely in Dubai

Novak Djokovic will lose his number one ranking after being beaten 6-4 7-6 (7-4) by Jiri Vesely in the quarter-finals of the Dubai Tennis Championships.




BBC Sport - Published





Andy Murray beaten by Jannik Sinner in Dubai; Rafael Nadal, Cameron Norrie win in Acapulco

Andy Murray suffers another second-round exit, beaten by world number 10 Jannik Sinner at the Dubai Tennis Championships.




BBC Sport - Published





How Dubai became the 'nicest city in India'




IndiaTimes - Published





Dubai saw most travellers from India last year




IndiaTimes - Published





Cristiano Ronaldo's GF Georgina Rodriguez Shows Off Baby Bump In Bikini

Cristiano Ronaldo's girlfriend, Georgina Rodriguez, is having some fun in the sun before welcoming twins ... showing off her growing baby bump during a beach vacation in Dubai!! CR7 and his longtime..




TMZ.com - Published





Dubai ruler ordered to pay record-breaking divorce settlement to ex-wife - including upkeep of UK mansions

Dubai's ruler, Sheikh Mohammed bin Rashid Al Maktoum, has been ordered to pay around £550m to his former wife and their two children in what is thought to be the largest award of its kind ordered by..




Sky News - Published




Omicron variant in India: Patient No. 1 fled country before confirmation

One of two Covid-19 Omicron cases in Bengaluru, a 66-year-old traveller from South Africa who was the first to test positive (on November 21, though the variant had not been determined then),..




IndiaTimes - Published





Dubai to Delhi with severed thumb, and in nick of time




IndiaTimes - Published





Dubai expo: UAE asks India to relax air-bubble arrangement




IndiaTimes - Published





Race to Dubai: Collin Morikawa seals title after storming to DP World Tour Championship win

Collin Morikawa wins the DP World Tour Championship in Dubai on 17 under par and clinches the European Tour's season-long Race to Dubai title.




BBC Sport - Published





DP World Tour Championship: Rory McIlroy regains Dubai lead after third-round 67

Rory McIlroy regains the lead at the DP World Tour Championship in Dubai as a third round of 67 puts him one ahead of England's Sam Horsfield.




BBC Sport - Published





T20 Men's World Cup final highlights: Australia beat New Zealand by eight wickets

Watch highlights of Australia's comprehensive eight-wicket victory over New Zealand in Dubai as they win their first ever T20 Men's World Cup.




BBC Sport - Published





T20 Men's World Cup final - New Zealand v Australia: Best shots of Mitchell Marsh's unbeaten 77

Watch the best shots of Mitchell Marsh's unbeaten 77 from 50 balls as he hits 10 boundaries to guide Australia to an eight-wicket victory over New Zealand in the T20 World Cup final in Dubai.




BBC Sport - Published




T20 Men's World Cup final - New Zealand v Australia: Maxwell four seals eight-wicket win

Glenn Maxwell hits a reverse sweep for four to seal an eight-wicket win for Australia over New Zealand in the T20 World Cup final in Dubai.




BBC Sport - Published




T20 World Cup: Australia stun Pakistan to set up final against New Zealand

Australia come back from the brink to beat Men's T20 World Cup favourites Pakistan by five wickets in another absorbing semi-final in Dubai.




BBC Sport - Published





T20 World Cup: Australia take on unbeaten Pakistan in semi-final

Australia continue their bid for the Men's T20 World Cup - the only trophy that has eluded them - against an unbeaten Pakistan in the semi-final in Dubai.




BBC Sport - Published





T20 World Cup: India crush Scotland by eight wickets to stay in semi-final contention

India remain in contention of reaching the Men's T20 World Cup semi-finals after brutally thrashing Scotland by eight wickets in Dubai.




BBC Sport - Published





T20 World Cup: Australia thrash Bangladesh to boost semi-final hopes

Australia boost their chances of qualifying for the ICC Men's T20 World Cup with an eight-wicket thrashing of already-eliminated Bangladesh in Dubai.




BBC Sport - Published





T20 World Cup - Australia v Bangladesh: Adam Zampa takes 5-19

Adam Zampa takes 5-19 to help bowl out Bangladesh for 73 and leave Australia in full control of their T20 World Cup match in Dubai.




BBC Sport - Published





T20 World Cup: Scotland eliminated with a 16-run loss to New Zealand

Winless Scotland are eliminated from the Men's T20 World Cup with a 16-run defeat by New Zealand in Dubai.




BBC Sport - Published





T20 World Cup - New Zealand v Scotland: Watch all the sixes of Martin Guptill's 'magnificent' 93

Watch all seven of the sixes hit by New Zealand's Martin Guptill as the opener scores a "magnificent" 93 in their T20 World Cup win over Scotland in Dubai.




BBC Sport - Published





T20 World Cup - New Zealand v Scotland: Matthew Cross hits five consecutive fours

Scotland's Matthew Cross hits New Zealand's Adam Milne for five consecutive fours in their T20 World Cup match in Dubai.




BBC Sport - Published





T20 World Cup - New Zealand v Scotland: 'That's top tier!' - Martin Guptill brings up fifty with six

New Zealand opener Martin Guptill hits a "colossal" six into the top tier of the stand in Dubai to bring up his fifty against Scotland in the T20 World Cup.




BBC Sport - Published





T20 World Cup - New Zealand v Scotland: Safyaan Sharif dismisses Kane Williamson for duck

Scotland's Safyaan Sharif has New Zealand captain Kane Williamson caught behind for a duck for his second wicket of their T20 World Cup match in Dubai.




BBC Sport - Published





Lindsay Lohan Will Not Be On 'The Real Housewives of Dubai'

Lindsay Lohan will not be joining the cast of the upcoming "Real Housewives of Dubai" ... even though she's already living in the country, and would provide instant star power and drama. Sources with..




TMZ.com - Published





T20 World Cup: England thrash Australia as Jos Buttler hits 71 not out

England outclassed Australia in a memorable eight-wicket victory in Dubai to close in on a place in the Men's T20 World Cup semi-finals.




BBC Sport - Published





T20 World Cup: Pakistan on brink of semi-finals after beating Afghanistan

Pakistan are on the brink of the semi-finals of the Men's T20 World Cup after a thrilling five-wicket win against Afghanistan in Dubai.




BBC Sport - Published





South Africa cricketer misses T20 World Cup game after refusing to take the knee

Cricketer Quinton de Kock has withdrawn from South Africa's T20 World Cup match against the West Indies in Dubai after refusing to take the knee.




Sky News - Published




T20 World Cup - India v Pakistan: Shaheen takes three big wickets in famous win

Watch fast bowler Shaheen Afridi take 3-31 against India during a thrilling spell as Pakistan hammer India by 10 wickets for a famous win at the Men's T20 World Cup in Dubai.




BBC Sport - Published





T20 World Cup: Pakistan hammer India by 10 wickets to claim famous win

Pakistan hammer India by 10 wickets to claim a famous win over their great rivals at the Men's T20 World Cup in Dubai.




BBC Sport - Published





T20 World Cup: Highlights: England skittle West Indies for 55 in dominant win

Watch as England make a stunning start to the Men's T20 World Cup by bowling West Indies out for 55 in a six-wicket win in Dubai.




BBC Sport - Published




Dubai's investment in Jammu & Kashmir 'major success for India': Ex-Pak envoy Basit




IndiaTimes - Published





T20 World Cup: England face West Indies in rematch of 2016 final

England begin their Men's T20 World Cup campaign against West Indies in Dubai on Saturday in a rematch of the 2016 final.




BBC Sport - Published





J&K government signs MoU with Dubai government

Jammu and Kashmir administration on Monday signed an MoU with the government of Dubai for development projects including real estate, industrial parks, IT towers, multipurpose towers, logistics,..




IndiaTimes - Published





Police dropped Dubai ruler hacking investigation due to lack of 'investigative opportunities'

As the High Court found that Dubai's ruler authorised the hacking of his ex-wife's phone, the Metropolitan Police has confirmed it dropped a probe into the allegations earlier this year.




Sky News - Published




Dubai ruler authorised hacking of ex-wife's phone during legal battle over their two children, High Court finds

Dubai's ruler authorised the hacking of the phones of his ex-wife, Princess Haya, and her lawyers during a legal battle over their two children, the UK's High Court has found.




Sky News - Published




Gandhi Jayanti: In Dubai, Piyush Goyal calls Bapu a role model for every Indian




IndiaTimes - Published





IPL: Royal Challengers Bangalore ease to victory over Mumbai Indians

Virat Kohli and Glenn Maxwell set Royal Challengers Bangalore on the way to a 54-run win over Mumbai Indians in the Indian Premier League in Dubai.




BBC Sport - Published





DRDO espionage accused received money from Dubai: Odisha Crime Branch




IndiaTimes - Published





Air India update: Indore-Dubai flights resume services after a gap of 17 months

The Indore-Dubai flight was initially launched on July 15. The operations had to be put on hold in March 2020 after COVID-19's first wave hit India




DNA - Published





Man wanted for buying stolen van Gogh paintings arrested in Dubai

A man wanted in Italy for allegedly buying stolen Vincent van Gogh paintings - and also being an international drug trafficker - has been arrested in Dubai.




Sky News - Published