House of Commons of the United Kingdom
Lower house in the Parliament of the United Kingdom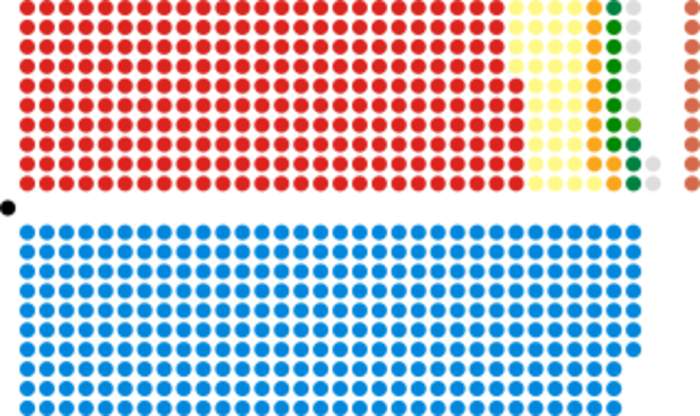 The House of Commons is the lower house and de facto primary chamber of the Parliament of the United Kingdom. Like the upper house, the House of Lords, it meets in the Palace of Westminster.


Boris Johnson met with party protesters at PMQs arrival

Boris Johnson was met with protesters brandishing placards and banners about alleged Downing Street Christmas parties as he arrived at the House of Commons for PMQs on Wednesday. Report by Buseld. Like..
Credit: ODN Duration: 00:34
Published
Boris Johnson heads to PMQs after rebellion blow

Boris Johnson has left Number 10 Downing Street and made his way to the House of Commons for PMQs, where he will face MPs after suffering a significant rebellion from his party on Tuesday. Report by..
Credit: ODN Duration: 00:27
Published
Minister confirms rapid increase of Omicron infections in UK

Sajid Javid tells the House of Commons that the rate of Omicron infections in the UK is currently estimated at 200,000 a day. The health secretary says "while Omicron represents over 20% of cases in..
Credit: ODN Duration: 01:37
Published
SNP call for prime minister resignation at PMQs

The Scottish National Party's House of Commons leader Ian Blackford says Boris Johnson is "losing the trust of the people" and calls for him to resign. The prime minister responds by accusing the SNP..
Credit: ODN Duration: 00:54
Published
You Might Like



Newly-released files reveal Diana funeral negotiations, Bush's worries, and 'hemisphere' Commons plan

Newly-released files from the National Archives have revealed George W Bush's worries over his experience, negotiations over Diana's funeral, and mooted plans to redesign the House of Commons.




Sky News - Published





PM trapped between his party and scientists as he faces unhappy Christmas

When it came, Tuesday night's rebellion infected every wing of the Conservative Party in the House of Commons.




Sky News - Published





Why health secretary's 200k Omicron case claim was back-of-envelope sum not a definitive number

There have been many striking numbers during this pandemic but few as striking as the one cited by Health Secretary Sajid Javid in the House of Commons yesterday.




Sky News - Published





PM finally admits Tory ex-minister at centre of sleaze row broke lobbying rules

Boris Johnson has finally admitted the Conservative ex-minister at the centre of Westminster's sleaze row broke lobbying rules - two weeks after the prime minister encouraged a bid to save Owen..




Sky News - Published





Tory ex-cabinet minister voted remotely in Commons while in Caribbean for £800k legal work

A Conservative former cabinet minister voted by proxy in the House of Commons while earning hundreds of thousands of pounds for legal work more than 4,000 miles away in the Caribbean.




Sky News - Published





'When they break the rules, they just remake the rules': Rayner attacks PM over bid to save ex-minister

Boris Johnson has been accused of delivering "one rule for them and one rule for the rest of us" ahead of a Conservative bid to save a Tory ex-minister from an immediate House of Commons suspension.




Sky News - Published





Tory MPs try to overthrow colleague's 30-day suspension from House of Commons

Colleagues of a Conservative MP given a 30-day suspension from the House of Commons for breaching lobbying rules will tomorrow attempt to overthrow his punishment.




Sky News - Published





PM leads cabinet ministers in return of mask-wearing in Commons

Boris Johnson has led members of his cabinet in wearing masks in the House of Commons as top Conservatives returned to donning face coverings in parliament.




Sky News - Published





Commons showdown looms over bid to end 'fire and rehire' practice

A House of Commons showdown between Labour and the Conservatives is looming over a move to clamp down on employers using "fire and rehire" to drive down wages and sack staff.




Sky News - Published





Prayers and a minute's silence as MPs prepare to pay tribute to Sir David Amess

The House of Commons is going to pay tribute to Sir David Amess today.




Sky News - Published





Commons Speaker to look at safety - but senior Tories warn against putting MPs in 'security bubble'

The Speaker of the House of Commons has promised to "examine" safety measures for MPs following the killing of Sir David Amess - but senior Conservatives are warning against placing politicians behind..




Sky News - Published





The PM cut a diminished figure, surrounded by colleagues and seemingly almost completely alone

The House of Commons was packed for the first time in 17 months, MPs breaking off their holidays to voice their anger, frustration and sorrow over the crisis that is unfolding in Afghanistan. 




Sky News - Published





MPs pack Commons for first time in 17 months - but make different choices on face masks

The House of Commons has seen packed benches for the first time since COVID gripped the UK - with different choices being made by MPs across the chamber on whether to wear a face mask.




Sky News - Published





Labour MP asked to leave the Commons after saying PM has 'lied over and over again' during pandemic

A Labour MP has been asked to leave the House of Commons for the remainder of the day after refusing to withdraw claims that Boris Johnson has "lied" to the country "over and over again".




Sky News - Published





PM's bid to avoid Tory rebellion over foreign aid cuts 'coming apart at the seams', says ringleader

A Conservative ringleader has told Sky News the government's attempt to avoid a Tory rebellion on foreign aid cuts is "coming apart at the seams" ahead of a crunch vote in the House of Commons.




Sky News - Published





Rebel Tory MPs aim to force Commons vote on foreign aid cuts

Boris Johnson is set to face a major Commons rebellion next week over his policy to slash foreign aid.




Sky News - Published




'Deeply embarrassed' Canadian MP caught out in virtual meeting - again

A Canadian MP left red-faced after appearing naked during a virtual meeting of the House of Commons has been caught out again.




Sky News - Published




Government 'set to fail' workers after COVID crisis, claims Labour

Labour's new shadow chancellor, Rachel Reeves, will use her first House of Commons appearance in her new role to claim the government is "set to fail" workers after the COVID pandemic.




Sky News - Published





UK PM Boris Johnson's India visit stands cancelled due to Covid surge

UK Prime Minister Boris Johnson cancelled on Monday his trip to India on April 25 owing to the grim Covid situation in the country and said he would hold a virtual call with Indian PM Narendra Modi..




IndiaTimes - Published





MPs call for vote on potential inquiry into Boris Johnson's 'lack of truthfulness'

Leaders of six minor parties in the House of Commons are calling on the Speaker to allow a vote on a call for an inquiry into Boris Johnson's "lack of truthfulness" in parliament.




Sky News - Published





PM could face struggle as Labour and SNP withold support for 'confusing' COVID passports plan

Opposition parties are withholding their support for the government's domestic COVID passports plan in a warning that Boris Johnson could struggle to get his proposals through the House of Commons.




Sky News - Published





Uighurs: MPs 'appalled' firms can't guarantee supply chains free of forced labour in China

Companies in the UK "still cannot guarantee that their supply chains are free from forced labour" from the Uighur people in Xinjiang in China, a House of Commons select committee has warned.




Sky News - Published




Boris Johnson launches foreign policy review with Indo-Pacific tilt, confirms visit to India in April

UK prime minister Boris Johnson told MPs in the House of Commons on Tuesday that the UK going forward will "engage more deeply in the Indo-Pacific". He also confirmed that he will visit India in..




IndiaTimes - Published





Labour MP quits Commons to set up key by-election contest

A Labour MP has resigned from the House of Commons to set up what could be a fiercely contested by-election contest in his Hartlepool seat.




Sky News - Published





UK-India relations not impacted by House of Commons debate, UK minister says




IndiaTimes - Published





India slams farm protest debate in House of Commons, says packed with false assertions




IndiaTimes - Published





Budget offers £5bn stimulus and no Sunak vision for economy

There are many figures contained in this budget but perhaps the most telling is a striking set of numbers announced by Rishi Sunak in the House of Commons.




Sky News - Published





Captain Sir Tom Moore to be honoured with one minute silence in House of Commons

A minute of silence will be held in the House of Commons to honour Captain Sir Tom Moore and all victims of the coronavirus pandemic ahead of Prime Minister's Questions today.




Sky News - Published





UK MPs suggest human rights conditions imposed in UK-India trade deals

Several British MPs have called for human rights provisions to be included in any future trade deal with India, after debating in the House of Commons the persecution being experienced by minorities...




IndiaTimes - Published





UK PM terms Sino-India standoff 'very serious, worrying situation'; calls for dialogue

British Prime Minister Boris Johnson has called on India and China to engage in dialogue to sort out their border issues as he described the escalation in eastern Ladakh as "a very serious and..




IndiaTimes - Published





Canada's Trudeau backs opposition leader kicked out of Parliament in racism row

Canadian Prime Minister Justin Trudeau on Thursday backed the leader of an opposition party who was ejected from the House of Commons for branding a member of another party a racist and refusing to..




Reuters - Published





Canada's NDP leader Singh kicked out of House for calling MP racist

Jagmeet Singh, the head of Canada's New Democrat Party (NDP), was ejected from the House of Commons on Wednesday after he called a member of another opposition party racist and for refusing to..




Reuters - Published





UK parliament: holding feet to the fire via Zoom?

Britain's House of Commons, where lawmakers notoriously jeer at rivals seated two sword-lengths away, is about to find out whether it can make ministers sweat over Zoom.




Reuters - Published





Questioning by Zoom, welcome to Britain's new 'hybrid' parliament

Lawmakers will quiz ministers via videolink next week as part of moves to make Britain's centuries-old House of Commons a "hybrid" parliament to help prevent the spread of the coronavirus.




Reuters - Published





Suspended by coronavirus, UK parliament plans virtual return

Britain's parliament plans to restart some proceedings next week, the Speaker of the House of Commons said on Tuesday, adapting a centuries-old institution for the coronavirus outbreak by going largely..




Reuters - Published





Canadian legislators approve wage subsidy as coronavirus spreads

Canadian government and opposition legislators approved a wage subsidy worth C$73 billion ($52 billion) on Saturday to support the ravaged economy, in an emergency sitting in the House of Commons.




Reuters - Published




Canada's Trudeau wants parliament to approve more spending powers amid outbreak

Canadian Prime Minister Justin Trudeau said on Tuesday he wanted flexibility to enact future spending measures as the House of Commons convened to pass a C$27-billion ($18.6 billion) emergency cash..




Reuters - Published





UK House of Commons rejects changes to Brexit legislation

The lower house of Britain's parliament on Wednesday overturned changes made by the upper house to the legislation needed to ratify the country's divorce agreement with the European Union.




Reuters - Published





Canada's Conservative leader Andrew Scheer resigns

Canada's Conservative Party leader Andrew Scheer, who lost the October election to Liberal Prime Minister Justin Trudeau, announced on Thursday in the House of Commons that he has decided to resign.




Reuters - Published





Lebanon is a sinking ship, parliament speaker warns

Lebanon is like a sinking ship that will go under unless action is taken, Parliament Speaker Nabih Berri was quoted as saying on Monday, referring to the country's deep economic and political crisis.




Reuters - Published





Canadian parliament to reconvene on December 5: PM's Office

Canada's parliament will sit for the first time since last month's election on Dec. 5, when the House of Commons will elect a new speaker and hear the Throne Speech, the prime minister's office said on..




Reuters - Published





Lebanon's Speaker Berri postpones parliament session

A session of the Lebanese parliament scheduled for Tuesday has been postponed for a week due to security considerations, Parliament Speaker Nabih Berri said.




Reuters - Published





UK parliament elects Labour lawmaker Hoyle as Speaker

Opposition Labour lawmaker Lindsay Hoyle was elected speaker of Britain's House of Commons on Monday and will take on the role of refereeing the next parliamentary installment of the country's exit..




Reuters - Published





Speaker John Bercow, UK parliament's Brexit umpire-cum-player, steps down

House of Commons Speaker John Bercow will step down on Thursday, ending a 10-year term in which he has become a central player in Britain's protracted Brexit debate - feted by the "Remain" side but..




Reuters - Published





UK Speaker Bercow, scourge of Brexiteers, to go up in smoke as a bonfire effigy

An effigy of John Bercow, Speaker of the House of Commons and bete noire of Brexiteers, will go up in flames on Saturday as part of an English town's bonfire night celebrations marking the failure of a..




Reuters - Published





UK parliament will have chance to vote on Monday for early election

British lawmakers will have a chance on Monday to vote on whether to hold an early national election, the leader of the House of Commons, Jacob Rees-Mogg said.




Reuters - Published





UK government not planning to debate Brexit deal law in parliament next week

Britain's government is not planning to continue debating the legislation needed to implement Prime Minister Boris Johnson's Brexit deal in parliament next week, according to a statement on upcoming..




Reuters - Published





UK parliament to resume Queen's Speech debate on Wednesday: government

Britain's parliament will resume its debate on the government's legislative program on Wednesday, the leader of the House of Commons Jacob Rees-Mogg said, after lawmakers rejected the timetable for a..




Reuters - Published





A vote against Brexit timetable is a vote against October 31 departure: UK government

British lawmakers who do not support the government's planned timetable to pass legislation to ratify its Brexit deal will be voting not to leave the European Union on Oct. 31, the leader of the House..




Reuters - Published





UK can still get Brexit deal approved this month: parliament speaker

The British government still has the opportunity to get its Brexit deal through parliament in time to leave the European Union at the end of October, the speaker of the House of Commons John Bercow..




Reuters - Published