LinkedIn
Professional network website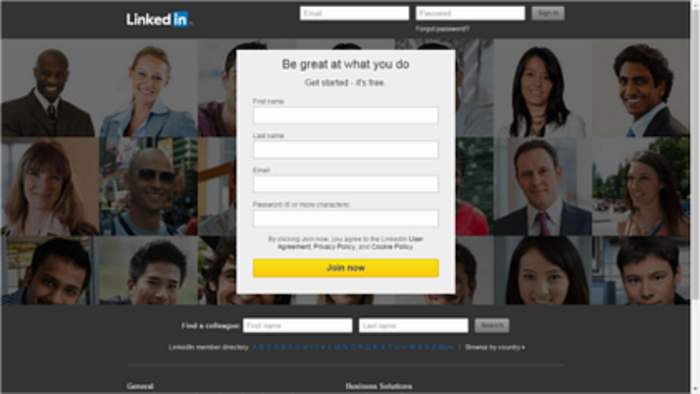 LinkedIn is an American business and employment-oriented online service that operates via websites and mobile apps. Launched on May 5, 2003, the platform is primarily used for professional networking and career development, and allows job seekers to post their CVs and employers to post jobs. From 2015 most of the company's revenue came from selling access to information about its members to recruiters and sales professionals. Since December 2016, it has been a wholly owned subsidiary of Microsoft. As of February 2022, LinkedIn has 830+ million registered members from over 200 countries and territories.


You Might Like
7 in 10 Indian working women quit or consider quitting their jobs due to lack of flexibility: LinkedIn survey
IndiaTimes - Published
Ashneer Grover writes to BharatPe board for action against CEO, demands resignation of chairman
In a LinkedIn post on Thursday, Sameer replied to a comment posted by Ashima Grover, who is Senior Manager at MetLife.
DNA - Published
Indian travel blogger killed in shootout between rival gangs in Mexico
Anjali was a travel blogger and had been working as a senior site reliability engineer with LinkedIn since July
DNA - Published
After Delhi HC's order, Twitter reiterates it will comply with new IT rules
While Facebook, WhatsApp, Google, Telegram, LinkedIn, etc. have either fully or partially complied with the new rules, Twitter is yet to follow suit.
DNA - Published
37% Indian women get paid less than men: LinkedIn report
IndiaTimes - Published
'Log in & learn' enrolments see monster jump in India
Coursera added over 3.6 million learners in India since March compared to 1.4 million in all of 2019, EdX doubled its learner base to 3.2 million and LinkedIn reported an increase of 245% in the number..
IndiaTimes - Published
Aatmanirbhar Bharat App Innovation Challenge: PM Modi encourages techies, start-ups to create Made in India applications
The Prime Minister detailed the challenge in a LinkedIn post.
DNA - Published
Cyber spies use LinkedIn to hack European defence firms
Hackers posed as recruiters working for U.S. defence giants Collins Aerospace and General Dynamics on LinkedIn to break into the networks of military contractors in Europe, cybersecurity researchers..
Reuters - Published