Rama
Hindu deity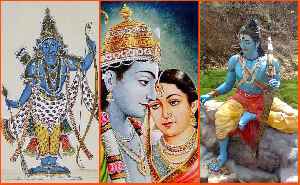 Rama or Ram also known as Ramachandra, is a major deity of Hinduism. He is 7th avatar of the God Vishnu, one of his most popular incarnations along with Krishna, Parshurama, and Gautama Buddha. Jain Texts also mentioned Rama as the eighth balabhadra among the 63 salakapurusas. In Rama-centric traditions of Hinduism, he is considered the Supreme Being.


'Ram Rajya was Mahatma Gandhi's political vision': BJP MP Sudhanshu Trivedi

BJP MP Sudhanshu Trivedi spoke to Hindustan Times' Aditi Prasad on the issue of the Ram Temple, the Covid pandemic and the way forward for India. Trivedi said that Ram Rajya was the political vision..
Credit: HT Digital Content Duration: 15:14
Published
Indian PM Modi lays foundation of Ram temple at razed mosque site

Modi broke ground on a long-awaited temple of Hindu God Ram at the site of a demolished 16th-century mosque.
Credit: Al Jazeera STUDIO Duration: 02:14
Published
'Many generations waited...': UP CM Yogi at Ram temple 'bhumi pujan'

Uttar Pradesh Chief Minister Yogi Adityanath spoke at the foundation-laying of the new Ram temple in Ayodhya. He hailed the democratic institutions of India for the resolution of the decades-long Babri..
Credit: HT Digital Content Duration: 11:24
Published
'Ram lived under tent for years...': PM Modi on new temple, Covid 'maryada'

Prime Minister Narendra Modi addressed the nation from the stage at the foundation-laying of the new Ram temple in Uttar Pradesh's Ayodhya. He called the shrine being built a 'modern symbol' of Indian..
Credit: HT Digital Content Duration: 35:33
Published
For generations, this Muslim family in Ayodhya making 'Khadaus' for Hindu saints

A Muslim family-based in Ayodhya has been making 'Khadaus' (wooden footwear) for Hindu saints for several generations, which is also their primary source of income. Mohd. Azam said he is the fifth..
Credit: ANI Duration: 02:13
Published
PM Modi to plant divine tree 'Parijaat' during Ram temple bhoomi pujan: Mahant Rajkumar Das

Just one day prior, the zeal of Ram Temple's foundation laying ceremony is on its peak in Uttar Pradesh's Ayodhya. The city is echoing the chants of lord Rama and illuminated with mesmerizing lights...
Credit: ANI Duration: 02:01
Published
Ram Mandir was BJP's agenda since beginning, and now has fulfilled: Narottam Mishra

Madhya Pradesh Home Minister Narottam Mishra reacted to Congress leader Digvijaya Singh's tweet where he gave the credit of Ram Mandir to Rajiv Gandhi. Narottam Mishra said, "Do they assume that Ram..
Credit: ANI Duration: 02:25
Published
Ram temple: Babri litigant Iqbal Ansari gets invite, says 'Lord's wish'

Iqbal Ansari, one of the litigants in the Ram Janmabhoomi-Babri Masjid dispute, has been invited for the August 5 event. Iqbal, the son of Hashim Ansari, one of the original litigants in the case, said..
Credit: HT Digital Content Duration: 03:13
Published
People across country celebrate Raksha Bandhan in unique ways

People across country celebrated Raksha Bandhan on August 3 in their own unique ways. Women in Ayodhya tied Rakhi to idols of Lord Rama on the auspicious occasion. 'Festivals have no religion,' this..
Credit: ANI Duration: 03:22
Published
You Might Like



Ram mandir bhumi pujan: PM Modi's diplomatic outreach from Ayodhya

Among several significant messages conveyed by Prime Minister Narendra Modi, while laying down the foundation for a grand Ram temple at Ayodhya on Wednesday, there was one related to global diplomacy...




IndiaTimes - Published





With 40 kg silver brick, PM Modi inaugurates Ram Temple construction in Ayodhya

Prime Minister Narendra Modi reached the Ram Janmabhoomi site in Ayodhya to set the construction of the grand Ram temple in motion.




DNA - Published





People of Indian heritage raise saffron flags, celebrate Ayodhya's 'bhoomi pujan' in Washington

Celebrating the 'bhoomi pujan' (ground-breaking ceremony) of the proposed Ram temple in Ayodhya, people of Indian heritage from in and around Washington DC gathered outside the Capitol Hill.




IndiaTimes - Published





My belief that Ram Mandir will represent India as strong, prosperous, harmonious nation: LK Advani

A day before Prime Minister Narendra Modi lays the foundation stone for a Ram temple in Ayodhya, veteran BJP leader L K Advani on Tuesday said it is a historic and emotional day for him and for all..




IndiaTimes - Published





Ram belongs to all, not a 'bapauti' of BJP, says Uma Bharti; gets 'thank you' note from Digvijaya Singh

Uma Bharti has said that Lord Ram was nobody's "property" and the deity belonged to all irrespective of faith. Senior Congress leader Digvijaya Singh thanked the BJP leader for her remarks.




DNA - Published





Ram Temple bhoomipujan should celebrate national unity cultural confluence: Priyanka Gandhi

Congress national general secretary Priyanka Gandhi on Tuesday said that the Bhoomipujan of Ramlalla's temple slated to take place on August 5 should be an occasion that spreads a message of national..




IndiaTimes - Published





'Rudrabhishek' on June 10 for beginning work on Ram temple

A rudrabhishek, to be organised at Kuber Tila temple on the Ramjanambhoomi's premises on June 10, will mark the start of work on Ram temple. "By offering prayers to Lord Shiva we are following the..




IndiaTimes - Published





India trashes Pakistan's objection to commencement of construction of Ram temple

India on Thursday trashed Pakistan's criticism of commencement of the construction of the Ram temple in Ayodhya, saying Islamabad has no locus standi over the issue. "We have seen an absurd statement..




IndiaTimes - Published





President Kovind, PM Modi extend greetings to nation on Ram Navami

President Ram Nath Kovind and Prime Minister Narendra Modi on Thursday extended warm greetings to countrymen on the auspicious occasion of Ram Navami. Taking to Twitter, President wrote that the ideal..




IndiaTimes - Published

Also reported by •DNA


This generation is privileged to witness construction of magnificent Ram temple: Yogi Adityanath

Uttar Pradesh chief minister Yogi Adityanath on Sunday said the present generation is a privileged one as it would be able to see a magnificent and grand temple of Lord Ram at Ayodhya. He also said..




IndiaTimes - Published





No power can stop Ram temple construction in Ayodhya: Rajnath Singh

Union defence minister Rajnath Singh said no power in the world could get in the way of construction of a "grand" Ram temple in Ayodhya. Amid "Jai Shree Ram" chants, he said, "A grand Ram temple will..




IndiaTimes - Published





No need for govt to set up trust for Ram temple as one already exists: Ram Janmabhoomi Nyas chief

Ram Janmabhoomi Nyas president Mahant Nritya Gopal Das has said that there is no need for the government to set up a new trust for the Ram Temple as it already exists referring to the Nyas which is an..




IndiaTimes - Published





Attempts of isolated voices to destroy positive environment after Ayodhya verdict should be ignored: Mukhtar Abbas Naqvi

"The verdict on Ram mandir was welcomed and respected by everyone. A few isolated voices in the country are trying to destroy the positive environment. We should ignore them, and they will not succeed..




IndiaTimes - Published





'Historic justice': Ramdev on Ayodhya verdict

"The Supreme Court, under no pressure and no influence, has given historic justice... A grand Ram temple will be built. The decision to allot alternate land to Muslim side is welcome, I believe Hindu..




IndiaTimes - Published





UP invites bid for Ram statue in Ayodhya




IndiaTimes - Published

Also reported by •DNA


In latest theatrics, Dhavan shreds 'Ram birthplace' map

Enacting a Bollywood courtroom scene in the Supreme Court, Muslim party counsel Rajeev Dhavan on Wednesday dramatically tore into pieces a map which Hindu Mahasabha had cited as depicting the "exact..




IndiaTimes - Published





Valmiki Ramayan, Ram Charitmanas silent on Ram's birth site, say Muslim parties; evoke SC's queries

"Only because 'Valmiki Ramayan' and 'Ramcharit Manas' do not mention the precise site in Ayodhya where Ram was born, can't Hindus believe that Ram was born at a particular place in Ayodhya," said the..




IndiaTimes - Published





Killing in the name of religion an insult of Hindu Dharma, Lord Rama: Shashi Tharoor

Speaking at an event organised by the All India Professionals Congress , Shashi Tharoor described what is meant by inclusive India and in course of that slammed violence in the name of religion. He..




IndiaTimes - Published





'Rama' the Bengal Tiger dies in Delhi zoo, wildlife activists accuse authority of murder

Since July 29, the tiger was under veterinary care after falling ill.




DNA - Published





Building of Ayodhya temple to start after November: Subramanium Swamy

Senior BJP leader Subramanium Swamy has claimed that the construction of the grand Ram temple in Ayodhya will commence by November. "The temple which is at the spot of Lord Ram's birth cannot be..




IndiaTimes - Published





Delhi: Rajasthan truck owner fined Rs. 1.41 lakh for overloading vehicle

Bhagwan Ram, who owns the truck, paid the challan amount at Rohini court on September 9.




DNA - Published





After removal of Article 370, Ram temple will now be built in Ayodhya: Pragya Thakur




IndiaTimes - Published





Ayodhya: Faith of believers evidence of disputed land being birthplace of Ram, deity's counsel to SC

The unshakeable faith of believers is evidence that the disputed site in Ayodhya was the birthplace of Lord Ram, 'Ram Lalla Virajman', a party in Ram Janmabhoomi-Babri Masjid case, told the SC on..




IndiaTimes - Published





'Shri Ram' bricks in drains irk Deoband clerics




IndiaTimes - Published





Any ordinance to facilitate Ram temple construction will be challenged in SC: BMAC

Amid talks of taking an ordinance rout to build a Ram temple in Ayodhya, the Babri Masjid Action Committee Thursday said it would challenge any such move in the Supreme Court.




IndiaTimes - Published





Seers demand Ram temple in Ayodhya, repeal of Article 370




IndiaTimes - Published





Ahead of Uddhav's Ayodhya visit, Sena says Ram temple will be built under leadership of PM Modi, Yogi

"It (Ram temple) will be constructed under Modi and Yogi's leadership. The BJP will decide on it. The majority in 2019 is for construction of Ram temple. In Rajya Sabha too we will get majority by..




IndiaTimes - Published





Amid mandir chorus, Uttar Pradesh CM Yogi Adityanath unveils Ram statue in Ayodhya

The move comes amid demand from the seers for the construction of Ram temple at the disputed site getting louder again after BJP's crushing poll victory




DNA - Published





Yogi Adityanath to unveil 7-foot tall statue of Lord Rama in Ayodhya tomorrow

Adityanath will also inaugurate the event to celebrate Mahant Nritya Gopal Das.




DNA - Published





Bengal BJP adds 'Maa Kali'to its 'Shri Ram' war cry




IndiaTimes - Published





TMC workers send 10,000 postcards with 'Vande Mataram, Jai Hind, Jai Bangla' to PM Modi

​The postcard war started between BJP and TMC following Bengal CM Banerjee's reaction to people chanting 'Jai Shri Ram' at her convoy in North 24 Parganas district. Then BJP pledged to send one lakh..




IndiaTimes - Published





VHP meet in Ayodhya on Ram mandir today

At least 150 senior VHP leaders — including its national vice-president Champat Rai and national secretary Rajendra Singh Pankaj — and seers are assembling at Maniram Chawni temple in Ayodhya under..




IndiaTimes - Published





BJP says will send 10 lakh 'Jai Shri Ram' post cards to Mamata Banerjee




IndiaTimes - Published