Jammu and Kashmir (state)
Former state administered by India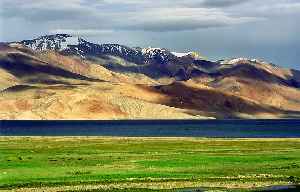 Jammu and Kashmir was a region formerly administered by India as a state from 1954 to 2019, constituting the southern and southeastern portion of the larger Kashmir region, which has been the subject of a dispute between India, Pakistan and China since the mid-20th century. The underlying region of this state were parts of the former princely state of Jammu and Kashmir, whose western districts, now known as Azad Kashmir, and northern territories, now known as Gilgit-Baltistan, are administered by Pakistan. The Aksai Chin region in the east, bordering Tibet, has been under Chinese control since 1962.


Watch: BJP workers hoist Indian flag at PDP office; 3 detained at Lal Chowk

Several people, reportedly BJP workers gathered outside PDP office in Jammu to hoist the Indian flag. People were seen trying to hoist the national flag over Jammu and Kashmir's state flag. Three..
Credit: HT Digital Content Duration: 05:17
Published
'Uddhav Thackeray don't you dare': Kangana Ranaut attacks CM on 'ganja' remark

Bollywood actor Kangana Ranaut hit out at Maharashtra Chief Minister Uddhav Thackeray, calling him "petty person". Kangana, who has been at loggerheads with the Maharashtra government, attacked the..
Credit: HT Digital Content Duration: 01:57
Published
'One nation can't have 2 flags': BJP condemns ex-J&K CM's tricolour comment

PDP chief Mehbooba Mufti came under attack for her comments on Indian flag. Mufti recently said she won't raise the tricolour till J&K state flag is restored. She made the comments with the flag of..
Credit: HT Digital Content Duration: 03:59
Published
'Not anti-national or religious fight': J&K mega alliance to expose 'lies'

Members of the People's Alliance for Gupkar Declaration held a meeting in Jammu and Kashmir's Srinagar on October 24. The meeting was held at PDP chief Mehbooba Mufti's residence, and attended by her..
Credit: HT Digital Content Duration: 04:14
Published
'Will raise tricolour when...': Ex-J&K CM Mufti's fresh attack on Centre

Ex-J&K CM Mehbooba Mufti intensified her attack on NDA government. She held a press conference with erstwhile flag of J&K state on her table. Mufti said she would raise Indian tricolour after J&K state..
Credit: HT Digital Content Duration: 01:59
Published
'Failed to solve issues': Mehbooba Mufti slams Centre over Kashmir, Article 370

Peoples' Democratic Party (PDP) president and former Jammu and Kashmir chief minister, Mehbooba Mufti held her first party meeting in Srinagar on Thursday, nine days after her release from a 14-month..
Credit: HT Digital Content Duration: 03:23
Published
Protests held as India observes Black Day to mark Pak invasion of J&K in 1947

Protests were held by PoJK refugees in Jammu as India observed black day to mark Pakistan's invasion of Jammu and Kashmir In 1947. The protesters slammed the Pakistan government and said that their..
Credit: HT Digital Content Duration: 04:10
Published
Watch: 2 terrorists surrender before security forces in Kashmir's Baramulla

Two militants on Thursday surrendered before security forces during a cordon and search operation in Baramulla district in Jammu and Kashmir, officials said. "A cordon and search operation was launched..
Credit: HT Digital Content Duration: 02:10
Published
Memories of 22 Oct 1947: 'Black day for Kashmiriyat', Prahlad Singh Patel recalls Pakistan misadventure

Minister of State for Culture and Tourism Ministry, Prahlad Singh Patel recalled Pakistan misadventure of 22nd October 1947. While speaking at two-day symposium' on 'Memories of 22 October 1947' in..
Credit: ANI Duration: 01:15
Published
Good news for book lovers in J-K as libraries re-open

Here is good news for all the book lovers in the Valley. The Jammu and Kashmir government has reopened libraries for students and bibliophiles. The libraries were shut since COVID-induced lockdown. The..
Credit: ANI Duration: 03:48
Published
Billboards seen in Srinagar ahead of 2-day 'National Symposium' on 'Memories of 22 October 1947'

Billboards have been put up at several locations in Srinagar ahead of two-day 'National Symposium'. 'National Symposium' is being organised by National Museum Institute of History of Art in..
Credit: ANI Duration: 01:19
Published
21-yr-old JandK girl keeps her father's art of calligraphy alive

Hailing from a small village in Tral of Jammu and Kashmir's Pulwama district, a 21-year-old girl is keeping her father's legacy alive by carry forwarding the art of calligraphy. Rani Meesaqun Nabi's..
Credit: ANI Duration: 02:44
Published
'No anti-India slogans will be raised in JNU': Adityanath at Bihar poll rally

Uttar Pradesh Chief Minister Yogi Adityanath on Tuesday forayed into battleground Bihar where he asked people to vote the NDA back to power, drawing upon Prime Minister Narendra Modis mass appeal and..
Credit: HT Digital Content Duration: 03:50
Published
Watch: Second encounter in South Kashmir in 2 days, 5 terrorists killed

Jammu and Kashmir police and security forces killed one more unidentified terrorist in an encounter in the Hakripora area of Pulwama district on Tuesday, taking the total count of terrorists killed to..
Credit: HT Digital Content Duration: 02:16
Published
'My Town My Pride' programme begins in J-K's Poonch

'My Town My Pride' programme began in Jammu and Kashmir's Poonch from October 20 by the government. The p programme aims at ensuring immediate grievance redressal, instant delivery of services to the..
Credit: ANI Duration: 02:11
Published
You Might Like



J&K police detain BJP workers detained trying to host national flag at Srinagar's Lal Chowk

BJP workers were also seen hoisting the national flag at the People's Democratic Party (PDP) office in the city.




DNA - Published

Also reported by •IndiaTimes


J&K: 3 held while trying to hoist tricolour at Srinagar's Lal Chowk

They said the trio, claiming to be BJP workers from Kupwara district of north Kashmir, raised slogans of 'Bharat Mata Ki Jai' and in favour of the party and tried to hoist the tricolour at the clock..




IndiaTimes - Published





Snowfall in Gulmarg, other areas of Kashmir




IndiaTimes - Published





Army downs Chinese-made Pak drone dropping arms in Kashmir's Keran sector




IndiaTimes - Published





We are not anti-national, says Farooq Abdullah after being named president of People's Alliance for Gupkar Declaration

The alliance in a months time is likely to come out with a white paper on the abrogation of Article 370 from Jammu and Kashmir and the state of governance during the last one year.




DNA - Published





Mehbooba Mufti's 'tricolour' remark instigates protests in J&K, BJP demands arrest

"I request Lieutenant Governor Manoj Sinha to take cognizance of the seditious remarks of Mehbooba Mufti and prosecute her for treason and put her behind bars."




DNA - Published





J&K Congress asks Mehbooba to desist from making 'provocative', 'irresponsible' remarks on national flag

Asking former Jammu and Kashmir chief minister Mehbooba Mufti to desist from making highly provocative and irresponsible remarks on the national flag, the Congress unit in the Union Territory on..




IndiaTimes - Published





J&K: Farooq Abdullah prays for peace, wellbeing of humankind at Dugra Nag temple

Former Jammu and Kashmir chief minister Farooq Abdullah on Saturday visited the ancient 'Durga Nag' temple here on the occasion of 'Durga ashtami' and 'Ram navami', and paid obeisance to the deity.




IndiaTimes - Published





Pakistani quadcopter shot down by Indian Army at Keran Sector along LoC

The Indian Army on Saturday shot down a Pakistan Army quadcopter in the Keran Sector of Jammu and Kashmir along the Line of Control. Indian Army has been on a high alert against Pakistani attempts to..




DNA - Published





Dogra front protests with 'Jhanda uncha rahe hamara' slogan against Mehbooba's flag remark

Several Shiv Sena Dogra Front (SSDF) activists on Saturday took to streets in Jammu staging a protest against former chief minister Mehbooba Mufti's remark that she will only raise the Indian tricolour..




IndiaTimes - Published





Kashmir off the table for future talks, India signals to Pakistan




IndiaTimes - Published





Five killed, 8 injured in two road mishaps in Jammu region




IndiaTimes - Published





PDP, Gupkar alliance will take final decision on whether to contest polls in J&K: Mehbooba




IndiaTimes - Published





'Centre has no powers to take away Jammu and Kashmir's special status,' says PDP chief Mehbooba Mufti

Mufti held her first party meeting in Srinagar on Thursday, nine days after her release from 14-month detention on October 13.




DNA - Published





We will unfurl tricolour only when 'J&K flag' is allowed to be raised: Mehbooba Mufti

"My flag is this (points to the flag of J&K kept on the table in front of her). When this flag comes back, we'll raise that flag (tricolour) too. Until we get our own flag back, we won't raise any..




IndiaTimes - Published





DNA Special: 'Untold' story of India-Pakistan war of October 22, 1947

On October 22, 1947, thousands of tribals from Pakistan attacked Kashmir and started moving from Muzaffarabad to Srinagar, defeating Raja Hari Singh's State Force.




DNA - Published





Raiders in Kashmir: India observes Oct 22 as Black Day to mark 1947 invasion of J-K by Pakistani raiders

The events organised on Thursday sought to remind the world how Pakistan tried to create unrest in the region. This has led to relentless conflicts, violence, and terror activities in Kashmir till..




DNA - Published





Govt issues stern warning to Twitter over 'misrepresentation of India's map'

IT Secretary Ajay Sawhney wrote to Twitter CEO Jack Dorsey after Twitter in a recent post showed the geo-location of Leh in Jammu and Kashmir as a Chinese region.




DNA - Published





Two militants surrender before security forces in J&K's Baramulla




IndiaTimes - Published





Cabinet OKs J&K panchayat law, local election likely soon




IndiaTimes - Published





Pakistan's ex-Major General admits to the country's role in Kashmir conflict in new book




IndiaTimes - Published





J&K govt extends ban on 4G internet services except in two districts, check details

Earlier, the ban on 4G internet services in J&K was extended from September 30 till October 21.




DNA - Published





Former Jammu and Kashmir CM Farooq Abdullah questioned by ED second time in three days

Farooq, who is celebrating his 84th birthday today reached the ED's office around 11:00 am.




DNA - Published





No Article 370 means license to buy property in Kashmir: Yogi at Bihar rallies




IndiaTimes - Published





Farooq Abdullah questioned by ED for 5 hours in JKCA money laundering case

Former Jammu and Kashmir chief minister Farooq Abdullah, who turned 84 on Wednesday, was questioned by the Enforcement Directorate for five hours in connection with a multi-crore scam in the JK Cricket..




IndiaTimes - Published





Union Cabinet approves adoption of Jammu and Kashmir Panchayati Raj Act

The Union Cabinet on Wednesday approved the adoption of the Jammu and Kashmir Panchayati Raj Act, 1989, a government spokesperson said. Briefing the press after a Cabinet meeting chaired by Prime..




IndiaTimes - Published





Comprehensive measures needed to deal with radicalisation of youngsters in Jammu and Kashmir: Lieutenant governor




IndiaTimes - Published





'All terrorists are raised in Madarsas, govt should stop funding them': MP minister's controversial statement sparks row

The minister alleged that madarsas are responsible for turning Jammu and Kashmir into a terror factory.




DNA - Published





Farooq Abdullah turns 83: Look at 5 controversial statements made by veteran politician

In his long political career, Farooq Abdullah has courted several controversies with his comments on Pakistan, Jammu and Kashmir, among others.




DNA - Published





Five terrorists killed in twin south Kashmir encounter




IndiaTimes - Published





Two terrorists killed in Jammu and Kashmir's Pulwama district




IndiaTimes - Published

Also reported by •DNA


Two terrorists killed by security forces in operation in Jammu and Kashmir's Shopian




IndiaTimes - Published





Twitter fixes error showing J&K in China




IndiaTimes - Published





J-K: Police inspector gunned down by terrorists in Anantnag's Bijbehara area

Inspector Mohammad Ashraf Bhat was rushed to Bijbehara sub-district hospital, where doctors declared him dead on arrival, the police said. Bhat was currently posted at the Police Training Centre in..




DNA - Published





Police officer shot dead by terrorists in J&K's Anantnag




IndiaTimes - Published




Terrorists kill J&K police officer




IndiaTimes - Published





Fight to restore Article 370 will not change even if I'm hanged: Farooq Abdullah

Former J&K Chief Minister and National Conference (JKNC) president Farooq Abdullah was summoned by Enforcement Directorate in Srinagar on October 19.




DNA - Published





One terrorist killed in encounter with security forces in J&K's Shopian




IndiaTimes - Published





Resolve for restoration of J&K's special status will continue: Farooq Abdullah after ED questioning




IndiaTimes - Published





Twitter rectifies geotag error showing Jammu & Kashmir as part of China




IndiaTimes - Published





ED's summon to Farooq Abdullah shows extent of Centre's nervousness: Mehbooba Mufti

The Enforcement Directorate's (ED) sudden summons to National Conference (NC) President and former Chief Minister of Jammu and Kashmir Farooq Abdullah displays the extent of Government of India's..




IndiaTimes - Published





CRPF jawan injured after terrorists attack security forces in J&K's Pulwama




IndiaTimes - Published





Jammu and Kashmir: CRPF man injured in terror attack in Pulwama

This is the second attack of militants in district Pulwama in consecutive two days. On Sunday, terrorists lobbed a grenade at security forces, injuring a CRPF jawan and a civilian.




DNA - Published





People in Kashmir unaffected by Pakistan's false propaganda: Srinagar Corps chief

Lt Gen B.S. Raju, who heads the Srinagar-headquartered 15 Corps, told IANS that the situation in the Kashmir Valley is normal and Pakistan is not happy about it and "propagating false narratives about..




DNA - Published





J&K: CRPF jawan injured in grenade attack by terrorists in Pulwama's Tral

A search operation is underway to arrest the terrorists.




DNA - Published





Terrorists lob grenade at security forces in J&K's Pulwama, one CRPF jawan injured




IndiaTimes - Published





Pakistan violates ceasefire along international border in Jammu and Kashmir's Kathua




IndiaTimes - Published




Lens on J&K schools 'motivating kids to become terrorists': DGP

Some schools-cum-religious education-centres in Shopian and Pulwama are under the watch of intelligence agencies and Jammu & Kashmir police for allegedly using the facade of formal education to..




IndiaTimes - Published





BJP dares Congress to mention Article 370 restoration in its Bihar poll manifesto

A day after the Congress pitched for restoration of Article 370 in Jammu and Kashmir, the BJP Saturday dared it to say so in its manifesto for the Bihar assembly polls and accused it of speaking the..




IndiaTimes - Published





Terror associate of Lashkar-e-Taiba arrested in J&K's Pampore




IndiaTimes - Published