Jay Leno
American television host and comedian (born 1950)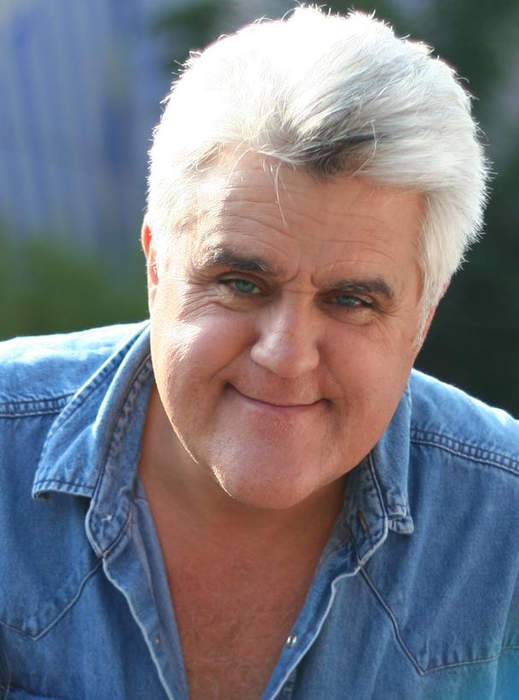 James Douglas Muir Leno
is an American television host, comedian, writer, and actor. After doing stand-up comedy for years, he became the host of NBC's
The Tonight Show
from 1992 until 2009 when Conan O'Brien took over as host. Beginning in September 2009, Leno started a primetime talk show,
The Jay Leno Show
, which aired weeknights at 10:00
p.m. ET, also on NBC. When O'Brien turned down NBC's offer to have Leno host a half hour monologue show before
The Tonight Show
to boost ratings amid reported viewership diminishing, Leno returned to hosting the show on March 1, 2010. He hosted his last episode of his second tenure on February 6, 2014. That year, he was inducted into the Television Hall of Fame. From 2014 to 2022, he has hosted
Jay Leno's Garage,
and since 2021, has hosted the revival of
You Bet Your Life
.
You Might Like



'This is a brand new face': Jay Leno reveals recovery after car fire

US comedian Jay Leno has revealed his "brand new face" after one of his vintage cars burst into flames in November, leaving him with third-degree burns.




Sky News - Published





Jay Leno Says He Won't Stop Riding Motorcycles Despite Shattering Bones In Crash

Jay Leno isn't letting a few broken bones stop him from getting back on his motorcycle ... telling us he's got no plans to quit riding despite a recent scary accident. Jay tells TMZ ... everyone's..




TMZ.com - Published





Jay Leno Shattered Bones in Recent Motorcycle Crash

Jay Leno got into a motorcycle crash last week and his injuries were no joke -- he shattered several bones. The comedian told the Las Vegas Review-Journal he suffered a broken collarbone, two fractured..




TMZ.com - Published





'Boom - I got a face full of gas' - Jay Leno describes moment he caught on fire

US comedian Jay Leno has described the moment his face caught on fire in a blaze that left him with burns on around 7% of his body.




Sky News - Published





Jay Leno Explains Moment He Got Third-Degree Burns in Car Fire

Jay Leno is breaking down the car fire that sent him to a burn unit with second- and third-degree burns ... and he's pretty cool when talking about the fiery episode. The comedian sat down for an..




TMZ.com - Published





Jay Leno Arrives for First Comedy Gig Since Getting Burned, Grazes Cop Car

Jay Leno's miraculous return to comedy -- just 2 weeks after getting severely burned -- is officially a smash hit ... just ask the cops whose car he clipped! It's the kinda Murphy's Law moment ya just..




TMZ.com - Published





Jay Leno Cruising in Vintage Bentley and Back Onstage at Comedy Club

Jay Leno clearly lives by the credo ... if you get injured doing what you love, you gotta get back in the buggy!!! Jay, who was seriously burned when a fuel leak on a 1907 steamer triggered a fire that..




TMZ.com - Published





Jay Leno Heads Back to Garage 10 Days After Car Fire Accident

Jay Leno can't stop, won't stop -- unbelievably, he's back on the open road less than 2 weeks after he was severely burned in a car fire, and his first stop ... the same garage where it happened...




TMZ.com - Published





Jay Leno pictured leaving hospital after being badly burned in car fire

Jay Leno has been pictured leaving hospital after being treated for facial burns he sustained in a garage fire.




Sky News - Published





Jay Leno Seen For The First Time Since Accident, Released From Hospital

Jay Leno has been released from the hospital after suffering severe burns following a gasoline garage accident -- and you can already tell how badly he was hurt. The ex-late night host posed for a..




TMZ.com - Published





Tim Allen Visits Jay Leno In Hospital, Says Face Will Be OK Despite Burns

Tim Allen just got done visiting Jay Leno in the hospital ... and he says his close friend's face isn't going to be disfigured by severe burns suffered in a car fire. Tim saw Jay at the Grossman Burn..




TMZ.com - Published





Jay Leno Gets Hyperbaric Chamber Treatment for Severe Burns After Car Fire

Jay Leno is on to a new stage of his recovery after his horrifying car fire accident -- he's undergoing treatment in a hyperbaric chamber for his burns. As you can see, the procedure requires Jay to..




TMZ.com - Published





Jay Leno Expected To Make Full Recovery Following Car Fire Burns

Jay Leno might not be out of the woods yet regarding his scary car fire incident ... but the good news is the doctor who's giving him treatment says things should be A-OK for the comedian. Dr. Peter..




TMZ.com - Published





Jay Leno seriously burned after his car bursts into flames

Jay Leno was seriously burned after one of his cars burst into flames in the garage of his Los Angeles home.




Sky News - Published





Jay Leno Hangs on Front of Airplane in Wild Video

Jay Leno's a well-known motorhead, but apparently he's a stuntman too ... based on this crazy footage of him gripping the nose of an airplane in mid-flight!!! The former 'Tonight Show' host is on..




TMZ.com - Published