Tedros Adhanom
Director-General of the World Health Organization, former Minister in Ethiopia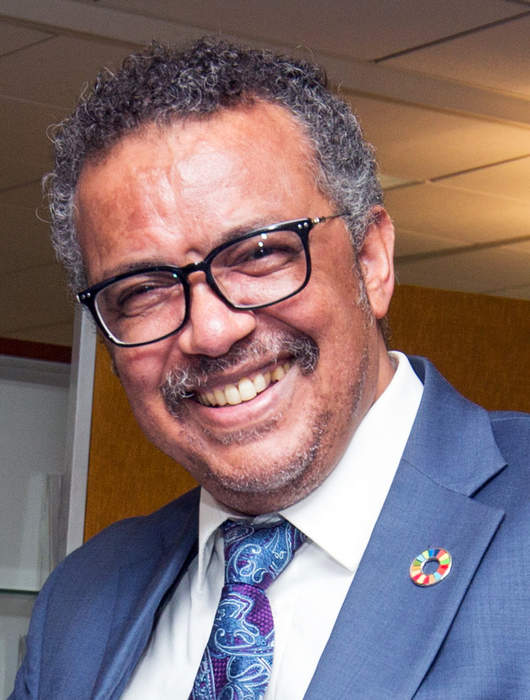 Tedros Adhanom Ghebreyesus is an Ethiopian biologist, public health researcher, and official who has served since 2017 as Director-General of the World Health Organization. Tedros is the first African in the role, and was endorsed by the African Union. Before serving as Director-General, he held two high-level positions in the government of Ethiopia: Minister of Health from 2005 to 2012 and Minister of Foreign Affairs from 2012 to 2016.


WHO chief: Monumental error to think Covid-19 danger has passed

World Health Organization Director-General Tedros Adhanom Ghebreyesus said it would be a "monumental error" to think that the danger from the Covid-19 pandemic has passed and urged countries to..
Credit: Bleacher Report AOL Duration: 02:11
Published
Biden to back WTO COVID vaccine patent waiver

President Joe Biden on Wednesday threw his support behind waiving intellectual property rights for COVID-19 vaccines, bowing to mounting pressure from Democratic lawmakers and more than 100 other..
Credit: Reuters - Politics Duration: 01:57
Published
You Might Like



WHO reminds Serum Institute of its Covax commitments amidst devastating Covid-19 outbreak, soaring demand in India

WHO chief Tedros Adhanom Ghebreyesus has said that once the devastating Covid-19 outbreak in India recedes, the Serum Institute of India will need to "get back on track and catch up" on its delivery..




IndiaTimes - Published





India's Covid situation hugely concerning, says WHO chief Tedros Adhanom Ghebreyesus

India's Covid-19 situation remains hugely concerning, with several states continuing to see a worrying number of cases, hospitalisations and deaths, WHO chief Tedros Adhanom Ghebreyesus said on Friday,..




IndiaTimes - Published




WHO chief Ghebreyesus thanks PM Modi for 'continued support' to global Covid-19 response

WHO chief Tedros Adhanom Ghebreyesus on Saturday thanked Prime Minister Narendra Modi for his continued support to the global Covid-19 response, saying acting together, including sharing of knowledge,..




IndiaTimes - Published





WHO chief thanks PM Modi for strong commitment to COVID-19 vaccine

PM Modi had a telephone conversation Dr Tedros Adhanom Ghebreyesus, Director General of the World Health Organisation (WHO).




DNA - Published

Also reported by •IndiaTimes


PM Modi, WHO D-G discuss global collaboration against Covid-19, role of traditional medicinal systems in boosting immunity

Prime Minister Narendra Modi on Wednesday held a telephone conversation on Wednesday with Director-General of World Health Organisation (WHO) Dr Tedros Adhanom Ghebreyesus and discussed ongoing global..




IndiaTimes - Published





WHO chief hails PM Modi's assurance of India's vaccine production prowess to help nations fight Covid

World Health Organization (WHO) chief Tedros Adhanom Ghebreyesus has lauded Prime Minister Narendra Modi's assurance that India will use its vaccine production capacity in helping nations fight..




IndiaTimes - Published





WHO lauds Dharavi model's success in breaking COVID-19 transmission chain

WHO Director-General Tedros Adhanom Ghebreyesus spoke of Dharavi in Mumbai during a media briefing on Friday.




DNA - Published





WHO launds Dharavi model's success, says it shows COVID-19 can still be brought back under control

WHO Director-General Tedros Adhanom Ghebreyesus spoke of Dharavi in Mumbai during a media briefing on Friday.




DNA - Published





Covid-19 could be opportunity for India to speed up Ayushman Bharat: WHO chief

The COVID-19 pandemic, which has presented challenges for several nations, could be an "opportunity" for India to speed up the health insurance scheme Ayushman Bharat, WHO chief Tedros Adhanom..




IndiaTimes - Published





WHO seeks good ties with U.S. despite Trump's exit move

World Health Organization (WHO) head Tedros Adhanom Ghebreyesus praised on Monday the United States' "immense" contribution to global health and urged a continuation of good ties despite President..




Reuters - Published





WHO creates foundation to tap new funding sources

World Health Organization Director General Tedros Adhanom Ghebreyesus announced on Wednesday the creation of a foundation that will enable it to tap new sources of funding, including the general..




Reuters - Published

Also reported by •Reuters India


WHO pauses trial of hydroxychloroquine in COVID-19 patients due to safety concerns

The World Health Organization has suspended testing the malaria drug hydroxychloroquine in COVID-19 patients due to safety concerns, WHO Director General Tedros Adhanom Ghebreyesus said on Monday.




Reuters India - Published





China says WHO chief has done a good job

World Health Organization (WHO) chief Tedros Adhanom Ghebreyesus has done a good job and countries with decency will support the body, the Chinese government's top diplomat Wang Yi said on Sunday.




Reuters - Published





WHO has worked 'day and night' on pandemic, funding lags: Tedros tells board

The World Health Organization (WHO) has worked non-stop since the novel coronavirus emerged, informing its 194 member states of its evolution and providing technical advice, its director-general said..




Reuters - Published





WHO will continue to lead global fight against pandemic, Tedros vows

The World Health Organization will continue to lead the global fight against the coronavirus pandemic which "threatens to tear at the fabric of international cooperation", its chief said on Tuesday.




Reuters - Published





WHO chief 'shocked and appalled' by Afghan clinic attack

World Health Organization chief Tedros Adhanom Ghebreyesus said on Wednesday he was "shocked and appalled" by an attack on a maternity clinic run by the international humanitarian organisation..




Reuters - Published

Also reported by •Reuters India


WHO warns countries against hurried lifting of COVID-19 lockdown measures

WHO Director-General Tedros Adhanom Ghebreyesus cautioned that adequate tracking systems and quarantine provision is needed to check the spread of the disease.




DNA - Published





WHO says COVID-19 emergency declaration gave world 'enough time'

Tedros Adhanom Ghebreyesus gave a robust defence on Friday of his and the World Health Organization's (WHO) "timely" actions in declaring the new coronavirus an international health emergency at the..




Reuters - Published





Coronavirus will be with us for a long time: WHO chief

The World Health Organization (WHO) head Tedros Adhanom Ghebreyesus on Wednesday said that coronavirus will remain with us for a long time and said that the body declared it a global pandemic at the..




DNA - Published





Reopening wet food markets must conform to strict standards: WHO

Any "wet markets" that are allowed to reopen after coronavirus lockdowns must conform to stringent food and hygiene standards, World Health Organization Director-General Tedros Adhanom Ghebreyesus told..




Reuters - Published





WHO chief hails India's step to engage in polio surveillance network to fight Covid-19

WHO Director-General Tedros Adhanom Ghebreyesus on Wednesday appreciated India's collaboration with the World Health Organisation (WHO) in the systematic engagement of polio surveillance network across..




IndiaTimes - Published





WHO head dismisses suggestions he's too close to China

World Health Organization Director General Tedros Adhanom Ghebreyesus dismissed suggestions that his agency was too close to China after criticism by U.S. President Donald Trump.




Reuters - Published





WHO's Tedros sends best wishes to UK's Johnson suffering COVID-19

World Health Organization (WHO) Director-General Tedros Adhanom Gheybresus sent his "heartfelt good wishes" to Boris Johnson on Monday after hearing that the British prime minister had been admitted to..




Reuters - Published





Covid-19: WHO chief praises PM Modi's efforts to help the poor

The World Health Organisation (WHO) chief Tedros Adhanom Ghebreyesus on Thursday praised Prime Minister Narendra Modi for helping the poor and the vulnerable people of the society during the 21-day..




IndiaTimes - Published





Factbox: Latest on the spread of the coronavirus around the world

The World Health Organization (WHO) voiced deep concern on Wednesday about the rapid escalation and global spread of the coronavirus. "In the next few days, we will reach 1 million confirmed cases and..




Reuters - Published




WHO working to ensure supplies of diagnostics, protective gear - Tedros

The World Health Organization (WHO) is finalizing arrangements for Chinese suppliers to export protective gear for health workers and aims to build a "continuous pipeline", WHO director-general Tedros..




Reuters - Published





'Dr Tedros', the WHO chief leading the fight against the pandemic

Tedros Adhanom Ghebreyesus, head of the World Health Organization (WHO), has become the public face of the global fight against coronavirus.




Reuters - Published





WHO's Tedros urges world to 'double down' against virus pandemic

The head of the World Health Organization (WHO) urged all countries on Thursday to "double down" in the fight against the coronavirus pandemic.




Reuters - Published





World Health Organization describes coronavirus outbreak as pandemic

The World Health Organization sees the outbreak of the new coronavirus as a pandemic, Director General Tedros Adhanom Ghebreyesus said on Wednesday.




Reuters - Published





Threat of coronavirus pandemic 'has become very real': WHO's Tedros

The coronavirus is closer to causing a pandemic but outbreaks in countries can still be controlled through a combination of containment and mitigation measures, the World Health Organization (WHO) said..




Reuters - Published





How deadly is the coronavirus?

"Globally, about 3.4% of reported COVID-19 cases have died. By comparison, seasonal flu generally kills far fewer than 1% of those infected," said WHO Director-General Tedros Adhanom Ghebreyesus.




IndiaTimes - Published





Coronavirus more deadly than flu but containable: WHO's Tedros

About 3.4% of confirmed cases of COVID-19 have died, far above seasonal flu's fatality rate of under 1%, but the novel coronavirus can be contained, the head of the World Health Organization (WHO) said..




Reuters - Published





South Korea, Iran, Italy and Japan greatest concern: WHO's Tedros

The epidemics in South Korea, Italy, Iran and Japan are the World Health Organization's greatest concern, the body's chief Tedros Adhanom Ghebreyesus said on Monday.




Reuters - Published





Coronavirus spread 'deeply concerning' but not a pandemic: WHO's Tedros

The sudden rise in novel coronavirus cases in Italy, Iran and South Korea is "deeply concerning", but the virus can still be contained and does not amount to a pandemic, the World Health Organization..




Reuters - Published





World must act fast to contain coronavirus: WHO's Tedros

The window of opportunity to contain wider international spread of the epidemic of the new coronavirus disease is closing, the World Health Organization (WHO) warned on Friday, after cases were..




Reuters - Published




WHO reports 92 cases of human-to-human coronavirus cases outside China

There have been 92 cases of human-to-human spread of the coronavirus in 12 countries outside China but the World Health Organization does not have the data to make comparisons with China, WHO chief..




Reuters - Published





'Every scenario on the table' in China virus outbreak: WHO's Tedros

The latest data provided by China on people infected with coronavirus indicates a decline in new cases but "every scenario is still on the table" in terms of the epidemic's evolution, the World Health..




Reuters - Published





WHO chief says coronavirus still an emergency for China

The coronavirus outbreak is still an emergency for China and it is impossible to tell where the epidemic will spread, Tedros Adhanom Ghebreyesus, director general of the World Health Organization, said..




Reuters - Published





Vaccine for new coronavirus 'COVID-19' could be ready in 18 months: WHO

The first vaccine targeting China's coronavirus could be available in 18 months, "so we have to do everything today using available weapons", World Health Organization chief Tedros Adhanom Ghebreyesus..




Reuters - Published





Advance team of WHO experts arrives in China to probe coronavirus

An advance World Health Organization team of medical experts arrived in China on Monday to investigate the coronavirus outbreak, WHO chief Tedros Adhanom Ghebreyesus said in Geneva.




Reuters - Published





WHO advance team on coronavirus on way to China: Tedros tweet

An advance team of World Health Organization (WHO) experts has left for Beijing to investigate China's coronavirus epidemic, the Geneva-based agency said on Sunday.




Reuters - Published





WHO warns of global shortage of coronavirus protective equipment

The world is facing a chronic shortage of gowns, masks, gloves and other protective equipment in the fight against a spreading coronavirus epidemic, World Health Organization (WHO) chief Tedros Adhanom..




Reuters - Published




WHO chief says 80% of China virus cases are in Hubei province

World Health Organization chief Tedros Adhanom Ghebreyesus said on Wednesday that 80% of China's coronavirus cases are in the central Hubei province, and that not all provinces have been affected.




Reuters - Published





WHO chief says widespread travel bans not needed to beat China virus

World Health Organization chief Tedros Adhanom Ghebreyesus said on Monday there was no need for measures that "unnecessarily interfere with international travel and trade" in trying to halt the spread..




Reuters - Published