Taliban
Islamic fundamentalist political movement in Afghanistan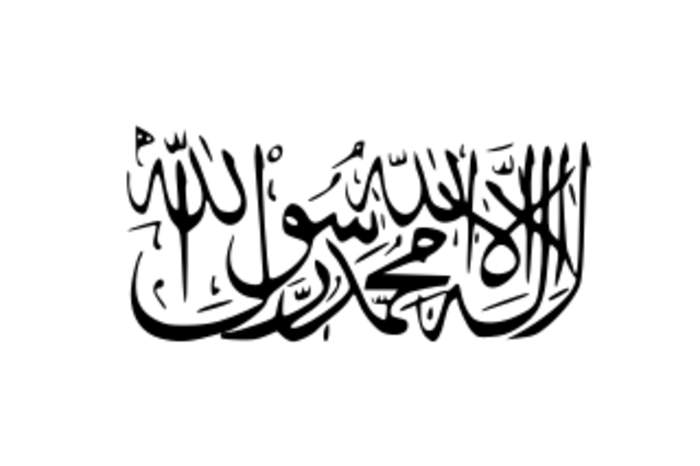 The Taliban or Taleban, who refer to themselves as the Islamic Emirate of Afghanistan (IEA), are a Sunni Islamic fundamentalist political movement and military organisation in Afghanistan currently waging war within that country. Since 2016, the Taliban's leader is Mawlawi Hibatullah Akhundzada.


Two Afghan female judges shot dead in Kabul ambush

Afghan officials blame the Taliban for the attacks, an accusation the armed group denies.
Credit: Al Jazeera STUDIO Duration: 03:31
Published
India begins its 8th tenure at the UN Security Council

India began its eighth tenure as a non-permanent member in the United Nations Security Council on 4th January, 2021. A flag installation ceremony was held to formalise the term. Permanent..
Credit: ANI Duration: 04:57
Published
The Ghanis discuss peace, Covid and Afghanistan's future

Afghanistan's President Ashraf Ghani and First Lady Rula Ghani speak exclusively with Amanpour about talks with the Taliban, coronavirus, and relations with the US.
Credit: Bleacher Report AOL Duration: 15:39
Published
Ghani: 'With Pakistan we have a perennial problem'

Afghan President Ashraf Ghani discusses relations with Afghanistan's neighbors, the Taliban in Pakistan, and why Afghanistan wants a "maximum numbers of friends."
Credit: Bleacher Report AOL Duration: 03:00
Published
India to chair 3 key committees of UN Security Council: All you need to know

India on Friday announced that it would be chairing three important committees of the United Nations Security Council during 2021 to 2022. TS Tirumurti, India's envoy to the UN, said the country had..
Credit: HT Digital Content Duration: 03:24
Published
Afghan govt, Taliban reach breakthrough deal

Afghan government and Taliban representatives said on Wednesday they had reached a preliminary deal to press on with peace talks, their first written agreement in 19 years of war and welcomed by the..
Credit: Reuters Studio Duration: 01:35
Published
Afghanistan, Taliban pave way for further peace talks


Credit: FRANCE 24 English Duration: 01:23
Published
Donors pledge billions to Afghanistan, but with strings attached

Many countries impose restrictions over pledged funds pending on progress in talks between the Taliban and the government, among others.
Credit: Al Jazeera STUDIO Duration: 03:07
Published
You Might Like



China worked to prevent India from chairing key UNSC terrorism-related body

While India, as announced last week, will still head the counter-terrorism committee and also Taliban and Libya sanctions committees, China's opposition seems to have prevented India from heading the..




IndiaTimes - Published





India to chair crucial UNSC panels on Taliban, terror




IndiaTimes - Published





India to chair UNSC's crucial Taliban and Libya sanctions committees, panel on counter-terrorism




IndiaTimes - Published





In a first, Indian & Afghan Ulemas condemn Taliban; call its actions illegitimate

In all 14 Islamic religious scholars participated in the meet, 7 each from both side.




DNA - Published





Entire Taliban brass based in Pak, says its chief negotiator

The disclosure by Mullah Baradar, the chief Taliban negotiator in the intra-Afghan peace talks, in a video that the entire Taliban leadership is based in Pakistan and that no decision is taken without..




IndiaTimes - Published





At UN, India highlights violence committed by Taliban in Afghanistan; reiterates calls for ceasefire

Peace process and violence cannot go hand in hand, and we call for an immediate and comprehensive ceasefire, India has said.




DNA - Published





Any peace deal with Taliban will not be detrimental to national security of India: Abdullah Abdullah




IndiaTimes - Published





Afghanistan did not ask for direct engagement from India to tackle Taliban, says Abdullah Abdullah

Abdullah Abdullah, who is on a five-day India visit, on Saturday said that his discussion with the top Indian leadership was around "peace" process and Afghanistan did not ask for direct engagement..




DNA - Published





Abdullah Abdullah discusses peace process with top Indian leadership, does not seek direct engagement of India in tackling Taliban




IndiaTimes - Published





Afghan peace negotiator Abdullah Abdullah arrives in Delhi, set to meet PM Narendra Modi, EAM Jaishankar

Abdullah Abdullah, the chief negotiator with Taliban in the intra-Afghan peace dialogue on Tuesday arrived in New Delhi for a five-day visit during which he is scheduled to meet with Prime Minister..




IndiaTimes - Published





Last hostage from group of 7 Indians kidnapped in Afghanistan has returned to India: MEA

The seven Indians were kidnapped by Taliban terrorists in the restive northern Baghlan province. Two of those Indians had returned to India last month. The last remaining Indian national (out of the..




IndiaTimes - Published





Amid Taliban talks, US special representative for Afghanistan reaches Delhi




IndiaTimes - Published





Head of Afghan peace council thanks India for continued support to Afghanistan

Head of Afghanistan's peace council Abdullah Abdullah held talks with a senior Indian official in Doha, covering various aspects of the historic dialogue between the Taliban and the Afghan government..




IndiaTimes - Published





India backs Afghanistan peace talks but remains wary of Taliban-ISI links

As Taliban sat down in Doha for its direct engagement with Afghan government for peace, India participated in the inaugural session of negotiations with foreign minister S Jaishankar underscoring the..




IndiaTimes - Published





As peace talks with Taliban begin, India extends support for 'immediate ceasefire' in Afghanistan

India's External Affairs minister Dr S Jaishankar, who joined the meet virtually, reiterated that Afghan peace process should be "Afghan-led, Afghan-owned and Afghan-controlled".




DNA - Published





China's BRI under threat after Pakistan Taliban reunification

Pakistan Taliban's recent reunification of various breakaway factions will pose threats to projects linked to China's Belt and Road Initiative (BRI) in northwestern Pakistan and create internal..




IndiaTimes - Published





EXCLUSIVE: Ball is now in the Taliban court for peace talks, says Afghan President's spokesperson Sediq Sediqqi

Speaking exclusively to our Principal Diplomatic Correspondent Sidhant Sibal from Kabul, Sediqqi welcomed India's role and said New Delhi "has played an important role in the country's democracy" and..




DNA - Published





2 Indian nationals abducted in Afghanistan by Taliban in 2018 set to return to India

These were among the 7 Indians working for Maharashtra based KEC International Limited who were kidnapped in May 2018.




DNA - Published





Sikh man abducted by Taliban militants from Afghanistan gurudwara rescued

The identity of the abductors are unknown




DNA - Published





Reluctance to free 'most dangerous' Taliban prisoners slows Afghan peace talks: sources

Western powers are backing the Afghan government's refusal to free hundreds of prisoners accused of some of Afghanistan's most violent attacks, a release demanded by the Taliban as a condition to start..




Reuters - Published





Afghan government, Taliban agree to Doha as venue for first peace talks

Afghanistan's government and the Islamist Taliban group have agreed that Doha will be the venue for the first meeting in their peace talks, both sides said on Sunday.




Reuters India - Published

Also reported by •Reuters


Afghan peace talks seen this month after U.S. shuttle diplomacy

Talks to end the 18-year-old conflict in Afghanistan may begin this month, sources said on Monday, a day after the U.S. special envoy visited the capital of neighbouring Pakistan and met Taliban..




Reuters - Published

Also reported by •Reuters India


U.S. forces conduct airstrikes on Taliban in Afghanistan

American forces conducted two airstrikes on Taliban fighters to foil the militant group's plan to launch attacks on Afghan security forces, a U.S. military spokesman said on Friday, in a move that..




Reuters - Published





Taliban, al Qaeda retain ties despite U.S.-Taliban deal, U.N. monitors say

Ties between the Taliban, especially its Haqqani Network branch, and al Qaeda remain close, independent U.N. sanctions monitors said in a report made public on Monday, despite a U.S.-Taliban pact..




Reuters - Published





Khalilzad sounds upbeat note on chances for intra-Afghan peace talks

Recent prisoner releases and a relatively low level of violence may bode well for the start of peace talks between the Afghan government and the Taliban, U.S. Special Representative for Afghanistan..




Reuters - Published





Intel sources warn of terror attacks in J&K by Pak-trained terrorists

According to sources, a group of around 20 members of the Taliban are being trained by Pakistan Army's SSG near Jalalabad to plan attacks in Jammu and Kashmir.




DNA - Published





Afghan government says ceasefire still in place even as skirmishes with Taliban resume

Skirmishes between Taliban fighters and Afghan security forces recommenced in Afghanistan in the day since a three-day ceasefire expired, but government officials said on Thursday that the incidents..




Reuters - Published





Exclusive: U.S. troop strength in Afghanistan down to close to 8,600 ahead of schedule - sources

U.S. troop strength in Afghanistan is down to nearly 8,600, well ahead of a schedule agreed with Taliban militants in late February, in part because of concerns about the spread of the coronavirus,..




Reuters - Published

Also reported by •Reuters India


Exclusive: U.S. ahead of schedule in cutting Afghanistan troop strength - sources

U.S. troop strength in Afghanistan is down to nearly 8,600, well ahead of a schedule agreed with Taliban militants in late February, in part because of concerns about the spread of the coronavirus,..




Reuters - Published

Also reported by •Reuters India


Afghanistan begins freeing 900 Taliban prisoners, urges truce extension

The Afghan government said it was in the process of freeing 900 Taliban members from prison on Tuesday, the biggest such release yet, and urged the insurgent group to extend a three-day ceasefire set..




Reuters India - Published

Also reported by •Reuters


Afghan government will free 900 Taliban prisoners Tuesday - Afghan official

The Afghan government urged the Taliban to extend a three-day ceasefire which is due to end on Tuesday night and also announced that it would release 900 prisoners from the insurgent group on Tuesday.




Reuters India - Published

Also reported by •Reuters


Afghan Taliban declare three-day Eid ceasefire from Sunday

The Taliban declared a three-day Eid ceasefire starting on Sunday, a spokesman for the hard-line Islamist group wrote in a tweet on Saturday, a move that comes as fighting has intensified between the..




Reuters India - Published

Also reported by •Reuters


U.S. envoy meets Afghan president and former rival Abdullah in push for peace

The United States' special envoy for Afghanistan on Wednesday met Afghan President Ashraf Ghani and his former rival Abdullah Abdullah, to discuss progress towards a peace deal with the insurgent..




Reuters - Published





U.S. envoy to press Taliban, Afghan officials on peace talks

A senior U.S. envoy left for Doha and Kabul on Sunday to press Taliban and Afghan government officials to open peace talks that the United States hopes will allow it to withdraw from Afghanistan, the..




Reuters India - Published

Also reported by •Reuters


Kashmir India's 'internal affair, won't interfere', say Taliban




IndiaTimes - Published





Taliban blast near Afghan intelligence base kills seven, injures 40

Taliban fighters detonated a car bomb on Monday near an Afghan intelligence agency installation in the central province of Ghazni, killing at least seven people and wounding 40, officials and the..




Reuters - Published

Also reported by •Reuters India


India should talk to Taliban if Delhi feels it will bolster peace push - Pakistan's U.S. envoy

India should speak with Taliban militants if it feels that it will help the peace process, Pakistan's envoy to Washington said on Saturday, after a series of attacks in Afghanistan raised questions..




Reuters India - Published

Also reported by •Reuters


Taliban accuses India of playing 'negative' role by supporting Kabul govt




IndiaTimes - Published