Taliban
Islamist organization in Afghanistan (founded 1994)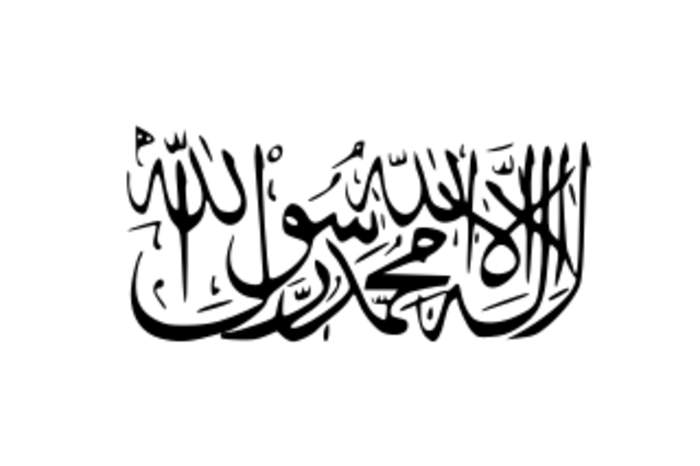 The Taliban, which also refers to itself by the name of its state, the Islamic Emirate of Afghanistan, is a Deobandi-Pashtun Islamic fundamentalist, militant Islamist, and jihadist political movement in Afghanistan. It ruled approximately three-quarters of the country from 1996–2001, before being overthrown following the United States invasion. It recaptured Kabul on 15 August 2021 after years of insurgency, and currently controls all of the country.


Taliban's latest order bans men and women from sitting together at restaurants | OneIndia News

In its latest clampdown in Afghanistan's western Herat province since seizing power, Taliban has now put a ban on men and women from sitting and eating together at restaurants. This is Taliban's latest..
Credit: Oneindia Duration: 01:44
Published
NGO Warns That Almost 10 Million Children Are Starving in Afghanistan

NGO Warns That , Almost 10 Million Children , Are Starving in Afghanistan. Save the Children warns that approximately 9.6 million children in Afghanistan are facing daily food insecurity amid a..
Credit: Wibbitz Top Stories Duration: 01:30
Published
Afghan women protest decree to cover faces

About a dozen women chanting "burqa is not my hijab" protested in the Afghan capital Tuesday against the Taliban's order for women to cover fully in public, including their faces.
Credit: euronews (in English) Duration: 01:00
Published
Afghanistan: Over 900,000 Afghans lost jobs since Taliban takeover: US SIGAR | Oneindia News

According to the US Special Inspector General for Afghanistan Reconstruction (SIGAR), more than 900,000 Afghans have lost their jobs since the Taliban takeover. #Taliban #AfghanCrisis #AfghanWomen..
Credit: Oneindia Duration: 01:20
Published
Taliban stops issuing driving licences to women in Afghanistan | OneIndia News

Taliban threw the Afghanistan government last year and took hold of the country. Since then, many humanitarian issues specifically related to the right of women have cropped up. According to the report..
Credit: Oneindia Duration: 01:32
Published
Afghanistan: Taliban leader hails 'security' in rare appearance to mark Eid


Credit: FRANCE 24 English Duration: 01:21
Published
Taliban warns Pakistan over alleged airstrikes, says 'won't tolerate invasions' | Oneindia News

On Sunday, Afghanistan's acting defence minister said that the Taliban administration would not tolerate 'invasions' from its neighbours after protesting against airstrikes it says were conducted..
Credit: Oneindia Duration: 01:49
Published
Taliban announce ban on harvesting poppies

In desperately poor Afghanistan the ban seems certain to further impoverish its poorest citizens at a time when the country is in an economic free fall.
Credit: euronews (in English) Duration: 00:25
Published
Taliban bans opium as Afghanistan's poppy harvest begins

Farmers say the ban will ruin them as many rely on opium revenues to pay their bills. The opium is sold to dealers who process it to produce heroin.
Credit: euronews (in English) Duration: 01:34
Published
US launches satellite TV channel for Afghanistan after VOA broadcast ban by Taliban | OneIndia News

US has launched a 24/7 direct-to-home satellite-delivered television channel for Afghanistan after the Taliban banned the Voice of America broadcast in the country. The 24/7 channel launched by the US..
Credit: Oneindia Duration: 01:43
Published
UN to Taliban on opening high school for girls: 'Respect right to education' | OneIndia News

In a press statement released, United Nations Security Council expressed deep concern and worry over the Right to Education of all female students in Afghanistan. This statement comes after Taliban..
Credit: Oneindia Duration: 01:47
Published
Dozens protest in Kabul, demanding the Taliban reopens girls' secondary schools.

"Why is it happening to them just because they're girls? Why can't they be studying? Why can't they be learning?"
Credit: euronews (in English) Duration: 01:31
Published
Taliban order Afghan girls' schools shut hours after reopening


Credit: FRANCE 24 English Duration: 03:01
Published
You Might Like



All female TV presenters in Afghanistan given 'non-negotiable' order to cover faces on air

All female television presenters in Afghanistan have been ordered by the Taliban to cover their faces while on air - as at least one host hit out at the move, saying it was "erasing" women.




Sky News - Published




Sharon Osbourne Says Donald Trump and The Taliban Should Be on Twitter

Sharon Osbourne is an anti-censorship purist ... because she doesn't want anyone banned from Twitter, and that includes Donald Trump and the Taliban. We caught up with Sharon Tuesday in Bev Hills..




TMZ.com - Published





Taliban order all Afghan women to wear the burka in public

The Taliban have ordered all Afghan women to wear the all-covering burka in public.




Sky News - Published




India, US urge Taliban to follow UNSC resolution, call for cessation of violence in Myanmar




IndiaTimes - Published





Taliban announces deadline for Kabul airport contract




IndiaTimes - Published





Taliban outlaws growing of lucrative opium poppy as it seeks easing of sanctions

Poppy growing has been banned by the Taliban in Afghanistan, the world's biggest opium producer.




Sky News - Published




Taliban leave girls in tears after shutting their schools again

The Taliban have sent girls home in tears from secondary schools in Afghanistan just days after announcing that they would be allowed back to the classroom.




Sky News - Published




Parents of photographer Danish Siddiqui, who was killed in Afghanistan, start legal action against Taliban

Danish Siddiqui, a Pulitzer Prize winner, was embedded with Afghan special forces when he was killed on July 16.




DNA - Published





Reopen embassy, will give security: Taliban tell India

With international recognition on mind, and following efforts by the government to strike the right chord with post-US withdrawal Afghanistan. The Taliban's UN ambassador-designate Suhail Shaheen told..




IndiaTimes - Published





Afghan Hindu-Sikh delegation meets PM Modi

A delegation of Sikhs and Hindus from Afghanistan met Prime Minister Narendra Modi at his residence on Saturday. A large number of Afghan Hindus and Sikhs have been living in India, and the Indian..




IndiaTimes - Published





Two journalists held in Afghanistan by Taliban released

Two journalists, including one who used to work for the BBC, have been released after they were detained by the Taliban in Afghanistan.




Sky News - Published




'My heart and body shake': Afghan women defy Taliban




IndiaTimes - Published





Taliban blames Western sanctions for scenes of crisis and starvation in Sky News reports

Western economic sanctions are to blame for the humanitarian crisis in Afghanistan, a spokesman for the Taliban has told Sky News.




Sky News - Published




Pregnant NZ journalist who asked Taliban for help after being locked out of her own country accepts offer to return with place in quarantine

A pregnant reporter shut out of her native New Zealand has said she will be returning home after being offered a place in the country's quarantine system.




Sky News - Published




Taliban says women should not make long taxi journeys without male chaperone

The Taliban has said women in Afghanistan should not be offered long distance taxi services unless they are accompanied by a male chaperone.




Sky News - Published




British man 'detained by Taliban' after going missing in Afghanistan

A British man working in Afghanistan has reportedly been detained by the Taliban after he went missing.




Sky News - Published




More than 100 female judges and their families rescued by UK lawyers after Taliban takeover

More than 100 female Afghan judges and their families have been rescued by a team of pro-bono lawyers in the UK following the Taliban takeover. 




Sky News - Published





Marriage age debate: Naqvi slams 'Talibani mentality'




IndiaTimes - Published





Mukhtar Abbas Naqvi hits out at 'Talibani mentality' opposing women empowerment




IndiaTimes - Published





Imran Khan asks the international community to engage with the Taliban




IndiaTimes - Published





Taliban 'committing a litany of abuses' as takeover marked by 'killings', UN officials say

More than 100 former members of the Afghan security forces and others have been killed since the Taliban takeover in August, with most of the killings allegedly at the hands of the hardline Islamist..




Sky News - Published




India sends medical supplies to Afghanistan

In the first tranche of humanitarian aid to Afghanistan after its takeover by the Taliban, India on Saturday sent medical supplies to that country. The medical supplies were sent on a return flight..




IndiaTimes - Published





EU Special envoy on Afghanistan says lauds India's offer of humanitarian support to Kabul

Niklasson has come to Delhi from Doha where he had talks with the Taliban delegation led by its Foreign Minister Amir Khan Muttaqi.




DNA - Published





BSF DG concedes threat of Pak pushing in Taliban fighters, abandoned US military equipment into Kashmir




IndiaTimes - Published





Malala Yousafzai celebrates graduation from Oxford University nine years after being shot by the Taliban

Malala Yousafzai, the education campaigner who was shot by the Taliban, has graduated from Oxford University with a philosophy, politics and economics degree.




Sky News - Published





Taliban welcome Indian aid as Pakistan conveys decision to India

The Taliban have welcomed Pakistan's decision to allow India to send wheat to Afghanistan through the land route and expressed readiness again to have Indian diplomats back in the country. This..




IndiaTimes - Published





Chabahar sees increase in traffic as Taliban backs trade via port




IndiaTimes - Published





Kim Kardashian and Leeds United help Afghan women's football team arrive in UK after escaping Taliban

Kim Kardashian and Leeds United have helped an Afghan junior women's football team arrive in the UK after fleeing the Taliban.




Sky News - Published




Terrorism continues to pose serious threat to Afghanistan, region: India at UNSC

Emphasising the expectation of the international community which notes the commitment of the Taliban not to allow the use of Afghan soil for terrorism, India at the UN Security Council meeting said..




IndiaTimes - Published





Those raking up partition extending support to Taliban: Adityanath




IndiaTimes - Published





Already fulfilled Delhi meet demands, say Taliban

In another reaction to the Afghanistan conference convened in Delhi, the Taliban foreign ministry said the government in Kabul has already fulfilled the demands raised in the meeting and for the second..




IndiaTimes - Published





Want good diplomatic ties with India: Taliban

Describing India as a very important country in the region, the Taliban said after India's Afghanistan conference that they wanted good diplomatic ties with the Indian government. Spokesperson..




IndiaTimes - Published





Taliban welcomes India's meet on Afghanistan, assures world that Afghan soil not being used against anyone




IndiaTimes - Published





NSA Ajit Doval chairs security dialogue on Afghanistan, officials from 7 other countries attend: Key points

National Security Adviser Ajit Doval chaired the Delhi Regional Security Dialogue on Afghanistan here on Wednesday. NSAs and Secretaries of Security Councils of Iran, Kazakhstan, Kyrgyzstan, Russia,..




IndiaTimes - Published





On pre-poll Kairana visit, Yogi attacks 'Talibani' mindset




IndiaTimes - Published





After Pakistan, China also skips meet on Afghanistan hosted by India

China and Pakistan will be missing when the national security chiefs of seven key regional countries gather here on Wednesday for a security dialogue on Afghanistan. The day-long event, the first being..




IndiaTimes - Published





Adityanath invokes Kairana 'exodus', says those attacking traders will be sent to 'next world'

Chief Minister Yogi Adityanath on Monday invoked the "exodus" of Hindus from Kairana a few years back, telling people in the western Uttar Pradesh town that those who shoot at traders now will be..




IndiaTimes - Published





Afghanistan to launch polio vaccination programme as Taliban tries to improve its profile

Afghanistan is launching a four-day polio vaccination campaign, the Taliban-run public health ministry says.




Sky News - Published




Child among several people killed following 'IS' bomb and gun attack outside Kabul hospital

Three women and a child were among several people killed in an attack by the Islamic State (IS) group outside Afghanistan's biggest military hospital, according to a Taliban spokesperson.




Sky News - Published




Yogi slams Akhilesh's Jinnah remark as Talibani mentality




IndiaTimes - Published