Sadiq Khan
Mayor of London since 2016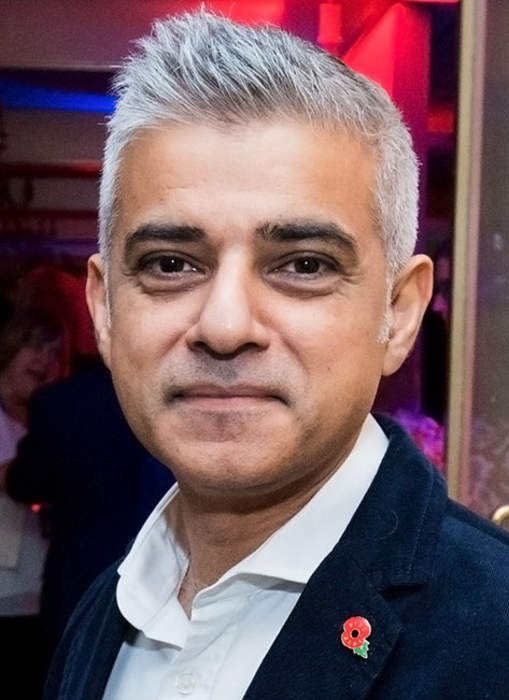 Sadiq Aman Khan is a British politician serving as Mayor of London since 2016. He was previously Member of Parliament (MP) for Tooting from 2005 until 2016. A member of the Labour Party, Khan is on the party's soft left and has been ideologically characterised as a social democrat.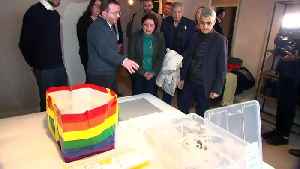 Sadiq Khan visits hotel offering homeless respite from cold

Sadiq Khan has announced funding for 800 new homes for rough sleepers in the capital. The Mayor of London was at a hotel in Newham on Tuesday morning where people are offered temporary respite from the..
Credit: ODN Duration: 00:46
Published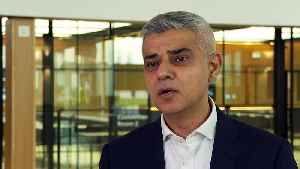 London Mayor: Give commissioner time to turn around police

The mayor of London promises to be tough on crime in the wake of a shooting in Euston and the sexual abuse of a long-serving Metropolitan Police officer. Sadiq Khan says Londoners need to give the new..
Credit: ODN Duration: 01:44
Published
You Might Like



Khan to put himself at odds with Starmer by calling for 'pragmatic debate' on rejoining single market

Sadiq Khan will use a speech this evening to condemn the government's Brexit damage "denial" and call for a pragmatic debate on rejoining the single market.




Sky News - Published





Dame Cressida Dick 'felt intimidated' into resigning as Met Police commissioner

Dame Cressida Dick "felt intimidated" into resigning as Metropolitan Police Commissioner following an ultimatum from London mayor Sadiq Khan, an independent report has found.




Sky News - Published





Sadiq Khan issued with legal challenge after 'terrifying' number plate camera decision

If you drive in London, chances are a camera will see you.




Sky News - Published





Sadiq Khan demands 'detailed explanation' from Met Police after photos of PM at lockdown drinks emerge

London mayor Sadiq Khan has written to the Met Police asking for a "detailed explanation" of its partygate probe - after claiming photos showed the PM was "caught red-handed" at an event for which he..




Sky News - Published





Sadiq Khan demands explanation from police after 'smoking gun' No 10 pictures - as Shapps denies PM was partying

London mayor Sadiq Khan has asked police for an explanation after "smoking gun" pictures emerged of Boris Johnson drinking at an event during lockdown - for which he was not fined.




Sky News - Published





ULEZ plans could cover most of London from 2023 with mayor warning of 'toxic air crisis'

Plans to expand London's Ultra Low Emission Zone (ULEZ) to cover the entire city have been put forward for consultation by Sadiq Khan.




Sky News - Published





Sadiq Khan says he suffered sharp rise in racist abuse during Trump's presidency

The mayor of London has said Donald Trump's term as US president led to a significant rise in racial abuse directed at him.




Sky News - Published





Ministers have 'failed to complete a single recommendation' from Grenfell Tower inquiry, Sadiq Khan says

The government has "failed to complete a single recommendation" from the public inquiry into the Grenfell Tower fire, London mayor Sadiq Khan has said.




Sky News - Published





Officers who strip searched black schoolgirl should face gross misconduct charges, Sadiq Khan says

The mayor of London has called for police officers who strip-searched a black schoolgirl while she was on her period to be charged with gross misconduct.




Sky News - Published





Sadiq Khan denies demanding Dame Cressida sack condemned officers or face suspension

London Mayor Sadiq Khan has denied issuing an ultimatum to outgoing Metropolitan Police Commissioner Dame Cressida Dick demanding that she sack officers at Charing Cross station who were condemned by..




Sky News - Published





Health professionals should help tackle air pollution, says London mayor Sadiq Khan

London mayor Sadiq Khan is calling for health workers to play a greater role in raising awareness of the risks of air pollution and how patients can protect themselves.




Sky News - Published





Metropolitan Police Federation says it has 'no faith' in Sadiq Khan following Cressida Dick resignation

The Metropolitan Police Federation, which represents more than 31,000 officers in the capital, has declared it has "no faith" in London Mayor Sadiq Khan.




Sky News - Published





Ex-senior Met officer hits out at London Mayor for public criticism of Dame Cressida Dick

A former senior Metropolitan Police officer has condemned Mayor of London Sadiq Khan for his public criticism of Dame Cressida Dick as she announced her resignation as commissioner earlier this week.




Sky News - Published





The controversies presided over by Met Police commissioner Cressida Dick

Cressida Dick quit her job as head of the Metropolitan Police after London Mayor Sadiq Khan put her "on notice" last week.




Sky News - Published





'Rude and unprofessional': Priti Patel and Sadiq Khan clash over Met Police chief's departure

The Home Secretary and Mayor of London have clashed over the sudden departure of Dame Cressida Dick as Metropolitan Police Commissioner last night.




Sky News - Published





How will Cressida Dick's successor be chosen and who are the top contenders?

Dame Cressida Dick has announced that she would step down from the role of Metropolitan Police commissioner after losing the backing of London Mayor Sadiq Khan.




Sky News - Published





Met chief's future in balance as she has 'days and weeks' to show how she will tackle sexism and racism in force

The future of the Metropolitan Police commissioner hangs in the balance with London mayor Sadiq Khan saying Dame Cressida Dick has just "days or weeks" to come up with plan to tackle sexism and racism..




Sky News - Published





New Year's Eve celebrations in Trafalgar Square cancelled 'in interests of public safety'

New Year celebrations in Trafalgar Square have been cancelled "in the interests of public safety", London Mayor Sadiq Khan has announced.




Sky News - Published





Two new Tube stations open in London as Northern line extended

Two new Tube stations have opened in south London, with mayor Sadiq Khan saying they will hasten the capital's pandemic recovery.




Sky News - Published





Masks to remain compulsory on London transport and will be enforced, warns mayor

Sadiq Khan has warned commuters and tourists that "hundreds" of Transport for London (TfL) enforcement officers will continue to impose the wearing of face masks on services in the capital beyond 19..




Sky News - Published





Masks to remain compulsory on public transport in London after 19 July

Sadiq Khan has said Transport for London will continue to enforce the wearing of face masks on services in the capital beyond 19 July.




Sky News - Published





'I might choose to wear a mask in a crowded environment': What the experts are saying on face coverings

Wearing a face mask is set to become a "personal choice" – but Sadiq Khan has urged the government to retain the mandatory requirement for coverings to be worn on public transport.




Sky News - Published





Khan re-elected for second term as London mayor

Sadiq Khan has been re-elected for a second term as London mayor.




Sky News - Published





Labour braced for tight finish in race for London mayor

The Labour Party is braced for a close contest in the race to become London mayor, as early results indicate support for Sadiq Khan has been lower than anticipated.




Sky News - Published





Khan urges BAME communities to get vaccine after he receives jab

Sadiq Khan has received his first dose of a coronavirus vaccine and urged members of black, Asian and minority ethnic (BAME) communities to follow suit, declaring: "I wouldn't be taking the jab if I..




Sky News - Published





More than 1,000 young black men removed from controversial police gang database

More than 1,000 young black men have been removed from a controversial police gangs database - with London Mayor Sadiq Khan saying they shouldn't have been on the list.




Sky News - Published





The 'devastating' impact of 'life-changing' COVID deaths in one of London's most deprived boroughs

London has entered a new phase of its battle against coronavirus after mayor Sadiq Khan declared a major incident over the numbers of patients in the capital's hospitals.




Sky News - Published





London's statues from 'bygone' imperial past to be reviewed, mayor says

London mayor Sadiq Khan has ordered a review of the capital's statues and street names after the toppling of the statue of an English slave trader by anti-racism protesters triggered a debate about the..




Reuters - Published





London mayor calls for compulsory face masks on transport

London Mayor Sadiq Khan called on the British government on Friday to make face masks compulsory for people traveling around the capital or shopping.




Reuters - Published





UK nowhere near lifting coronavirus lockdown: London mayor

Britain is nowhere near lifting the lockdown measures it put in place to tackle the spread of the coronavirus as the peak is still more than a week away, London Mayor Sadiq Khan said on Wednesday.




Reuters - Published