Gandhinagar
Capital City in Gujarat, India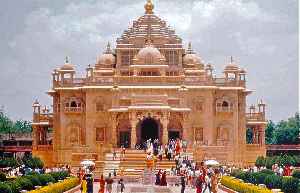 Gandhinagar is the capital of the state of Gujarat in India. Gandhinagar is located approximately 23 km north of Ahmedabad, on the west central point of the Industrial corridor between Delhi, the political capital of India, and Mumbai, the financial capital of India.


End of poll road for Advani as Shah gets Gandhinagar ticket
The BJP on Thursday replaced L K Advani with party chief Amit Shah as its candidate for Gandhinagar Lok Sabha seat, formally bringing curtains down on the career of the 91-year-old stalwart who played..
IndiaTimes - Published
From helping Advani in filing nomination to replacing him: Amit Shah's life in Gandhinagar comes full circle
As BJP announced that the party president Amit Shah will contest from Gandhinagar in Gujarat, an old picture of Advani filing nomination for the seat in 1991 went viral on social media.
DNA - Published
BJP's 1st list for Lok Sabha polls: Narendra Modi to seek re-election from Varanasi, Amit Shah to contest from Gandhinagar
IndiaTimes - Published
BJP releases first list of LS candidates; PM Modi to contest from Varanasi, Amit Shah fielded from Gandhinagar
The names were announced by senior BJP leader JP Nadda at a press conference in Delhi.
DNA - Published
Amit Shah for Gandhinagar, BJP cadres sing in chorus
The leaders and workers of party who met observers for seat on Saturday proposed that Shah should replace sitting MP LK Advani.
DNA - Published
Is it end of the road for Yatra man?
The Gandhinagar Lok Sabha seat has almost become synonymous with L K Advani. First-time voters were not even born when he won it for the first time. In all of the six general elections he has won from..
IndiaTimes - Published
SC notice to Centre on plea against marriage laws forcing estranged couples to cohabit
Ojaswa Pathak and Mayank Gupta, students of Gujarat National Law University at Gandhinagar, had challenged the validity of section 9 of the Hindu Marriage Act (HMA), Section 22 of the Special Marriage..
IndiaTimes - Published
You Might Like