Kashmiri Pandits
Hindu community native to the Kashmir Valley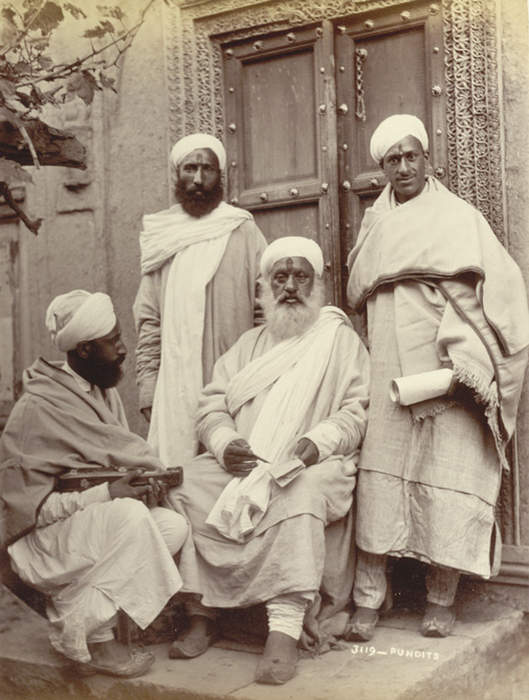 The Kashmiri Pandits are a group of Kashmiri Hindus and a part of the larger Saraswat Brahmin community of India. They belong to the Pancha Gauda Brahmin group from the Kashmir Valley, a mountainous region located within the Indian-administered union territory of Jammu and Kashmir. Kashmiri Pandits are Hindu Kashmiris native to the Kashmir Valley, and the only remaining Hindu Kashmiris after the large-scale of conversion of the Valley's population to Islam during the medieval times. Prompted by the growth of Islamic militancy in the valley, large numbers left in the exodus of the 1990s. Even so, small numbers remain.


Sai Pallavi compares Kashmiri Pandit exodus to cow vigilantism | Oneindia News *News

Actor Sai Pallavi who is currently promoting her Telugu movie, Virata Parvam, commented on the Kashmiri exodus while condemning the violence in the name of religion in the country. She drew a parallel..
Credit: Oneindia Duration: 01:34
Published
Kashmiri Pandits demand the government to revoke job bonds #News | Oneindia News

Kashmiri Pandits in the valley are demanding that the government revoke the bond or they will not join back their duties. #KashmiriPandits #Modigovernment #Kashmir
Credit: Oneindia Duration: 02:49
Published
Raza Academy protests against the killing of Kashmiri Pandits in the valley | Oneindia News

Islamic organization Raza Academy held a protest outside Mumbai's Minara Masjid against the recent killing of Kashmiri Pandits and Hindu migrants in the Kashmir valley by the terrorists. #Kashmir..
Credit: Oneindia Duration: 01:41
Published
Sri Lanka crisis: Fuel prices hiked, petrol at all-time high of ₹420/l, diesel ₹400/l |Oneindia News

Sri Lanka: Petrol now costs ₹420/l, diesel ₹400/l; Comparing India's success with China's failure to handle the pandemic, US President Joe Biden praised PM Modi; Kashmiri Pandits refuse to join..
Credit: Oneindia Duration: 02:03
Published
Slain Kashmiri Pandit's family gets financial assistance, appointment letter | OneIndia News

The family of Rahul Bhat, the Kashmiri Pandit who was shot down in the valley, has been provided with financial assistance by the Jammu and Kashmir local administration on May 18th. Rahul Bhat was shot..
Credit: Oneindia Duration: 01:23
Published
Forces eliminate Rahul Bhat's killers in Bandipora | Oneindia News

Days after the brutal killing of Rahul Bhat, an employee of the Revenue Department and a Kashmiri Pandit, an incident that sent shivers down the spine in the valley, the two terrorists responsible for..
Credit: Oneindia Duration: 01:14
Published
Kashmiri Pandit Killing: Rahul Bhat's wife hints at conspiracy |Oneindia News

The wife of the Kashmiri Pandit youth Rahul Bhat who was killed by the terrorists at his office in Budgam district has hinted at a deeper conspiracy. #RahulBhat #KashmiriPandit #Budgam
Credit: Oneindia Duration: 01:17
Published
Kashmiri Pandit youth killed in a terror attack in Budgam|Oneindia News

Terrorists killed a Kashmiri Pandit youth in Kashmir's Budgam area. The youth has been identified as Rahul Bhat. #KashmiriPandit #RahulBhat #Budgam
Credit: Oneindia Duration: 01:14
Published
You Might Like



Kashmiri Pandits our own: Mehbooba asks clerics to preach brotherhood

Accuses Centre of creating Gaza-like situation in Kashmir




IndiaTimes - Published





Will ensure honourable return & rehabilitation of Kashmiri Pandits: Union minister




IndiaTimes - Published





Pre-Amarnath boost: Kheer Bhawani draws 18k Pandits




IndiaTimes - Published





J&K: Kheer Bhawani temple in Ganderbal sees heavy rush of Pandits on Jyeshtha Ashtami




IndiaTimes - Published





J&K administration approves scheme of promotion for Kashmiri Pandit employees under PM package




IndiaTimes - Published





Jammu and Kashmir: BJP urges Kashmiri Pandits and Dogras to stay back, assures safety

Pakistan worked with terror organisations to bleed Kashmir anew once peace was restored, using targeted executions, Ravinder Raina said.




DNA - Published





'Maharashtra stands firmly behind Kashmiri Pandits,' says CM Uddhav Thackeray

Chief Minister Uddhav Thackeray said that Maharashtra has always maintained a sensitive relationship with Kashmiri Pandits.




DNA - Published





Anger as transfer list of 177 Kashmiri Pandit teachers leaked




IndiaTimes - Published




'We can't stay': Kashmiri Pandits reject plan to shift them to 'safer places' in Valley




IndiaTimes - Published





Kashmiri Pandits demand relocation, 100 Hindu families flee valley over targeted killings in J-K

Two targeted killings have taken place in Jammu and Kashmir over the past 72 hours, striking fear among the Kashmiri Pandit community.




DNA - Published





Kashmiri Pandits protesting but BJP busy celebrating its eight years: Rahul Gandhi




IndiaTimes - Published





Who was Rajni Bala, Kashmiri Pandit teacher shot dead by terrorists in J-K's Kulgam?

Hindu teacher Rajni Bala was killed by terrorists in the Kulgam district of Jammu and Kashmir on Tuesday, sparking a wave of outrage in the UT.




DNA - Published




'Cowardly act, total failure to protect us': Kashmiri Pandits stage protest over killing of Hindu teacher

After the death of a Kashmiri Pandit teacher in Kulgam, protests erupted in Jammu by the community who called it a "cowardly act".




DNA - Published





Delhi government to provide free electricity connections to over 100 shops owned by Kashmiri Pandits

Deputy Chief Minister Manish Sisodia held a meeting with the senior officials of the concerned departments including BSES and PWD.




DNA - Published





Kashmiri Pandits protest in Jammu, demand relocation to safer workplaces




IndiaTimes - Published





Yasin Malik verdict: Two offences he has been awarded life sentence for

NIA told the court that Yasin Malik is responsible for the Kashmiri Pandits' exodus from the Valley.




DNA - Published





Yasin Malik to blame for Kashmiri Pandits' exodus: NIA to court as it seeks death penalty

After hearing the arguments, the court reserved its order and is likely to pronounce it later in the day.




DNA - Published





Jammu and Kashmir: Major plot to spread terror and bloodshed exposed in Srinagar arms haul

Pistols have recently been the weapon of choice to eliminate select soft targets including Kashmiri Pandits.




DNA - Published





Will dismantle terror ecosystem in J&K, LG tells Kashmiri Pandits




IndiaTimes - Published





'Won't join duty till demands are met': Kashmiri Pandit employees continue protests over Rahul Bhat killing

Over a week after the killing of Rahul Bhat, Kashmiri Pandits are continuing their protests, demanding safety for their community.




DNA - Published





'The Kashmir Files triggered violence in J-K', says Mehbooba Mufti after Kashmiri Pandit killing

Days after the killing of Rahul Bhat, Mehbooba Mufti said that 'The Kashmir Files' has triggered violence in Jammu and Kashmir.




DNA - Published





Ensure best possible security for Kashmiri Pandits: Delhi CM Arvind Kejriwal to Centre

CM urged Centre to take steps to ensure best possible security arrangements for Kashmiri Pandits in wake of killing last week of government servant.




DNA - Published





Targeted killings of KPs, non-locals aimed to keep terrorism alive in Kashmir: Army commander

Northern Army commander Lieutenant General Upendra Dwivedi on Monday said the targeted killings of Kashmiri Pandits and non-local labourers by militants was to keep terrorism alive in Kashmir. He also..




IndiaTimes - Published





'Be ready for target killings': Terror outfit issues threat letter to Kashmiri Pandits in J-K's Pulwama

After Rahul Bhat's death, many Kashmiri Pandits in Jammu and Kashmir have taken to the streets, urging the Centre to provide safety.




DNA - Published





Bear tragedy together, don't leave Valley: Gupkar Alliance to Kashmiri Pandits




IndiaTimes - Published





Kashmiri Pandit staffers will be shifted to safer districts: J&K LG

Jammu & Kashmir LG Manoj Sinha on Sunday informed PAGD and BJP delegations that PM package employees, mostly Kashmiri Pandits, will be deployed in secure and safer district and tehsil headquarters in..




IndiaTimes - Published





Rahul Bhat's killing: LG orders inquiry into use of force against protesting Kashmiri Pandits




IndiaTimes - Published





J-K LG orders inquiry into use of force upon Kashmiri Pandits protesting against Rahul Bhat's killing

Protests were held at many places in J-K against the killing and the "failure" of the administration to provide security to the Kashmiri Pandits.




DNA - Published





Jammu and Kashmir: Probe ordered into tear gas shelling on Kashmiri Pandits

Police had used tear gas against Kashmir Pandits, who were protesting peacefully against the killing of govt employee, Rahul Bhat, by terrorists.




DNA - Published





350 Kashmiri Pandit government employees resign over Rahul Bhat's killing

Bhat was shot dead by two Lashkar-e-Taiba terrorists at his Tehsil office in Chadoora of Budgam district on Thursday.




DNA - Published





If Bhat could be killed in govt office, what safety can we expect, ask Kashmiri Pandits




IndiaTimes - Published





Two Pak LeT terrorists who killed Pandit in Budgam gunned down

A combined team of J&K police and Army gunned down two Pakistani terrorists of LeT in Kashmir's Bandipora district on Friday, and officers said those two had killed Kashmiri Pandit clerk Rahul Bhat at..




IndiaTimes - Published





J-K govt to form SIT to probe killing of Kashmiri Pandit, government job to be provided to his kin

Rahul Bhat was shot at and critically injured by militants in his office at Chadoora in Budgam district on Thursday.




DNA - Published





'Shameful, heavy-handed response': Batons, teargas used on Kashmiri Pandits protesting over Rahul Bhat killing

Kashmiri Pandits protesting over the killing of Rahul Bhat were met with teargas and batons by the Jammu and Kashmir Police.




DNA - Published





Reading Hanuman Chalisa, banning loudspeakers won't solve Kashmiri Pandits' issue, says Shiv Sena MP Sanjay Raut

Sanjay Raut's remarks came a day after a Kashmiri Pandit Rahul Bhatt was killed by terrorists in Jammu and Kashmir's Budgam district.




DNA - Published

Also reported by •IndiaTimes


Kashmiri Pandits block highway, stage protests against killing of Rahul Bhat in J-K's Budgam

After the killing of a Kashmiri Pandit in Budgam, the community took to the streets and staged protests to condemn the injustices against KPs.




DNA - Published





Terrorists kill Kashmiri Pandit in his chair at Chadoora tehsil office in Budgam




IndiaTimes - Published





Kashmiri Pandit government employee shot dead by militants in Jammu and Kashmir's Budgam

Kashmiri Pandit government employee sustained grievous injuries and was shifted to a hospital in Srinagar, where he succumbed to his injuries.




DNA - Published





Kashmiri Pandit employee shot dead inside govt office in J&K's Budgam

A government employee belonging to the Kashmir Pandit community was shot dead by suspected terrorists at his office in the Chadoora area of Budgam district of Jammu and Kashmir on Thursday, officials..




IndiaTimes - Published





Tajinder Bagga vows to fight continuously until Delhi CM Kejriwal apologises for his Kashmiri Pandit comments

Tajinder Pal Singh Bagga said that he will keep fighting until Delhi CM Arvind Kejriwal apologised for his comments on Kashmiri Pandits.




DNA - Published





Guru Tegh Bahadur gave life to protect Kashmiri Pandits: Amit Shah




IndiaTimes - Published





Kashmiri Pandit shopkeeper attacked by terrorists in J&K's Shopian

A Kashmiri Pandit shopkeeper was shot at by terrorists in the Shopian area of Jammu and Kashmir, according to Shopian Police.




DNA - Published





Terrorists fire upon Kashmiri Pandit shopkeeper in J&K's Shopian




IndiaTimes - Published





Kashmiri Pandits will be able to return to Valley soon: RSS chief




IndiaTimes - Published





RSS chief Mohan Bhagwat hopes for early return of Pandits to Kashmir valley

Rashtriya Swayamsevak Sangh (RSS) chief Mohan Bhagwat on Sunday expressed hope that the Kashmiri Pandits who were displaced from their homes in the 1990s after the onset of terrorism will soon return..




IndiaTimes - Published





Kashmiri Pandits celebrate New Year festival 'Navreh' after 32 years at the banks of Dal Lake

Navreh festival was organised by a Jammu-based theatre and cultural group called 'Vometh', which in Kashmiri means 'hope'.




DNA - Published





31 years on, trial begins against JKLF leader Bitta Karate after slain Kashmiri Pandit's kin moves court




IndiaTimes - Published





Allocate Rs 20,000 crore for rehabilitation of Kashmiri Pandits: AAP MP




IndiaTimes - Published





NGO moves Supreme Court for probe into Kashmiri Pandits' killing




IndiaTimes - Published





Delhi CM Arvind Kejriwal asks Vivek Agnihotri to put 'The Kashmir Files' on YouTube, know why

Delhi CM Arvind Kejriwal said that "he (Agnihotri) has earned crores in the name of Kashmiri Pandits and you are putting up posters on the walls".




DNA - Published