Palam
Suburb in South West Delhi, Delhi, India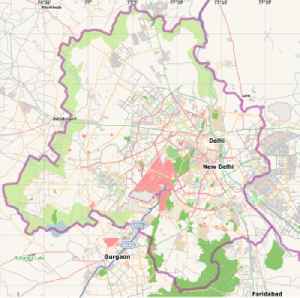 Palam is a major suburb and residential colony in South West Delhi. The Indira Gandhi International Airport, formerly known as Palam Airport, the main airport of National Capital Region is situated here. It is one of 70 Vidhan Sabha constituencies of the Delhi National Capital Territory in northern India.


Intensity of heat wave expected to reduce from May 28: IMD

India Meteorological Department Senior Scientist, Naresh Kumar informed that intensity of heat wave is likely to reduce from May 28. He said, "Heat wave to severe heat wave conditions prevail over many..
Credit: ANI Duration: 02:06
Published
Delhi feels the heat as temperature soars past 45 Degrees

Country is witnessing a rise in mercury, and the Delhiites, in particular, are having a tough time beating the heat as Palam area of the national capital reported temperature going above 45 Degrees..
Credit: ANI Duration: 01:16
Published
You Might Like
Monsoon covers whole of Maharashtra; hot, humid weather in most of North India
Safdarjung Observatory, which provides representative figures for Delhi, recorded a maximum of 40.8 degrees Celsius, which was a notch above the normal. The weather stations at Palam and Pusa recorded..
IndiaTimes - Published
Maximum temperature at Delhi's Palam continue to clock above 47 degree Celsius
A maximum temperature of 47.2? was recorded at Palam, slightly less than Tuesday's 47.6 degrees.
DNA - Published
Heatwave in several parts of north, west India; very heavy rainfall forecast for Assam, Meghalaya
Several parts of north and west India reeled under scorching heatwave with the temperature touching 50 degrees Celsius in Rajasthan's Churu district on Tuesday, even as the meteorological department..
IndiaTimes - Published
Mercury in Delhi crosses 47 degree Celsius-mark, records highest temperature of season
While the maximum temperature of 47.6? was recorded at Palam, the Safdarjung Observatory recorded a high of 46.0 degrees Celsius.
DNA - Published
Delhi Assembly Elections 2020: All you need to know about Palam Vidhan Sabha constituency
The constituency of Palam is a part of the South Delhi Lok Sabha constituency and lies in the South West Delhi district. The Indira Gandhi International (IGI) Airport lies in this area.
DNA - Published
Dense fog engulfs Delhi-NCR, flights, trains affected
The visibility was recorded at zero metres near Palam while it was around metres near Safdarjung.
DNA - Published
46 flights diverted as fog clouds runway in Delhi
The visibility was zero in Palam area.
DNA - Published
PM Modi returns home to rousing welcome, says 'respect for India has increased significantly in 5 years'
People in large number gathered outside Palam Technical Airport in Delhi to welcome Prime Minister Modi who returned home after a week-long visit.
DNA - Published
Intense dust storm hits Delhi-NCR, heavy rains likely
On Monday, Delhi witnessed its hottest day of June, with the mercury soaring to 48 degrees Celsius in Palam area.
DNA - Published