Union territory
A form of administrative division in India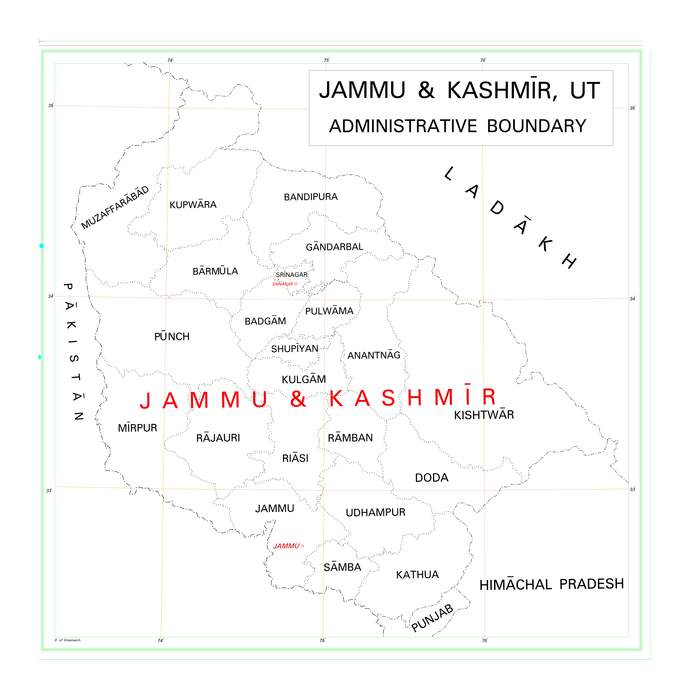 A union territory is a type of administrative division in the Republic of India. Unlike the states of India, which have their own governments, union territories are federal territories governed directly by the Central Government of India.


'Terrorists desperate to disrupt J&K's democratic process': Army chief

Army Chief General MM Naravane on Saturday said that terrorists across the border are making desperate attempts to infiltrate into the Union Territory of Jammu and Kashmir and disrupt normal democratic..
Credit: HT Digital Content Duration: 05:03
Published
DDC polls: Voting underway in J&K; first election after Article 370 abrogation

Voting is underway in Jammu and Kashmir for the first phase of District Development Councils (DDC) election. J&K goes to polls first time after the abrogation of Article 370. People were seen outside..
Credit: HT Digital Content Duration: 01:28
Published
Polling underway for first-ever DDC elections in JandK

Polling for the first phase of the first-ever elections for District Development Council (DDC) in JandK, began on November 28. People queued up outside Shamasabad polling station in Budgam. 43 out of..
Credit: ANI Duration: 01:34
Published
BSE, JandK Govt ink MoUs to spread financial awareness in UT

The Bombay Stock Exchange (BSE) signed four MoUs with Mission Youth, Government of JandK on November 27 in presence of Lieutenant Governor Manoj Sinha to spread financial awareness, support economic..
Credit: ANI Duration: 01:53
Published
JandK govt upgrading education infrastructure in Anantnag

In a bid to make education system stronger in Jammu and Kashmir, UT administration has started upgrading the educational infrastructure at Government Degree College Bijbehara of Anantnag in South..
Credit: ANI Duration: 02:50
Published
Whole world knows Ladakh is now UT: Tsering Namgyal on Twitter row

The whole world knows Ladakh has become union territory and people of Ladakh have accepted it, said Ladakh BJP president Jamyang Tsering Namgyal on November 14 after Twitter showed Leh as a part of..
Credit: ANI Duration: 01:10
Published
Budding artists come together for art exhibition in Kashmir Valley

Budding artists in Srinagar joined hands to put up an art exhibition, 'HARUD' in the Valley after relaxations in pandemic induced lockdown. The exhibition, organised in association with Union..
Credit: ANI Duration: 03:50
Published
Jammu and Kashmir 'Darbar Move': UT Administration starts functioning from Jammu

Civil Secretariat of Jammu and Kashmir administration opened in winter capital on November 09. Shifting of Union Territory capital from Srinagar to Jammu is nearly 150 years old tradition known as..
Credit: ANI Duration: 01:37
Published
'Lift ban on sale of firecrackers,' demands Chandigarh association

Chandigarh Firecrackers' Associations demonstrated against ban on sale of firecrackers ahead of Diwali. Union Territory administration banned sales on November 6. The decision was taken in the wake of..
Credit: ANI Duration: 01:48
Published
Jammu youths achieving new heights in football

Jammu youths are excelling in different sports and football is one of them. Many youngsters gathered at Sainik Colony ground to brush up their football skills. Interestingly, many of these youngsters..
Credit: ANI Duration: 04:18
Published
'Failed to solve issues': Mehbooba Mufti slams Centre over Kashmir, Article 370

Peoples' Democratic Party (PDP) president and former Jammu and Kashmir chief minister, Mehbooba Mufti held her first party meeting in Srinagar on Thursday, nine days after her release from a 14-month..
Credit: HT Digital Content Duration: 03:23
Published
'You want UT status or Article 370', asks MoS Reddy during rally in Leh

Union Minister of State for Home G Kishan Reddy addressed a public rally in Leh on October 18 where he asked the people of region if they want UT status of Article 370. He said, "Congress said they'll..
Credit: ANI Duration: 01:28
Published
Kashmiri football trick-shot artist makes India proud

A young Kashmiri is not just doing the Union Territory proud, but the country altogether by winning global praise for his jaw-dropping football trick shots, many of which are viral on social media...
Credit: ANI Duration: 02:48
Published
You Might Like



Polling begins for first phase of DDC elections in J&K

Polling for the first phase of the first-ever elections to the District Development Councils (DDCs) in Jammu and Kashmir began on Saturday morning. Forty-three out of 280 constituencies in the Union..




IndiaTimes - Published





Non-domicile subjects of Jammu & Kashmir are entitled to file RTIs related to UT: Jitendra Singh

Non-domicile or non-state subjects of Jammu and Kashmir are entitled to file RTI applications related to issues of the Union Territory (UT), Union Minister Jitendra Singh said on Sunday.




IndiaTimes - Published





BJP chief JP Nadda announces new team of state in-charges; Jay Panda, CT Ravi & Amit Malviya promoted

Months after appointing his core team and a day ahead of Diwali, BJP President JP Nadda on Friday appointed in-charges and co-incharges for states and Union Territories. There were four major..




DNA - Published





Twitter risks suspension over Leh map error

Social media giant Twitter runs the risk of facing suspension and even being blocked in India, with the government warning the company of legal consequences over the issue of showing Leh as part of..




IndiaTimes - Published





J&K's poll plunge as UT with first district development council vote from Nov 28




IndiaTimes - Published





Jammu lake where Arjun's son dug up water in Rs 200 cr plan

Jammu and Kashmir UT administration has embarked upon a Rs 200-crore religious-tourism project at Mansar Lake where water was first dug up by the son of Mahabharat's protagonist and skilled archer..




IndiaTimes - Published





Jammu and Kashmir marks first anniversary of becoming Union Territory, know more

On August 5, 2019, the Narendra Modi government made the monumental decision to change the status of Jammu and Kashmir and on October 31, it was accorded the UT status.




DNA - Published





Now, anyone can buy land in Kashmir, government notifies order

Any person from outside Jammu and Kashmir can now buy land in the Union Territory. Though the new laws were in the offing, they reflect the changed political and administrative landscape after Article..




IndiaTimes - Published





J&K Congress asks Mehbooba to desist from making 'provocative', 'irresponsible' remarks on national flag

Asking former Jammu and Kashmir chief minister Mehbooba Mufti to desist from making highly provocative and irresponsible remarks on the national flag, the Congress unit in the Union Territory on..




IndiaTimes - Published





School College Reopening News: Normal classes to resume in these states from next month for Class 6 to PG level students

Unlock 5.0 guidelines of the Ministry of Home Affairs have allowed schools to reopen after 15th October systematically. However, the final decision will be taken by the State Governments and Union..




DNA - Published





Farooq, Omar Abdullah meet Mehbooba Mufti, what does this mean for future of Kashmir

Mehbooba Mufti was released on Tuesday after 14 months of detention. Mehbooba Mufti was in custody since Jammu and Kashmir was declared a Union Territory on August 5 last year.




DNA - Published





Don't recognize 'illegally established' UT of Ladakh: China




IndiaTimes - Published





23 states, 8 UTs have abolished interview for govt jobs: Union minister Jitendra Singh

Union Minister Jitendra Singh said on Saturday that interview for recruitment in government jobs has been abolished in 23 states and eight Union Territories so far, according to a Personnel Ministry..




IndiaTimes - Published





China rakes up fresh controversy, says it does not recognise "illegal" UT Ladakh

Chinese Foreign Ministry Spokesperson Wang Wenbin while speaking to the Global Times, a mouthpiece of the administration in Beijing, stated that China doesn't recognise the Union Territory of Ladakh..




DNA - Published





Cosmetic exercise to camouflage Pakistan's illegal occupation: MEA on Gilgit-Baltistan elections

The ministry of external affairs while protesting the action said, "Action such as these can neither hide the illegal occupation of parts of Union Territories of Jammu & Kashmir and Ladakh by Pakistan..




DNA - Published





All efforts would be made to promote tourism in Ladakh: L-G Mathur

Asserting that tourism was the most adversely affected sector due to the outbreak of coronavirus pandemic across the globe, Ladakh Lieutenant Governor R K Mathur on Sunday said his administration would..




IndiaTimes - Published





Only 60 districts in 7 states are a cause of worry: PM Modi at Covid-19 review meet

Only 60 districts in seven states of the country are a cause of worry, said Prime Minister Narendra Modi on Wednesday while chairing a Covid-19 review meeting.The Prime Minister chaired a high-level..




IndiaTimes - Published





10 states, UTs reporting 74 per cent of new Covid-19 cases, 83 per cent of deaths

At least 10 states including Union Territories (UTs) are reporting 74 per cent of newer confirmed Covid-19 cases and 83 per cent of the deaths in the last 24 hours due to coronavirus infection, the..




IndiaTimes - Published





Turkish President Erdogan's remarks on J&K at UN 'completely unacceptable': India

"We have seen remarks by President of Turkey on Indian UT (Union Territory) of Jammu & Kashmir. They constitute gross interference in India's internal affairs and are completely unacceptable. Turkey..




IndiaTimes - Published





Lt Governor Manoj Sinha announces Rs 1350 cr economic package for Jammu and Kashmir

Lieutenant Governor Manoj Sinha on Saturday announced a relief package of Rs 1350 crore for Jammu and Kashmir in a bid to boost the business and the other ailing sectors that have suffered huge losses..




IndiaTimes - Published





Prakash Javadekar to chair webinar on International Day of Clean Air for Blue Skies on Monday

"The webinar will be joined by Principal Secretaries of Urban Development Departments and Environment Departments of 28 states and eight Union Territories. Commissioners of 122 cities as identified in..




IndiaTimes - Published





J&K Lockdown: New COVID-19 zones introduced for classification of districts

The Jammu and Kashmir administration issued a new COVID-19 classification of districts in the Union Territory into red, orange, and green categories for the purpose of implementing the lockdown, with..




DNA - Published





MHA notifies rules of transaction of business of J&K government

The Ministry of Home Affairs (MHA) has notified rules of Transaction of Business of the Government of Union territory of Jammu and Kashmir.




IndiaTimes - Published





J&K: IAF saves 7 people caught between floods in Kathua in 34 hours

Several parts of Jammu and Kashmir has been receiving heavy rains for the last few days, triggering landslides across the Union Territory.




DNA - Published





Centre asks states accounting for maximum Covid deaths in recent days to bring down fatalities below 1%

Amid rising concerns about increasing Covid-19 deaths in some states, the Centre has asked nine states and one Union Territory – that together contributed 89% of total Covid-19 casualties in the last..




IndiaTimes - Published





7 oppn CMs want NEET, JEE put off, will seek SC rethink

Six states and a Union Territory will petition the Supreme Court against the holding of NEET and JEE examinations from September 1, flagging concerns of a risk due to Covid infection and seeking a..




IndiaTimes - Published





Centre frames draft policy on data privacy under National Digital Health Mission

The draft policy mainly seeks to set out a framework for "secure processing of personal and sensitive personal data of individuals" who are a part of the national digital health ecosystem. Data..




IndiaTimes - Published





PRC holders too need domicile certificate for J&K jobs: Centre

Union minister Jitendra Singh on Sunday said Permanent Resident Certificate (PRC) holders will also need J&K domicile certificate in order to apply for jobs and to get other benefits in the Union..




IndiaTimes - Published





Covid-19: With one more death, toll rises to 19 in Ladakh

One more person died of Covid-19 in Ladakh, taking the death toll due to the infection in the Union Territory to 19, officials said on Saturday. The death was reported from Kargil district on Friday,..




IndiaTimes - Published





MHA pulls out 10k security personnel from J&K after 1 year

The home ministry on Wednesday ordered withdrawal of more than 10,000 security personnel from Jammu and Kashmir, brought to the erstwhile state before August 5 last year. The ministry had flown in at..




IndiaTimes - Published





Centre orders immediate withdrawal of 10,000 troops from J&K

The Centre has ordered "immediate" withdrawal of about 10,000 paramilitary forces personnel from the Union Territory of Jammu and Kashmir, officials said on Wednesday. They said the decision was taken..




IndiaTimes - Published





1858 roads of 11,517 km length, 84 bridges completed in Jammu & Kashmir under PMGSY

3,261 roads of the length of 19,277 km and 243 bridges have been sanctioned in Jammu and Kashmir, out of which 1858 roads of length 11,517 km and 84 bridges have been completed. As per the data..




DNA - Published





Coronavirus: Complete lockdown in Puducherry on Tuesdays; here are guidelines on what's open, what's not

Puducherry Chief Minister Narayanasamy on Monday announced total lockdown on a trial basis in the Union Territory tomorrow (August 18) in order to contain the spread of COVID-19.




DNA - Published





J&K: High-speed mobile data services restored on trial basis in Udhampur, Ganderbal

High-speed mobile data services have been restored on a trial basis in Ganderbal and Udhampur districts of Jammu and Kashmir from Sunday (today) for post-paid sim cardholders. The trial period which..




IndiaTimes - Published





Centre to set up Grievance Portal in each of 20 districts of Jammu and Kashmir

In a significant drive to strengthen the ongoing good governance initiatives in Jammu and Kashmir, Jitendra Singh and Lieutenant Governor of Jammu and Kashmir held a telephonic discussion on the plan..




DNA - Published





PM announces a solar park to fulfil dream of green Ladakh

The Prime Minister on Saturday set Ladakh on course to a carbon-neutral future and announced a 7,500MW solar park there, even as funding incentives are being lined up to energise the mega project at..




IndiaTimes - Published





Efforts on to make Ladakh carbon neutral: PM

Prime Minister Narendra Modi on Saturday said efforts are on to make the Union Territory of Ladakh a carbon-neutral region. Carbon neutrality means having a balance between emitting carbon and..




IndiaTimes - Published





Delimitation process underway in J&K, polls to be conducted soon: PM Modi

Prime Minister Narendra Modi on Saturday said that the 'delimitation process' is underway in Jammu and Kashmir and added that polls will be conducted soon in the Union Territory.




IndiaTimes - Published





Over three crore N95 masks, one crore PPE kits, ten crore HCQ distributed to states free of cost: Govt

Over 3.04 crore N95 masks, more than 1.28 crore PPE kits and over 10.83 crore HCQ tablets have been distributed among the States, Union Territories and central institutions, free of cost by the central..




IndiaTimes - Published





Situation not conducive to resume 4G internet services in J&K: Centre

The Union government told the Supreme Court on Tuesday that the persisting terror threat in Jammu and Kashmir would not allow resumption of 4G internet services in the Union Territory but agreed to..




IndiaTimes - Published





Govt plans to protect identity, language, land of J&K people

There will be measures for the protection of the identity, language and land of the people of Jammu and Kashmir, on the lines enjoyed by indigenous people in several states, and parliamentary approval..




IndiaTimes - Published





13 districts with high Covid-19 mortality told to address low testing, ensure timely hospitalisation

Thirteen districts in eight states and Union Territories reporting Covid-19 mortality higher than the national average were advised by the Centre on Saturday to address the issues of low testing and..




IndiaTimes - Published





Manoj Sinha surprise pick as new J&K LG

BJP veteran and former central minister Manoj Sinha was appointed lieutenant governor of Jammu & Kashmir in a surprise move after the abrupt exit of G C Murmu on Wednesday. ​​He will be the first..




IndiaTimes - Published





Pakistan map claims J&K, Ladakh, parts of Gujarat; India calls it 'political absurdity'

Seeking to raise the ante on the first anniversary of the revocation of Jammu and Kashmir's special status, the Imran Khan government on Tuesday released a new political map of Pakistan showing the..




IndiaTimes - Published





Dream fulfilled: A year of development and progress in Union Territory of Ladakh

As promised to the people of Ladakh, the Modi government granted UT status to Ladakh in the historic decision taken on the 5th of August besides initiative several development projects that aim to..




DNA - Published





3 more states join 'One Nation One Ration Card' scheme: JP Nadda

BJP chief JP Nadda on Saturday said that three more states - Manipur, Nagaland, Uttarakhand - along with the UT of J&K have joined the 'One Nation One Ration Card' scheme of the Centre. Nadda..




IndiaTimes - Published





Complete lockdown on weekends in Andaman and Nicobar Islands

The Andaman and Nicobar administration has decided to impose a complete lockdown on weekends beginning August 1 to contain the spread of coronavirus, an official said on Wednesday. The strict..




IndiaTimes - Published





BJP asks state units to organise events on one year of Article 370 abrogation, implementation of Triple Talaq Act

In August last year, the Centre revoked Article 370, which gave special status to the erstwhile state of Jammu and Kashmir and bifurcated the region into two Union Territories- Jammu and Kashmir, and..




IndiaTimes - Published





J&K HC asks SASB, govt to take decision on Amarnath Yatra

Jammu and Kashmir high court (HC) on Wednesday directed the Shri Amarnath Shrine Board (SASB) and the Union Territory administration to take a decision on the annual Amarnath Yatra taking into..




IndiaTimes - Published





PIL in J&K HC seeks to declare Hindi as official language of Union Territory

A public interest litigation (PIL) has been moved in Jammu and Kashmir High Court seeking directions to declare Hindi as the official language of the Union Territory claiming that the people of Jammu..




IndiaTimes - Published