Dibrugarh
City in Assam, India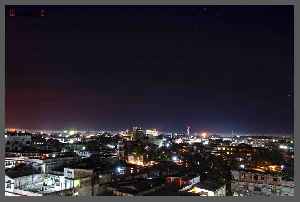 Dibrugarh is a town and is the headquarters of the Dibrugarh district in the state of Assam in India.


Durga Puja: No idol worship in Dibrugarh due to COVID

As celebration of Durga Puja has became a big challenge amid the COVID-19, Dibrugarh administration has decided to avoid idol worshipping this year. "Due to COVID-19 this year, we held a meeting idol..
Credit: ANI Duration: 02:54
Published
Assam Forest Dept caught leopard from tea garden in Dibrugarh

Forest department caught a leopard from a tea garden in Dibrugarh. According to officials, it is a female leopard and will release into a jungle after a clinical check-up. No reports of harm to..
Credit: ANI Duration: 01:02
Published
You Might Like



Assam flood situation worsens, 3.4 lakh affected in 14 districts

The flood situation in Assam deteriorated on Friday as vast areas of two more districts were inundated, affecting 1.70 lakh more people, the Assam State Disaster Management Authority (ASDMA) said in a..




IndiaTimes - Published





99 villages affected by floods in four districts of Assam

The four districts affected by floods are Dhemaji, Jorhat, Sivasagar and Dibrugarh.




DNA - Published





Passenger services resume, first two trains depart from New Delhi station

The New Delhi railway station, in the heart of the city, saw the departure of two special trains for Bilaspur and Dibrugarh, around 50 days after the nationwide lockdown caused suspension of all..




IndiaTimes - Published





Indian Railways to resume passenger train service from Tuesday

Initially with 15 pairs of trains will run, railway ministry said on Sunday. These trains will be run as special trains from New Delhi station connecting Dibrugarh, Agartala, Howrah, Patna, Bilaspur,..




IndiaTimes - Published





Railways passenger service to resume gradually from Tuesday

Initially with 15 pairs of trains will run, railway ministry said on Sunday. These trains will be run as special trains from New Delhi station connecting Dibrugarh, Agartala, Howrah, Patna, Bilaspur,..




IndiaTimes - Published





Special drills, flypast by forces on May 3 to express gratitude towards coronawarriors: CDS Bipin Rawat

Rawat said that the Air Force will conduct a flypast from Srinagar to Trivandrum & another one starting from Dibrugarh in Assam to Kutch in Gujarat. which will include both transport & fighter..




DNA - Published





Assam: Two explosions hit Dibrugarh; police launches investigation

The Assam police are investigating the matter.




DNA - Published





Four grenade explosions rock Assam

Four powerful grenade explosions -- three in Dibrugarh and one in Charaideo districts -- rocked Assam on Sunday morning as the country celebrated Republic Day, police said. In Dibrugarh district, an..




IndiaTimes - Published





Protests against CAA across Assam

Tens of thousands of people hit the streets across Assam on Tuesday at the call of AASU, Congress and several other groups to peacefully protest against the contentious Citizenship (Amendment) Act. The..




IndiaTimes - Published





Normalcy returns to Guwahati, curfew relaxed in Dibrugarh

Normalcy returned in Guwahati while the curfew imposed in Dibrugarh was relaxed for 14 hours since 6am on Wednesday. The curfew imposed in Guwahati, the gateway to the northeast, on December 11 in the..




IndiaTimes - Published





Assam Protests: Broadband restored, curfew relaxed in Guwahati, Dibrugarh; 190 arrested

The protests in Assam took a violent turn with agitators damaging public property by setting ablaze buses, tires and other vehicles.




DNA - Published





Anti-Citizenship Act protests: Curfew relaxed in Dibrugarh, Guwahati; internet to remain suspended

In Dibrugarh, the curfew has been relaxed from 7 am-4 pm today, and in Guwahati, it has been relaxed from 9 am-6 pm.




DNA - Published




CAB protest: Curfew relaxed in Assam's Guwahati, Dibrugarh till 1 pm; mobile internet remains suspended

The district administration on Thursday imposed indefinite curfew following massive protests against the Citizenship Amendment Bill 2019 which was passed in Rajya Sabha on Wednesday after its passage..




DNA - Published





FIRs lodged against NRC coordinator Prateek Hajela

Two FIRs have been lodged against Assam Coordinator of National Register of Citizens (NRC), Prateek Hajela, for "discrepancies" in the final updated list, police said on Thursday. A lawyer and..




IndiaTimes - Published





Dibrugarh: Junior doctors protest against killing of 73-year-old Dr Deben Dutta in Teok tea garden in Jorhat

Dr Dutta was allegedly beaten to death by a tea garden worker's family along with some others after the worker died during treatment at a hospital in Teok Tea Garden.




DNA - Published