Ram Nath Kovind
Indian politician, 14th president of India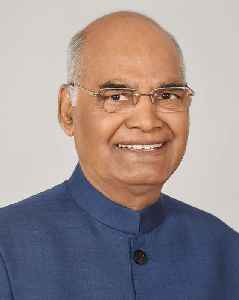 Ram Nath Kovind is an Indian politician currently serving as the 14th President of India, in office since 25 July 2017. Previously he had served as the Governor of Bihar from 2015 to 2017 and was a Member of Parliament, Rajya Sabha from 1994 to 2006. Kovind was nominated as a presidential candidate by the ruling NDA coalition and won the 2017 presidential election.


Goa's tallest leader Manohar Parrikar passes away
Goa Chief Minister Manohar Parrikar is no more, President Ram Nath Kovind tweeted on Sunday evening.
DNA - Published
Goa CM Manohar Parrikar loses battle to Cancer, dies at 63; President Kovind offers condolences
Earlier in the day, BJP core committee leader Dayanand Mandrekar had said Parrikar's health had deteriorated and the party may appoint a new leader soon to succeed Parrikar.
DNA - Published
Saudi Crown Prince begins India trip under shadow of Kashmir attack
Crown Prince of Saudi Arabia Mohammad Bin Salman kicks off his trip in India just days after an attack in Kashmir in which 40 paramilitary police were killed. Rough cut (no reporter narration).
Credit: Reuters Studio Duration: 00:44Published
President Ram Nath Kovind condoles the death of Goa CM Manohar Parrikar
IndiaTimes - Published
President Ram Nath Kovind confers Padma awards
IndiaTimes - Published
Gujarat: Support innovators, President Ram Nath Kovind asks entrepreneurs
The president Ram Nath Kovind on Friday advocated for support from entrepreneurs to innovators. He was addressing at an event 'FINE 2019', the Festival of Innovation and Entrepreneurship held at Gram..
DNA - Published
Use power of innovation to find solutions for country: President Ram Nath Kovind
IndiaTimes - Published
Gallantry Awards 2019: President Kovind honours armed forces personnel
President Ram Nath Kovind presented the Gallantry Awards and other distinguished service decorations at the Defence Investiture Ceremony held at Rashtrapati Bhavan in the national capital on Thursday.
DNA - Published
You Might Like