Government
System or group of people governing an organized community, often a state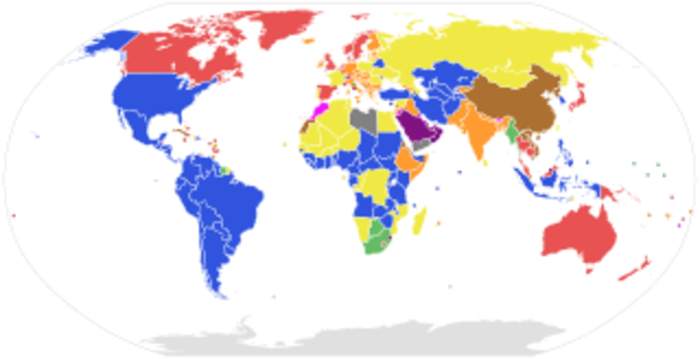 A government is the system or group of people governing an organized community, generally a state.


'It's Govt's failure': Priyanka Gandhi on 2nd wave of COVID

In an exclusive interview with ANI on April 21, Congress general secretary Priyanka Gandhi Vadra hit at Centre for not executing proper planning to fight with second wave of COVID-19 and called it..
Credit: ANI Duration: 03:28
Published
MP queries lack of BSL interpreter at Downing Street press conferences

Labour MP Vicky Foxcroft (Lewisham Deptford) signed her question to the Prime Minister, asking about sign language interpretation on Government press conferences.Then speaking her question, she asked:..
Credit: PA - Press Association STUDIO Duration: 00:45
Published
Section 144 in Maharashtra: What's open, what's not

As India continues to fight second wave of COIVD-19, Maharashtra has remained as the worst-hit state. State Government imposed section 144 for 15 days from April 14 8pm onwards. Public transport will..
Credit: ANI Duration: 02:13
Published
Coronavirus in numbers: UK deaths rise by seven

The Government said a further seven people had died within 28 days of testing positive for Covid-19 as of Sunday, bringing the UK total to 127,087.he Government also said that, as of 9am on Sunday,..
Credit: PA - Press Association STUDIO Duration: 00:37
Published
Tika Utsav: Govt running vaccination drive at 6,000 centres, says CM Yogi

Uttar Pradesh Government are running vaccination drive at 6,000 centres, eligible candidate should join 4-day Tika Utsav, said Chief Minister Yogi Adityanath. "Eligible people should join 4-day Tika..
Credit: ANI Duration: 02:11
Published
CM Mamata will resign after May 2: Dilip Ghosh

West Bengal president Dilip Ghosh reacted on violence during the polls in Cooch Behar during 4th phase of polling. He said that the state Chief Minister Mamata Banerjee will resign after May 2. "Amit..
Credit: ANI Duration: 01:27
Published
'Maharashtra Govt trying to avoid lockdown': Aslam Shaikh

Taking a serious note on lockdown, Maharashtra Minister Aslam Shaikh on Apr 10 said that the State Government is trying to avoid lockdown and enforced weekend lockdown but no effect seen on COVID..
Credit: ANI Duration: 01:05
Published
Govt will monitor COVID situation, no restriction on tourists in HP: CM Thakur

There is no restriction on tourists coming to Himachal Pradesh, government will monitor COVID-19 situation in the state, informed Chief Minister Jairam Thakur on April 10 . "Tourism and hotel industry..
Credit: ANI Duration: 02:47
Published
Covid vaccine | 'Personal vasooli...': Govt on states seeking age limit removal

Union health minister Harsh Vardhan hit out at state governments seeking widening of the Covid-19 vaccine net amid a surge in infections. He accused governments of states like Maharashtra and Delhi of..
Credit: HT Digital Content Duration: 05:30
Published
'Govt will welcome surrendered Naxals, but no option if…': Amit Shah

Union Home Minister Amit Shah asserted that the Central government will intensify the fight against Naxals. During his visit to Chhattisgarh's Bijapur district, Shah met CRPF personnel in Basguda CRPF..
Credit: HT Digital Content Duration: 03:32
Published
Pune temples closed, dine-in services at hotels restricted following spike in COVID cases

Due to surge in COVID-19 cases in Maharashtra, restrictions have been imposed in the state. Being the topmost district with most coronavirus cases, several restrictions have also been imposed in Pune...
Credit: ANI Duration: 02:22
Published
Govt rolls back decision to cut interest rates on small saving schemes

The government withdrew the order slashing rates for small saving schemes on Thursday. Announcement was made by Union finance minister Nirmala Sitharaman on Twitter. On Wednesday, the government cut..
Credit: HT Digital Content Duration: 01:47
Published
Deprived of basic amenities, Kerala tribals in hope of development

Development is still a farfetched dream for residents of remote tribal villages of Avanipara in Kerala's Pathanamthitta as they still lack basic amenities. Proper roads, clean water and sanitation..
Credit: ANI Duration: 02:21
Published
Distribute face masks to needy: CM Shivraj urges people

Madhya Pradesh Chief Minister Shivraj Singh Chouhan requested people, who are capable to distribute face masks among the underprivileged. "Govt will also try to distribute mask. I've asked women..
Credit: ANI Duration: 01:21
Published
Suvendu Adhikari: Speaking against Modi is speaking against Bharat Mata | Oneindia News

Shivraj Singh Chouhan gives TMC new abbreviation, calls it Terror, Murder, Corruption. Rahul Gandhi promises 365 daily to tea workers in Assam. Suvendu Adhikari says speaking against PM Modi is..
Credit: Oneindia Duration: 02:31
Published
Hundreds protest over Government's police Bill in central London

Hundreds of protesters gathered in Parliament Square on Tuesday evening to demonstrate against the Government's Police, Crime, Sentencing and Courts Bill.
Credit: PA - Press Association STUDIO Duration: 00:56
Published
Violence against women: Jess Phillips slams Government's plan for "police officers in skinny jeans"

Jess Phillips, shadow minister for domestic violence and safeguarding, speaks about the Government's proposed plans to keep women safe.She says ministers should slow the legislation down, after plans..
Credit: PA - Press Association STUDIO Duration: 00:52
Published
Tried to raise fuel prices issue in Parliament but govt didn't allow discussion: Kharge

While addressing a press conference in national capital on March 10, Congress leader Mallikarjun Kharge said that his party tried to raise the issue of rising fuel prices in the Parliament but the..
Credit: ANI Duration: 02:19
Published
You Might Like



Oxygen crisis: No power cuts, local interference at plants, Govt to covert nitrogen, argon tankers




IndiaTimes - Published





Covid-19: Govt aims to encourage demand-supply dynamic to allow wider vaccination

An urgent meeting chaired by Prime Minister Narendra Modi on Monday morning considered a set of options proposed by the government's expert group on vaccinations that was a sharp departure from the..




IndiaTimes - Published





Govt claims contrary to reality: Chidambaram

Congress leader P. Chidambaram on Sunday lashed out at the government for making claims 'contrary to the reality' in the country.




IndiaTimes - Published





1,189 samples have tested positive for variants of concern of Covid-19 in India: Govt




IndiaTimes - Published





Govt denies it is planning to scale back rapid COVID testing amid concerns over false positives

The government has denied it is planning to scale back rapid coronavirus testing after reports claimed senior officials are concerned about false positives.




Sky News - Published





Kerala COVID-19 news: Govt issues fresh restrictions - know what is allowed, what is not

The government has capped the number of guests for public events and restricted its timings. Shops have to close by 9 pm and goods to be delivered.




DNA - Published





Govt asks malls, airports to ensure no sale of non-BIS toys

The government's standards organization has asked all malls and airports to ensure no non-BIS certified toys are sold within their premises. Indian has banned the sale of non-BIS certified toys from..




IndiaTimes - Published





Covid-19: Govt to issue guidelines on AEFI treatment soon

The government is expected to soon issue guidelines on adverse events following immunisation (AEFI) that will help doctors as well as Covid-19 vaccine recipients to identify and treat unusual signs and..




IndiaTimes - Published





Govt refuses to confirm when foreign holidays can resume - as traffic light system unveiled

The government has refused to confirm whether foreign holidays will be permitted from 17 May - and where Britons will be able to travel without self-isolating on their return.




Sky News - Published





Supply of vaccines to other countries will continue: Govt




IndiaTimes - Published





Faceless schemes: Govt issues over 1 lakh tax orders




IndiaTimes - Published





Govt will continue fight against enemies of peace: Home minister Amit Shah




IndiaTimes - Published





COVID-19: Govt bans public celebration of Holi, Navratri and Shab-e-Barat in Delhi amid surge in cases

The ban comes on a day when Delhi saw its daily Covid tally rise sharply to 1,101 on Tuesday, as against 888 on Monday.




DNA - Published





Around 1.07 lakh posts lying vacant in armed forces: Govt data

In response to a question in Rajya Sabha, minister of state for defence Shripad Naik listed 79,349 positions of junior commissioned officers and other ranks as lying vacant while the number for..




IndiaTimes - Published





Govt failed to control Covid spread, must vaccinate all within months: Congress




IndiaTimes - Published





Govt wants to snatch farmers' future: Rahul on new agri laws

Stepping up his attack on the BJP-led Centre over the three new farms laws, Congress leader Rahul Gandhi on Sunday said the government wants to snatch the income and future of farmers for the benefit..




IndiaTimes - Published





Nearly 40k coronavirus cases in India: Govt

India saw 39,726 new coronavirus infections being reported in a day, the highest single day rise recorded so far this year, taking the nationwide Covid-19 tally to 1,15,14,331, according to Union..




IndiaTimes - Published





EC proposal to link electoral roll with the Aadhaar under consideration: Govt in Lok Sabha




IndiaTimes - Published





Govt makes it easier for users to get drinking water tested




IndiaTimes - Published





Govt plans major change in law to make tree felling easier




IndiaTimes - Published





Govt launches post-Brexit scheme allowing students to study and work anywhere in the world

A new exchange scheme enabling students to study or work anywhere in the world, replacing one withdrawn now the UK has left the European Union, is being launched by the government.




Sky News - Published





Over 4400 Facebook, Twitter URLs blocked in 2020: Govt

Minister of State for Electronics and IT Sanjay Dhotre said Section 69A of the IT Act, 2000 empowers the government to block any information generated, transmitted, received, stored or hosted in any..




IndiaTimes - Published





Farmers protest: Govt torturing 'annadata', says Rahul Gandhi

Congress leader Rahul Gandhi on Saturday once again criticised the Centre over the controversial farm laws, alleging that the government is torturing the farmers, who are fighting for their rights...




IndiaTimes - Published





Govt plans to blend ethanol with petrol - know how it will benefit farmers

40,000 crore of investment is supposed to come in these projects, creating numerous job opportunities directly & indirectly in these projects.




DNA - Published





Govt sees Covaxin efficacy as validation of its scientific process

The phase 3 results of Covaxin released on Wednesday showing 81% efficacy is seen by the government as a major validation of the scientific process and regulatory decision making while granting..




IndiaTimes - Published





Govt has no plan for reaching net zero by 2050, MPs warn

The government lacks a plan for achieving net zero greenhouse gas emissions by 2050 - despite setting the target almost two years ago, a group of MPs have warned.




Sky News - Published





Govt's silence indicates it is planning steps against farmers stir: Tikait

BKU leader Rakesh Tikait has claimed that the Centre's "silence" for the past few days indicates that it is planning some steps against the farmers' agitation over newly enacted agriculture laws. He..




IndiaTimes - Published





Rules for interim blocking of content not new: Govt on IT rules




IndiaTimes - Published





Only Motera stadium renamed after PM, complex continues to have Sardar Patel's name: Govt




IndiaTimes - Published





Govt announces free Covid-19 vaccination from March 1 for those above 60 yrs of age

The Union government on Wednesday announced that those people above 60 years of age and those above 45 years of age with comorbidities will be vaccinated free of cost at government centres from March..




IndiaTimes - Published





Govt ushered historic increase in MSP, doing everything possible to double farmers' income: PM Narendra Modi

On the completion of two years of the Pradhan Mantri Kisan Samman Nidhi, Prime Minister Narendra Modi on Wednesday said his government ushered a historic increase in the Minimum Support Price (MSP) for..




IndiaTimes - Published





Two new variants of SARS-CoV-2 not reason for surge in cases in Maha, Kerala: Govt

"Both the N440K and E484K variants of SARS-CoV-2 have been detected in Maharashtra. Three other mutated strains- one each from UK, South Africa and Brazil are already present in the country. But..




IndiaTimes - Published





Govt may review order on online science meets




IndiaTimes - Published





Govt is working for big business houses, not common man: Priyanka Gandhi




IndiaTimes - Published





Panel head 'linking' Char Dham project to floods baseless: Govt




IndiaTimes - Published





Govt makes fresh bid to rein in pesky callers, phone frauds




IndiaTimes - Published





Govt introduces Jammu and Kashmir Reorganisation (Amendment) Bill, 2021 in LS

A bill to replace an ordinance to merge the Jammu and Kashmir (J&K) cadre of civil services officers with the Arunachal Pradesh, Goa, Mizoram Union Territory (AGMUT) cadre was introduced in the Lok..




IndiaTimes - Published





Spent Rs 8cr on ads to bust farm bill myths: Govt to Rajya Sabha

Amid protests against farm laws, the Centre has spent nearly Rs 8 crore on advertisements and production of promotional films for clarifying contentious issues on the legislations ever since these were..




IndiaTimes - Published





Govt should shun its stubborn attitude: Naresh Tikait

When asked about the future course of action, the Bharatiya Kisan Union (BKU) leader said, "It all depends on the government. If it sheds its stubborn attitude and stops playing with the honour of..




IndiaTimes - Published





Govt will have to withdraw farm laws, even British could not stand before farmers: Rahul




IndiaTimes - Published





Left-wing extremism-related incidents down 47% between 2015-2020: Govt




IndiaTimes - Published





Agitating farmers not summoned by NIA: Govt tells Rajya Sabha

Farmers participating in the ongoing protests against newly enacted three agri laws were not summoned by the National Investigation Agency, the government told Rajya Sabha on Wednesday. Thousands of..




IndiaTimes - Published





Govt works to end China dependency on Li-ion batteries




IndiaTimes - Published





As vaccination drive picks up, Govt eyes to give shots to 50-plus group

The vaccination drive against Covid-19 is set to be ramped up, targeting a larger population group of around 26 crore people above 50 years soon as India is ready to face the tail-end of the pandemic,..




IndiaTimes - Published





Foreign funding licences of 20k NGOs cancelled since 2011: Govt




IndiaTimes - Published





Farmers' protests dominate Lok Sabha debate, Oppn asks Govt to repeal farm laws




IndiaTimes - Published





South Africa variant of coronavirus not found in India till now: Govt




IndiaTimes - Published





Govt denies setting up unit to profile journalists and block FOI requests

The government has denied setting up a "Clearing House" unit to profile journalists and undermine Freedom of Information requests, following a letter from newspaper editors demanding action.




Sky News - Published





Ban on Chinese firms: Govt says 92 companies registered in India, 80 actively doing business

Minister of State for Finance Anurag Thakur said that adequate rules are in place and all companies are required to ensure compliance with them.




DNA - Published





Govt overlooks glacier studies, claim experts

"We fail as scientists when the government overlooks our suggestions and assessments," Pradeep Srivastava, senior scientist at Wadia Institute of Himalayan Geology, who had led the 2017 study, told..




IndiaTimes - Published