Rs 700 crore investment fraud run by Chinese handlers busted in Hyderabad

Saturday, 22 July 2023
An over Rs 700-crore investment-cum-part-time job fraud run by Chinese handlers with alleged links to the Lebanon-based Hezbollah terror group was unearthed by the cybercrime wing of Hyderabad police on Saturday. The terror funding tip-off came from a crypto agency, which flagged suspicious bitcoin credits in wallets of the terror group, said police.
You Might Like
💡 newsR Knowledge: Other News Mentions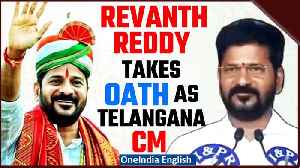 Congress Leader Revanth Reddy takes oath as Telangana Chief Minister at Hyderabad's LB Stadium

In a captivating ceremony at Hyderabad's LB Stadium, Congress leader Revanth Reddy becomes Telangana's Chief Minister. The oath of office, a moment of historical significance, is skillfully administered by the esteemed Governor, Tamilisai Soundararajan, adding a touch of grandeur to the unfolding political spectacle.Have a look at this historic event. #cmrevanthreddy #telanganacm #congress #hyderabad #revanthreddytelanganacm #revanthreddyoathceremony #revanthreddyoathceremonylive ~HT.178~ED.102~GR.125~
Credit: Oneindia Duration: 03:00
Published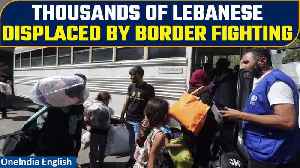 Israel-Hamas War: Thousands of Lebanese displaced, fear of death grows | Oneindia News

Hezbollah and the Israeli Army have been exchanging fire since the Israel-Hamas war began, putting lives of civilians in the active front at risk. Fear of death at the border grows as the smell of a larger conflict lingers. DW reports from the frontline in southern Lebanon. #IsraelHamasWar #LebaneseDisplaced #HamasWar #IsraelGazaWar #IsraelWarLebaneseDisplaced #GazaWar ~HT.178~PR.152~ED.103~GR.124~
Credit: Oneindia Duration: 03:46
Published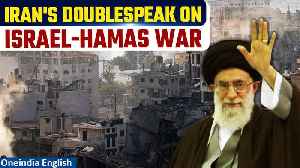 Iran Refrains from Joining Israel War, Affirms Political Support to Hamas| OneIndia News

Iran, after issuing threats for months, informed Hamas leader Ismail Haniyeh that it won't directly engage in the war against Israel. Despite ongoing support, Iran criticized Hamas for the lack of prior notice about the attacks. Hezbollah was caught off guard by Hamas's recent strike. Iran's shift from escalating the war to only offering political support surprises many, possibly influenced by the lack of consensus among Arab nations during a recent summit regarding severing ties with Israel. #Israel #Iran #IranHamas #Hamas #Gazawar #Gazastrip #Irannews #Worldnews #OneIndiaNews #OneIndianews ~HT.178~ED.103~GR.123~
Credit: Oneindia Duration: 02:11
Published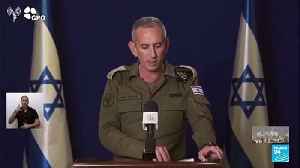 Attacks by Lebanon's Hezbollah group wound 7 Israeli troops, 10 others along border with Israel


Credit: FRANCE 24 English Duration: 01:42
Published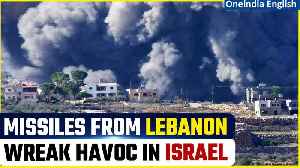 Israel War: Israeli jets strike South Lebanon after Hezbollah attack | Oneindia News

Israeli fighter jets pounded Hezbollah hideouts in southern Lebanon with air strikes on Sunday, after an incoming anti-tank missile wounded Israeli civilians near the border, the army said. #Israel #Hezbollah #Lebanon #Southlebanon #IsraelStrikesLebanon #IsraelHezbollahAttack #Gaza #IsraelvsGaza #IsraelGazaConflict #IsraelPalestineConflict #GazaPower #GazaPowerCut #GazaCompleteDarkness #GazaBlockaded #IsraelBlockadesGaza #GazaStrip ~PR.152~ED.194~GR.125~HT.96~
Credit: Oneindia Duration: 02:46
Published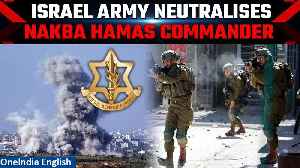 Gaza : IDF Neutralises Hamas Nakba Unit Commander Ahmed Musa | Oneindia News

The Israeli Defense Forces (IDF) have seized strategic Hamas positions, eliminating 150 militants as part of their ongoing operation. Thousands of Palestinians are reported to be fleeing the northern regions of Gaza in response. Gaza City, the primary target, is at the centre of Israel's efforts to suppress Hamas, sparked by the group's incursion into southern Israel on October 7, which triggered the current conflict now in its second month. #israel, #hamas, #gaza, #palestine, #israeldefenceforces, #benjaminnetanyahu, #idf, #mossad, #gazastr-ip, #westbank, #syria, #lebanon, #hezbollah, #iran, #pmnarendramodi ~HT.178~ED.103~GR.124~
Credit: Oneindia Duration: 03:19
Published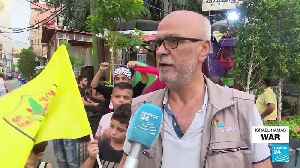 'Deeply wounded': Palestinian refugees in Lebanon watch suffering in Gaza from afar


Credit: FRANCE 24 English Duration: 02:18
Published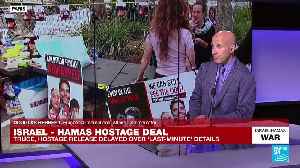 Israel, Hamas truce delayed: What consequences on the Israel-Lebanon tensions?


Credit: FRANCE 24 English Duration: 02:14
Published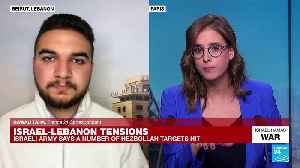 Israel - Hamas deal: 'There is a sense that this truce could be extended to southern Lebanon'


Credit: FRANCE 24 English Duration: 03:57
Published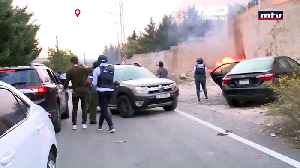 WATCH: This is the moment Lebanese journalists came under missile fire

Local Lebanese channel MTV Lebanon was reporting from Yaroun in south Lebanon when they were hit by a missile.
Credit: euronews (in English) Duration: 01:00
Published