Meet the cacao farmers who are raising India's craft chocolate game

Sunday, 10 September 2023
Manam, a craft chocolate brand in Hyderabad, India, is empowering farmers and promoting the origin of chocolate. The brand has a unique workshop-lab-store called Manam Karkhana, which showcases the cacao growing region of West Godavari through a giant screen and incorporates indigenous trees and leaves into its architecture. Chocolate bars from Manam have QR codes that allow customers to trace the chain of creation back to the farmer and plantation.
You Might Like
💡 newsR Knowledge: Other News Mentions
Related videos from verified sources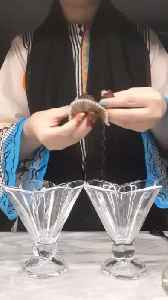 Indulge in the Irresistible Chocolate Dessert Delights!

These chocolate dessert recipes are not only mouthwatering but also visually appealing. We demonstrate creative plating and garnishing ideas to make your dishes look as good as they taste...
Credit: Rumble Duration: 00:46
Published
Related news from verified sources