Shehla Rashid
Indian student activist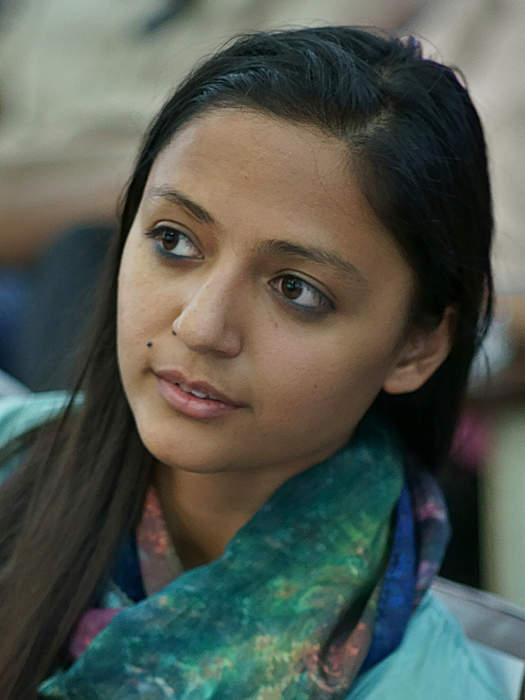 Shehla Rashid Shora is an Indian human rights student activist, currently pursuing a Ph.D. at Jawaharlal Nehru University. She was vice-president of the Jawaharlal Nehru University Students' Union (JNUSU) in 2015–16 and was a member of the All India Students Association (AISA). Shora rose in prominence whilst leading the student agitation calling for the release of Kanhaiya Kumar, Umar Khalid and others who were arrested on charges of sedition in February 2016 for participating and organizing in sloganeering.


You Might Like
Shehla Rashid hits back at father over 'anti-national' remark, calls him 'wife-beater'
Taking to microblogging website Twitter, Shehla called her father's statement 'absolutely disgusting and baseless'.
DNA - Published
Shehla Rashid's father alleges death threat from daughter, seeks funds probe
IndiaTimes - Published
Shehla Rashid involved in 'anti-national' activities, alleges father Abdul Rashid Shora
Shora wrote to the Jammu and Kashmir DGP alleging that his daughter Shehla took RS 3 crore in cash from notorious people to join Kashmir politics.
DNA - Published
Delhi court directs police to issue 10-day pre-arrest notice to Shehla Rashid, dismisses anticipatory bail
The activist had levelled a series of allegations on the situation in the Union Territory of Jammu and Kashmir after the Centre abrogated Article 370 on August 5.
DNA - Published
Sedition case: Give 10-day notice to Shehla Rashid before arresting her, court tells police
IndiaTimes - Published
Shehla Rashid announces decision to quit electoral politics, opposes BDC polls in J&K
Six months after her entry into mainstream politics, former JNU student leader Shehla Rashid on Wednesday announced her decision to quit electoral politics in Kashmir saying she can't be a party to..
IndiaTimes - Published
Shehla Rashid booked for sedition over false charges against Army
Rashid was booked for sedition on a criminal complaint by Supreme Court lawyer Alok Srivastav who had sought the arrest of Rashid.
DNA - Published
Also reported by •IndiaTimes
Sedition case against Shehla Rashid for tweets about Kashmir situation
IndiaTimes - Published
Sedition case against me frivolous, politically motivated: Shehla Rashid
Jammu and Kashmir People's Movement leader Shehla Rashid on Friday described the sedition case filed against her as "frivolous", "politically motivated" and a "pathetic attempt" to silence her.
IndiaTimes - Published
Shehla Rashid reasserts claims on J&K situation; says will give proof
IndiaTimes - Published
Shehla Rashid spreading fake news to incite violence in Jammu and Kashmir: Indian Army
The Army has rubbished these allegations in a statement, referring to her charges as "baseless".
DNA - Published