Kashmir Valley
Intermontane valley located in Indian-administered Jammu and Kashmir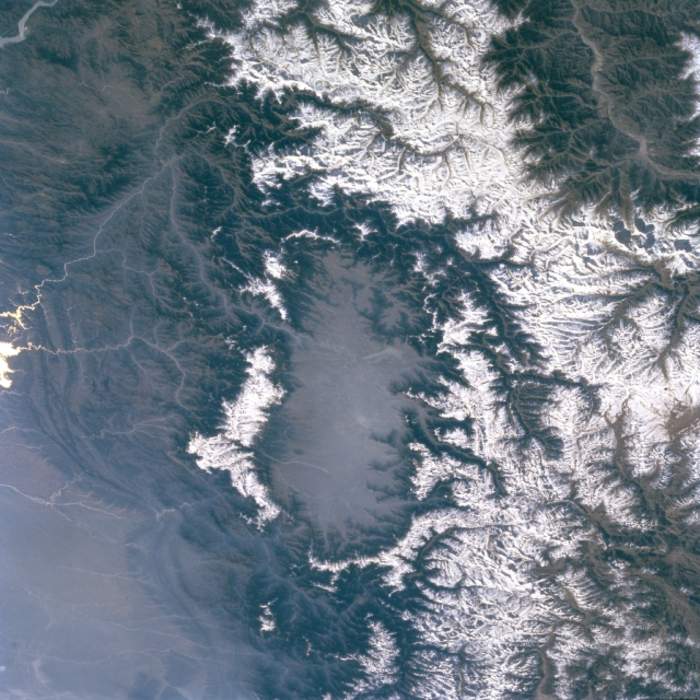 The Kashmir Valley, also known as the Vale of Kashmir, is an intermontane valley in Kashmir; it is in the portion of the Kashmir region administered by India. The valley is bounded on the southwest by the Pir Panjal Range and on the northeast by the main Himalayas range. It is approximately 135 km (84 mi) long and 32 km (20 mi) wide, and drained by the Jhelum River.


Florists prepare for spring season in Srinagar

As the winter season nears end in the Valley, florists gear up for preparations of saplings. Kashmir valley is blessed with rich flora and fauna. Valley comes alive during springs as beautiful flowers..
Urs of Sufi saint Hazrat Ahmad Sahab celebrated in Srinagar

The Kashmir Valley which is known for being the 'Pir Waer' meaning 'Alcove of Sufis and Saints. Sufis all over the world have made their mark in history for serving the humanity in general. The annual..
Credit: ANI Duration: 01:12
Published
Volleyball played indoors for the first time in Srinagar

In a bid to promote sports activities in the Kashmir Valley, Jammu and Kashmir Sports Council (JKSC) has opened an indoor volleyball facility for the first time at Indoor Sports Hall Polo Ground in..
Credit: ANI Duration: 02:46
Published
First ever Ice-Cricket championship in Srinagar brings new hope

The first-ever Ice-Cricket championship was organised in Srinagar by the Super Seven Cricket Association of Jammu and Kashmir under the guidelines of the Super Seven Federation of India. Braving heavy..
Credit: ANI Duration: 02:52
Published
Heavy snowfall disrupts normal life in Kashmir Valley

Heavy snowfall disrupted normal life in Srinagar on January 23. It is making it difficult for the residents to walk or use vehicles on the snow-covered roads. On the other hand, JandK's Poonch district..
Credit: ANI Duration: 02:55
Published
Taekwondo championship held to promote sport activities in Kashmir

To promote the young budding players in Kashmir Valley, a state-level Taekwondo kids' championship was organized in Srinagar on 22-23 January. The championship was organized by a local NGO, Sunrise in..
Credit: ANI Duration: 02:12
Published
Training to handle disaster emergencies held in Srinagar

Civil defence experts trained volunteers and locals on how to handle emergency situations such as fires, earthquakes, and snow avalanches at a training programme in the Kashmir valley. The training..
Credit: ANI Duration: 02:46
Published
Army organises J and K's biggest talent hunt-cum-music concert

Indian Army organised Jammu and Kashmir's biggest talent hunt-cum-music concert show ''SHAURYA'' at Sher-i-Kashmir International Conference Centre (SKICC) in Srinagar on January 18. Famous Bollywood..
Credit: ANI Duration: 01:17
Published
Traditional fire-pot 'Kangri' sales go up as cold grips Kashmir Valley

The traditional fire-pot locally known as "Kangri" sales goes up as cold wave grips in Kashmir Valley. Made from the dried twigs of willow trees and a round earthen pot, there has been a surge in the..
Credit: ANI Duration: 03:02
Published
Kashmiri singers train youngsters in singing, music

So many youngsters in Jammu and Kashmir are interested in singing and want to become a singer but no platform is available in Kashmir Valley. Hence, some well known singers of the Kashmir Valley came..
Credit: ANI Duration: 02:26
Published
First hallmarking centre opens up in Kashmir Valley

The first centre for gold assaying and hallmarking, Kashmir Hallmarking Centre was set up in the Kashmir Valley on January 10. The Bureau of Indian Standards (BIS), a national standards body of India,..
Credit: ANI Duration: 03:38
Published
Dry vegetables 'Hokh Syun' in demand amid freezing winter in Kashmir

The Kashmir Valley is freezing under cold weather and in such harsh winter, dry vegetables 'Hokh Syun' are on great demand. Using dry vegetables during harsh winter is one of the centuries' old..
Credit: ANI Duration: 02:27
Published
Dal Lake partially freezes as temperature dips in Srinagar

With heavy snowfall this season, cold waves have gripped the Kashmir Valley. It led to the partial freezing of Dal Lake at the beginning of the season. Temperatures plummeted across the Valley as parts..
Credit: ANI Duration: 02:12
Published
You Might Like



India, Pak agree to halt cross-border firing: NC, PDP & Hurriyat all welcome move

Mainstream politicians in J&K, as well as the separatist All Parties Hurriyat Conference, have all lauded the mutual agreement between India and Pakistan to defuse tensions in Kashmir Valley with a..




IndiaTimes - Published





Train services resume in Kashmir Valley after 11 months




IndiaTimes - Published





Terrorist groups, their handlers trying to shift focus from Kashmir valley to Jammu: Jitendra Singh




IndiaTimes - Published





Security tightened in Kashmir Valley ahead of R-Day

Security has been beefed up in Srinagar and other places in Kashmir ahead of the Republic Day on Tuesday as forces have been deployed in massive numbers around the venues of the January 26 functions..




IndiaTimes - Published





Mercury falls below freezing point across Kashmir Valley

Srinagar city - the summer capital of Jammu and Kashmir - recorded a low of minus 7 degrees, up from minus 6 degrees Celsius the previous night, a MeT official said.




IndiaTimes - Published





Cold wave sweeps Kashmir; several places record sub-zero temps

Several water bodies, including the surface of the famous Dal Lake here, have frozen, while a thick layer of ice has formed on several roads in Srinagar and other parts of the Kashmir Valley, affecting..




IndiaTimes - Published





Pakistan continues to instigate youth from Kashmir into terrorism: GOC Chinar Corps

Lieutenant General BS Raju, General Officer Commander (GOC), Chinar Corps, on Sunday said that Pakistan continues to instigate youth from Kashmir Valley into terrorism by various means, indoctrinates..




IndiaTimes - Published





J&K receives 1.46 lakh doses of coronavirus vaccine

Jammu and Kashmir on Wednesday received the first consignment of 1.46 lakh doses of coronavirus vaccine from Pune-based Serum Institute of India (SII), officials said. While 79,000 doses were received..




IndiaTimes - Published





Cold wave intensifies in Kashmir, Gulmarg records minus 7.2 degree celsius

The weather has remained dry and cold across Kashmir since the snowfall on December 12, with the night temperature staying several degrees below the freezing point, the officials of meteorological..




IndiaTimes - Published





Jammu & Kashmir DDC election results: Key takeaways

The first-ever District Development Council (DDC) elections in the Union territory of Jammu and Kashmir have sprung several surprises. Except for a couple of outcomes which were on expected lines, the..




IndiaTimes - Published





Jammu & Kashmir DDC election results: Gupkar alliance wins 97 seats, BJP 70 in district polls

The People's Alliance for Gupkar Declaration (PAGD), a conglomeration of seven parties, on Tuesday took a significant lead in the first-ever District Development Council (DDC) elections in Jammu and..




IndiaTimes - Published





Jammu & Kashmir DDC election results: Why poll outcome is big boost for Centre

The celebrations that broke out in J&K, particularly in Kashmir Valley, over results of district development council (DDC) polls were a far cry from past elections which were marked by allegations of..




IndiaTimes - Published





J&K DDC elections: Gupkar alliance savour comprehensive triumph, BJP off the mark in Kashmir

On expected lines, the PAGD has bagged most of the seats from the Kashmir valley while BJP has fared well in its traditional bastion of Jammu.




DNA - Published





Season's first snowfall lashes plains of Kashmir Valley; major highways closed

All major highways including the Srinagar-Jammu, Srinagar-Leh and the Mughal Road are closed for traffic on Saturday.




DNA - Published





48.62% turnout in second phase of DDC polls in Jammu and Kashmir

The second phase of polling in the District Development Council (DDC) elections in Jammu and Kashmir on Tuesday passed off peacefuly and saw 48.62 percent turnout. While the Jammu region witnessed..




IndiaTimes - Published





Srinagar observes coldest night of season, minimum settles at minus 3.7°C

Some popular tourist destinations in the Kashmir valley also saw the night temperature plummet and settle below the freezing point.




DNA - Published





In bid to wipe out terrorism from Kashmir, security forces prepare list of 7 top terrorists

After the encounter of top Hizbul Mujahideen commanders Riyaz Naikoo and Doctor Saifullah, the security forces are now planning to launch operations with other top terrorist commanders present in..




DNA - Published





People in Kashmir unaffected by Pakistan's false propaganda: Srinagar Corps chief

Lt Gen B.S. Raju, who heads the Srinagar-headquartered 15 Corps, told IANS that the situation in the Kashmir Valley is normal and Pakistan is not happy about it and "propagating false narratives about..




DNA - Published





'Contact tracing' helping Army wean youths away from terrorism: Lt Gen Raju

"Contact tracing" is the new strategy being adopted by the Army in terror-hit Kashmir Valley and under it, friends and relatives of local terrorist recruits or those killed in encounters are located..




IndiaTimes - Published





India considers resettling Kashmiri youth who give up arms

India is considering offering young Kashmiri militants an escape from a life of violence by temporarily resettling them in more peaceful parts of the country, according to the top military commander in..




IndiaTimes - Published





Chenab rail bridge to be ready by next year

The world's highest railway bridge, over river Chenab in Jammu and Kashmir, will be ready by next year, and will connect the Kashmir Valley with the rest of India by train for the first time by 2022,..




IndiaTimes - Published





Muslims in Kashmir Valley offer Eid prayers while maintaining social distancing

Concertina wires and barricades were placed at many intersections in the city to prevent free movement of people, they said. People preferred to offer Eid prayers at home -- either individually or in..




IndiaTimes - Published





No resident of Srinagar active in terror ranks: Kashmir Zone Police

Yesterday two terrorists of the Lashkar-e-Taiba (LeT) were gunned down in an encounter. The slain terrorists included Ishfaq Rashid Khan, resident of Srinagar, while the other was from the Pulwama..




DNA - Published





'Reorganisation of J&K resulted in near-total alienation of people of the Kashmir valley'




IndiaTimes - Published





Order for increasing LPG stock in Kashmir Valley issued in view of monsoon: Official

A government order asking oil marketing companies to stock up two months' supply of LPG cylinders in Kashmir Valley has sparked speculations, especially in the wake of the LAC face-off, with Omar..




IndiaTimes - Published





Govt order to companies for stocking up 2 months' LPG supply in Kashmir sparks speculations

A government order asking oil marketing companies to stock up two months' supply of LPG cylinders in Kashmir Valley has sparked speculations, especially in the wake of the LAC face-off, with NC leader..




IndiaTimes - Published





Kashmir valley set to get its first multiplex




IndiaTimes - Published





Pakistan will try to infiltrate more terrorists into J&K in view of Ladakh standoff: DGP

J&K police chief Dilbag Singh warned that Pakistan will try to infiltrate more terrorists and also give impetus to violence in the Kashmir Valley and elsewhere in view of the standoff between the..




IndiaTimes - Published





Operation Sadbhavana: Indian Army distributes relief items to needy in Kashmir Valley

The Indian Army under Operation Sadbhavana has started disturbing relief and items among the poor people living in border areas of Kashmir Valley amid the coronavirus-induced lockdown. People living in..




IndiaTimes - Published





CRPF gets over 40,000 bullet proof jackets, 170 armoured vehicles for Kashmir, LWE theatres

Over 40,000 bullet proof jackets and 170 armoured troop carriers have been sanctioned by the Union home ministry for the CRPF for use in counter-terrorist operations in the Kashmir valley and..




IndiaTimes - Published





'Unprofessional' Chinese Army used sticks, clubs with barbed wires and stones in face-off near Pangong Tso

"The behaviour of the Chinese has been like the Pakistan-backed stone-pelters who use stones and sticks to target Indian security forces in the Kashmir valley. The Chinese troops came armed with..




IndiaTimes - Published





Kashmir reports 30 fresh Covid-19 cases, J&K tally rises to 823

Thirty people tested positive for coronavirus in Jammu and Kashmir on Friday, taking the number of cases to 823, officials said. All the new cases are reported from the Kashmir Valley, they said.




IndiaTimes - Published





'Dr Saifullah' of Wani gang may head Hizb now

As many as 27 operations were launched against terrorists in the Kashmir Valley with 64 of them being eliminated, including Hizb-ul-Mujahideen commander Riyaz Naikoo, inspector general of J&K police..




IndiaTimes - Published





Army chief reviews security situation along LOC in Kashmir

Army chief General M M Naravane reviewed the security situation along the Line of Control in the Kashmir Valley on Friday, a defence spokesperson said here.




IndiaTimes - Published

Also reported by •DNA


Coronavirus: Restrictions in Kashmir Valley tightened




IndiaTimes - Published





Pakistan readying hundreds of terrorists for infiltration across LoC: Sources

The Jaish terror commanders who operated from Kashmir valley are almost exhausted now. Therefore Pakistan is trying to push a large number of new terrorists in Jammu and Kashmir at the earliest.




DNA - Published





Remain alert, be prepared for any security challenge: Gen Naravane to troops in Kashmir

Army chief General M M Naravane on Wednesday exhorted the troops deployed along the Line of Control in the Kashmir Valley to remain alert and be prepared to meet any emerging security challenge.




IndiaTimes - Published





Schools across Kashmir Valley re-open today after 3 months




IndiaTimes - Published





2G internet services snapped in Kashmir in view of JKLF founder's death anniversary

2G mobile internet services were snapped in the Kashmir Valley on Tuesday as a precautionary measure in view of the death anniversary of Jammu Kashmir Liberation Front (JKLF) founder Maqbool Bhat.




IndiaTimes - Published





Arrested terrorist ferried Jaish terrorists in December 2019 too: Officials

Hailing from Kakpora area of Pulwama district in South Kashmir, Sameer confessed he had been successful in ferrying JeM terrorists to the Kashmir Valley last year and dropped them to Pulwama, the..




IndiaTimes - Published





Republic Day: J&K Police gets max 108 gallantry medals, CRPF 76

The Union Territory police, thickly involved in counter-terrorism operations in the Kashmir Valley, has also bagged three top President's Police Medal for Gallantry (PPMG) while one has been accorded..




IndiaTimes - Published





2G mobile internet services restored in Kashmir from midnight

After remaining shut for more than five months, 2G mobile internet services on postpaid as well as prepaid phones will be restored in the Kashmir Valley from Saturday but can only be used to access 301..




IndiaTimes - Published





Cold wave continues in north India, rains in Himachal and UP

Cold wave conditions persisted in most parts of north India on Saturday with many places in Himachal Pradesh and Uttar Pradesh receiving rains, while the Kashmir Valley and Ladakh reeled under sub-zero..




IndiaTimes - Published





J&K cites terror threat as reason to not resume internet in Kashmir Valley




IndiaTimes - Published





Five soldiers collapse due to avalanches in different parts of Kashmir and Ladakh; several personnel rescued

Over the past 48 hours, there has been unprecedented heavy snowfall in the higher reaches of the Kashmir valley.




DNA - Published




SC's observations on internet access happy news, say people in Kashmir Valley

The Supreme Court's observation on Friday that access to internet is a fundamental right has come as happy news for people in the Kashmir Valley with many expressing the hope that services will be..




IndiaTimes - Published





Indefinite internet ban abuse of power, review all restrictions in J&K within seven days: SC orders Centre

Six months after a complete lockdown on data services in the Kashmir valley, the Supreme Court on Friday ordered the Centre to review all the restrictions in the valley within seven days.




DNA - Published




SC orders restoration of essential internet services in Kashmir

Six months after a complete lockdown on data services in the Kashmir valley, the Supreme Court on Friday ordered the restoration on internet for essential services such as e-banking.




DNA - Published





Kashmir Valley to be linked with rest of India by next yr: Konkan Rlys




IndiaTimes - Published





SMS services restored in Kashmir Valley

All mobile networks and landline connections were suspended across Jammu and Kashmir on August 5, in view of security concerns in the region following the Centre's decision to abrogate Article 370 that..




IndiaTimes - Published