B. S. Yediyurappa
19th Chief Minister of Karnataka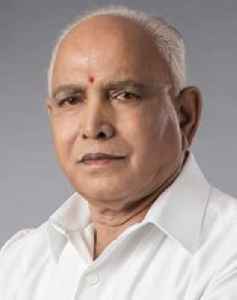 Bookanakere Siddalingappa Yediyurappa is an Indian politician who is the Chief Minister of Karnataka and the Karnataka state president of BJP. Yediyurappa is serving as the Chief Minister of Karnataka for the fourth time, the only Chief Minister to do so in the history of Karnataka.


BS Yediyurappa orders CBI probe into snooping case
However, reacting to the announcement, state's former chief minister HD Kumaraswamy said on Sunday that he was ready for a probe by even an international agency
DNA - Published
Hope BJP won't use CBI to unleash political vendetta: Siddaramaiah
"I welcome the decision of BS Yediyurappa to hand over the phone tapping case to CBI. But, in the past, BJP has used CBI as its puppet to unleash its venomous political vendetta. Hope BJP Karnataka..
DNA - Published
No plans to stop pro-people scheme, clarifies Karnataka CM
Karnataka Chief Minister B.S. Yediyurappa on Saturday said that his government has no plans to stop any "pro-people schemes" including Anna Bhagya.
DNA - Published
12-year-old Karnataka boy awarded for guiding ambulance cross flooded bridge
Nearly 60,000 houses have been destroyed due to the natural calamity and state's Chief Minister BS Yediyurappa has announced compensation of Rs 5 lakh for the family members of those who died.
DNA - Published
No ministers even 18 days after BSY became CM, dismiss government: Congress
"Its been 18 days ever since Yediyurappa took over. Yet there is no council of ministers formed whereas the Constitution says the governor has to act on the aid and advise of the council of ministers,"..
IndiaTimes - Published
Karnataka floods: Yediyurappa urges Centre to immediately release Rs 10, 000 crore
Yediyurappa, who was in Shivamogga to review the situation in the city, said he is going New Delhi on August 16 to meet Prime Minister Narendra Modi to discuss the situation
DNA - Published
Also reported by •IndiaTimes
Karnataka floods: Yediyurappa announces Rs 5 lakh ex gratia for those who lost houses in Dakshina Kannada district
Yediyurappa also announced Rs 10,000 as emergency relief to those affected by the deluge.
DNA - Published
Home minister Amit Shah to conduct aerial survey of flood-hit Karnataka
Union Home Minister Amit Shah will conduct an aerial survey of flood affected areas in Belagavi district and Chief Minister B S Yediyurappa will join him in the exercise. An official release said the..
IndiaTimes - Published
You Might Like