Islamabad
Capital of Pakistan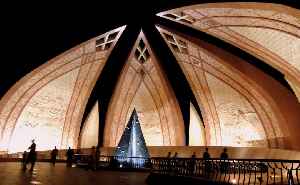 Islamabad is the capital city of Pakistan, and is federally administered as part of the Islamabad Capital Territory. Built as a planned city in the 1960s to replace Karachi as Pakistan's capital, Islamabad is noted for its high standards of living, safety, and abundant greenery.


Pakistan foreign minister says trust must be rebuilt with Afghanistan
Pakistan's Foreign Minister Shah Mahmood Qureshi on Saturday called for trust to be rebuilt between Islamabad and Kabul as Pakistan began a new initiative to bolster a faltering peace process aiming to..
Reuters - Published
Pak on FATF greylist: India asks Islamabad to take credible & irreversible action on terror
New Delhi said it expects Islamabad to take "credible, verifiable, irreversible & sustainable measures" on the "global concerns" related to "terrorism and terrorist financing" emanating from any..
DNA - Published
Qatar and Pakistan hold talks in Islamabad
Prime Minister Imran Khan's office says Qatar will invest $22bn in Pakistan, a welcome relief for the struggling economy.
Credit: Al Jazeera STUDIO Duration: 02:59Published
Pakistan PM Khan Congratulates India's Modi On Election Victory
Pakistani Prime Minister Imran Khan attends a meeting with Chinese Premier Li Keqiang, not pictured, on April 28, 2019 at the Diaoyutai State Guesthouse in Beijing, China. Parker Song/Pool via REUTERS..
Credit: Wochit News Duration: 00:45Published
'No change in stand': India trashes Pakistan reports on talks
India dismissed on Thursday as "fake news" the suggestion in Pakistan media that it was looking to resume talks with the neighbour and asserted that there was no dilution of its position that Islamabad..
IndiaTimes - Published
India rejects claims of having agreed to hold talks with Pakistan
India on Thursday rejected claims of having responded to Islamabad's call for dialogue and clarified that New Delhi seeks normal and cooperative relations with all neighbours, including Pakistan. "As..
IndiaTimes - Published
Blogger, journalist known for criticising Pakistan military, ISI hacked to death in Islamabad; #Justice4MuhammadBilalKhan trends on Twitter
A 22-year-old blogger and journalist from Pakistan known for criticising the country's powerful military and the spy agency ISI was hacked to death by an unidentified men
Firstpost - Published
Search this site and the web:
You Might Like