Islamabad
Capital of Pakistan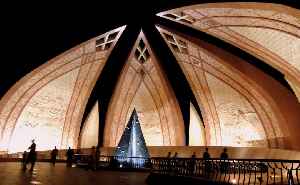 Islamabad is the capital city of Pakistan, and is federally administered as part of the Islamabad Capital Territory. Islamabad is the ninth largest city in Pakistan, while the larger Islamabad-Rawalpindi metropolitan area is the country's fourth largest with a population of about 3.1 million.


'Absurd', 'obsessed': India slams Pakistan over map claiming Gujarat, J&K parts

India launched a stinging attack on the Pakistan government over its new political map. Ministry of External Affairs SPokesperson Anurag Srivastava said that the claims made by Pakistan are absurd and..
Credit: HT Digital Content Duration: 02:15
Published
Prominent Pakistani journalist 'goes missing' in Islamabad

Matiullah Jan, known for his criticism of Pakistan's powerful military, was last seen outside a school in the capital.
Credit: Al Jazeera STUDIO Duration: 06:06
Published
Prominent Pakistani journalist Matiullah Jan goes missing

Prominent journalist Matiullah Jan, who is known for raising his voice against Pakistani establishment, has reportedly gone missing from Islamabad on July 21. The incident took place hours after he..
Credit: ANI Duration: 01:15
Published
India yet to hear from officials who met Kulbhushan Jadhav for 2nd consular access: MEA

Pakistan has provided second consular access to Kulbhushan Jadhav on July 16. According to Pakistan's Ministry of Foreign Affairs, two consular officers of the Indian High Commission in Islamabad were..
Credit: ANI Duration: 01:05
Published
Hindus protest outside Pak Embassy in Kathmandu over temple construction in Islamabad

Members of Hindu Civic Society staged a protest in front of Pakistan Embassy in Nepal's capital Kathmandu against atrocities over Hindu minority. The protestors held placards during the demonstration..
Credit: ANI Duration: 01:05
Published
At least three dead after gunmen attack Karachi stock exchange

Police officers have been examining the scene of the Pakistan Stock Exchange, after gunmen opened fire on the financial centre killing at least three people.Among the dead are two guards and a..
Credit: PA - Press Association STUDIO Duration: 00:55
Published
Officials of Indian Embassy in Pakistan return to India

Five officials of the Indian Embassy in Pakistan, including the two who were abducted and tortured by Pakistan security agencies, return to India via the Attari-Wagah border in Amritsar on June 22...
Credit: ANI Duration: 01:20
Published
Baloch activists hold anti-Pakistan protest in Canada for human rights violations in Balochistan

Baloch political and human rights activists gathered in Toronto on Sunday to protest against Pakistan and China for gross human rights violations in Balochistan. The protest was held under the aegis of..
Credit: ANI Duration: 02:24
Published
Pakistan's Charge d' Affaires summoned by MEA for abduction of Indian officials

Charge d' Affaires of High Commission of Pakistan, Haider Shah, was summoned on June 16. He was summoned and also a strong protest was lodged on the issue of the abduction and torture of two officials..
Credit: ANI Duration: 01:14
Published
2 arrested Indian officials released by Pakistan authorities: Sources

The sources have confirmed that the two officials of Indian High Commission were released by Pakistan authorities on June 15. They are back at the Indian High Commission in Islamabad. They went missing..
Credit: ANI Duration: 01:19
Published
You Might Like



Indus Water Treaty meeting: India suggests video conference, Pakistan insists on talks at Attari border

India has suggested to Pakistan that the talks for discussing pending issues under the Indus Water Treaty (IWT) be held through video-conferencing in view of the coronavirus pandemic, but Islamabad has..




IndiaTimes - Published





Don't incite communal strife, India tells Pak

After a press statement by Pakistan criticising construction of the Ram temple, India on Thursday warned Islamabad against communal incitement. The government also said Pakistan's position wasn't..




IndiaTimes - Published





Pakistan claims it asked India to appoint counsel for Kulbhushan Jadhav

Pakistan on Thursday claimed that it has asked India through diplomatic channels to appoint a counsel for death row prisoner Kulbhushan Jadhav, but New Delhi said that Islamabad has not yet..




IndiaTimes - Published





Have not received any communication from Pakistan on Kulbhushan Jadhav case: MEA

"We have not received any communication from Pakistan in this regard," external affairs ministry spokesperson Anurag Srivastava said at an online media briefing. He was asked whether Pakistan has..




IndiaTimes - Published





Pakistan nerve centre of terrorism, home to largest number of designated terror entities: Indian envoy to UN

Calling Pakistan a nerve centre of terrorism, India's Permanent Representative to the United Nations, Ambassador TS Tirumurti, has lashed out at Islamabad for harbouring terror groups, saying it is..




IndiaTimes - Published





Give India another go to get Jadhav a lawyer: Pak court

The Islamabad high court on Monday ordered the Pakistani government to make another offer to India to appoint a lawyer for its national Kulbhushan Jadhav who was sentenced to death by a secret military..




IndiaTimes - Published





'British Parliament Panel's link with Islamabad established': Ruchi Ghanashyam, ex-envoy to UK

The British Parliamentary panel led by Labour MP Debbie Abraham had visited Pakistan and PoK in February this year.




DNA - Published





As Pak's Jadhav deadline nears, India again asks for unimpeded access

Responding to Pakistan's "invite" to seek a review of Kulbhushan Jadhav's sentencing, and also its second consular access offer, India has asked Islamabad to first provide unimpeded and unconditional..




IndiaTimes - Published





India to decide soon on seeking review of Jadhav's sentencing

India is expected to take a decision in the next few days on whether or not to seek a review, as asked by Islamabad, of Indian national Kulbhushan Jadhav's sentencing by a Pakistani military court...




IndiaTimes - Published





Pak must introspect why it's universally acknowledged as 'epicentre' of terrorism: India at UN

Hitting out at Pakistan for peddling "false narratives" against it, India has asked Islamabad that it must introspect about why it is universally acknowledged as the "international epicentre" of..




IndiaTimes - Published





India downgrades Pakistan ties, halves mission staff

The already stuttering India-Pakistan ties took another hit with India on Tuesday asking Pakistan to reduce its staff at the high commission by 50%, following expulsion of Pakistani officials for..




IndiaTimes - Published





India asks Pakistan high commission to cut staff strength by 50%

India on Tuesday said it will reduce the staff strength in the Pakistan high commission in New Delhi by 50% and would also recall half of its officials from the Indian high commission in Islamabad amid..




IndiaTimes - Published





India summons Pakistan envoy, registers protest on abduction of officials in Islamabad

India on Tuesday summoned the charge d' affaires of the high commission of Pakistan in Delhi Haider Shah and lodged a strong protest on the issue of the abduction and torture of two officials of the..




IndiaTimes - Published





Two Indian High Commission officials detained by Pakistan in Islamabad released: Sources

Pakistani authorities on Monday evening released two Indian High Commission staffers in Islamabad hours after they were reportedly arrested for their alleged involvement in an "accident".Top government..




IndiaTimes - Published





MEA summons Pakistan's Charge d'affaires after two Indian officials go missing

The ministry of external affairs (MEA) on Monday summoned Pakistan's Charge d'affaires to India in the national capital after two officials of Indian High Commission in Islamabad went missing.Earlier..




IndiaTimes - Published





MEA takes up matter with Pakistan after Indian officials go missing in Islamabad

Over the last few hours, the two officials are untraceable.




DNA - Published





Two Indian high commission officials missing in Pakistan

Two Indian High Commission officials have been missing from Islamabad, Pakistan, since Monday morning. The officials were out for an official work before they went missing. The Indian government has..




IndiaTimes - Published





Situation tense, India asks Pakistan to ensure staff safety

After India's expulsion of 2 Pakistan officials accused of espionage, the situation for Indian diplomats and other staff in Islamabad remains tense and fraught with risks. With Pakistan looking to..




IndiaTimes - Published





Nearly 700 stranded Indians may return from Pak on June 23

Finally, nearly 700 Indians including students who are stranded in Pakistan post coronavirus induced lockdown are likely to return home on June 23rd via Attari international border after Indian High..




IndiaTimes - Published





Top Indian diplomat harassed by ISI in Islamabad, govt registers protest




IndiaTimes - Published





ISI member chases vehicle of India's Charge d'affaires Gaurav Ahluwalia

Sources said ISI has stationed multiple persons in cars and bikes outside his residence to harass and intimidate him. In March, the Indian High Commission in Pakistan sent a strong protest note to the..




IndiaTimes - Published





Flutter in valley over 'bid' on Hizbul chief's life in Pakistan

Pakistan-based Hizbul Mujahideen chief Syed Salahuddin escaped a rumoured assassination attempt in Islamabad last Monday with injuries and has been holed up in a safe house since, fuelling speculation..




IndiaTimes - Published





India trashes Pakistan's objection to commencement of construction of Ram temple

India on Thursday trashed Pakistan's criticism of commencement of the construction of the Ram temple in Ayodhya, saying Islamabad has no locus standi over the issue. "We have seen an absurd statement..




IndiaTimes - Published





Afghan airlines at risk of collapse, taking women's jobs with them

Shagufa Haidari, 23, a flight attendant for Afghanistan's Kam Air, used to fly six days a week around the country and abroad, to Istanbul, Islamabad and Delhi.




Reuters India - Published





India lodges protest with Islamabad over Pakistan court's order on Gilgit-Baltistan

MEA said Pakistan was told that entire Jammu and Kashmir and Ladakh, including areas of Gilgit and Baltistan, are an integral part of India and that Islamabad should immediately vacate the areas under..




IndiaTimes - Published





'Good to see Pak joining regional initiatives': India on Islamabad inviting SAARC nations for COVID-19 meet

India was represented by Director General of Health Services, assisted by experts from All India Institute of Medical Sciences, New Delhi and Indian Council of Medical Research (ICMR).




DNA - Published





Keen to block Indian initiatives at SAARC, Pak wants secretariat's involvement

Sources said that Islamabad is sure to block Indian initiatives and proposals using SAARC charter provisions, rules of procedures as it has done in the past.




DNA - Published





Pilot killed in Pakistan Air Force F-16 crash in Islamabad

A Pakistan Air Force F-16 fighter jet crashed on Wednesday in a parade ground in the capital, Islamabad, killing the pilot as he was rehearsing for a Pakistan Day air show, the air force said.




Reuters - Published




No need to involve U.S. to resolve bilateral issues, Pakistan tells Afghanistan

Any reservations Afghanistan has with Islamabad should be resolved bilaterally rather than involving the United States, Pakistan's foreign minister said on Sunday, in reference to part of a joint..




Reuters - Published





India at UN asks Pak leadership to stop terror funding, dismantle militant camps

India on Friday advised Pakistan's top leadership to stop terror funding and dismantle terrorist camps operating from its soil and territories under its control while decrying Islamabad's efforts to..




IndiaTimes - Published





Stern line on Islamabad: Ensure no terror activity in territory

In the India-US joint statement, both nations denounced any use of terrorist proxies and called on Pak to ensure no territory under its control is used to launch terror attacks. ​​​While the..




IndiaTimes - Published





FATF keeps Pakistan in 'Grey List'; warns of action if Islamabad fails to check terror funding

Global terror financing watchdog FATF on Friday decided to keep Pakistan in the "Grey List" and warned the country that stern action will be taken if it fails to check flow of money to terror groups..




IndiaTimes - Published





Pakistan to remain on international watchdog FATF's 'grey list'

Pakistan will continue to remain on the "grey list" of the global terror financing watchdog Financial Action Task Force. Pakistan received support from Turkey and Malaysia. Islamabad was being..




IndiaTimes - Published





Remarks will hit ties: India warns Turkey

For the second time in three days, India hit out at Turkish President Recep Erdogan for his support to Pakistan on the Kashmir issue, as it accused him of not just interfering in India's internal..




IndiaTimes - Published





'Need to address illegal occupation of territories by Pakistan': India reacts to UN Secretary-General's comments

Earlier this day, UN chief António Guterres had said in Islamabad that it was important for both India and Pakistan to de-escalate "militarily and verbally" and exercise "maximum restraint"




DNA - Published





Questions outnumber answers for generations of refugees as Afghan peace deal nears

A short drive from the heavily secured five-star Islamabad hotel where international VIPs will discuss the future of Afghan refugees on Monday, 20-year old Ahmed Khan Younis lives in a makeshift..




Reuters - Published





Turkey to oppose Pakistan blacklisting at anti-terrorism finance meet

Turkish President Tayyip Erdogan on Friday said he would help Pakistan stay off a terrorism financing blacklist at a meeting of a global finance watchdog, a move he suggested would counter "political..




Reuters - Published





Will China's effort see Pakistan out of FATF 'Grey List'? All you need to know

At a meeting of the Financial Action Task Force held in Beijing, Islamabad submitted its compliance report and got support from the FATF current chair and its "all-weather friend" China and a few..




IndiaTimes - Published





Pak desperate as world has seen through its double standards: Govt

The government on Thursday hit out at Pak PM Imran Khan for raising Kashmir in Davos and said Islamabad was acting in a desperate manner that the world could see through its double standards on..




IndiaTimes - Published





India to ignore what Trump said on Kashmir to Imran

India is not likely to react strongly to US President Donald Trump's remarks on Kashmir to Pakistani PM Imran Khan during their conversation in Davos even as Pakistani foreign minister Shah Mahmood..




IndiaTimes - Published





Pakistan has 'limited options' to respond to India's decision on J&K: US Congress think tank

Pakistan's leadership has "limited options" to respond to India's decision on J&K as many analysts view that Islamabad has "little credibility" on the issue given its long history of covertly..




IndiaTimes - Published





Article 370: Pakistan's use of false pretences at UN has run its course, India says

India has slammed Pakistan for again trying to raise the Kashmir issue in the UN Security Council where it failed one more time to find any support, with New Delhi asserting that Islamabad needs to..




IndiaTimes - Published





France notes member's request for UNSC meeting over Kashmir issue

France has taken note of a United Nations Security Council (UNSC) member's request to raise the Kashmir issue again in the council. However, the country's position remains 'unchanged' and the matter..




IndiaTimes - Published





India asks Pakistan to return its rake used in Samjhauta Express

India has asked Pak to return the Samjhauta Express rake lying at Wagah for the past five months, following the suspension of train services due to tense relations between the two countries after..




IndiaTimes - Published





Opposition resolution on CAA must have made Pak happy: Ravi Shankar Prasad

Slamming resolution of opposition parties against the Citizenship Amendment Act, Union minister Ravi Shankar Prasad on Monday said Pakistan must be happy over the move and asserted that the new law..




IndiaTimes - Published





CAA, NPR and NRC unconstitutional, says oppn; 'Pak must be happy,' counters BJP

The opposition parties, led by the Congress, passed a resolution against the amended Citizenship Act and National Population Register (NPR) on Monday, calling them part of an "unconstitutional package"..




IndiaTimes - Published





India, Pakistan exchange list of nuclear installations

The two countries exchanged the list of nuclear installations and facilities covered under the Agreement on the Prohibition of Attack against Nuclear Installations between India and Pakistan, the..




IndiaTimes - Published





Indian lobby in US 'powerful' in countering Pak's standpoint: Imran Khan

Addressing the gathering of the Association of Physicians of Pakistani Descent of North America (APPNA) on Saturday, Pakistan Prime Minister Imran Khan said that the Indian lobby in the United States..




DNA - Published





US wants Pakistan to take immediate and irreversible action on terrorism: Jaishankar

The Trump administration has a very clear position on Pakistan and wants Islamabad to take immediate, sustained and irreversible action on reining in terror groups and to ensure that its soil is not..




IndiaTimes - Published





India rejects Pakistan national assembly's resolution on amended citizenship law

India on Tuesday strongly rejected a resolution adopted by Pakistan national assembly on the amended citizenship law, calling it a poorly disguised effort to divert attention from Islamabad's..




IndiaTimes - Published