Islamabad
Capital of Pakistan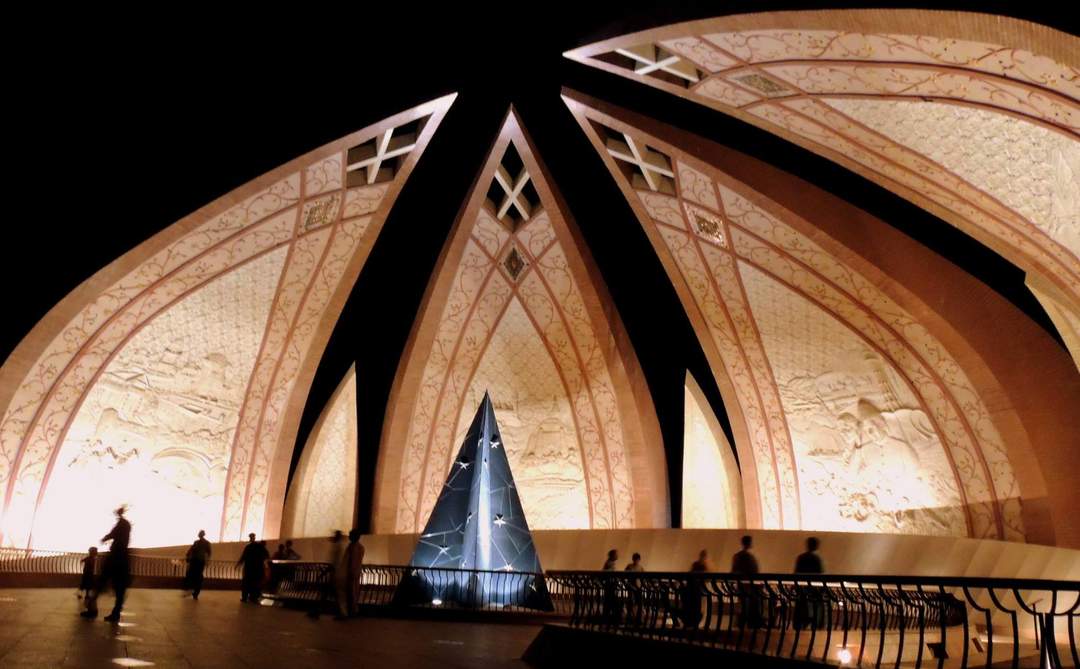 Islamabad is the capital city of Pakistan, and is administered by the Pakistani federal government as part of the Islamabad Capital Territory. It is the ninth-largest city in Pakistan, while the larger Islamabad–Rawalpindi metropolitan area is the country's third-largest with a population of about 4.1 million people. Built as a planned city in the 1960s to replace Karachi as Pakistan's capital, Islamabad is noted for its high standards of living, safety, and abundant greenery.


Pakistan puts PM residence on rent to battle financial crunch | Oneindia News

Pakistan has put up its Prime Minister's official residence in Islamabad on the market for rent. Pakistan was compelled to make this decision as it goes throughyears of severe financial..
Credit: Oneindia Duration: 02:00
Published
Islamabad residential colony flood | 2 dead, cars swept away: Watch | Oneindia News

2 people died as a residential colony flooded after torrential rains hit Pakistan's capital city of Islamabad Tuesday night. A cloudburst caused heavy rainfall leading to urban flooding in several..
Credit: Oneindia Duration: 02:07
Published
Noor Noor Mukadam case: Pakistani man accused of gruesome murder was a 'therapist' | Oneindia News case: Pakistani man accused o

The 27-year-old daughter of a former Pakistani diplomat was tortured, shot and beheaded by a male acquaintance in Islamabad, sending shockwaves thorugh the nation. Pakistan daily Dawn reported that the..
Credit: Oneindia Duration: 02:43
Published
Pakistani ex-diplomat's daughter murdered in Islamabad; businessman's son arrested | Oneindia News

Noor Mukadam was 27 years old and the daughter of Shaukat Mukadam, who in the past, had served as Pakistan's ambassador to South Korea and Kazakhstan. On Tuesday, Noor was found dead in the..
Credit: Oneindia Duration: 01:30
Published
Afghan envoy in Pakistan, Najibullah Alikhil's daughter abducted in Islamabad | MoFA | Oneindia News

Afghan ambassador in Pakistan, Najibullah Alikhil's daughter Silsila Alikhil was kidnapped and tortured before being released by unknown abductors. She was kidnapped in Islamabad while she was on her..
Credit: Oneindia Duration: 01:34
Published
PM Modi may rejig his council of ministers| PM Modi cabinet rejig| Oneindia News

In a major development, the Ministry of Health and Family Welfare has announced that pregnant women are eligible for Covid-19 vaccination.Sources in the government say that Prime Minister Narendra Modi..
Credit: Oneindia Duration: 02:42
Published
Drone enters Indian High Commission in Islamabad, India lodges strong protest | Oneindia News

A drone was spotted inside the Indian High Commision in Islamabad, Pakistan, on Sunday. India strongly objected to this security breach; An Army jawan was killed in an encounter with terrorists in..
Credit: Oneindia Duration: 03:21
Published
Pakistan civilisation divide: Arabic or Indus Valley? Pre-Islamic past | Oneindia News

It seems Pakistan is divided over a big question, whether its civilisation, which it shares with India, is of Arabic origin or from the Indus Valley. Pakistan had made the learning of Arabic language..
Credit: Oneindia Duration: 02:19
Published
You Might Like



Afghanistan recalls envoy, senior diplomats from Pakistan over daughter abduction incident

Silsila Alikhil is the daughter of the Afghan ambassador to Pakistan and was abducted on Friday for few hours near Islamabad's Rana market.




DNA - Published





India protests drone breach, harassment in Pakistan

India has twice lodged protests with Pakistan in the past couple of weeks over developments involving the Indian high commission in Islamabad. While the latest protest relates to a drone which was..




IndiaTimes - Published





Pakistan rejects India's claims on drone flying over Indian mission in Islamabad




IndiaTimes - Published





'Drone at Indian high commission in Islamabad was trying to capture details of diplomatic event'

A drone that was spotted over the Indian High Commission complex in Islamabad last week was allegedly attempting to capture details of a diplomatic event being held at the mission, news agency ANI..




IndiaTimes - Published





Drone spotted over Indian high commission in Islamabad, India registers protest

A drone was spotted over the Indian High Commission complex in Pakistan last week, triggering a huge security scare in the mission, people familiar with the development said on Friday. The Indian..




IndiaTimes - Published




Pakistan PM Imran Khan refuses to acknowledge China's repression of Uighurs

Pakistan PM Imran Khan has defended his silence on reports about "genocide" of Uighur Muslims in China by claiming that Islamabad discussed such matters with Beijing "behind closed doors". He..




IndiaTimes - Published





India protests security lapse outside mission in Islamabad

India has asked Pakistan to probe an alleged security breach outside the Indian high commission in Islamabad, TOI has learnt. ​​Late last month, it is learnt, the Indian mission noticed some..




IndiaTimes - Published





Pakistan reluctant to issue visas, India recalls a few officials

Islamabad has not issued visas for the past 2 years to Indian officials, except on a few occasions, it's again learnt. Pakistan had approved the appointment of Indian charge d'affaires Suresh Kumar..




IndiaTimes - Published





In 24 hours, Pakistan does U-turn on lifting ban on Indian imports

On Wednesday, in what was seen as a latest indication of a thaw in relations between the two countries, Pakistan's finance minister Hammad Azhar had announced lifting of a nearly two-year ban on the..




IndiaTimes - Published





China 'happy' over Pakistan-India 'active interactions': FM spokesman

China said on Monday that it was "happy" over the recent "active interactions" between Pakistan and India, indicating that it would like to work with Islamabad to inject "more positive energy" into..




IndiaTimes - Published





UNHRC must pay attention to Pakistan's deplorable human rights record: India

India on Monday called on the United Nations Human Rights Council to hold Pakistan accountable for its state-sponsored and supported grave violation of human rights of its people, saying the UN body..




IndiaTimes - Published





What happened on February 27, 2019 that led to Wing Commander Abhinandan Varthaman's capture

Abhinandan's jet was shot down in what Islamabad called a 'retaliation' to India conducting air strikes in its territory.




DNA - Published





India calls out Pakistan over Hindu temple vandalism, says Islamabad can't hide behind UN resolution

India on Thursday slammed Pakistan for being one of the co-sponsors of a United Nations resolution on promoting a culture of peace even as Pakistan authorities remained "mute spectators" as a mob..




IndiaTimes - Published





300 casualties in Balakot airstrike by India, admits former Pakistani diplomat

The admission by the former Pakistani diplomat goes against the zero casualties claim made by Islamabad at that time.




DNA - Published





Pak steps before FATF review farcical: India

India on Friday described as farcical Pakistan's actions against terrorists just ahead of the Financial Action Task Force (FATF) review and called upon the international community to hold Islamabad..




IndiaTimes - Published





Ties with Pakistan at 'historic low' says French President's top diplomatic advisor

Emmanuel Bonne, who was speaking at Vivekananda Foundation thanked India for support amid Islamabad's criticism.




DNA - Published





India strongly protests vandalisation of Maharaja Ranjit Singh's statue

As the treatment of religious minorities and human rights turn into a new battleground for India and Pakistan, the government has officially raised with Islamabad the issue of recent vandalisation of..




IndiaTimes - Published





Pakistan asks UN to probe fake pro-India NGOs, media

Pakistan's foreign minister on Friday called for the United Nations and the European Union to investigate a recent report exposing a 15-year disinformation campaign that Islamabad alleges was designed..




IndiaTimes - Published





Pakistani lawyer Shahnawaz Noon 'misrepresented' India's stance on Kulbhushan Jhadav: MEA

The Indian mission to Islamabad has now written to the Barrister "reiterating" that he has "no authority" to represent Jhadav.




DNA - Published





Pakistan approves name of IFS officer Suresh Kumar as India's top diplomat in Islamabad

Gaurav Ahluwalia is the current Indian Charge d' Affaires or top diplomat at the Indian mission in Pakistan.




DNA - Published





UAE favours Indians over Pakistanis, bans workers from Islamabad to strengthen national security

It also highlighted that Pakistan has been facing the heat before the issuance of the order banning workers from 13 countries.




DNA - Published





'Remember Abbottabad!' India slams Pak for presenting 'dossier of lies' at UN

India on Tuesday lambasted Islamabad for presenting a "dossier of lies" against New Delhi at the United Nations, saying "concocting documents and peddling false narratives" is not new to Pakistan,..




IndiaTimes - Published





France raises concern with Pak over remarks made by Human Rights Minister Mazari, asks to rectify 'insulting' comments

Pakistan earlier this month saw a massive protest by far-right Tehreek-e-Labbaik Pakistan blocking the way to the capital Islamabad. The demand of the




DNA - Published





Stop launching terror attacks on our soil, India warns Pakistan

India warned Islamabad on Saturday against using terrorists to launch attacks in India and also said it will take all necessary action against terrorism to safeguard national security. India summoned..




IndiaTimes - Published





India slams Pakistan for making 'irresponsible' remarks at UN

"I do not wish to waste the time of this assembly by responding to the irrelevant and irresponsible remarks made by the representative of Pakistan, which becomes 'Pavlovian' whenever India is..




IndiaTimes - Published





Pakistan minister admits to Imran govt role in Pulwama attack, calls it 'great success'

A Pakistani minister on Wednesday admitted that Islamabad was behind last year's Pulwama terror strike on CRPF jawans, describing the dastardly attack as a "great success" of the Imran Khan..




IndiaTimes - Published





New Delhi sends new name for acting head of Indian mission in Islamabad

Pakistan had denied a visa for Jayant Khobragade, a senior Indian diplomat whose name was earlier proposed by New Delhi in June. Pakistan rejected Khobragade's name since they said he is too senior for..




DNA - Published





Pak likely to remain in FATF 'grey list', fails to fulfill six key mandates

This will become a major problem for Pakistan as it will become difficult for Islamabad to procure financial aid from the International Monetary Fund (IMF), World Bank, Asian Development Bank (ADB) and..




DNA - Published





India strongly denies sending any message seeking talks with Pak

The government strongly denied Thursday it had sent any message to Islamabad for dialogue noting that PM Imran Khan's security adviser was commenting on India's "internal matters" and reiterated that..




IndiaTimes - Published





India has not sent any message to Pak expressing desire for talks: MEA

India on Thursday rubbished the claim by Pakistan Prime Minister Imran Khan's adviser on national security that New Delhi has sent a message to Islamabad indicating a desire for talks between the two..




IndiaTimes - Published





No message sent: India on Pak NSA's claim of New Delhi reaching out to Islamabad

No formal India-Pakistan talks happened in several years




DNA - Published





Hold Pakistan accountable for the ongoing turmoil in Kashmir: Member of European Parliament

Talking about the role of Islamabad in "illegally" occupying a part of Kashmir and dethroning its erstwhile ruler Maharaja Hari Singh, Member of European Parliament Fulvio Martusciello has urged the..




IndiaTimes - Published





Commonwealth meet: India slams Pak's 'bigoted agenda' on J&K

In yet another run-in with Pakistan on an international platform over the Kashmir issue and alleged violation of minority rights, India said Wednesday that the only dispute left in what Islamabad..




IndiaTimes - Published





Don't play victim card: India hits out at Pakistan on terror issue

Hitting out at Pakistan at United Nations Human Rights Council, India has said that Islamabad continues to play "victim card" on the issue of terrorism to "distract international community" even as it..




DNA - Published





India slams Pak PM Imran Khan at UN, highlights Islamabad's support for terror, religious persecution

Indian Diplomat Mijito Vinito who gave a snub to Imran Khan's speech by walking out from UNGA hall delivered India's right of reply.




DNA - Published





India slams Pakistan for raking up J&K in UNGA, says Islamabad peddled 'litany of vicious falsehood'




IndiaTimes - Published





India slams Pakistan for raising J&K issue at UN, says it hails terrorists as 'martyrs'

India on Monday hit back at Pakistan for raising the issue of Jammu and Kashmir during the high-level meeting to commemorate 75 years of United Nations (UN), saying Islamabad is globally recognised as..




IndiaTimes - Published





We reject Islamabad's obsession with territorial aggrandisement: Govt on Pakistan's new map

The government on Thursday said it has rejected Pakistan's "obsession" with "territorial aggrandisement" supported by cross border terrorism, in a reference to Islamabad unveiling a new political map..




IndiaTimes - Published





Pakistan 'epicenter of terrorism'; persecutes Hindus, Sikhs, Christians: India at Geneva

Describing Pakistan as an "epicenter of terrorism", India has said that no one deserves an unsolicited lecture on human rights from Islamabad that has consistently persecuted its ethnic and..




IndiaTimes - Published





Pak will suffer 'heavy losses' if it takes advantage of situation at Ladakh with China: CDS General Bipin Rawat

Chief Of Defence Staff Bipin Rawat on Thursday warned Pakistan of severe repercussions if they try to take advantage of the border situation in Ladakh with China. He stated that Islamabad could..




DNA - Published





India thanks UNSC members for thwarting Pak attempt to get 2 Indians listed as terrorists

India has thanked members of the UN Security Council who thwarted Pakistan's bid to get two Indian nationals listed as terrorists by the world body's sanctions committee as well as Islamabad's "blatant..




IndiaTimes - Published





Pakistan's house of cards may be failing, with Gulf states openly moving closer to India

The relationship between Pakistan and Saudi Arabia, went haywire last month when Pakistan's Foreign Minister Shah Mehmood Qureshi openly rebuked the kingdom for its lack of support for Islamabad's..




IndiaTimes - Published





India formally writes to UN on Pakistan's false claim of making statement in Security Council

India has formally written to the United Nations about Pakistan's false claim of making a statement in a Security Council meeting on terrorism, which was not open to non-Council members.India on Monday..




IndiaTimes - Published





India exposes Pak's lies, says biggest sponsor of cross-border terrorism 'masquerading' as victim

India hit out at Pakistan for its litany of lies at the United Nations after Islamabad's UN envoy claimed to have given a statement in a Security Council meeting not open to non-Council members and..




IndiaTimes - Published





Indus Water Treaty meeting: India suggests video conference, Pakistan insists on talks at Attari border

India has suggested to Pakistan that the talks for discussing pending issues under the Indus Water Treaty (IWT) be held through video-conferencing in view of the coronavirus pandemic, but Islamabad has..




IndiaTimes - Published





Don't incite communal strife, India tells Pak

After a press statement by Pakistan criticising construction of the Ram temple, India on Thursday warned Islamabad against communal incitement. The government also said Pakistan's position wasn't..




IndiaTimes - Published





Pakistan claims it asked India to appoint counsel for Kulbhushan Jadhav

Pakistan on Thursday claimed that it has asked India through diplomatic channels to appoint a counsel for death row prisoner Kulbhushan Jadhav, but New Delhi said that Islamabad has not yet..




IndiaTimes - Published





Have not received any communication from Pakistan on Kulbhushan Jadhav case: MEA

"We have not received any communication from Pakistan in this regard," external affairs ministry spokesperson Anurag Srivastava said at an online media briefing. He was asked whether Pakistan has..




IndiaTimes - Published





Pakistan nerve centre of terrorism, home to largest number of designated terror entities: Indian envoy to UN

Calling Pakistan a nerve centre of terrorism, India's Permanent Representative to the United Nations, Ambassador TS Tirumurti, has lashed out at Islamabad for harbouring terror groups, saying it is..




IndiaTimes - Published





Give India another go to get Jadhav a lawyer: Pak court

The Islamabad high court on Monday ordered the Pakistani government to make another offer to India to appoint a lawyer for its national Kulbhushan Jadhav who was sentenced to death by a secret military..




IndiaTimes - Published