Moradabad
City in Uttar Pradesh, India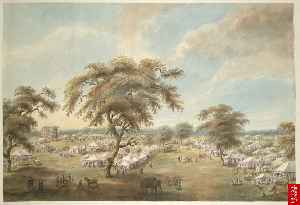 Moradabad is a city, commissionary and municipal corporation in Moradabad district of Indian state of Uttar Pradesh.


Bikes on bullock carts: How people crossed river in UP's Moradabad

The closure of a bridge in Uttar Pradesh's Moradabad led to unique scenes at the crossing. The bridge was closed for repair work as per government officials. Subsequently, motorists resorted to hiring..
Credit: HT Digital Content Duration: 01:43
Published
COVID: Parents stage protest, beat utensils over school fees issue

In Uttar Pradesh's Moradabad, parents staged protest over school fees amid COVID-19. They beat utensils and raised placards. Parents demanded the school associations to not ask for full fees given the..
Credit: ANI Duration: 01:20
Published
80 parrots seized by forest dept in UP's Meerut, 2 arrested

Two persons have been arrested by a team of forest department with around 80 parrots in Uttar Pradesh's Meerut on September 08. Parrots were kept in a cage and being smuggled in a bus coming from..
Credit: ANI Duration: 01:56
Published
Demand for wooden toys jumps in Moradabad amid conflict with China

Artisans in Uttar Pradesh's Moradabad are hopeful of their business turning around amid coronavirus pandemic. They are hopeful as government is discussing ways to boost manufacturing of Indian toys...
Credit: ANI Duration: 02:56
Published
Work load increases for Moradabad statue makers after Ram Temple's 'bhoomi pujan'

Statue makers of Moradabad got busy after 'bhoomi pujan'of Ram Temple in Ayodhya. They are getting continuous orders for making of idols of Lord Ram and Parashurama. Arpit Agrawal, a trader, said,..
Credit: ANI Duration: 01:51
Published
Commuters struggle as overflowing Ramganga river submerges roads in Moradabad

Ramganga river is flowing close to the danger mark in Uttar Pradesh's Moradabad as heavy rainfall continued to lash several parts of the city. The river water has partially submerged the roads...
Credit: ANI Duration: 01:11
Published
Moradabad farmers hit hard after flood water submerged fields

Farmers in Uttar Pradesh's Moradabad are staring at losses. Their crops were damaged after agricultural land in Katghar area got partially submerged. A farmer said, "We have suffered a huge loss as..
Credit: ANI Duration: 01:38
Published
Boys jump into flooded river in UP's Moradabad, authorities alerted

Boys in Uttar Pradesh's Moradabad jump into a flooded river. In the video, few boys can be seen jumping into the river from a railway bridge. The river has been overflowing following heavy rains. An..
Credit: HT Digital Content Duration: 01:41
Published
Watch: UP boys perform stunt, jump into flooded river

Railway Bridge in Uttar Pradesh's Moradabad turned into a stunt spot. Several young boys were seen jumping off from a bridge into flooded river. Speaking on the issue, administration official from..
Credit: ANI Duration: 01:46
Published
Low-lying areas submerge in UP as rivers swell

Water level of River Ganga and Yamuna continues to increase due to incessant rainfall due to incessant rainfall in the region. Lowland areas of UP's Prayagraj submerged due to rainfall. Locals are..
Credit: ANI Duration: 02:09
Published
COVID-19 patient allegedly commits suicide by jumping off hospital building in UP's Moradabad

A COVID-19 patient allegedly jumped off from third floor of the hospital building and died in Uttar Pradesh's Moradabad on August 20. The reason behind the suicide has not been cleared yet. 28-year-old..
Credit: ANI Duration: 01:45
Published
CBI raids residence of Moradabad's Gramin Bank GM for taking bribe

The General Manager of Prathama UP Gramin Bank was caught red handed by officials of Central Bureau of Investigation (CBI) for taking bribe at his residence. GM Ravi Kant was caught taking a bribe of..
Credit: ANI Duration: 01:42
Published
BJP MLA in Moradabad feeds over 170 cows on Krishna Janmashtami

Bharatiya Janata Party (BJP) MLA from Uttar Pradesh's Moradabad organised an event for cows on the auspicious occasion of Krishna Janmashtami. MLA Rajesh Kumar Singh fed around 170 cows in a 'gaushala'..
Credit: ANI Duration: 01:54
Published
Priests celebrate Krishna Janmashtami with precautions amid COVID-19 scare

Priests and their family members offered prayers at Radha Krishna Temple on the occasion of Krishna Janmashtami in Uttar Pradesh's Moradabad. They were seen celebrating the birth of Lord Krishna with..
Credit: ANI Duration: 01:54
Published
Raksha Bandhan: PM Modi, Priyanka Gandhi, Big B & others extend wishes

India celebrated Raksha Bandhan on August 3 this year. Veteran singer Lata Mangeshkar and spiritual leader Mata Amritanandmayi extended their greetings to Prime Minister Narendra Modi on the occasion...
Credit: HT Digital Content Duration: 04:14
Published
Raksha Bandhan 2020: Students tie rakhi to trees in UP's Moradabad

People across country are celebrating Raksha Bandhan on August 03. A group of students in Uttar Pradesh's Moradabad put 'tilak' and tied rakhis to trees. They took an oath to protect the trees and..
Credit: ANI Duration: 02:00
Published
You Might Like
IMD forecasts rainfall with thunderstorm in parts of Haryana, Uttar Pradesh
Other cities where IMD predicts that rainfall could occur include Moradabad, Amroha, Chandpur, Hastinapur, Khatoli, Muzaffarnagar, Meerut, Garhmukteshwar and Bijnor.
DNA - Published
97 new coronavirus cases reported in UP; total mounts to 2,742
There are 1,939 active cases in the state, principal secretary, health, Amit Mohan Prasad said. Coronavirus cases have so far been reported in 64 of the 75 districts in the state. The highest 14 deaths..
IndiaTimes - Published
Covid-19: Confusion over names leads to discharge of 2 from quarantine
In a scary move that could have potentially led to more people coming in contact with Covid-19 positive cases, the health department in Moradabad on Thursday evening mistakenly discharged two Covid-19..
IndiaTimes - Published
'Virus jabs', 'detention camps': Rumours lead to attacks on medicos
A mix of rumours on social media and misinformation about quarantine centres could be provoking mobs to attack medical teams. In at least two recent instances — in UP's Moradabad and Indore —..
IndiaTimes - Published
Health workers fighting COVID-19 attacked in Uttar Pradesh's Moradabad
It is to be noted that Prime Minister Narendra Modi had earlier warned citizens against mistreating healthcare professionals
DNA - Published
UP mob attacks doctors, cops of quarantine team
A team of health workers and police officials came under heavy stone pelting by an irate mob on Wednesday when they reached Nagphani in Moradabad, UP, to take away the brother of a deceased Covid-19..
IndiaTimes - Published
Lockdown in 15 UP districts till Wednesday
Chief minister Yogi Adityanath has announced that 15 districts in Uttar Pradesh would be under lockdown in the first phase till Wednesday. ​​The districts where the lockdown has been enforced in..
IndiaTimes - Published
Internet suspended for 45 hrs in major cities of UP; services impacted in few areas of West Bengal
Internet access over mobile phones was suspended in major towns in Uttar Pradesh, including Lucknow, Kanpur, Allahabad, Agra, Aligarh, Ghaziabad, Varanasi, Mathura, Meerut, Moradabad, Muzaffarnagar,..
IndiaTimes - Published
Two coaches of Lucknow-Delhi Double Decker Express derail near UP's Moradabad, no injuries reported
The incident took place between Katghar and Moradabad stations.
DNA - Published
UP: 5 dead, 1 injured after speeding car rams into tractor trolley in Moradabad
An investigation has been launched and the bodies sent for post-mortem.
DNA - Published
In Moradabad, newly weds threatened by family seek police protection
IndiaTimes - Published
Priyanka accuses Yogi govt in UP of muzzling media
"Journalists are being held captive, questions are being curtailed, problems are being ignored. The full majority BJP government in Uttar Pradesh is turning away from people's questions," Priyanka..
IndiaTimes - Published
Moradabad: 3 arrested with fake currency notes worth Rs 5.92 lakh
A search operation is underway to nab those who printed the fake notes, he said.
DNA - Published